MLB Bench Players Who Should Be Playing Every Day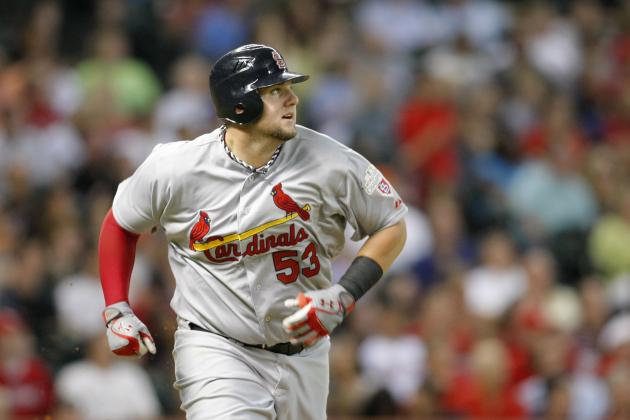 Brett Davis-USA TODAY Sports
Matt Adams has gotten off to a great start and yet is still coming off the bench.
Sitting on the bench isn't any fun, especially when you're playing much better than the players who are getting the nod each and every day.
That's currently the case for several players this season.
Playing time isn't easy to get these days in Major League Baseball. Those who want it have to earn it first and there may be limited opportunities to do so. Making the most of those chances when given them is essential.
Let's take a look at some of the bench players that deserve to be playing much more frequently this season while addressing why the incumbent needs a break.
*All statistics in this article were obtained via Baseball-Reference unless otherwise noted. All contract information was obtained via Cot's Contracts. All injury information was obtained via Baseball Prospectus.
Begin Slideshow

»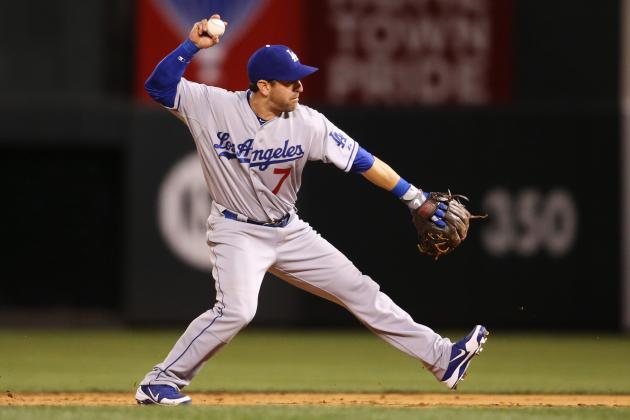 Chris Humphreys-USA TODAY Sports

Incumbent: Luis Cruz, Third Baseman
Ever since Hanley Ramirez got injured, the Los Angeles Dodgers have had to shuffle some players around at shortstop and third base. For the most part, Luis Cruz has been at third while Justin Sellers mans short.
Sellers hasn't been great overall, but a lot of production wasn't expected from him when he was inserted into the lineup. Cruz, though, has played well in the past, but has gotten off to a rough start.
In 16 games, Cruz is hitting .087/.122/.087 with just two runs and one RBI. He doesn't deserve to be starting on a regular basis if he's going to hitting like that.
Nick Punto, who has played sporadically to start the year, has earned a chance to start more often than not at third base. He's hitting .381/.480/.381 through 12 games. Punto may be worse defensively because that's how Cruz makes his name known, but offensively, there's no question that Punto currently has the upper hand.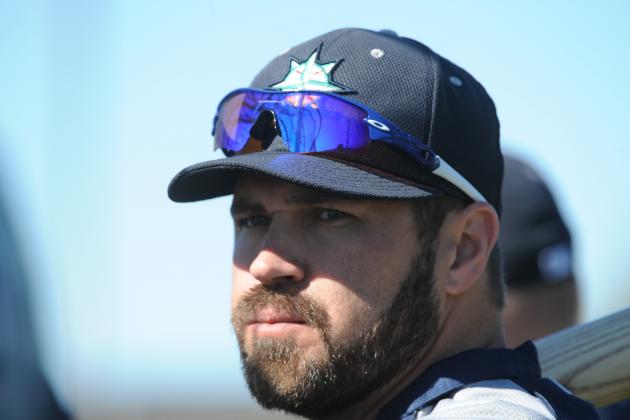 Rich Pilling/Getty Images

Incumbent: Jesus Montero, Catcher
The Seattle Mariners signed Kelly Shoppach over the offseason to back Jesus Montero up behind the plate. But the way things have gone thus far, Montero should be the one backing Shoppach up.
Montero is hitting .208/.232/.283 through 14 games with just one home run and five RBI. Since coming to Seattle he's only hitting .255/.292/.377. Maybe it's time for the Mariners to make a quick change.
Shoppach may not be capable of starting the rest of the season, but for the time being, he needs to be starting much more often. Through 11 games, he's hitting .290/.389/.484 with a home run and a pair of RBI.
Montero really needs to start producing offensively if he wants to keep his job. Seattle made a bold move trading for him a couple of years ago and it's about time he starts to give the front office some peace of mind.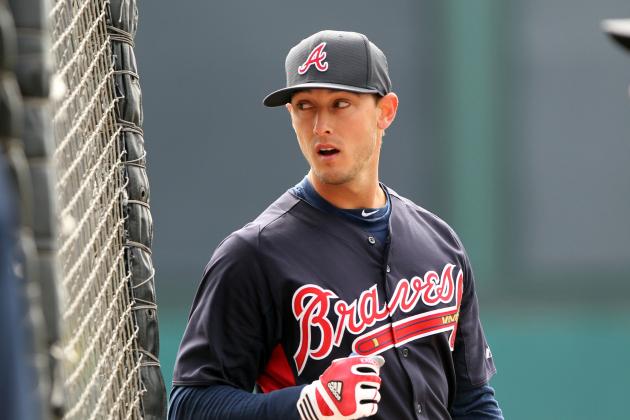 Kim Klement-USA TODAY Sports

Incumbent: B.J. Upton, Center Fielder
Bringing back Jordan Schafer wasn't close to being one of the notable moves made by the Atlanta Braves this past winter. But he's sure making them happy they decided to.
Through 12 games, Schafer is hitting .438/.550/.500 with three runs, a pair of RBI and a trio of stolen bases. He hasn't gotten many starts, though, because of who his teammates are.
Justin Upton is already having an MVP-worthy season, B.J. Upton is a big acquisition that Atlanta and Jason Heyward is already a star. Of those three, B.J. Upton has been easily the worst. He's hitting just .150/.225/.300 through 20 games.
Heyward is currently out with an injury, which could mean more playing time for Schafer, but once he returns, Schafer needs to get some starts over Upton until he starts hitting again. It won't be a popular move, but it's a necessary one.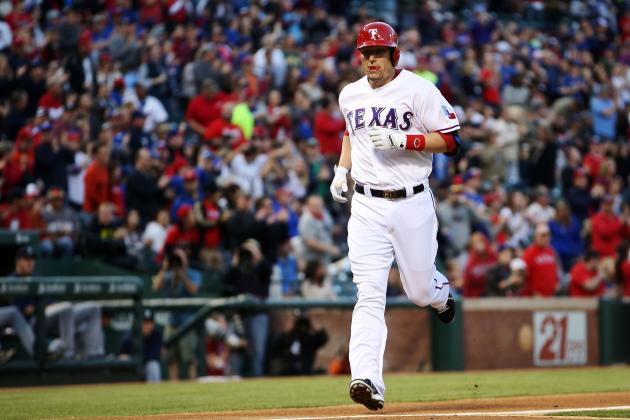 Kevin Jairaj-USA TODAY Sports

Incumbent: Mitch Moreland, First Baseman
The Texas Rangers need to find a quick solution to replace Mitch Moreland as the everyday first baseman. He hasn't started hitting yet and hasn't played well defensively either.
Through 21 games, Moreland is hitting .206/.257/.382 with a trio of home runs and seven RBI. In comparison, Jeff Baker is hitting .333/.444/.600 with a home run and four RBI through nine games.
Baker is not a natural first baseman, but he's more than capable of getting the job done. He's played second base more than any other position over the course of his career, but has played first base the second most often.
As of now, Moreland is the position player on the Rangers with a negative WAR, according to FanGraphs. That means that a replacement player would be better off playing than him. So, why not play Baker instead?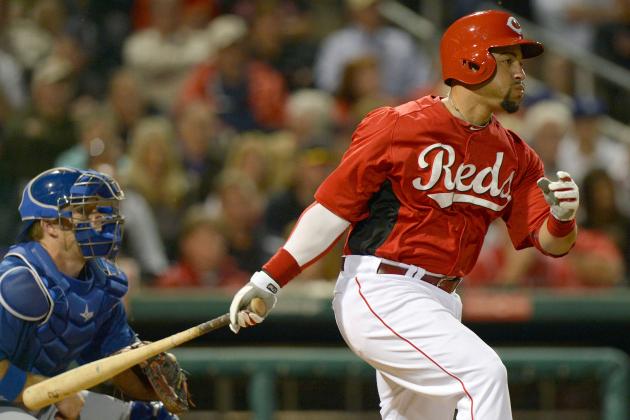 Jake Roth-USA TODAY Sports

Incumbent: Chris Heisey, Left Fielder
As I recently wrote, I think that Chris Heisey has a good chance at becoming a star with the Cincinnati Reds this season. The problem, however, is that it appears that he's going to need some more time.
In 21 games, Heisey is hitting .183/.205/.310 with a pair of home runs and five RBI. He's rarely walked and has struck out 25.3 percent of the time he steps up to the plate.
On the contrary, Xavier Paul, who has played in 16 games, has fared much better to start the season. He's hitting .333/.379/.481 with one home run and eight RBI. He has a slight edge on defense as well.
Both players are still young and no matter who is in left field, they're going to be hitting toward the bottom of the Reds' lineup. Cincinnati has been playing well, but if it wants to play even better, Paul needs to get the nod over Heisey.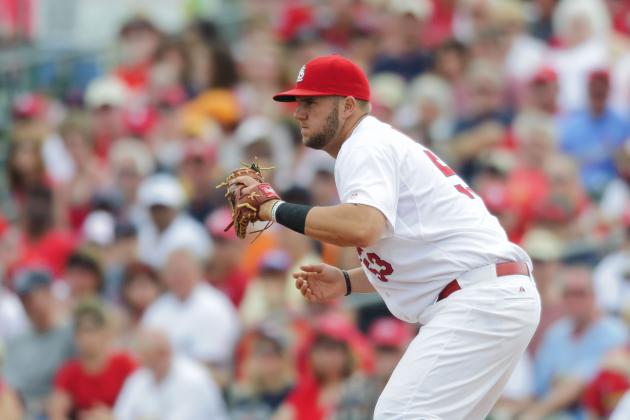 Steve Mitchell-USA TODAY Sports

Incumbent: Allen Craig, First Baseman
Matt Adams is one of the top young players that the St. Louis Cardinals have in the organization and he's ready to play every day, but Allen Craig blocks him at first base.
In eight games this year, Adams is hitting .542/.593/1.042 with three home runs and eight RBI. While those numbers are inflated due to a small sample size, they're still impressive to say the least.
Craig, on the other hand, hasn't gotten off to the best of starts to the season. He's hitting .250/.284/.342 and is without a home run through 19 games. He has, however, driven in 15 runs.
Despite an 11-game difference, Craig has just six more hits than Adams. Adams is also walking around eight percent of the time more than Craig. Adams has been St. Louis' third most valuable player this season behind Matt Carpenter and Yadier Molina, according to FanGraphs. Enough said.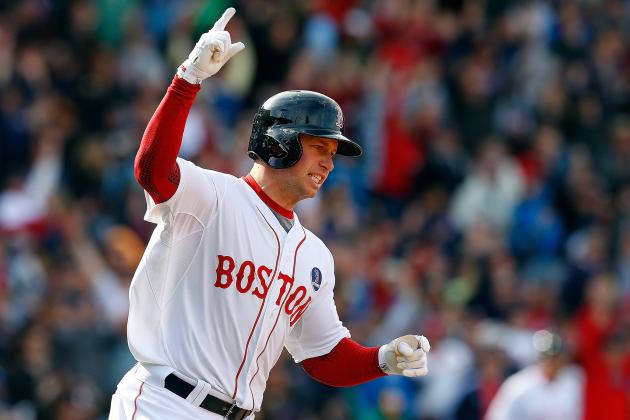 Jim Rogash/Getty Images

Incumbent: Jonny Gomes, Left Fielder
Although Daniel Nava has basically been platooning with Jonny Gomes in left field to start the season, he deserves to be named the outright starter.
Through 16 games this season, Nava is hitting .302/.409/.556 with four home runs and 14 RBI. He's been Boston's fifth most valuable position player behind Mike Napoli, Dustin Pedroia, Shane Victorino and Jacoby Ellsbury, according to FanGraphs.
Gomes, who signed with the Red Sox this offseason, hasn't performed up to par just yet. He's played in 14 games, is currently hitting .194/.375/.258 and is homerless.
Nava wasn't expected to make much of an impact with Boston this year and wasn't even a lock to make the Opening Day roster. But he's making the most of his opportunity and has absolutely proved his worth. There's no question that Nava should be the starting left fielder for the near future.