Predicting 10 Headlines You Could See Coming out of the 2013 Kentucky Derby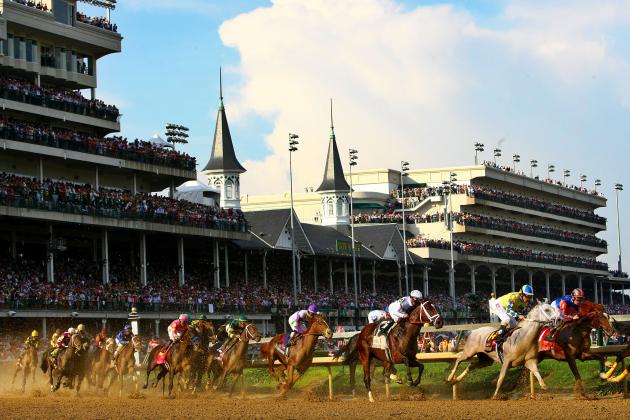 Elsa/Getty Images

The Kentucky Derby, by its nature, is full of surprises, and with jam-packed 20-horse fields now all but assured every year, there is an increased likelihood of something unexpected happening. You just can't expect something with so many variables to run to form.
So, there shouldn't be that much surprise when an all but invisible 50-1 shot like Mine That Bird comes splashing through the stretch to win, or former claiming horse Charismatic steals the show.
Still, it's hard not to project what the big stories might be given particular outcomes. This 139th Derby has no shortage of interesting storylines to work with—unless, of course, a nobody comes along and blows them up.
Here are 10 stories the national media would be delighted to write in the aftermath of the race next Saturday afternoon:
Begin Slideshow

»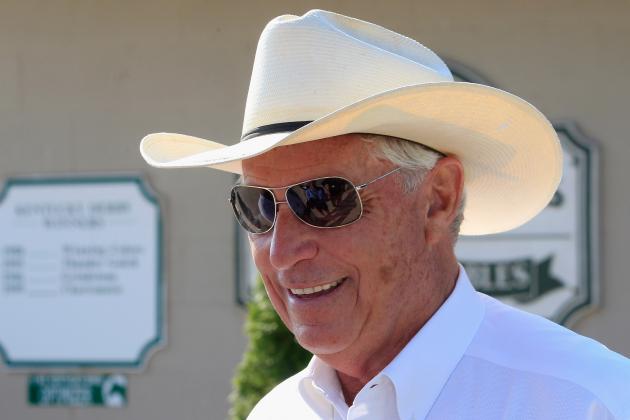 Rob Carr/Getty Images

No trainer has had more starters in Kentucky Derby history than Lukas' 45. He has four victories—the filly Winning Colors (1988), Thunder Gulch (1995), Grindstone (1996) and Charismatic (1999).
At age 77, the Hall of Fame trainer is the lion in winter, and he is having a Renaissance year. His Will Take Charge won the Grade 2 Rebel Stakes at Oaklawn Park at odds of 28-1, running down another Derby horse he trains, Oxbow, in the final strides. Oxbow is coming off a fifth-place finish in the Arkansas Derby that looked distinctly like a tune-up.
Both horses appear to be live, mid-priced shots to win—and put the old king back on top.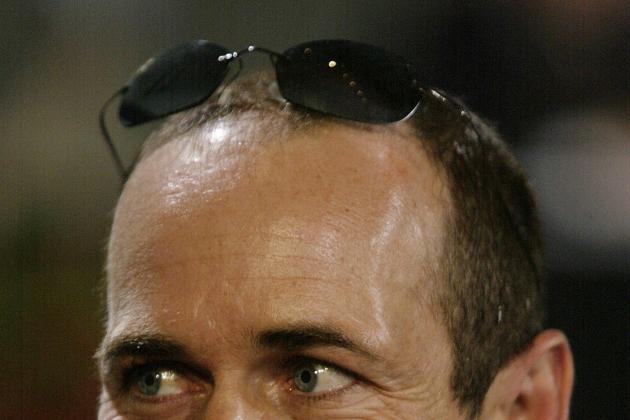 Andy Lyons/Getty Images

The three-time Derby-winning Hall of Famer retired in 2005 after 27 years in the saddle, but he has come back restless and ready in 2013 at the age of 50.
In the interim years, he tried his hand as a TV racing analyst, briefly worked as a trainer and had some notable turns acting, particularly as Georgie Wolf in "Seabiscuit" and as a fading jockey with an anger problem on the ill-fated HBO series "Luck."
Two of his three Derby victories came for Lukas, and still plenty capable, he will ride Oxbow on the first Saturday in May.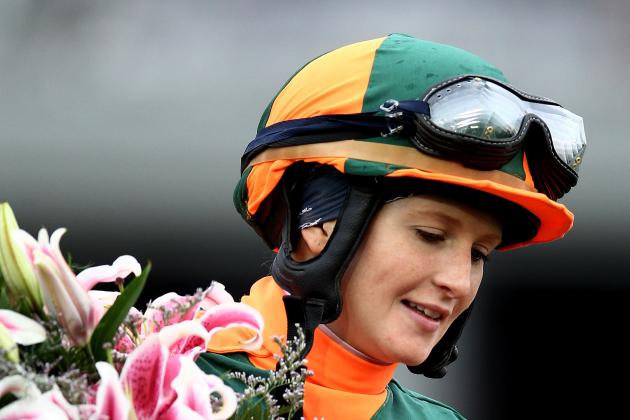 Matthew Stockman/Getty Images
Napravnik wins the 2012 Kentucky Oaks
In 138 years, only six women have ridden in the Kentucky Derby, beginning with Diane Crump, who finished 15th on Fathom in 1970. The distaff riders, including Hall of Famer Julie Krone, have been abysmal in the race, finishing no better than ninth. That result came in 2011, when Napravnik rode Pants on Fire.
At 25, she already may be the best female jockey of all time. Last year, she become the first to win the Kentucky Oaks, on Believe You Can. This year, she ranks fifth among all riders on the earnings list.
Napravnik had champion 2-year-old Shanghai Bobby poised to be a top Derby mount, but the horse failed to win in his prep races. She will ride Mylute for trainer Tom Amoss, instead, and the horse comes off a fast-rolling second in the Louisiana Derby.
Mylute last won a race in December, by 10 ¾ lengths. It was the only time the gray colt had Napravnik on his back.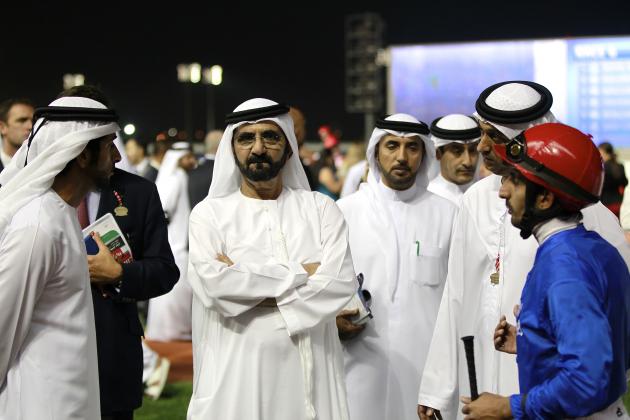 Neville Hopwood/Getty Images
Mohammed bin Rashid Al Maktoum at the UAE Derby.
Nine horses have competed in both the UAE Derby in the United Arab Emirates and the Kentucky Derby, and none have won. The best finish was a fifth by Master of Hounds in 2011.
Daddy Long Legs won the UAE Derby in 2012 and finished 20th in Kentucky, not even making it to the finish line. Lines of Battle won the UAE Derby in March over the artificial surface at the Meydan Racecourse, running a slow 2:02 for the mile and three-sixteenths. He has never raced on dirt.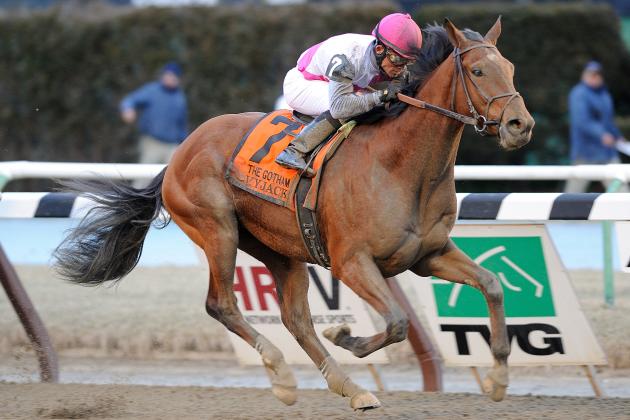 Photo courtesy of the Associated Press
Trainer Rudy Rodriguez, under suspension for a massive overage of an anti-inflammatory drug in a horse, was reinstated recently by the Kentucky Horse Racing Commission, so he could saddle the gelding Vyjack in the Derby.
The horse won the Gotham Stakes at Aqueduct and then finished third in the Wood Memorial. The barn Rodriguez is stabled in at Churchill Downs is under 24-hour video surveillance—at the request of the trainer, who argues that the drugged horse, Majestic Marquet, was sabotaged.
It wasn't the first time this year, however, a Rodriguez horse was found to have too much Banamine in its system. Rodriguez has a reputation as a tremendously hard worker, but he has long aroused suspicion because his entries win at an eye-popping clip.
Furthering thoughts of skullduggery, he came up as an exercise rider under none other than trainer Rick Dutrow, who is serving a 10-year suspension for conduct detrimental to the sport and repeated drug violations.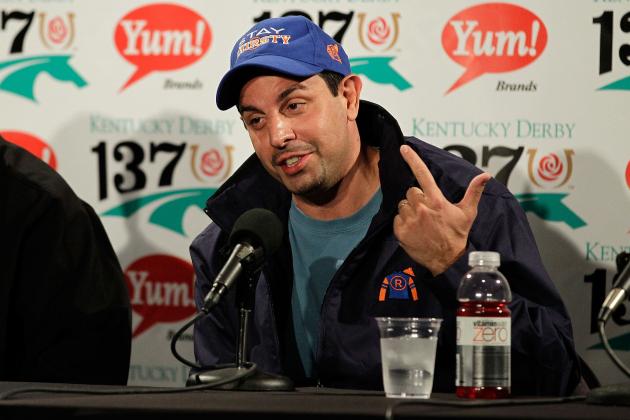 Rob Carr/Getty Images

No presence loomed larger than Mike Repole's at the 2011 Derby when he showed up with the mercurial Uncle Mo, who could have been the favorite but wound up scratched the day before the race because of a liver ailment.
At 40, Repole is ridiculously rich, having sold the product he founded, VitaminWater, to Coca-Cola for $4.1 billion. He's still got Pirate's Booty, which is a pretty tasty snack.
The Queens, N.Y. native gabs like no other in racing. He fills up the notebook. He has helped turn trainer Todd Pletcher's hair an early gray with phone calls that last nearly forever. He is incredibly polarizing, insufferable or effervescent, depending on your view.
Repole is a serious player with Overanalyze, 4 1/4-length winner of the Arkansas Derby.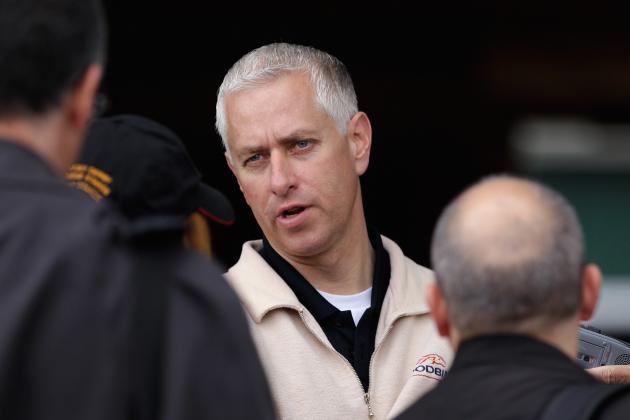 Rob Carr/Getty Images

In the past 32 years, trainer D. Wayne Lukas has started a record 45 Derby starters. In just 12 years, Pletcher has moved into second place all-time on the starters list with 31.
He heads into Derby 139 absolutely loaded, with Overanalyze, Revolutionary, Palace Malice, Verrazano, Charming Kitten and maybe even Lexington Stakes victor Winning Cause.
If he runs them all, is that even fair? Yet this certain Hall of Famer has been woeful in the Run for the Roses, only getting to the winner's circle one time, in 2010 with Super Saver, who ranks with 50-1 long shot winner Mine That Bird as perhaps the worst Derby winner of the past 20 years.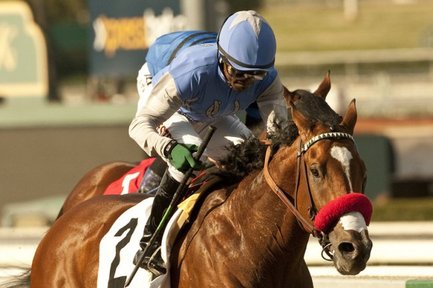 Courtesy of Benoit Photo
A second-string rider in the California circuit, the 29-year-old soon will have the distinction of being only the second black jockey—along with Marlon St. Julien—to ride in the Kentucky Derby since 1921.
Krigger won the Santa Anita Derby in his most recent start in electrifying fashion on Goldencents for trainer Doug O'Neill, who took the Derby last year with I'll Have Another.
Black jockeys won 15 of the first 28 Kentucky Derbys, but segregation ran them out for a long time.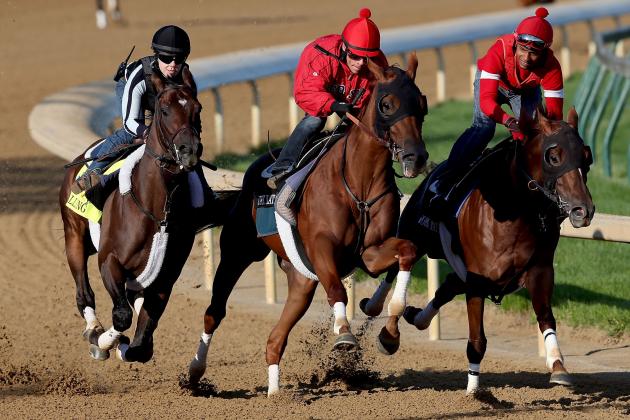 Matthew Stockman/Getty Images
Falling Sky on the outside.
Overbrook Farm announced Wednesday the great stallion Storm Cat had been euthanized at age 30, ending one of the great chapters in American Thoroughbred breeding history.
At the peak of his powers, the son of Storm Bird stood for a stud fee of $500,000, a lot of cash for a roll in the hay. Storm Cat sired 108 graded stakes winners, many with nasty tempers, and several of his sons have gone on to be top stallions, such as Giant's Causeway and Stormy Atlantic.
This year's Derby, however, only has one runner whose sire descends from the Storm Cat line, long shot Falling Sky.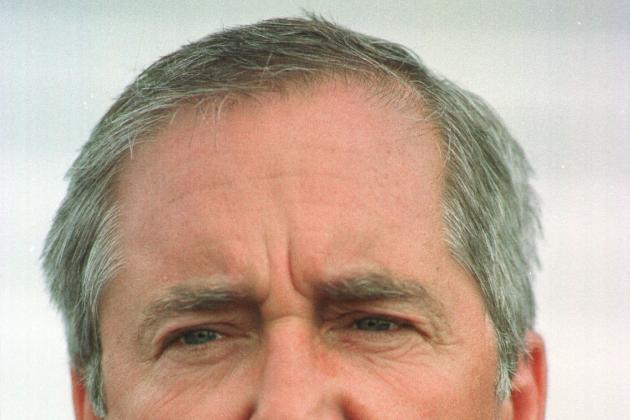 Matthew Stockman/Getty Images

In the 1980s, Claude "Shug" McGaughey III was a regular part of the Derby scene, saddling runners three different years—twice with two in the field—including the great Easy Goer, who finished second in 1989 to Sunday Silence in one of the great rivalries in the sport's history.
Since then, however, Shug has only had one runner, Saarland, who finished 10th in 2002. Unlike Todd Pletcher, D. Wayne Lukas, Nick Zito and others at the top of the sport, Shug trains for old-line owners in the Phipps Stable and Stuart Janney III, who do things a little bit differently. They don't push on the horses to get them to the big race; they let the horse let them know if they'r is ready.
With Orb, this year, they are in, but even after his victory in the Grade 2 Fountain of Youth in February, Orb wasn't a definite Derby horse. His subsequent victory in the Florida Derby, however, sealed the deal. Shug has never won the Run for the Roses, but if he shows up, you can be sure he thinks he has a live one.