Who Deserves the Blame for the Blue Jays' Very Slow Start?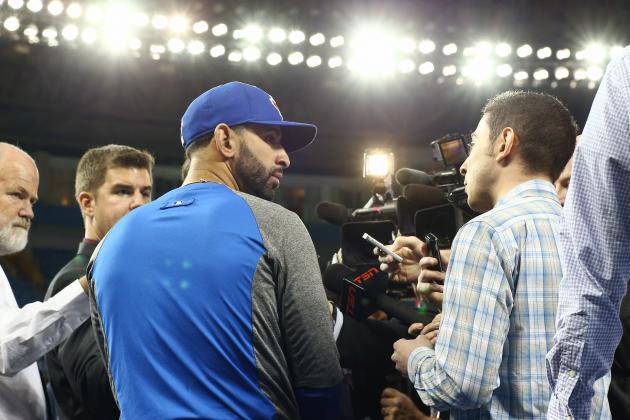 Tom Szczerbowski/Getty Images
Jose Bautista before a game discussing what a slow start the team is off to this season.
A team built on strong starting pitching and a nice blend of speed, skill and power in the batting order has so far been nothing but that.
Once in a while the starters will go past the sixth inning, but for the most part they have been inconsistent.
Inconsistent is bad, but non-existent is even worse.
Non-existence, meet the Toronto Blue Jays batters. Not only have they stunk up the joint, but the only regular right now batting over .260 is catcher JP Arencibia. The only batter with an on-base percentage over .325 is Adam Lind, and he doesn't play everyday because of matchups.
Projected superstar third basemen Brett Lawrie is struggling with his timing this year after returning from a month-long absence due to a rib ailment. He's averaging a strikeout every three at-bats. At this rate, over a 600 at-bat season, he will strikeout 200 times.
You could live with the strikeouts if he was producing runs, but right now he can barely find his way to first.
So who is to blame for the Jays' horrible start? Here are five reasons you can point at for the Jays' terrible start.
Begin Slideshow

»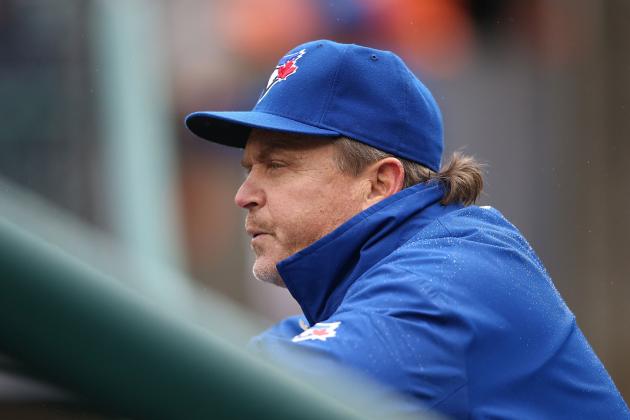 Leon Halip/Getty Images

Questionable pitching substitutions, coupled with even more questionable offensive substitutions leads me to always shake my head when watching Gibbons manage a game.
Not only is he the complete opposite of former Blue Jays micro-manager John Farrell, but there are times I wonder if he has a pulse on the bench.
Laid back, a real players' coach, the accountability in the room seems to be gone and players look to be playing for themselves.
Gibbons just now is starting to tinker with the lineup, but again, no real success.
The Jays won a game on Wednesday April 24th against the Orioles 6-5 in 11 innings as they belted out an astounding eight hits, four of which were home runs in the game. The problem I have is three of the four home runs were solo shots, and even worse, only one player on the entire roster had more than one hit, that was JP Arencibia, who had three.
The Blue Jays cant get on base, and when they do, rarely do I see them playing hit and run, or even trying to steal a base. It's a facet of the game which will help the batters see more fastballs, but yet again, Gibbons doesn't spice things up on the basepaths, electing to try and clog the bases and hit grand slams.
In the bizarro-world where outs are base hits and base hits are outs, maybe that will work, but not here.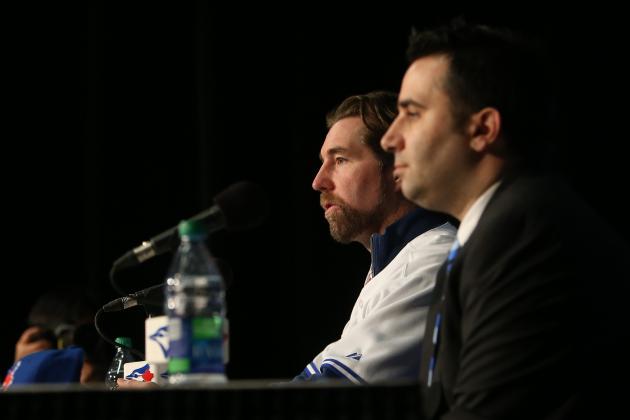 Tom Szczerbowski/Getty Images

Looking back on last season there were obvious holes in the lineup.
The starting pitching was atrocious, but Anthopoulos addressed that by acquiring reigning N.L. Cy Young winner R.A. Dickey, Josh Johnson and veteran lefty Mark Buehrle.
The pitching this year has been inconsistent, but there are signs that things will turn around.
On the offensive side of things, the Jays were sorely lacking a leadoff hitter and a middle-of-the-diamond presence. They acquired that by getting Jose Reyes in the package that saw Johnson and Buehrle head to Toronto.
The Jays were also lacking speed in the lineup. With the acquisition of Reyes, along with Emilio Bonifacio in the same trade, the Jays obviously got quicker. Signing Melky Cabrera, Maicer Izturis and having fourth outfielder Rajai Davis as a pinch runner just added to the speed.
However, the vision that Alex Anthopoulos thought of hasn't happened and is he totally to blame?
I don't feel he deserves the brunt of the criticism for the acquisitions he made. If they play to their standards, they will all be ok.
But the hiring of John Gibbons, which sent the baseball world into a state of shock, may be the man's downfall. Gibbons is the anti-Farrell. He's the complete opposite of a micro-manager, and to be honest, the Jays may have needed a micro-manager after all.
Farrell's success at that has allowed the Boston Red Sox to get out to their hottest start in years. Fact is, if Anthopoulos isn't the GM of the Jays, Gibbons isn't re-hired as manager, simple as that.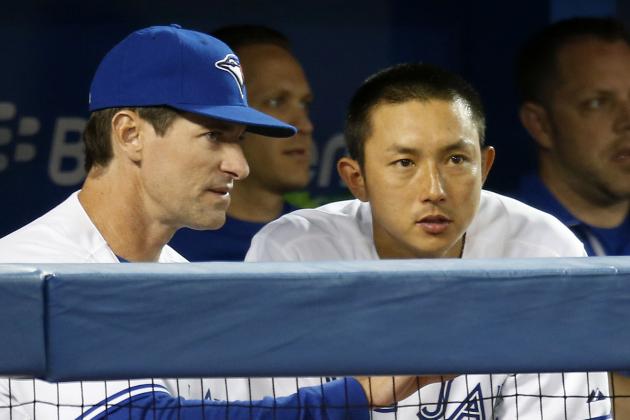 Tom Szczerbowski/Getty Images
Mottolla attempting to tell Munenori Kawasaki how to pull a baseball. Kawasaki would later line a ball directly into the dugout, opposite field.
These guys are the current and former Jays hitting coaches. If you want someone directly responsible for the Jays' woes at the plate, look no further than these two guys.
Mottola seems as though he doesn't want to rock the boat that much and is trying to get a feel for what his players are doing. Meanwhile, the long road ahead for him is trying to desensitize the team from the teachings of Dwayne Murphy.
Murphy's concept of hitting is simple: Get a pitch you like and hit it with as much power as you can. In other words, put a powerful swing on it. Personally, that is a terrible approach, as many players will swing at fastballs on the outside corner, and end up pulling them weakly for groundballs.
Not only that, but they become more susceptible to off-speed pitches. Colby Rasmus can attest to that as he has one of the highest strikeout rates of anyone on the roster.
The biggest thing with me is the Jays' inability to get on base, which even if they get a guy on base, they can't string base hits together because everyone is trying to hit home runs.
Everyone is trying to hard and their swings are too long. The Jays need to get back to the basics of hitting.
As a former baseball player and shortstop, I hit better than .300 in college every year I played. What I did was to sit on a pitch until two strikes. That might for work the Jays.
If I'm looking for a fastball mid to low, in the middle or middle in, then I will put a good swing on it. If it's anything else, even a fastball that starts at my eyes, I don't swing.
I would usually chart where the pitchers are trying to pitch me. If, for example, they are pitching Jose Bautista away, if I was Jose, I'd be sitting on a fastball outside, and looking to smash the ball to the opposite field. I'm not trying to pull it. That's where the problems lie.
Everything the Jays try to hit is pulled. Bautista, Edwin Encarnacion, Brett Lawrie, J.P. Arencibia and Colby Rasmus all have to deal with a shift. If they were going to all fields, the field opens up and the holes in the defence begin to show.
Simply put, the Jays are trying to do too much. Trying to pull the ball on outside pitches, swinging at get-me over fastballs and fouling them off, and not swinging at fastballs down the pipe have led to the Jays' hitting struggles.
Lets hope someone can put a stop to it.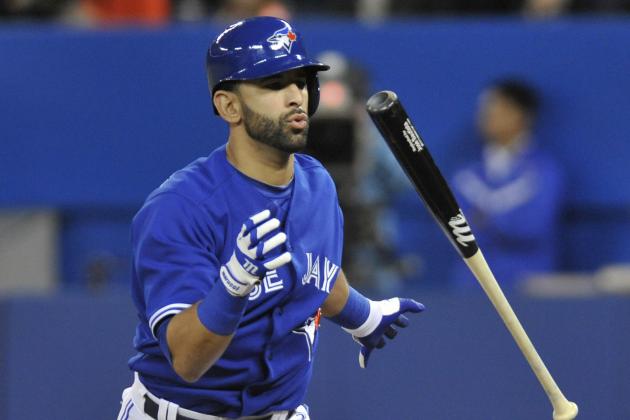 Brad White/Getty Images

Jose Bautista has been affected by some nagging injuries yes, but the fact is he's just not playing to his capabilities.
Batting a shade over .190 and having an OPS under .800 is something Bautista has never really shown in Toronto.
The trouble with Bautista is his strike zone awareness. In years past, Bautista would have an eagle eye for pitches out of the strike zone and not swing at them. This caused pitchers to work around him. He drew more walks than any Blue Jay the past three years.
As a result, he has always had an on-base percentage well over .350 as a Blue Jay. This season, though, he's striking out more, and worst of all, he's walking less, which means he's being less selective at the plate.
Whether his timing still isn't quite there because of the injury sustained last year, I can't honestly say. But his approach at the plate has changed for some reason. It has to happen soon as the games quickly fly by and the teams fly past them in the standings as the days go by. The time is now to fix things, not wait until the end of the season.
I feel he'll have a down April, but he'll get his timing in May. The other Jays hopefully will follow.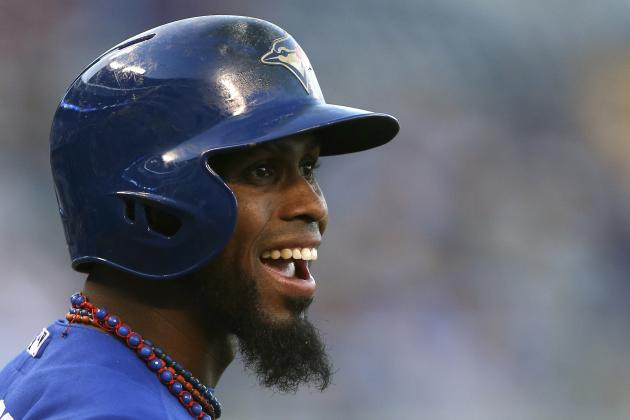 Ed Zurga/Getty Images

The New York Yankees are winning despite fielding a team full of Blue Jay thow-aways. Vernon Wells looks like the man the Jays signed a massive extension to. Lyle Overbay is spraying the ball to all fields like his younger days. Jayson Nix is providing decent defence at third this season and Ben Francisco is providing a decent bat in the middle of the order for them.
All of these throw-aways are filling massive holes in the Yankees lineup.
Curtis Granderson (Wells), Mark Teixeira (Overbay), Alex Rodriguez (Nix) and Derek Jeter (Eduardo Nunez) are all missing time with various injuries, but the Yankees don't let that get them down. They take good at-bats and have been getting good pitching, which has led to a good record.
The Jays, on the other hand, are in the midst of getting guys back from injuries and the lack of timing still is being noticed.
Jose Bautista hasn't had 100 at-bats in a row since pre-All-Star break last season, and his timing still isn't there. Same goes for Brett Lawrie, who missed most of spring training with a rib injury. Edwin Encarnacion struggled a bit with a finger injury that cost him about a weeks worth of at-bats in spring training. His lack of timing is beginning to dissipate, but the quality of at-bats still hasn't changed with the guys. They haven't worked the pitcher and elect to give in to what the pitcher is throwing them.
However, the biggest injury of all came to the catalyst in the Jays lineup, Jose Reyes, who slid awkwardly into second base in Kansas City and managed to severely sprain his ankle. His electric bat is now out of the Jays lineup for up to three months.
The loss of Reyes has probably been the turning point in the Jays' season so far. Until Anthopoulos can replace Reyes with a capable batter, look for the Jays to struggle more and more offensively until something is done, whether it's a coaching change, or another major shake-up.