Dortmund got the better of Real Madrid in the Champions League group stage, and they made quite a statement in doing the same this time around. With four goals from Robert Lewandowski, Dortmund dominated Los Blancos to the tune of 4-1 in Wednesday's Champions League action.
It didn't take Dortmund long to take the advantage over Real Madrid this time around, either. Lewandowski continued his tremendous year in the eighth minute with his 24th goal courtesy of a Mario Gotze assist, his seventh in 11 Champions League matches this season (via Opta Sports):
9 - Robert Lewandowski has now been involved in nine goals (7 goals, 2 assists) in 11 CL appearances this season. Coveted.

— OptaJoe (@OptaJoe) April 24, 2013
The first 20 minutes were dominated by Dortmund's attack, keeping Los Blancos from getting anything going in response to Lewandowski's opening strike. Footytube perfectly captured the feel of the early minutes of the match with this tweet:
Dortmund going rampant in Madrid half, resulting in Madrid attempting some wild tackles

— Footytube (@footytube) April 24, 2013
Real Madrid got their first true scoring opportunity in the 23rd minute with a Cristiano Ronaldo free kick, but his attempt missed the mark and was deflected by Dortmund goalkeeper Roman Weidenfeller without much effort.
Los Blancos would get three more free kicks in the following six minutes, but the opportunities were squandered and Dortmund retained their 1-0 advantage into the 30th minute.
Real Madrid's scoring opportunities showed a small shift in momentum, but Dortmund clearly dominated the early action, as pointed out by Digvijay Singh Deo:
Real Madrid unfortunately are getting blown away here...there will be a very grumpy Mourinho at halftime

— Digvijay Singh Deo (@Diggy_SinghDeo) April 24, 2013
Dortmund's early dominance was a direct result of high energy and tremendous aggressiveness at both ends of the pitch. Real Madrid were given few quality opportunities to work in space, and the product was a first half controlled by Lewandowski, Gotze and company.
Miguel Delaney summed up the first 40 minutes (and foreshadowed the next few) with this tweet:
This is superb from Dortmund. Not giving Ronaldo or anyone at Real an inch to move in. Suppose question is how sustainable at this level.

— Miguel Delaney (@MiguelDelaney) April 24, 2013
Much of Dortmund's impressive first half can be attributed to Lewandowski's early-match goal that set the tone for the following action. As Opta Sports illustrates with this tweet, Real Madrid aren't used to playing from behind early in matches:
8 min - Real Madrid have conceded against Borussia their fastest goal in the #UCL since 2008 (Del Piero for Juventus in 2008 5 min). Warning

— OptaJose (@OptaJose) April 24, 2013
Everything would change in the 41st minute, however, and it's no surprise Ronaldo was the player to even out the score (via BBC Sport):
GOAL: Cristiano Ronaldo equalises for Real, a mistake at the back lets in Higuain who finds Ronaldo to slot home. bit.ly/XX9Y5c

— BBC Sport (@BBCSport) April 24, 2013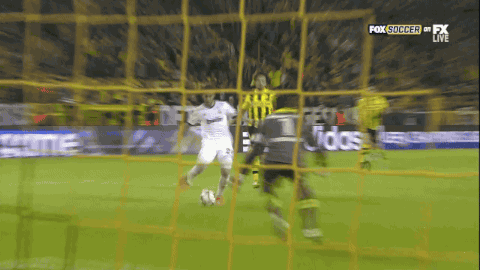 Ronaldo's goal wasn't exactly a difficult scoring opportunity to convert, but the result was a massive shift in momentum and new life for Real Madrid as halftime approached.
Halftime was enough to re-energize Dortmund's attack, however. In nine minutes following the break, Dortmund connected on two scoring strikes to take an overwhelming 3-1 advantage, both of which were provided by Lewandowski.
The Polish striker completed his hat trick with both of the club's opening second-half goals—the first time Real Madrid has ever conceded such a feat in Champions League history (via Opta Sports):
RT @optajose: 1 - Robert Lewandowski is the 1st player to score a hat-trick against Real Madrid in #UCL history. Explosion.

— OptaJoe (@OptaJoe) April 24, 2013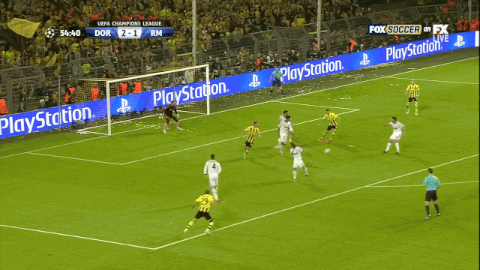 Lewandowski wasn't done, though. In a truly remarkable performance, the striker nailed yet another goal, this time in the 66th minute. As Simon Clancy humorously illustrated with this tweet, Lewandowski's performance will certainly earn some favor with Dortmund fans:
Robert Lewandowski will never have to buy another drink in Dortmund ever again.

— Simon Clancy (@SiClancy) April 24, 2013
With a 4-1 lead, Dortmund were in no danger of letting this match slip away in the final 20 minutes. Real Madrid were simply outmatched from the onset, made evident by Lewandowski's dominating performance.
Dortmund's win was a statement to the remaining Champions League squads in the hunt for the title. Dispatching Real Madrid wasn't expected to be easy, but that's how Dortmund made it look. If they can match the same energy going forward, there isn't a team in the league that will slow them down.
Robert Lewandowski: A+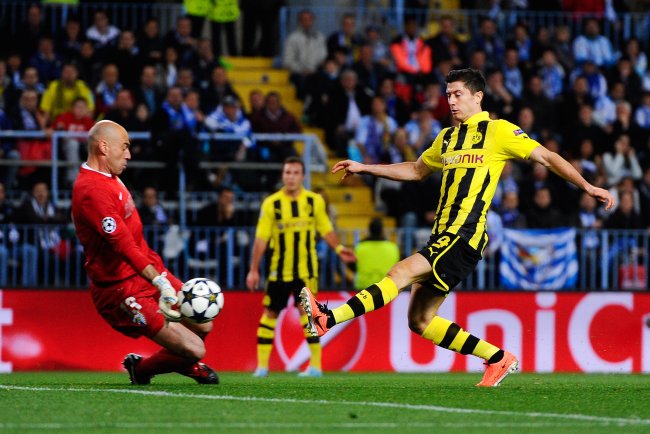 David Ramos/Getty Images
There's nothing bad to be said for Lewandowski's play in this match. He single-handedly set the pace in the match's opening minutes and provided the dagger in the opening minutes in the second half with his tremendous scoring strikes.
Despite being considered by some as the weakest team remaining in Champions League play, Dortmund absolutely embarrassed Real Madrid with impressive aggressiveness and plenty of energy. Lewandowski deserves much of the credit for that.
The Polish striker may leave this summer, but he certainly hasn't given up pushing Dortmund through UCL play. If he continues playing as well as he did in this match, his club will be hard to stop.
Cristiano Ronaldo: B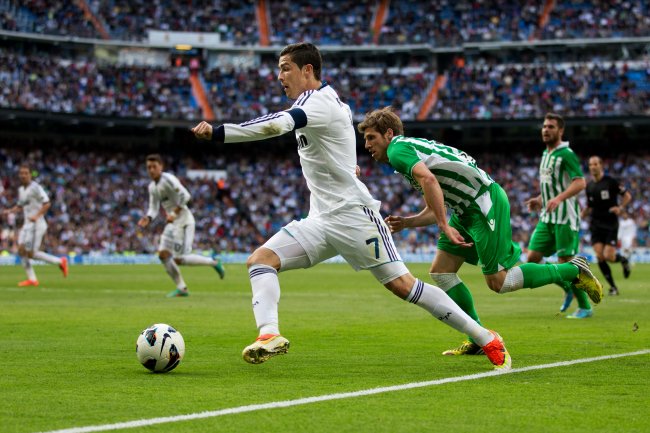 Jasper Juinen/Getty Images
It's hard to criticize Ronaldo for his performance against Dortmund. The striker did his part in evening the score at 1-1 in the first half, but his opponent was simply too aggressive to allow much more production from the superstar.
Dortmund controlled the pace of the contest from the start, and Real Madrid's loss wasn't credited to just one player. Expectations were high for Los Blancos entering this match. They just didn't deliver.
Dortmund's midfield defense was superb throughout the match, stifling Ronaldo's ability to create his own scoring opportunities. Without help from Real Madrid's forwards, Ronaldo's attempt to get his club back in the action proved futile.
Mario Gotze: B
There's something to be said for a player who continues to produce with one foot out the door. He may be on his way to Bayern this summer, but he's still a huge part of Dortmund's Champions League run.
The midfielder helped set the tone in keeping Real Madrid from mounting any semblance of an attack in the second half, and also assisted on the strike that put Dortmund in the lead in the eighth minute.
Lewandowski did the damage in this match, but he wouldn't have had as many tremendous opportunities were it not for Gotze and the attention he commanded from Real Madrid in the midfield.
Pepe: D
Real Madrid's defense was atrocious throughout this contest. There's plenty of blame to go around, but Pepe clearly looked to be a big part of the problem on Wednesday.
The defender did nothing to stop Lewandowski on his final two scoring strikes, appearing completely overmatched by the forward. Real Madrid's entire defense is at fault for this loss, and Pepe didn't help their cause.