Final Regular Season Grades for Each Dallas Mavericks Player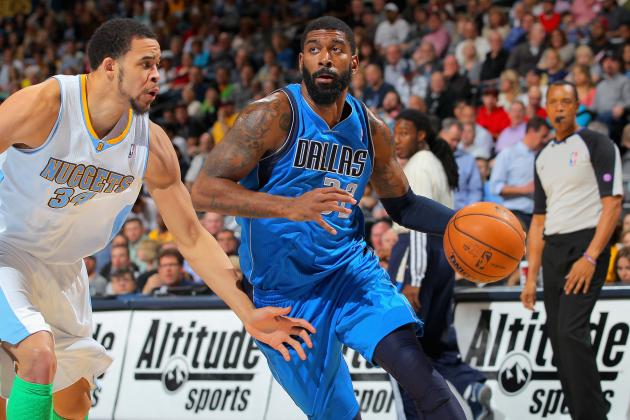 Doug Pensinger/Getty Images

After a 41-41 season, the Dallas Mavericks are currently watching the NBA playoffs from home after failing to make the postseason for the first time since the turn of the century.
The Mavericks roller coaster ride of a season saw many great moments as well as some awful ones, and it seems only appropriate that they finished the year right where they started it.
Dallas will now have some serious decisions to make in the offseason regarding which players they will be bringing back. The Mavericks only have five players currently under contract for next season, so how these players performed in a Mavs uniform this season will go a long ways in determining who wears the blue and white in 2012-13.
Begin Slideshow

»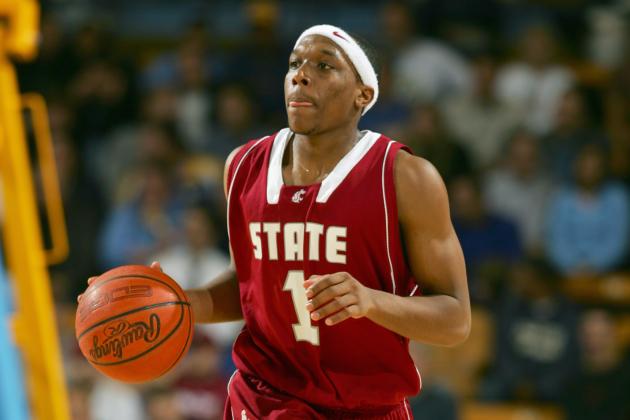 Jeff Gross/Getty Images

The reason you see the picture of Josh Akognon in a Cal State Fullerton uniform in the picture above and not a Dallas Mavericks one, was that Akognon didn't have any pictures in the Getty Images database in a Dallas Mavericks uniform.
That may give you some indication of how little an impact he made this season in Dallas.
Akognon played in only three games at the end of the season averaging 3 minutes, and 1.7 points.
Akognon may very well have a bright future in the NBA, but his sample set right now is far too small to show any indication one way or another.
Grade: Incomplete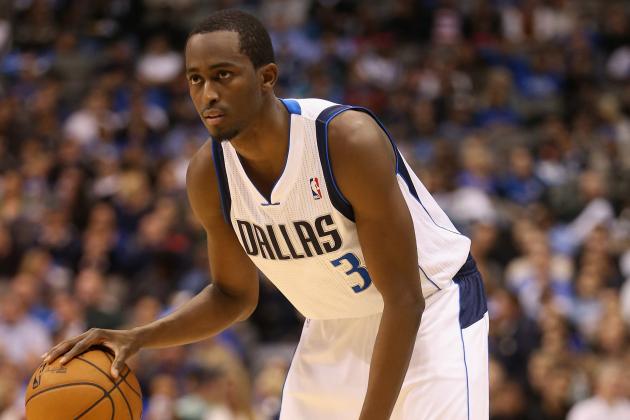 Ronald Martinez/Getty Images

Another season, another disappointment for Rodrigue Beaubois in Dallas.
Now that he is a free agent, Roddy B seemingly has played his last game in a Mavericks uniform, and for most fans that will be a welcome notion.
Beaubois never lived up to his potential to be the Mavericks point guard of the future, and this season he struggled with injuries, and while on the court he never seemed to find his place.
Although he certainly had flashes of the lightning quickness and dynamic scoring ability Beaubois has shown in the past, overall it was a total dud of a season for the Frenchmen.
Beaubois averaged a career worst 4.0 PPG while shooting just 36.9 percent from the field and averaging under two assists.
Grade: D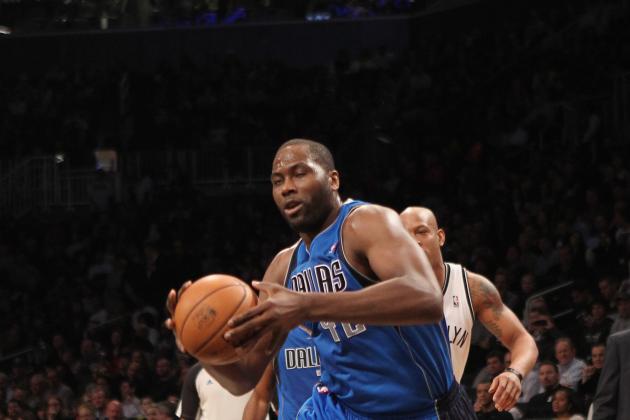 Bruce Bennett/Getty Images

Father time really seems to be catching up with Elton Brand.
Although he is only 34, Brand isn't half the player he was in his prime and unfortunately it is mostly due to the injuries he had to face over his career.
Despite the fact that he was relatively healthy this season—having played in 72 of 82 games—Brand had his worst season in the NBA.
The Mavericks were really hoping that Brand and Chris Kaman would take the pressure off of Dirk Nowitzki on the offensive end, but Brand managed just 7.2 PPG and 6.0 RPG in just over 20 minutes.
He certainly wasn't useless as Brand was a physical body that Dallas could bring off the bench and play solid defense, but it's safe to say that Brand did not play up to the level the Mavericks were expecting when they signed him last offseason.
Grade: C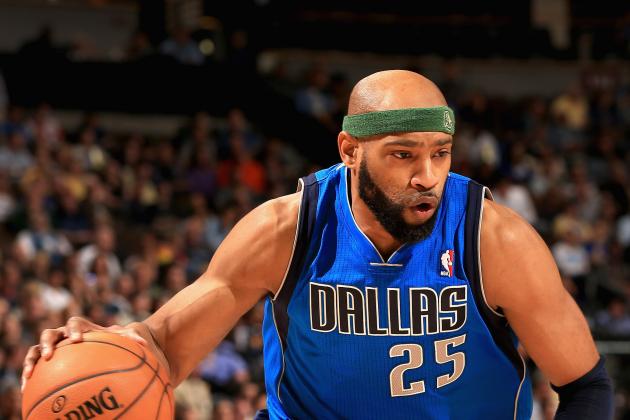 Doug Pensinger/Getty Images

Despite starting only three games this season, Vince Carter had one of his more productive seasons in recent memory.
While coming off the bench Carter averaged 13.4 PPG, while shooting over 43 percent from the field and tying his career high in three-pointers made with 162.
Stunningly, Carter was completely snubbed of any Sixth Man of the Year consideration, but it is not lost on Mavs fans how much of an impact Carter had this season.
Sure there were certainly games when he took too many bad shots, but Carter proved that he can still be an effective player even at his age of 36.
Who knows how many years Carter has left in him, but Dallas certainly will be happy to have him back in a Mavs uniform next year if he can continue to put up numbers like that.
Grade: A-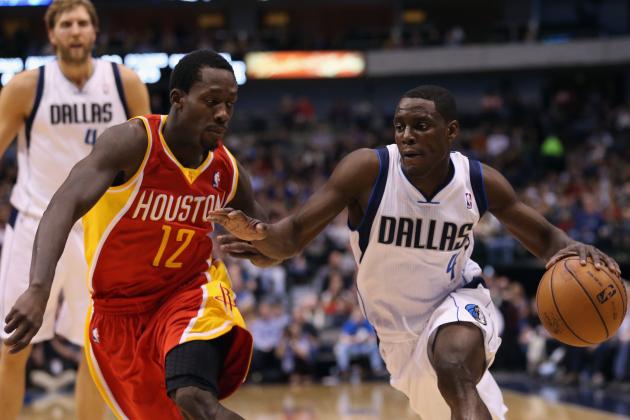 Ronald Martinez/Getty Images

It is relatively hard to gauge how effective Darren Collison was in his first season with the Mavericks.
On one hand, he wasn't all that bad. After all, Collison was the Mavs best player in several games this year, and his quickness and scoring ability were on full display.
As a whole, he put up numbers eerily similar to what you would expect based on his career averages in the NBA. His scoring (12.0) was right there with his career average (12.1). His rebound average was exactly the same at 2.3, and his assist numbers were within .1 as well (5.1 to 5.2).
Still, the Mavericks were likely hoping Collison wouldn't remain stagnant this year, but instead take the next step.
All the pieces were there for him. He had talent around him, the starting role was his for the taking, and he had a new environment to start fresh.
However, Collison was unable to really play with any consistency. If he does come back to Dallas, expectations will be raised next season and Collison must improve if he wants to see consistent playing time.
Grade: B-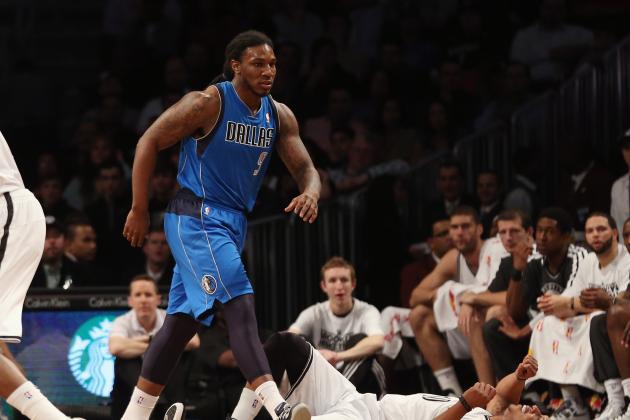 Bruce Bennett/Getty Images

Jae Crowder showed this season that he has the capability of being a solid rotation player in the NBA.
As far as second-round draft picks go, it had to be considered a successful year for Crowder.
The stats weren't all there. He averaged just 5.0 PPG, shot under 40 percent, and averaged 2.4 rebounds.
However, Crowder showed the hustle and defensive ability that he will need to find his niche at the NBA level.
Crowder isn't going to be effective if he asked to put up big scoring numbers. Instead, he is at his best when he is coming off the bench and providing a spark on both ends of the court.
The growing pains were certainly all there for Crowder in his first NBA season. However, there is still plenty of years for him to grow, and he could be an effective player for the next several years.
Grade: B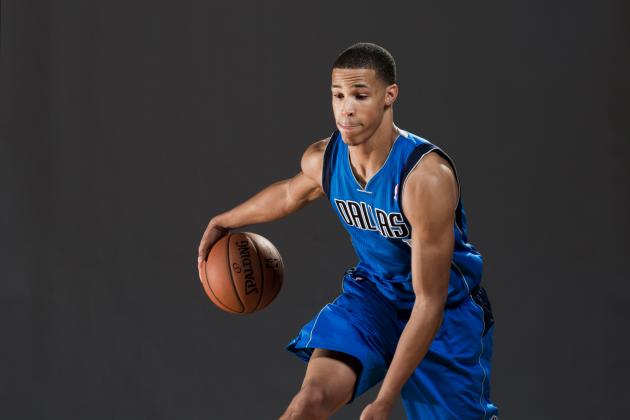 Nick Laham/Getty Images

Much like Josh Akognon, there's not much to say about Jared Cunningham's rookie NBA season.
Moving back and forth from the D-League to the NBA, Cunningham managed just eight games with the Mavericks, scoring 2.0 PPG in just over 3 minutes.
If Cunningham still doesn't catch on next year, he has to be considered a bust at the NBA level, but it's unfair to judge a guy who played that limited amount of time in the NBA after just one season.
Grade: Incomplete
Ronald Martinez/Getty Images

The fourth Mavericks rookie to be on their final roster was 6'10'' Center Bernard James.
James played in half of the team's games this season averaging just under 10 minutes a game. James clearly was very green on the offensive end, but the 28-year-old former Air Force Staff Sergeant was an imposing physical presence on defense.
On a team full of soft big men, James was often inserted into games to protect the rim. James averaged nearly a block a game which is impressive for playing the limited amount of time that he did.
It will be interesting to see if James can claim the Mavericks back-up center role next season, if he is able to gain consistent minutes and improve offensively.
Grade: B-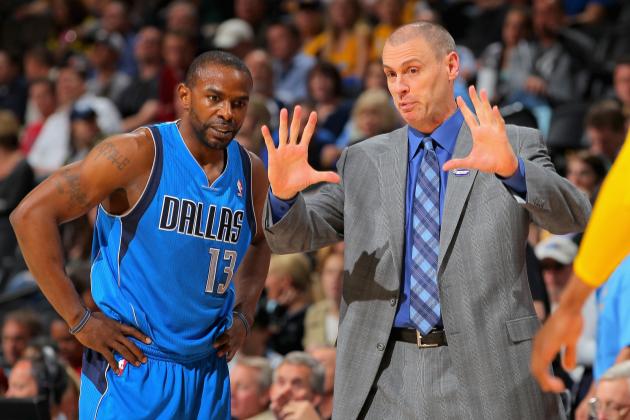 Doug Pensinger/Getty Images

When the Dallas Mavericks signed Mike James midseason to help fill the back-up point guard role, they probably didn't expect much production out of the 10-year veteran.
However, James was a pleasant surprise for the Mavs in the second half of the season, and ended up taking the starting role away from Darren Collison.
James finished the season averaging 6.1 PPG, and 3.5 APG. Although James didn't shoot the ball particularly well, he was a calming presence and seemed to flow well with the Mavericks starting unit.
It's unclear right now if the Mavericks have interest in bringing James back, but even if they do the most he can hope for is to compete for a back-up role.
However, James proved that even nearing 40, he can still effectively run an NBA team, and should find a job next year even if it's not in Dallas.
Grade: B
Ronald Martinez/Getty Images

Thing just didn't work out between Chris Kaman and the Dallas Mavericks.
Kaman certainly is talented on the offensive end, and he continued his steady performance this season averaging 10.5 PPG and 5.8 RPG while going in and out of the starting center spot.
However, Kaman was just as poor defensively as he was good offensively.
Kaman struggled to shut down opposing big men, and he and Dirk Nowitzki played too similar on defense to be effective. Both are passive and un-aggressive despite their seven-foot frame.
There is no doubt that Kaman still has gas left in the tank and he could really help a team in need of scoring in their front-court.
However, he isn't a good fit for Dirk Nowitzki or Rick Carlisle, so expect 2012-13 to be the only season Kaman spends as a Maverick.
Grade: C
Ronald Martinez/Getty Images

Shawn Marion's best days may be behind him, but he still is one of the most efficient players on the roster.
Marion had another outstanding season for the Mavs leading the team in rebounding, and stuffing the stat sheet in every major category.
Marion wasn't heavily relied on in the scoring department, but he still averaged over 12 PPG and shot over 50 percent from the floor.
Plus, Marion continued to be the Mavericks premiere perimeter defender despite being 34 years young.
Along side Dirk Nowitzki and Vince Carter, having Shawn Marion back and 100 percent is a must if the Mavs want to be a playoff team next season.
Grade: A-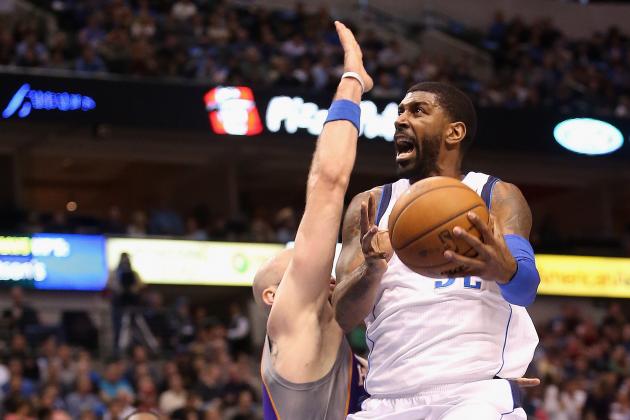 Ronald Martinez/Getty Images

For O.J. Mayo, 2012-13 felt like two totally different seasons rather than just one.
In the first half of the Mavericks schedule, Mayo was lighting it up and scoring with the best players in the NBA, showing that he is fully capable of being a team's number one option on offense.
However in the second half of the season, Mayo fell way off the map and struggled to have any serious consistency. He struggled shooting, disappeared for games at a time, and never seemed to fully get on the same page as Dirk Nowitzki.
Mayo may or may not re-sign with Dallas for the long-term, but whoever has him next year will certainly hope the Mayo that Dallas saw for the first 25 games is what Mayo is really made of.
Considering that Mayo started all 82 games, it has to be looked at as a disappointment that he didn't match the production he had in his first two seasons in the NBA while in Memphis.
15.3 PPG is certainly nothing to be ashamed of, but Dallas was hoping for more from Mayo as the team's number two scorer.
Grade: C+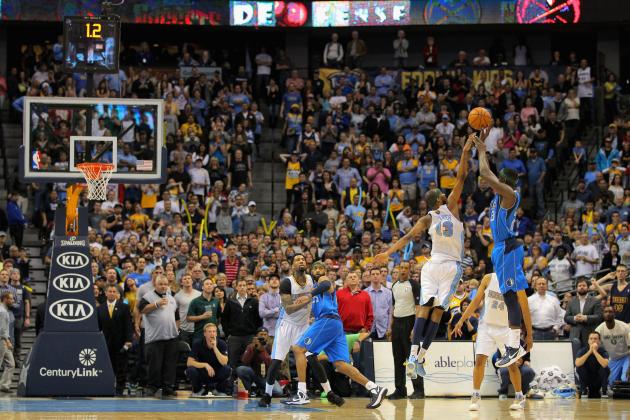 Doug Pensinger/Getty Images

Many expected the Dallas Mavericks to be very active at the NBA trade deadline this season to attempt to get back in the playoff race.
Instead, Dallas made only one move, and that was to trade Dahntay Jones for Anthony Morrow from the Atlanta Hawks.
Morrow has proven to be a sharpshooter in the past, but he struggled to get off the bench since coming over in the trade.
Morrow played in 17 games for Dallas but averaged under 10 points a game, averaging only 4.0 PPG.
It would have been interesting to see what Morrow could do if he got more PT, but playing behind O.J. Mayo and Vince Carter, it was a tough spot for Morrow to be in.
Still, Morrow shot the ball well for Dallas and he was effective when he saw the floor.
Grade: Incomplete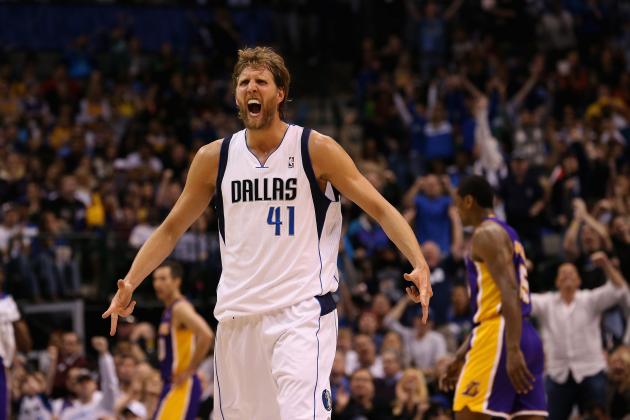 Ronald Martinez/Getty Images

For the first time since 2001, Dirk Nowitzki did not represent the Western Conference in the All-Star game this season.
That was because Nowitzki was forced to miss the first two months of the season after knee surgery in the preseason.
Dirk had his least effective season in a long time while dealing with rehabbing from the injury.
Still, even while not playing at 100 percent, Nowitzki was the Mavericks best player and had moments this season that showed why he is still one of the best players in the game.
Even after all of his hardships, Dirk still ended up leading the Mavericks in scoring and would have finished in the top 30 in scoring if he was eligible having played enough games.
Dirk's season is certainly not one that he will remember in his storied career, but it definitely wasn't a bad one when you look at all the factors going against him in 2013.
Grade: B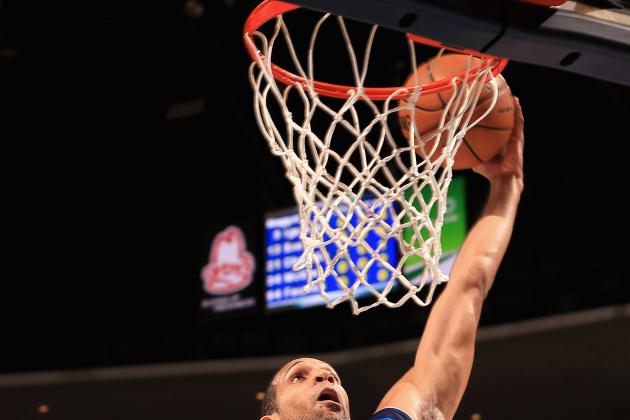 Doug Pensinger/Getty Images

It took Brandan Wright a while to get out of the doghouse, but once he did he proved just how much potential he has on the offensive end.
Wright went back and forth between playing significant minutes and riding the pine this season as Rick Carlisle was never really comfortable with his defense and his rebounding.
Wright was just never able to play even average defense, and only grabbed 4.1 RPG.
However, he showed that he was a more than capable offensive threat as he averaged 8.5 PPG despite playing just 18 minutes.
The big man went over 15 points in seven of his 64 games, including five in the last month of the season. Since March, Wright began to play more and more minutes and he became a key threat for the Mavericks while coming off the bench.
If Wright can improve his rebounding and defense to go along with an offensive game, he could be an important key to the Mavericks future.
Grade: B