Bengals 2013 Mock Draft: Final 7-Round Predictions for Cincinnati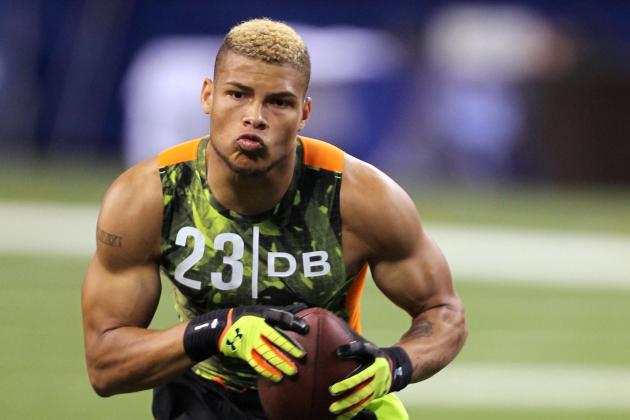 Brian Spurlock-USA TODAY Sports
Could LSU's Tyrann Mathieu be a member of the Cincinnati Bengals when the dust settles?
The 2013 NFL draft is here, and with its arrival marks an opportunity for the Cincinnati Bengals to take the next step while working toward a third straight playoff berth.
Head coach Marvin Lewis and his staff are in an interesting position—for the first time in a long time, Cincinnati does not have one major, glaring need to address.
Not only that, the team has one of the deepest, youngest rosters in the NFL and 10 draft selections to work with, including two selections in the second round.
How will Lewis and Co. react? Will a running back be taken early? Maybe a talented linebacker to finally push the polarizing Rey Maualuga out of the spotlight? Or maybe take a top receiver to put across from A.J. Green?
Read on to find out, as we'll answer those questions and more in our final Cincinnati Bengals seven-round mock draft.
All pertinent prospect info courtesy of CBS.
Begin Slideshow

»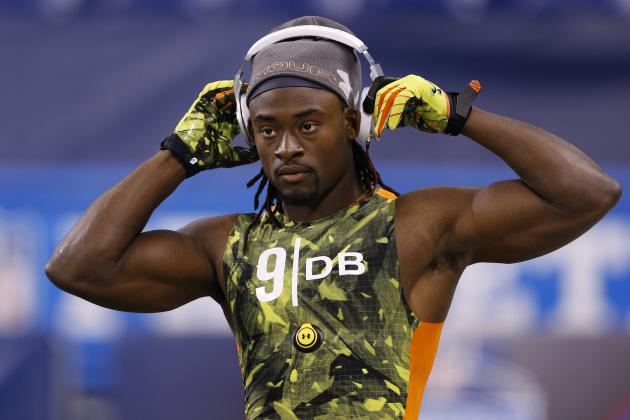 Joe Robbins/Getty Images
Jonathan Cyprien fills a major need for the Bengals on the defensive side of things.
The Cincinnati Bengals enter the first round of the draft with the possibility of going in a variety of different directions.
One such direction would be filling the vacant safety spot next to starter Reggie Nelson. The spot was manned by Taylor Mays and a cast of others last year, but it was arguably the weakest point on one of the NFL's better overall units.
With Texas' Kenny Vaccaro likely off the board to a safety-needy team such as the St. Louis Rams, Florida International's Jonathan Cyprien is the next best player at the position.
Cyprien has great size at 6'0" and 217 pounds, and more importantly, he's athletic enough to play either safety position. With the two safety positions (free and strong) essentially merging into one as the NFL becomes even more pass-happy, Cyprien's versatility is a welcomed addition.
The good news about Cyprien is he's a highly aggressive player who impresses in coverage. His selection could help to end some of the seemingly endless struggles the Bengals defense is notorious for having with tight ends.
There are likely other positions on the board here that could have been the pick, but none truly match the impact Cyprien could have right away.
Joe Robbins/Getty Images
Giovani Bernard is the missing element the Bengals need on the ground.
Outside of safety, the only other obvious slot on the roster that could use an upgrade is at the running back position.
The Cincinnati Bengals starter from a year ago, BenJarvus Green-Ellis, is back in the fold. While he was elite in short-yardage situations, he lacks the speed to keep defenses honest. Bernard Scott is back as well and coming off an ACL tear, but more speed and youth is needed at the position.
Look no further than North Carolina's Giovani Bernard at this spot.
In fact, Bernard may be worthy of a first-round selection, but the continued devaluing of the position means he will fall here. Bernard has a similar play-style and skill set to that of Cleveland's Trent Richardson—although he is a bit smaller.
Bernard would not be a feature back in Cincinnati, but rather one element of the committee offensive coordinator Jay Gruden is looking to establish.
Bernard packs a punch and is a threat to make the big plays every time he take a handoff, which is something Cincinnati has been missing for years.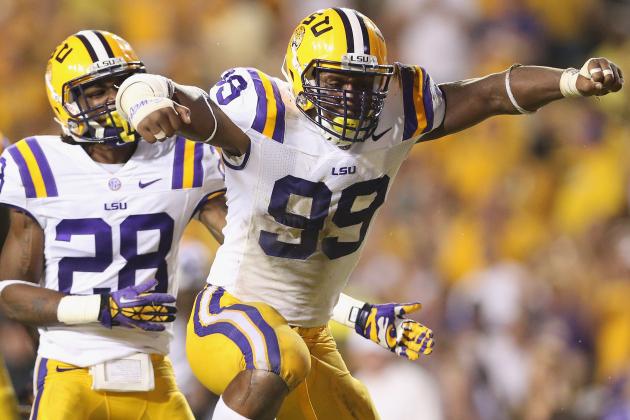 Ronald Martinez/Getty Images
Sam Montgomery would be a wise choice for the Bengals thanks to having the luxury of two second-round picks.
If there is one thing we have learned about the Cincinnati Bengals in recent years, it's that the defense can never have too many quality rotational linemen.
In the past, players such as Frostee Rucker and Jonathan Fanene have flourished in a rotational capacity with the Bengals.
2013 seems to have more of the same. Behind starters Robert Geathers and Michael Johnson sit guys such as Carlos Dunlap, Wallace Gilberry and Jamaal Anderson.
Adding Sam Montgomery to that list certainly wouldn't hurt.
In fact, it could allow the team to move on from Anderson, who spent most of last year hurt anyway.
Montgomery is a talented player who holds up well in run support and can provide a pass rush every now and then. He would see minimal snaps in 2013 but could be groomed to have a major impact in a few years as the youth movement along the line continues.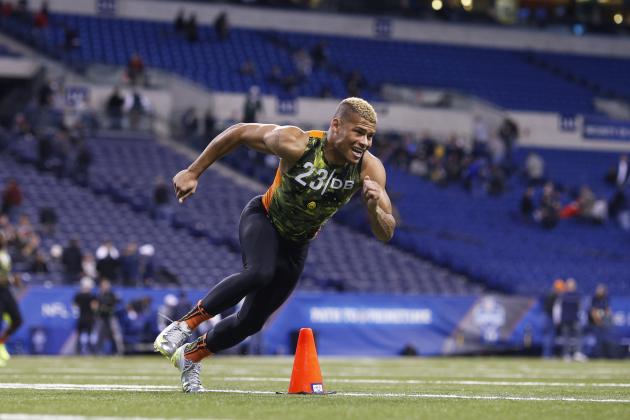 Joe Robbins/Getty Images
On the field, Tyrann Mathieu is an explosive player who can change games and represents an amazing value in the third round.
Say what you want about Tyrann Mathieu, on the field it's an undisputable fact he is a playmaker and has a nose for the football.
At 5'9" and 186 pounds, Mathieu is not going to have a size advantage on most players. At the college level that didn't matter, and it very well may not in the NFL either.
If there is one man in the NFL landscape who can get the most out of Mathieu on the field, it's Cincinnati Bengals defensive coordinator Mike Zimmer.
Zimmer loves to bring in an extra safety or defensive back in most situations. Having an elite playmaker such as Mathieu flying around the field in said situations is nothing but a good thing. He's aggressive in run support and has a penchant for creating turnovers.
Not only that, Mathieu brings an extraordinary resume to the table as a special teams returner as well.
Mathieu is a gamble, but one the Bengals can afford to take with 10 total picks. The reward massively outweighs the risk at this point in the draft because you won't find many defensive backs who finished as a runner-up for the Heisman Trophy in the third round.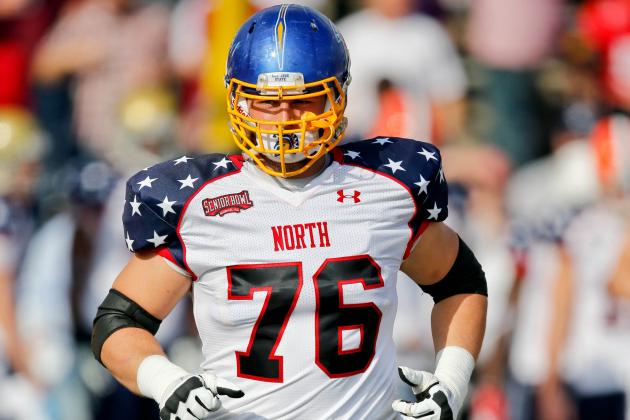 Derick E. Hingle-USA TODAY Sports
David Quessenberry has the potential to develop in the trenches at the NFL level.
The Andre Smith situation in Cincinnati is still unresolved as he and the Bengals continue to be at an impasse over a new contract.
If Smith signs with another team, the Bengals coaching staff may be confident enough in backup Anthony Collins for at least one season. That, or the team could look to start guard Travelle Wharton at right tackle.
In the meantime, Cincinnati needs to look at building some more depth in the trenches, which is where David Quessenberry comes into play here in the fourth round.
While not the biggest name entering the draft, Quessenberry is an impressive athlete with good measureables who can develop into a starter at the NFL level.
Quessenberry would be a lock for a roster spot in one form or another, whether it's at tackle or guard. A few years down the line, and he could allow the team to forget all about Smith if he never comes back.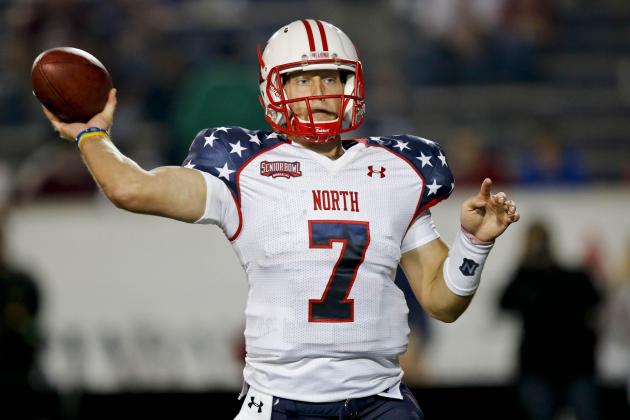 Derick E. Hingle-USA TODAY Sports
Zac Dysert could provide some much-needed insurance at the quarterback position in Cincinnati.
The Cincinnati Bengals have an intriguing situation at the quarterback position. Andy Dalton is the obvious starter, with journey men John Skelton and Josh Johnson playing the backup role.
Skelton and Johnson do not have a chance at stealing a starting job from anyone, let alone Dalton. The thing is, if Dalton does not take the next step in 2013 and get the Bengals over the hump in the process, the team could be looking for a new quarterback in the 2014 draft.
With that in mind, it wouldn't hurt for the Bengals to draft a youngster with a high ceiling this season.
Zac Dysert won't push for the starting job in Cincinnati, but he has enough natural talent to potentially develop into one if things don't work out with Dalton.
Dysert has a great arm and prototypical size, but he played out of a shotgun offense in college. He needs to adapt to the NFL level, but he would be a smart selection here if he happens to fall this far.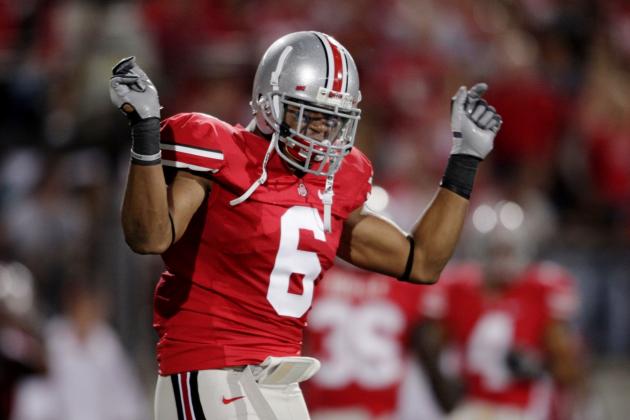 Andy Lyons/Getty Images
Etienne Sabino would be a solid depth pickup for the Bengals.
The Cincinnati Bengals linebacker situation is in a fluid state right now. Vontaze Burfict has emerged, and Rey Maualuga has continued to regress. Former rival James Harrison is now on board (per ESPN) and Thomas Howard sounds close to being brought back (per Bengals.com).
There is no such thing as enough depth in the NFL. Vincent Rey, Dontay Moch and Emmanuel Lamur are all quality depth, but it couldn't hurt to add more.
Etienne Sabino did not have an extremely highlight-worthy career while at Ohio State, but he has an rare athletic skill set that could allow him to make it in the NFL.
Bringing in a player such as Sabino could be a home run. He could develop into a contributor, but at the very least he makes for one heck of a special teams player over the course of the next few seasons thanks to his athleticism alone.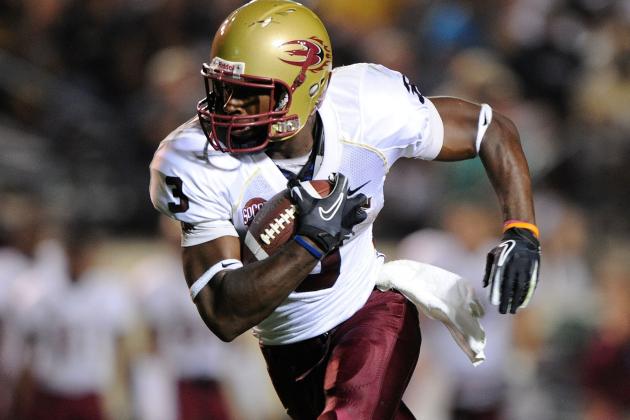 Don McPeak-USA TODAY Sports
Aaron Mellette is a project player who could make the Bengals practice squad at the least.
The Cincinnati Bengals are pretty well-off at the wide receiver position. There's this guy named A.J. Green, and then a couple of promising second-year players in Mohamed Sanu and Marvin Jones. Andrew Hawkins is a quality slot and gadget-play contributor.
With so many picks, expect the Bengals to at least add one receiver with some potential. That very receiver here could be Elon product Aaron Mellette.
Mellette has hauled in 44 touchdown receptions over the course of his career and has quality size and length at 6'3" and 217 pounds.
While Mellette does not have elite speed, he's a sure-handed possession receiver who could complement A.J. Green nicely on the outside. Over time, he could develop into a rotational contributor.
At this point in the draft you're taking gambles, and there are worse ways you could go than Mellette.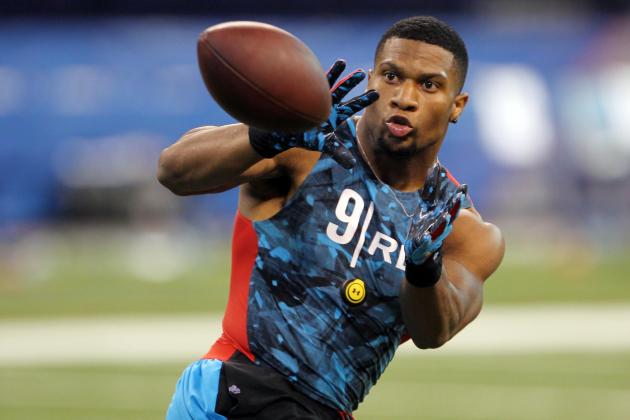 Brian Spurlock-USA TODAY Sports
The Bengals could look to add another running back late such as Knile Davis.
The running back situation for the Cincinnati Bengals is set to be a little improved by the time this pick rolls around.
BenJarvus Green-Ellis, Bernard Scott and Cedric Peerman are still around, not to mention a rookie likely taken earlier (if you're going by this mock, that's North Carolina's Giovani Bernard).
Still, this late in the game, you look to hit home runs with your picks.
Knile Davis could allow the Bengals brass to take a lap around the bases.
Plagued by injury issues throughout his career dating back to high school, Davis looked like a first-round pick two years ago before having an iffy 2012 campaign.
Davis is a freak in every sense of the word. He weighs in at 6'0" and 227 pounds but at the NFL Scouting Combine ran a 4.37-second 40-yard dash, recorded a 33.5" vertical and repped 225 pounds on the bench press a ridiculous 31 times.
In other words, Davis is either a workout warrior or a franchise running back if he can somehow manage to stay healthy.
At this point, that's a gamble you have to take.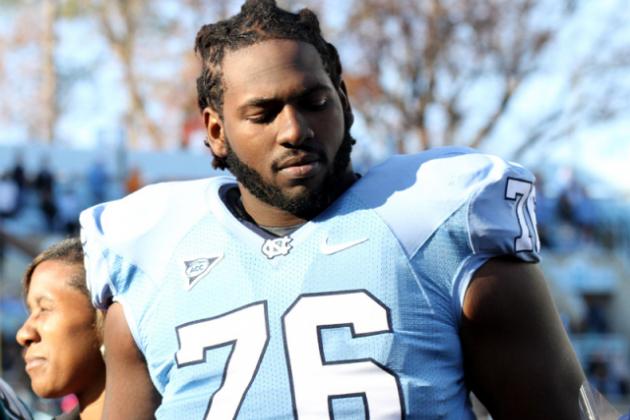 Travis Bond could land on the practice squad in Cincinnati. Photo: alfredobrown.wordpress.com
As far as the offensive guard situation goes for the Cincinnati Bengals, it's a bit of a work in progress. Kevin Zeitler is an outstanding player at right guard heading into his second year, but there's a big question mark at left guard.
Clint Boling was serviceable last season. Travelle Wharton may have to slide over to right tackle, and his health is an unknown. Mike Pollack might not even make it through camp.
This late in the draft the team won't be finding a starter, but it's smart to at least find a prospect with a little bit of potential to sit on the practice squad.
North Carolina's Travis Bond is a mammoth of a tackle at 6'6" and 330 pounds, and he was solid as a starter with the Tarheels.
At best, Bond develops into a contributor. At worst, he sits on the practice squad for a year and the Bengals start the depth search at the position all over again.
Follow me on Twitter for more NFL news and analysis.