Jon Jones vs. Chael Sonnen: Weaknesses Jones Can Exploit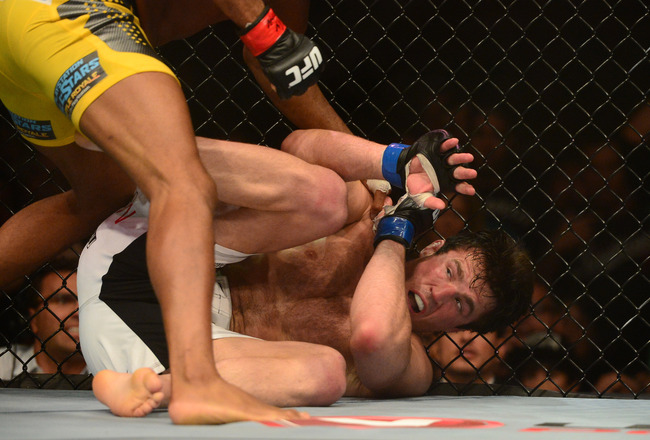 Mark J. Rebilas-USA TODAY Sports
Going into Saturday's UFC 159 light heavyweight championship fight, challenger Chael Sonnen will be entering the Octagon as a staggering 17-1 underdog against reigning champ Jon Jones, the biggest odds disparity in a UFC title matchup since Georges St-Pierre defended his welterweight crown against Matt Serra in 2007 at UFC 69.
Despite possessing superb wrestling skills and a tenacious fighting style, "The Gangster from West Lynn" does have a few holes in his MMA game that you can bet "Bones" will be looking to exploit.
Sure, Sonnen may think that he has the upper hand in this battle, but the odds aren't in his favor for a reason.
Striking
Mike Dinovo-USA TODAY Sports
One of the biggest advantages Jones will have on Saturday night will be in the striking department.
Everyone and their mother already knows Sonnen's game plan (close the distance, get the takedown, grind and ground-and-pound for the win), so don't expect him to get into a stand-up battle with the champ.
Jones can use this to his advantage by keeping his distance and forcing Sonnen to exchange strikes with him. Bones has fantastic wrestling skills of his own, so I don't see the challenger being a major takedown threat.
Between Jones' unpredictable striking techniques and Sonnen's rudimentary stand-up skills, I see the champ exploiting this disparity during their bout.
Reach Disadvantage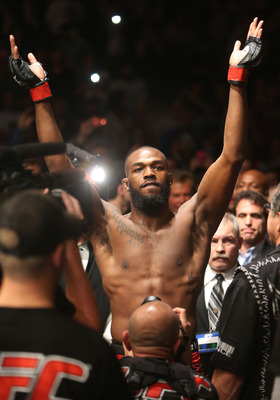 Tom Szczerbowski-USA TODAY Sports
Beyond the purely technical aspect of striking, Sonnen will have an even bigger disadvantage against Jones due to the champ's massive reach.
The champ will have more than a 10-inch reach advantage over Sonnen, which will make it extremely hard for the challenger to close the distance.
Not only will this make it hard for Sonnen to connect with his strikes, but when it comes to takedowns, The Gangster from West Lynn will also have a hard time setting up and executing his shots.
Fighting off His Back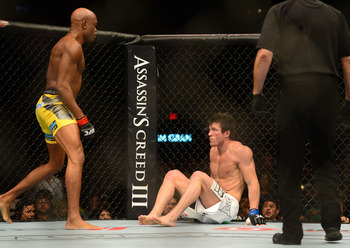 Mark J. Rebilas-USA TODAY Sports
One area of Sonnen's game that we've rarely seen inside the Octagon is his ability to fight off his back.
The wrestling standout has made a career out of taking people down and grinding out victories, but against Jones, a similarly skilled wrestler, I just don't see Sonnen getting the takedown. I'll even go so far as to say that it will be the champ who will be controlling from the top.
From there, Jones will do what he always does: smash away with elbows until the referee saves his opponent.
Submission Defense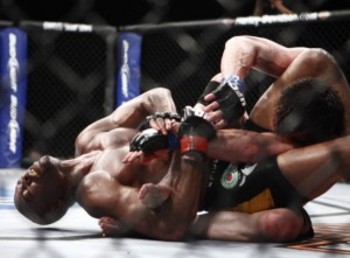 Image via Orange County Register
If Sonnen can somehow weather the heavy blows, Jones will be reigning down from the top position, or if he can miraculously land a takedown (something that's never happened against the champ), then his biggest fear should be getting submitted...again.
While Sonnen showed some great submission offense against Brian Stann at UFC 136, the middleweight-turned-light-heavyweight top contender has been submitted eight times out of his 12 career losses, seven of which have come via triangle choke, armbar or a combination of the two.
Jones has submitted six opponents in his career, including Brazilian jiu-jitsu black belts and former champs Vitor Belfort and Lyoto Machida, so you can count on the light heavyweight king looking for the tap out at some point during this fight.
Lapse in Judgement
Mark J. Rebilas-USA TODAY Sports
The one thing that Jones will be looking for the entire time during this fight will be any lapses in judgement by Sonnen.
In the challenger's pair of battles with Anderson Silva, Sonnen was actually ahead on the score cards in both fights because he was able to repeatedly take the champ down. However, little mental lapses cost the then-middleweight top contender greatly.
At UFC 117, Sonnen was literally seconds away from shocking the world before his aggressive top game landed him in a last-minute triangle choke/armbar combination. In their second fight at UFC 148, Sonnen again dropped the ball by throwing—and missing—a spinning backfist that would eventually lead to a TKO loss for The Gangster from West Lynn.
Competing at such a high level, Sonnen can't afford to make these simple mistakes against Jones if he doesn't want to suffer another heartbreaking defeat.
Be sure to like me on Facebook or follow @MattchidaMMA
Keep Reading