Kansas City Chiefs Big Board: Final Pre-Draft Update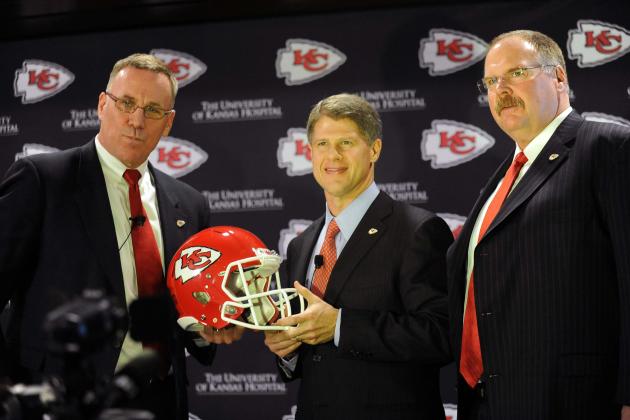 Denny Medley-USA TODAY Sports

The moment the NFL draft begins, the Kansas City Chiefs open up the draft and will make the first pick of the draft. It will be the first time the Chiefs will draft with general manager John Dorsey and head coach Andy Reid taking control.
The Chiefs traded away their second round pick, the 34th selection in the draft, and currently have (eight picks. (1, 63, 96, 99, 134, 170, 204 and 207.)
The Chiefs must try to seek starters at offensive line, defensive line and inside linebacker with depth at quarterback, running back, offensive line, linebacker and defensive back.
In this slideshow, I will go over those positions and look over the players that could be drafted by Kansas City. Let's take a look at some of the top prospects the Chiefs will consider in this week's draft, followed by a big board with all of the players listed in the final slide.
Note: All rankings from CBS Sports' NFL Draft Prospects will be used for rankings in this slideshow.
Begin Slideshow

»
The Kansas City Chiefs acquired Alex Smith in a trade earlier this offseason with San Francisco and signed Chase Daniel as well.
The Chiefs won't be looking for a starting quarterback in this draft, but could use another one to compete against Daniel for the top backup spot.
I excluded the top five ranked quarterbacks and included the following five who the Chiefs may draft.
Quarterbacks ranked six through 10 (overall ranking)

Mike Glennon, North Carolina State (77)
Tyler Bray, Tennessee (92)
Matt Scott, Arizona (102)
Landry Jones, Oklahoma (111)
Zac Dysert, Miami (Ohio) (142)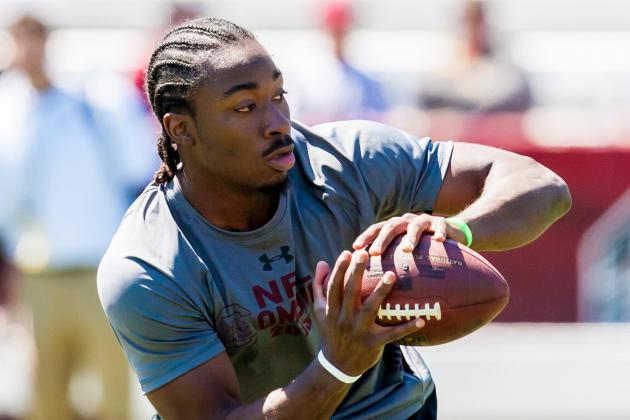 Jeff Blake-USA TODAY Sports

The Chiefs have a solidified starter in Jamaal Charles, who had a great season while bouncing back from a knee injury.
Like the quarterback spot, the Chiefs are better off finding depth at this position, rather than a starter.
Running backs ranked six through 10 (overall ranking)
Andre Ellington, Clemson (88)
Christine Michael, Texas A&M (94)
Stepfan Taylor, Stanford (116)
Joseph Randle, Oklahoma State (127)
Marcus Lattimore, South Carolina (138)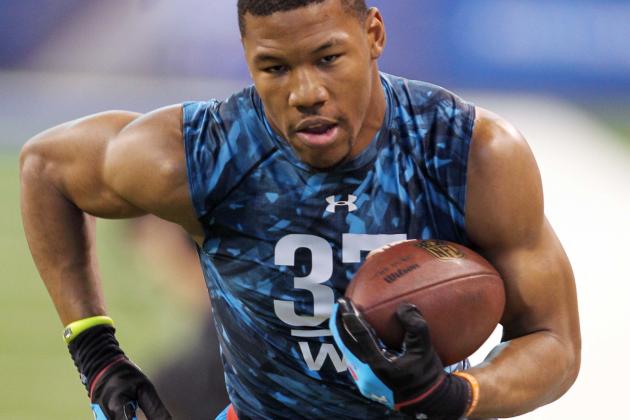 Brian Spurlock-USA TODAY Sports

The Chiefs were fortunate to have re-signed Dwayne Bowe to a long-term deal. Now, they must figure out who will play opposite of him on offense and maybe even consider another player for depth.
Since wide receivers are high in demand in the NFL, I excluded the first five and listed the following 10 wide receivers.
Wide receivers ranked six through 15 (overall ranking)
Keenan Allen, California (47)
Quinton Patton, Louisiana Tech (58)
Terrance Williams, Baylor (73)
Markus Wheaton, Oregon State (79)
Stedman Bailey, West Virginia (81)
Marquise Goodwin, Texas (93)
Da'Rick Rogers, Tennessee Tech (95)
Ryan Swope, Texas A&M (108)
Aaron Dobson, Marshall (117)
Chris Harper, Kansas State (122)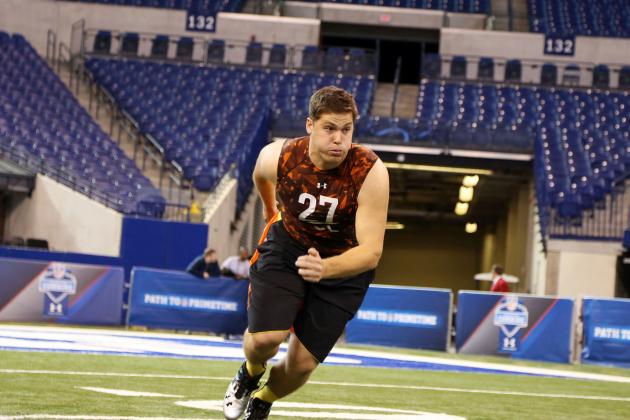 Brian Spurlock-USA TODAY Sports

The Chiefs are very thin at offensive tackle on both sides and may draft multiple offensive tackles in this draft. The Chiefs released right tackle Eric Winston earlier this offseason and are working on trading left tackle Branden Albert to Miami.
Since the Chiefs need a starter and depth, I listed the top 10 offensive tackles.
Top 10 offensive tackles (overall ranking)
Luke Joeckel, Texas A&M(1)
Eric Fisher, Central Michigan (2)
Lane Johnson, Oklahoma (4)
D.J. Fluker, Alabama (12)
Menelik Watson, (22)
Justin Pugh, Syracuse (45)
Terron Armstead, Arkansas-Pine Bluff (48)
David Bakhtiari, Colorado (76)
Dallas Thomas, Tennessee (91)
David Quessenberry, San Jose State (101)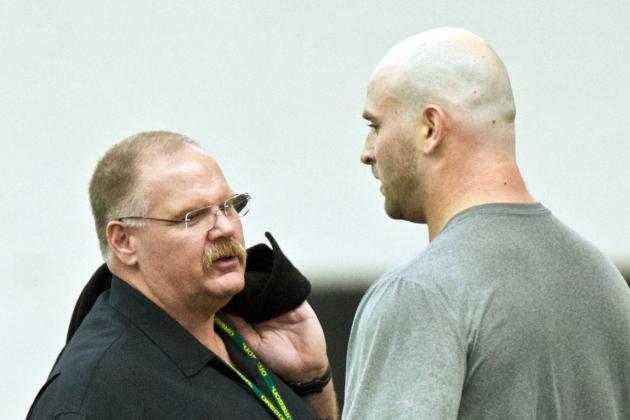 Jaime Valdez-USA TODAY Sports

Although Ryan Lilja retired after the season, it was reported that he was approached to come out of retirement and play again for the Chiefs. Kansas City currently has Jeff Allen and Jon Asamoah.
Allen came off a good rookie season after being taken in the second-round while Asamoah looks to find ways to improve. The Chiefs may reach for a starter or backup. I will list the top 10 guards in this year's draft.
Running backs ranked six through 10 (overall ranking)
Chance Warmack, Alabama (8)
Jonathan Cooper, North Carolina (11)
Kyle Long, Oregon (56)
Larry Warford, Kentucky (61)
Brian Winters, Kent State (78)
Hugh Thornton, Illinois (106)
Earl Watford, James Madison (140)
Jeff Baca, UCLA (145)
Alvin Bailey, Arkansas (167)
J.C. Tretter, Cornell (189)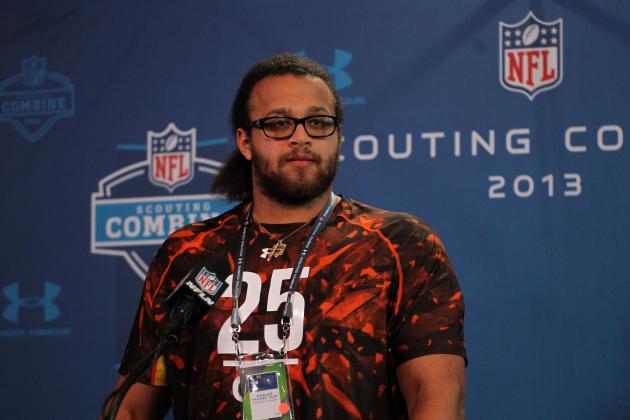 Brian Spurlock-USA TODAY Sports

The biggest unknown for the Chiefs has to be at center with Rodney Hudson, who played only three games before suffering a season-ending injury while being the primary center for the Chiefs for the first time.
This forced the Chiefs to shift Lilja to center from guard and shake up the offensive line.The Chiefs should strongly consider either a starter or a reliable backup in case Hudson gets hurt again.
Top 5 centers (overall ranking)
Travis Frederick, Wisconsin (53)
Brian Schwenke, California (80)
Barrett Jones, Alabama (100)
Khaled Holmes, USC (151)
Braxston Cave, Notre Dame (184)
Jaime Valdez-USA TODAY Sports

If the Chiefs can get a second-round pick for Albert and if Manti Te'o falls to the second round, the Chiefs might be able to select the top-ranked inside linebacker and put him alongside Derrick Johnson.
But even if luck does not pull through Kansas City's way, they could use a second-round pick, if one is acquired, on another inside linebacker who can start right away.
Top 10 inside linebackers (overall ranking)
Manti Te'o, Notre Dame (25)
Kevin Minter, LSU (46)
Kiko Alonso, Oregon (86)
A.J. Klein, Iowa State (109)
Kevin Reddick, North Carolina (143)
Nico Johnson, Alabama (148)
Jelani Jenkins, Florida (158)
Keith Pough, Howard (182)
Vince Williams, Florida State (227)
Steve Beauharnais, Rutgers (253)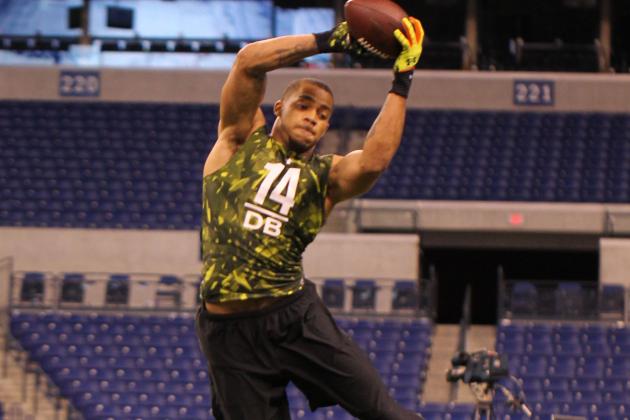 Brian Spurlock-USA TODAY Sports

Many Chiefs fans will disagree that cornerback should be considered in the draft because the team signed Sean Smith and Dunta Robinson this offseason. Both are good additions and Smith had his best season as a cornerback last year with Miami. But the Chiefs need a big impact player as well, especially when they face Denver twice and other teams with a strong passing game and a stacked receiving core.
It is likely the Chiefs won't consider a cornerback until the third round. I excluded the top five ranked cornerbacks and included the following 10 since it is a highly coveted position in the draft.
Cornerbacks ranked six through 15 (overall ranking)
CB Jonathan Banks, Mississippi (44)
CB Dwayne Gratz, Connecticut (55)
CB Darius Slay, Mississippi State (63)
CB David Amerson, North Carolina State (65)
CB Tyrann Mathieu, LSU (69)
CB Robert Alford, Southeastern Louisiana (83)
CB Blidi Wreh-Wilson, Connecticut (85)
CB Logan Ryan, Rutgers (90)
CB Jordan Poyer, Oregon State (107)
CB Leon McFadden, San Diego State (119)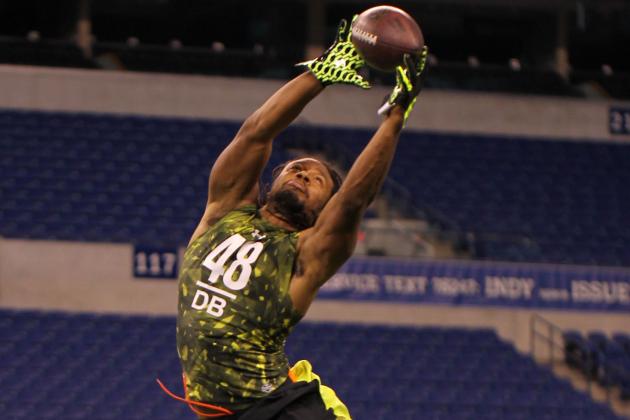 Brian Spurlock-USA TODAY Sports

Eric Berry and Kendrick Lewis, both safeties from the 2010 draft class, had a good season during their rookie years. In 2012, Berry returned from his knee injury the season before, but the two were not as strong as they were before.
The Chiefs have found some solid safeties late in the draft in Lewis and Jarrad Page. They may be able to find another one late in this year's draft and have them rotate with Berry and Lewis.
Top five free safeties (overall ranking)
FS Kenny Vaccaro, Texas (16)
FS Eric Reid, LSU (32)
FS Phillip Thomas, Fresno State (64)
FS D.J. Swearinger, South Carolina (71)
FS Bacarri Rambo, Georgia (104)
Top five strong safeties (overall ranking)
SS Jonathan Cyprien, Florida International (29)
SS Matt Elam, Florida (38)
SS JJ Wilcox, Georgia Southern (97)
SS Shamarko Thomas, Syracuse (114)
SS Shawn Williams, Georgia (115)
Brian Spurlock-USA TODAY Sports

Kansas City may not address all of these positions and may even surprise us by taking a player from another position in which fans and the media were not expecting. Dorsey and Reid have a lot to consider and could come away with a strong draft and possibly address each position of need at least once, especially if they can get a pick for Albert in a trade with Miami.
Big board
OT Luke Joeckel, Texas A&M (1)
OT Eric Fisher, Central Michigan (2)
OT Lane Johnson, Oklahoma (4)
OG Chance Warmack, Alabama (8)
OG Jonathan Cooper, North Carolina (11)
OT D.J. Fluker, Alabama (12)
FS Kenny Vaccaro, Texas (16)
OT Menelik Watson, (22)
ILB Manti Te'o, Notre Dame (25)
SS Jonathan Cyprien, Florida International (29)
FS Eric Reid, LSU (32)
SS Matt Elam, Florida (38)
CB Jonathan Banks, Mississippi (44)
OT Justin Pugh, Syracuse (45)
ILB Kevin Minter, LSU (46)
WR Keenan Allen, California (47)
OT Terron Armstead, Arkansas-Pine Bluff (48)
C Travis Frederick, Wisconsin (53)
CB Dwayne Gratz, Connecticut (55)
OG Kyle Long, Oregon (56)
WR Quinton Patton, Louisiana Tech (58)
OG Larry Warford, Kentucky (61)
CB Darius Slay, Mississippi State (63)
FS Phillip Thomas, Fresno State (64)
CB David Amerson, North Carolina State (65)
CB Tyrann Mathieu, LSU (69)
FS D.J. Swearinger, South Carolina (71)
WR Terrance Williams, Baylor (73)
OT David Bakhtiari, Colorado (76)
QB Mike Glennon, North Carolina State (77)
OG Brian Winters, Kent State (78)
WR Markus Wheaton, Oregon State (79)
C Brian Schwenke, California (80)
WR Stedman Bailey, West Virginia (81)
CB Robert Alford, Southeastern Louisiana (83)
CB Blidi Wreh-Wilson, Connecticut (85)
ILB Kiko Alonso, Oregon (86)
RB Andre Ellington, Clemson (88)
CB Logan Ryan, Rutgers (90)
OT Dallas Thomas, Tennessee (91)
QB Tyler Bray, Tennessee (92)
WR Marquise Goodwin, Texas (93)
RB Christine Michael, Texas A&M (94)
WR Da'Rick Rogers, Tennessee Tech (95)
SS JJ Wilcox, Georgia Southern (97)
C Barrett Jones, Alabama (100)
OT David Quessenberry, San Jose State (101)
QB Matt Scott, Arizona (102)
FS Bacarri Rambo, Georgia (104)
OG Hugh Thornton, Illinois (106)
CB Jordan Poyer, Oregon State (107)
WR Ryan Swope, Texas A&M (108)
ILB A.J. Klein, Iowa State (109)
QB Landry Jones, Oklahoma (111)
SS Shamarko Thomas, Syracuse (114)
SS Shawn Williams, Georgia (115)
RB Stepfan Taylor, Stanford (116)
WR Aaron Dobson, Marshall (117)
CB Leon McFadden, San Diego State (119)
WR Chris Harper, Kansas State (122)
RB Joseph Randle, Oklahoma State (127)
RB Marcus Lattimore, South Carolina (138)
OG Earl Watford, James Madison (140)
QB Zac Dysert, Miami (Ohio) (142)
ILB Kevin Reddick, North Carolina (143)
OG Jeff Baca, UCLA (145)
C Khaled Holmes, USC (151)
ILB Jelani Jenkins, Florida (158)
OG Alvin Bailey, Arkansas (167)
ILB Keith Pough, Howard (182)
C Braxston Cave, Notre Dame (184)
OG J.C. Tretter, Cornell (189)
ILB Vince Williams, Florida State (227)
ILB Steve Beauharnais, Rutgers (253)