Is This Girl "Too Chunky" to Be an OKC Thunder Cheerleader?
Use your ← → (arrow) keys to browse more stories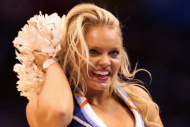 The Rockets are facing the Oklahoma City Thunder during the first round of the NBA Playoffs. The Rockets looked terrible in Game 1, but some say they weren't the only bad-looking people on the court. ...