Tampa Bay Buccaneers Big Board: Final Pre-Draft Update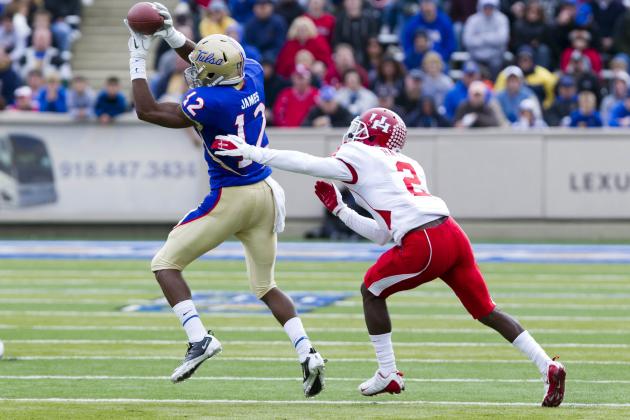 Richard Rowe-USA TODAY Sports

Stop me if you've heard this one before, but it turns out that the 2013 NFL Draft begins tonight, with the first round of picks being broadcasted live from New York.
It should be noted, however, that unless they trade up, the Tampa Bay Buccaneers will not be adding any prospects to their roster tonight, as they shipped their first-round pick away to the New York Jets in exchange for superstar cornerback Darrelle Revis.
That does not mean that the the Bucs front office will not be following the first-round as closely as humanly possible, always ready to pull the trigger on a trade if a much-valued player falls to a reasonable trading position.
To be ready for these draft day falls, they Bucs will be staring at their big board, the compilation of months of film study, background checks, interviews and discus sons, that ranks each prospect in order of how much they will benefit the team compared to all the other draft options.
What should this big board look like?
Here is one man's take on the Tampa Bay Buccaneers' final pre-draft big board.
All stats, combine numbers, etc. come from NFL.com, unless noted otherwise.
Begin Slideshow

»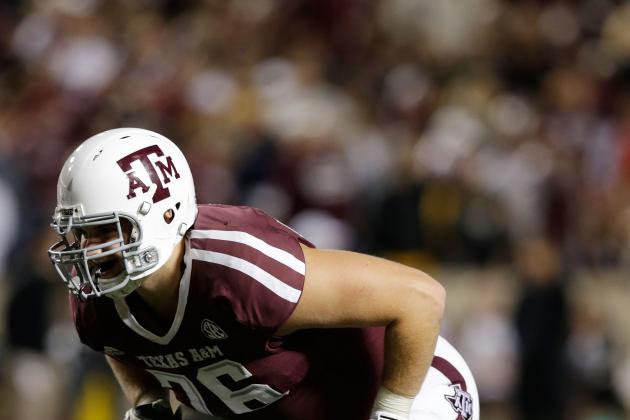 Scott Halleran/Getty Images

Ranked below are the top 10 players in the draft, based on how much of an impact they would make on the Tampa Bay Buccaneers and their overall talent.
1. LT Luke Joeckel, Texas A&M
2. LT Eric Fisher, Central Michigan
3. DT Sharrif Floyd, Florida
4. DT Star Lotulelei, Utah
5. DE Dion Jordan, Oregon
6. WR Tavon Austin, FA
7. TE Tyler Eifert, Notre Dame
8. DE Ziggy Ansah, BYU
9. CB Dee Milliner, Alabama
10. OT Lane Johnson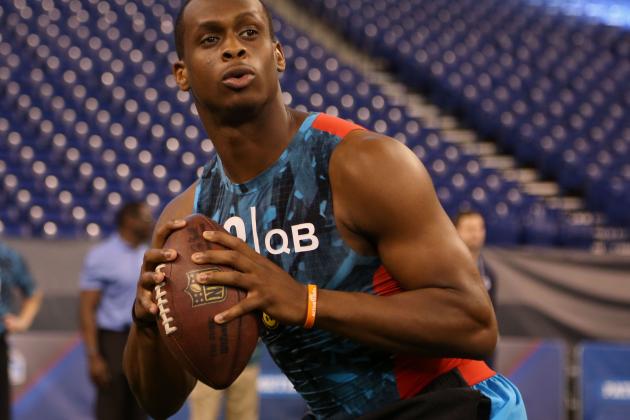 Brian Spurlock-USA TODAY Sports

There is much debate buzzing around about who should be at the top of 2013's quarterback class. Geno Smith of West Virginia seemed to have the title of "Best in Class" locked up during the regular season, but since the offseason began, scouts have had more time to analyze tape and have noted how inconsistent Smith's play is. When he's hot, he's hot, but he's often not.
Many different quarterbacks, including N.C. State's Mike Glennon, Syracuse's Ryan Nassib, Florida State's E.J. Manuel and even USC's Matt Barkley, are seen by scouts and fans as the top QB prospects, over Smith.
This big board does stay with Geno Smith at No.1. His athleticism, arm talent, and work ethic will take him a long way in the NFL.
1. Geno Smith, West Virginia
2. Ryan Nassib, Syracuse
3. Matt Barkley, USC
4. Mike Glennon, N.C. State
5. E.J. Manuel, Florida State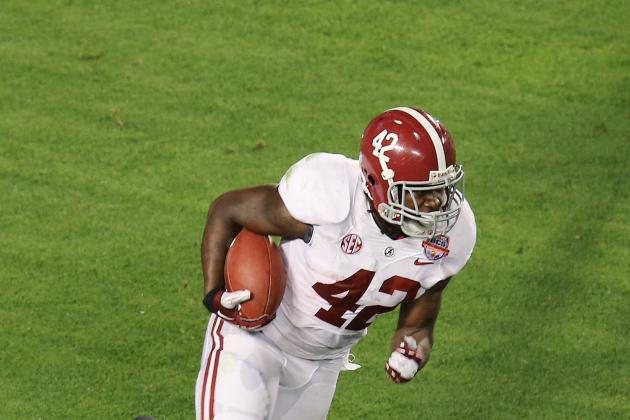 Robert Mayer-USA TODAY Sports

It seems unlikely that the Bucs will be drafting a running back in the early rounds, but if a top player falls far enough they can't stand to let him fall further, we could very well see a big name rookie RB in Tampa to compliment sophomore Doug Martin.
The RB class begins with Eddie Lacy. The Alabama product helped bring his team yet another national title in 2013, following in the footsteps of former teammate and last year's top RB, Trent Richardson.
Lacy isn't quite Richardson, but he's a tough, compact, all-around back who can be that bell cow Greg Schiano raves about.
After Lacy, we look to Giovanni Bernard from UNC, a change-of-pace back who has struggled with injuries, then to Mr. Vision himself, Montee Ball, a Wisconsin man, known for his incredible vision (i.e. choosing the right alleys/holes in between blocks to run through to maximize yardage).
Then comes Andre Ellington, a tall, shifty type, and finally, Marcus Lattimore, who would have been the top RB prospect if not for a devastating leg injury suffered during the regular season.
1. Eddie Lacy, Alabama
2. Giovanni Bernard, North Carolina
3. Montee Ball, Wisconsin
4. Andre Ellington, Clemson
5. Marcus Lattimore, South Carolina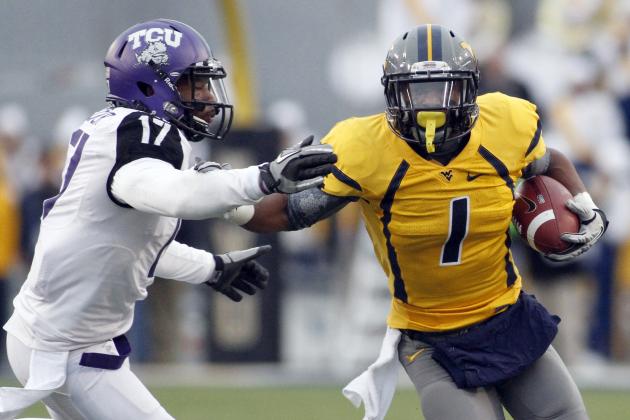 Justin K. Aller/Getty Images

The NFL's current trend at wide receiver is that they're getting bigger. A receiver has to be at least 6'0'' for him to be considered as a top prospect.
Unless of course, we're talking about Tavon Austin, this big board's top receiver.
Austin made his talents known to a national audience playing alongside Geno Smith. These talents include an ability to create separation, elite quickness, great speed, elusiveness with the ball in his hands and being able to line up in multiple spots, from the slot to the backfield to the outside.
For the Bucs, Austin is the ideal draft selection, as his presence on the inside of the field would help the team more than any traditional No.1-type receiver would, seeing as Tampa already has two outside threats in Vincent Jackson and Mike Williams.
Next comes California's Keenan Allen, a true No.1 receiver. Not the fastest guy in the world, but is very productive and well-rounded.
Other notables include the raw, but potentially great, Cordarrelle Patterson, and slot receivers Robert Woods and Ryan Swope.
Why only two wide outs?
Well, as said above, the Bucs already have two outside threats. They don't need a third.
And with the crop of talent ready to be dominate in the slot, a need for Tampa, why shouldn't slot receivers be high up on the team's big board?
1. Tavon Austin, West Virginia
2. Keenan Allen, California
3. Cordarrelle Patterson, Tennessee
4. Robert Woods, USC
5. Ryan Swope, Texas A&M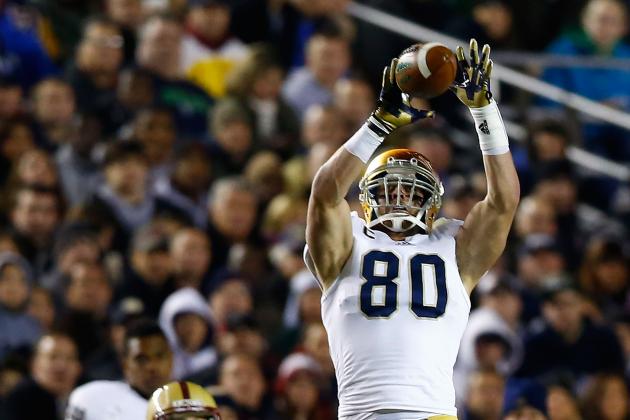 Jared Wickerham/Getty Images

Another trend going around the NFL these days is the "Joker" tight end, a receiving TE who can line up anywhere from in-line to the slot to out wide to the backfield. Size is a plus, not mandatory.
The top TE in the class is Notre' Dame's Tyler Eifert. He's an athlete (one of the combine's highest ranking tight ends in all the measurable categories), can block well, has a great catch radius (stands at 6'5'' with very long arms), has great hands, and can play in-line, in the slot, or out wide, like a true Joker.
Directly below Eifert is Zach Ertz of Stanford. Ertz's isn't quite the blocker Eifert is, but is a versatile receiving tight end as well.
Pay attention to Jordan Reed, Vance MacDonald, Travin Kelce and Gavin Escobar, who just fell short of the Top Five in this big board. They could all fall to the Bucs on Day 2 and start by Week 1 of the regular season.
1. Tyler Eifert, Notre Dame
2. Zach Ertz, Stanford
3. Jordan Reed, Florida
4. Vance MacDonald, Rice
5. Travin Kelce, Cincinnati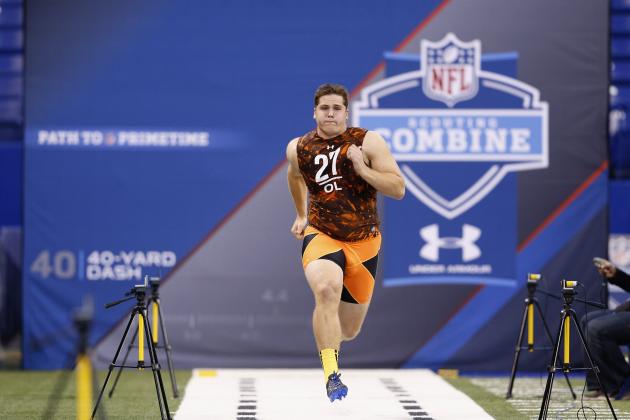 Joe Robbins/Getty Images

In this big board, the two best prospects in the entire class are offensive tackles (Luke Joeckel and Eric Fisher), yet it's still hard to do justice to the greatness of this crop of OTs.
Four tackles could be selected within the first ten picks of the draft. It is likely at least five will go in the first round alone.
The Bucs do not have a need at offensive tackle, with solid bookends in Donald Penn and Demar Dotson.
But should one of these prospects fall, it's easy to imagine Tampa viewing the prospect as too good to pass up.
Each of the five players listed below may be part of that "too good to pass up" category.
1. Luke Joeckel, Texas A&M
2. Eric Fisher, Central Michigan
3. Lane Johnson, Oklahoma
4. D.J. Fluker, Alabama
5. Menelik Watson, Florida State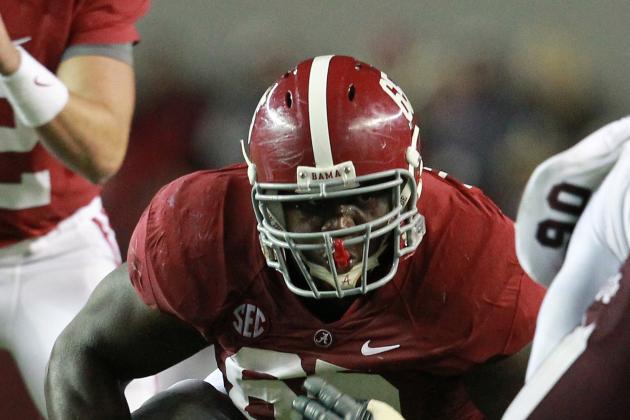 Marvin Gentry-USA TODAY Sports

Like the offensive tackles, the interior offensive line has a lot of depth at the top this year.
Alabama's Chance Warmack is a mauler, while North Carolina's Jonathan Cooper is a great athlete. Farther down the list, you see more names of gifted prospects, like Barrett Jones, Larry Warford, and Kyle Long.
Don't expect the Bucs to draft any of these guys, though, seeing as they already have two Pro Bowl guards.
1. Chance Warmack, Alabama
2. Jonathan Cooper, North Carolina
3. Barrett Jones, Alabama
4. Larry Warford, Kentucky
5. Kyle Long, Oregon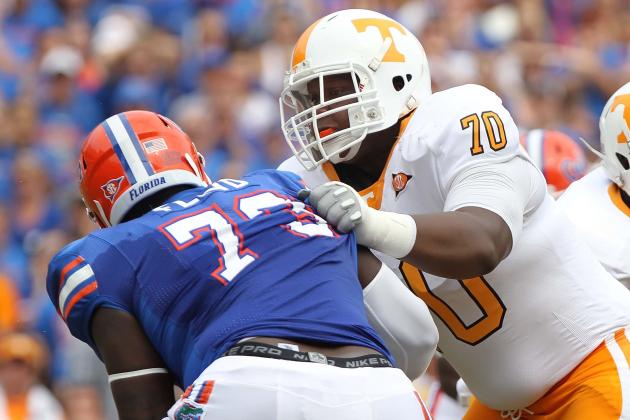 Kim Klement-USA TODAY Sports

In Gerald McCoy, the Bucs have one of the league's best 3-technique defensive tackles.
Unfortunately, they do not currently have anyone else good enough to start at defensive tackle as a 1-tech.
Fortunately, this draft class is so DT-rich, that they'll have no trouble finding a rookie who can start, whether it be in the first-round or on Day 2.
Sharrif Floyd from Florida heads the class, a prototype for the position. Sheldon Richardson, Star Lotulelei, and Jesse Williams are in a three-way battle for No.2 on the list.
Looks like this is the year of the SEC DT, with four out of five names coming from the conference.
1. Sharrif Floyd, Florida
2. Star Lotulelei, Utah
3. Sheldon Richardson, Missouri
4. Jesse Williams, Alabama
5. John Jenkins, Georgia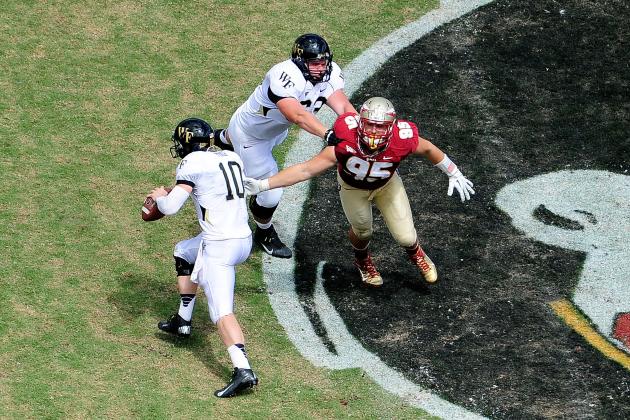 Stacy Revere/Getty Images

If ever there was a year to need a defensive end, this is it.
The draft features amazing talents from top to bottom, with many potential first-rounders.
Looking for a fantastic pass rusher? Go for Dion Jordan.
Want an incredible athlete with equally incredible potential? Ziggy Ansah's your man.
Need an all-around talent? Look no farther than Jarvis Jones.
The Bucs are apparently set at DE, with Da'Quan Bowers and Adrian Clayborn, so it seems unlikely they'd spend a top pick on another, but you never know...
1. Dion Jordan, Oregon
2. Ziggy Ansah, BYU
3. Jarvis Jones, Georgia
4. Bjoern Werner, Florida State
5. Cornellius Carradine, Florida State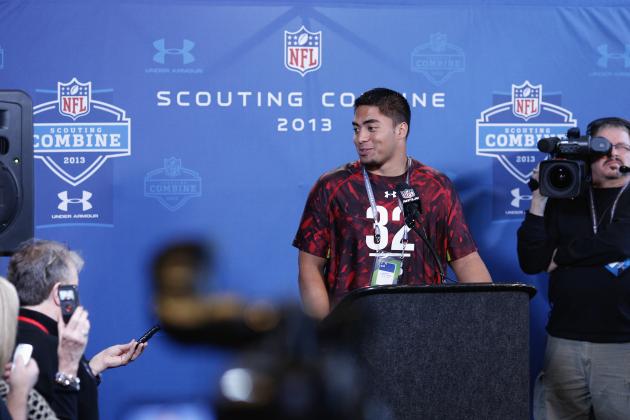 Joe Robbins/Getty Images

For many casual fans, this class might as well begin and end with Manti Te'o, for obvious media-related reasons.
This linebacker crop is much more than the Notre Dame product, though, as Arthur Brown from Kansas State and Georgia's Alec Ogletree are both in first-round consideration.
There's even a Rutgers man available in Khaseem Greene, which may interest Greg Schiano...
1. Manti Te'O, Notre Dame
2. Arthur Brown, Kansas State
3. Alec Ogletree, Georgia
4. Khaseem Greene, Rutgers
5. Kevin Miner, LSU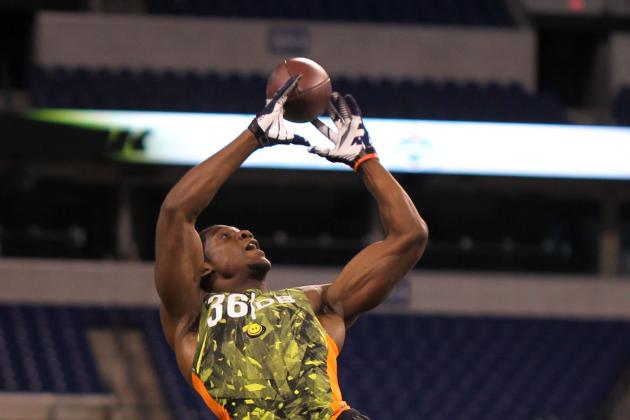 Brian Spurlock-USA TODAY Sports

As it is with many other positions this year, this year is a good one to need a cornerback.
The class is so overstuffed with quality corners, that you could see multiple first-round talents not be selected until Day 2.
Dee Milliner leads the group, with Xavier Rhodes, a physical, press-man corner, in a close second. D.J. Hayden is the most athletic of the bunch, while Johnathan Banks would be at the top if not for a lack of speed.
Safety isn't as deep, but there is still a lot of talent, starting with Texas's Kenny Vaccaro.
Cornerback:
1. Dee Milliner, Alabama
2. Xavier Rhodes, Florida State
3. Johnathan Banks, Mississippi State
4. D.J. Hayden, Houston
5. Desmond Trufant, Washington
Safety
1. Kenny Vaccaro, Texas
2. Jonathan Cyprien, Florida International
3. Matt Elam, Florida
4. D.J. Swearinger, South Carolina
5. Bacarri Rambo, Georgia