UFC 159: Who's on the Hot Seat Heading into Jones vs. Sonnen Fight Card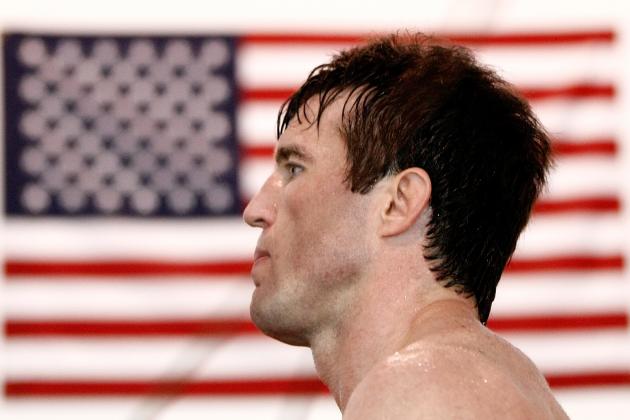 Jonathan Ferrey/Getty Images

Another April weekend approaches and with it another UFC fight card. It's been a busy month for fans, fighters and the UFC, and we'll all get a break for a few weeks following UFC 159 but let's not get too far ahead of ourselves just yet. Let's focus on Saturday's fight card.
The pay-per-view event will see UFC light heavyweight champion Jon Jones put his title on the line against Chael Sonnen. Also on the card, Top-10 middleweights Michael Bisping and Alan Belcher will face off in the hopes of staying in the hunt for the crown worn by Anderson Silva.
The event will feature 12 fights in total. Which fights mean a little more than a check mark in the win or loss column? We have you covered.
Begin Slideshow

»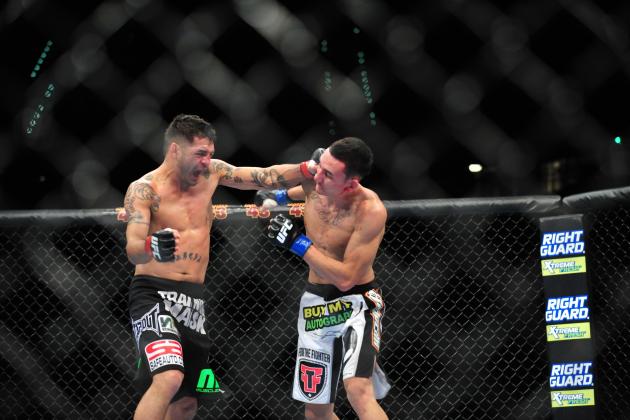 Gary A. Vasquez-USA TODAY Sports

Leonard Garcia is on a four-fight losing streak. One could argue that streak could be nine fights had the judges gone the other direction in his split-decision victories over Nam Phan and Chan Sung Jung.
No one will argue that a Leonard Garcia fight is a fight that you don't want to miss. The six "Fight of the Night" bonuses he's collected while fighting for the WEC and UFC reflect his entertainment value, but at some point, he's going to need a win to keep himself employed by the UFC.
Garcia is most likely in a do-or-die situation when he faces Cody McKenzie in Newark. No matter how exciting a fighter may be, five straight losses are probably going to result in a pink slip.
Rafael Suanes-USA TODAY Sports

The drawback about specialists is at some point they invariably reach the limit of where that specialty can take them. When that occurs, there's not much choice but to learn some new tricks or become obsolete. Cody McKenzie may very well be at that point.
Of his 13 career victories, 11 have come via guillotine choke. The problem is that in his last four fights, he has only locked on one of those chokes for a win and has lost the other three.
McKenzie dropped to featherweight in his last bout but had a less than impressive debut after being stopped by Chad Mendes at the 31-second mark of Round 1. He'll get his second chance at featherweight when he faces Leonard Garcia at UFC 159.
McKenzie may get a pass with a loss in Newark, but that's not a certainty. If he falls to 1-4 in his last five fights, the axe could fall on his UFC career.
Sara McMann and Sheila Gaff will meet on the UFC 159 preliminary card in the UFC's third women's MMA bout. Why are two fighters who have never even stepped into the Octagon on the hot seat already? Well, I'll tell you.
The first two women's fights in the UFC had a common denominator, UFC women's bantamweight champion Ronda Rousey.
The first fight was Rousey's title defense against Liz Carmouche. The second was between Miesha Tate and Cat Zingano to decide who would coach opposite Rousey on the upcoming season of The Ultimate Fighter. Rousey's shadow does not hang over this fight at all, which means it must stand solely on the merits of the two fighters—who are probably unfamiliar to most fans.
McMann vs. Gaff is a big test for the UFC. You can bet the company brass as well as other female fighters under contract with the promotion will be watching to see how the fans react to this contest.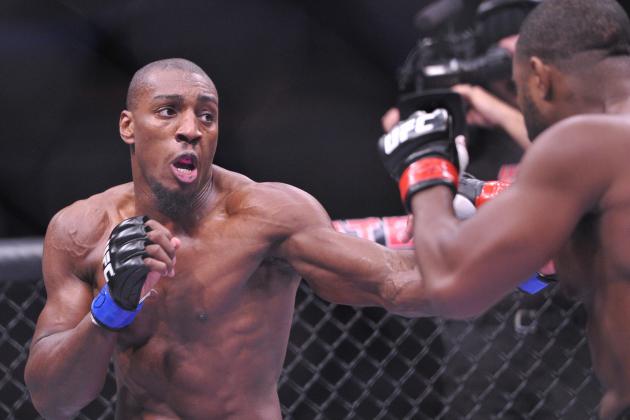 Mike Dinovo-USA TODAY Sports

Phil Davis is in an odd spot heading into UFC 159. He sports a record of 10-1-0-1 with wins over Brian Stann, Alexander Gustafsson, Tim Boetsch and Antônio Rogério Nogueira, yet he finds himself ranked below Gustafsson and Nogueira in the UFC's light heavyweight division.
This may be because Davis is looked upon as an excellent wrestler but little else. He had an opportunity to make a leap up the rankings against Rashad Evans in his main event bout at UFC on Fox 2, but Davis failed to capitalize by dropping a unanimous decision (50-45 x3).
Davis needs an impressive win over Vinny Magalhaes at UFC 159; otherwise he risks being stuck in the purgatory of UFC gatekeeper status. Once that tag is placed on a fighter, it is hard to shake.
Ron Chenoy-USA TODAY Sports

I can understand why fans love Roy Nelson; he's the everyman of mixed martial arts. He's the normal guy who doesn't fit the mold of a UFC fighter in physique or demeanor. When you throw in that the dude can absorb a huge number of punches to the dome without crumpling to the mat, you have a fan-friendly fighter.
Nelson is on a two-fight winning streak heading into UFC 159, earning first-round stoppages over Matt Mitrione and Dave Herman.
The problem for Nelson is that he's one of those fighters who wins when he's supposed to win but can't break through against the big names. He has lost to Fabricio Werdum, Frank Mir and Junior dos Santos while fighting under the UFC banner.
Nelson is once again in a fight he is supposed to win, facing Cheick Kongo at UFC 159. If he defeats Kongo, the win should lead him to another fight against a Top-10 opponent and maybe one final chance at a title run.
If he loses, expect to see him fall from the Top 10 of the heavyweight rankings.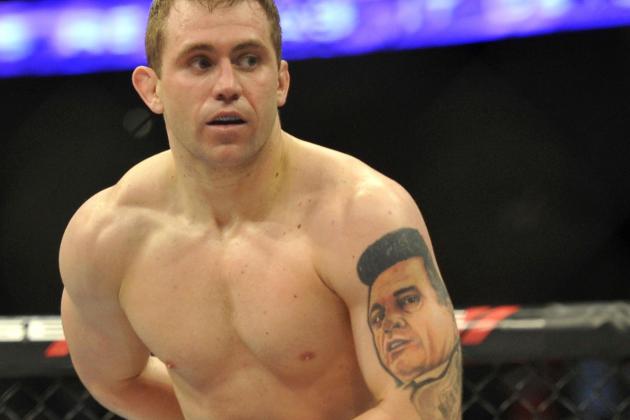 Joe Camporeale-USA TODAY Sports

These two are together for a reason—they are in almost exactly the same situation heading into UFC 159. Prior to their last bouts, both of them were looking at entering the middleweight title-shot mix.
Belcher's hopes of getting a shot at UFC champion Anderson Silva evaporated when he lost a unanimous decision to Yushin Okami at UFC 155 in December 2012.
That loss left the door wide open for Bisping to claim his shot at the crown. To do so he had to defeat Vitor Belfort at UFC on FX 7. He didn't, losing to Belfort by second-round TKO.
Belcher and Bisping remain in the Top 10 of the division after those losses, but a second straight loss isn't going to help either fighter get his name back in the mix—which both of these veterans are certainly aware of.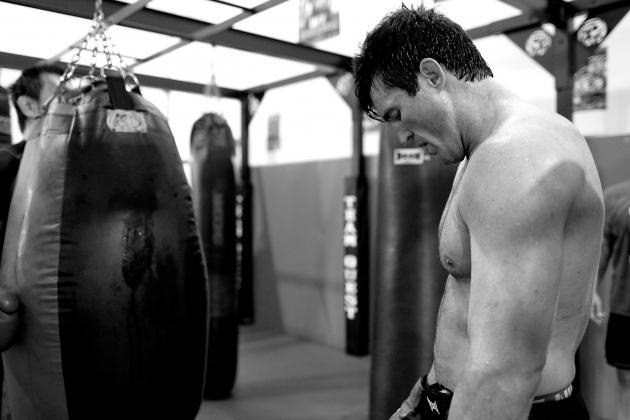 Jonathan Ferrey/Getty Images

It seems like Chael Sonnen has painted himself into a corner ahead of UFC 159. Win and he's the king of the world; lose and then what?
Sonnen will face UFC light heavyweight champion Jon Jones in the main event of UFC 159. If he wins, all kinds of doors are going to open up for Sonnen, and most of those doors will have stacks of cash behind them.
If he loses, his options are limited.
Sonnen could go back and toil among the middle-of-the-pack fighters in the middleweight or light heavyweight division, but something tells me that Sonnen doesn't have any interest in working his way up the rankings again. He seems much more interested in the spotlight, in taking only big-name fights and in having the world focused only on him.
To keep that spotlight, Sonnen is going to need to pull off what would probably be the biggest upset in UFC history.
If he doesn't manage that upset, I wouldn't be surprised to see him retire and move behind the Fox commentating desk. That's a job where the spotlight can shine brightest on him and where he doesn't have to get punched in the head by the best fighters in the world to make his scratch.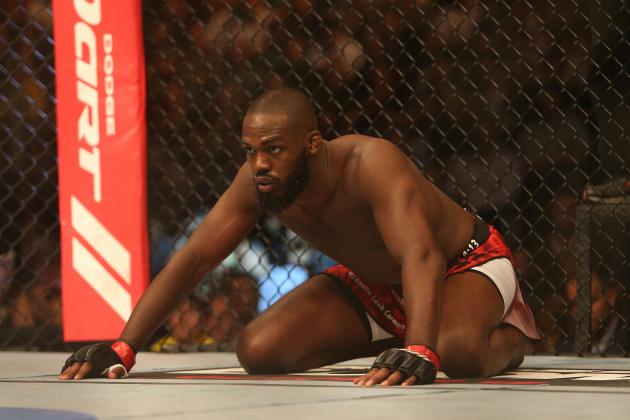 Tom Szczerbowski-USA TODAY Sports

UFC light heavyweight champion Jon Jones is recognized by most as one of the top two pound-for-pound fighters in the world right now, and let's not forget that he's still only 25 years old and developing as a fighter.
Despite his standing as UFC light heavyweight champion, his 17-1 record with the one loss being a disqualification and his pound-for-pound supremacy in the sport, he has quite a few detractors who are just waiting for him to fall.
I'm sure those who dislike Jones have their reasons, and I'm sure that they would love to watch a middleweight knock the crown off the head of the young champion. For that reason, every fight that Jones has as champion is the biggest fight of his career. He needs to keep winning and dominating.
Will that sway those who detest him to his side? Probably not, but it will prevent them from screaming out that he was always a fraud.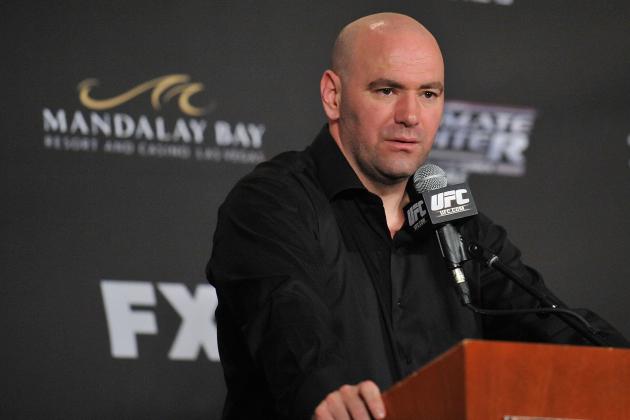 Gary A. Vasquez-USA TODAY Sports

Let's be honest: The UFC booked Jon Jones vs. Chael Sonnen because it thought there would be fireworks between them when they coached on The Ultimate Fighter. That didn't happen, and now the UFC is left with a pay-per-view event that has had a tepid buildup at best.
There's barely any smoke here and definitely no fire.
Making matters worse for the promotion is that it's coming off UFC on Fox 7 last week, which may have been the best top-to-bottom event of the year.
The UFC took a calculated risk on booking the main event of UFC 159, and right now it looks like that risk may not be worth the reward.
It's hard to predict pay-per-view buys, but gut feeling and pre-fight hype tell me that the UFC may have overestimated the fans' desire to see a fight that is so one-sided.