The Strangest Rules in Sports
The Tiger Woods drop at the Masters led to an incredibly weird ruling.
Harry How/Getty Images
Sometimes during a sporting event, a rule will have to be applied that either seems unnecessarily weird or plain nonsensical.
Officials will usually have to break that rule out during a situation where they are stumped and are looking for some guidance. Chances are good that whatever is going on, it does not happen very often.
Some sports have rules you see enforced all the time that just seem silly. Seriously, what is up with that offside line in hockey?
Every sport has these quirky rules that do not come up on a game-by-game basis. But when they do, they usually end up affecting the outcome of games and have coaches, players, fans and even analysts crying foul.
Of course, there is nothing to moan about. It is, after all, just part of the game.
10.) Second Serve in Tennis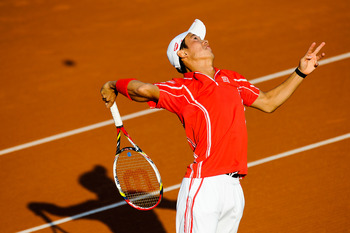 If his serve is illegal, why does he get a second try?
David Ramos/Getty Images
This is the epitome of rewarding bad behavior. Well, bad mechanics at least.
It seems counterproductive to allow anyone who screws up such a basic aspect of the game they are playing to have a consequence-free mulligan.
What if football had Madden rewinds in real life that allowed teams to redo plays? Or if pitchers could take back errant throws? Or if golfers could…oh wait. They can redo shots from the tee with just a small slap on the wrist in the form of a one-stroke penalty.
Point being: re-dos are fundamentally awful.
9.) Ground Cannot Cause a Fumble in Football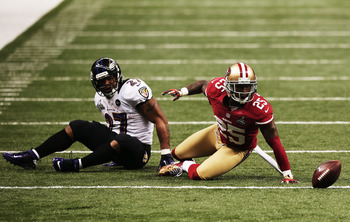 This should be a fumble whether it was caused by the ground or not.
Win McNamee/Getty Images
Again, why bail out players who deserve to be punished for not playing their game properly? It just does not make sense.
If the ball touches the ground, it should either be an incompletion or a fumble. Who cares how it left the receiver's hands?
There are only three options here: The receiver caught the ball, did not catch the ball, or caught the ball and promptly fumbled it. Taking away fumbles caused by the ground is like saying a steal in basketball does not count if the ball is on the floor.
Let the players deal with the penalties that come from their shoddy play instead of giving them a safety net.
8.) Technical Fouls Not Counting as Personal Fouls in Basketball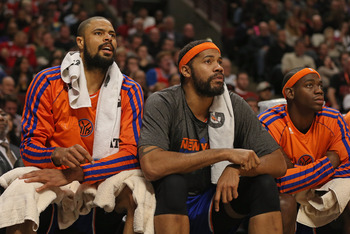 Rasheed Wallace is lucky technicals do not count as personal fouls.
Jonathan Daniel/Getty Images
Sure, it only takes two technical fouls for a player to be ejected from a game. But more often than not, a player can get slapped with a technical without any real repercussions minus a few free throws for their opponent.
A referee uses technical fouls when a regular foul will not cut it as retribution for a player's misconduct. So then why does this penalty not count toward a player's personal foul tally?
A player with five fouls and a technical should be on the bench for the remainder of a game. It just seems silly for a technical to potentially count for less than a reach-in foul.
Speaking of silly basketball rules…
7.) Chris Webber Rule
Chris Webber's legendary mistake highlighted an odd rule.
Kevin C. Cox/Getty Images
It was one of the biggest basketball fails of all time. With time expiring in the 1993 NCAA championship game between Michigan and North Carolina, Michigan's Webber called the infamous timeout that he did not have.
The refs gave Webber a technical, and UNC's Donald Williams proceeded to ice the game with two free throws. Besides being one of the most embarrassing moments in basketball history, it also highlighted a strange and unfair rule.
Webber should have known his timeout count, but there was no reason to give him a technical. The refs could have easily ignored his pleas for a timeout and gave him a disapproving shake of the head instead.
Giving Webber a technical was just adding insult to mental injury. Tragic.
6.) Offside in Hockey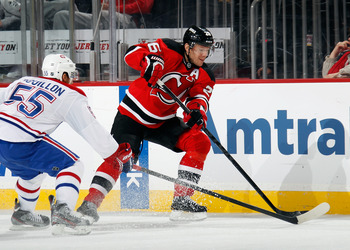 Why do these guys have to deal with an offside line?
Bruce Bennett/Getty Images
As a lifelong soccer player, I appreciate the idea behind offside rules. They are meant to keep offenses honest and give defenses another strategy.
This works in soccer because the offside line is fluid and stays with the last defender. Everyone on the field needs to pay attention to and respect the rule.
Silly question: what is the point of offside in hockey? It is an arbitrarily drawn, static line that only slows the game down and stops scoring opportunities. There is no strategy involved with it; you either get caught offside or you do not.
Last time I checked, hockey rinks are tiny and made of ice. Stopping a sliding puck from crossing that blue line is not easy in a small and slipper arena. It should not be something else hockey players have to worry about.
Hockey's biggest strength is its entertainingly frenetic pace. Why hinder it with something that can stop all that fun in its tracks?
5.) Suspensions for Leaving Bench in NBA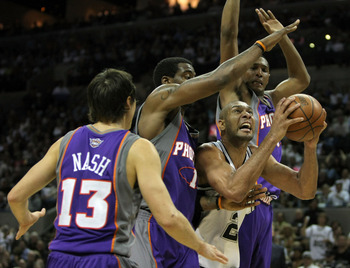 The strange enforcement of that rule possibly cost the Suns a series victory.
Harry How/Getty Images
This rule theoretically makes sense, but the way the NBA applied it in one situation is a head-scratcher.
During a 2007 playoffs game between the San Antonio Spurs and Phoenix Suns, Spurs forward Robert Horry hip-checked Suns point guard Steve Nash into the scorer's table. Suns players Amar'e Stoudemire and Boris Diaw stood up off the bench to voice their concern.
Both players were suspended for a game for leaving "the immediate vicinity of the bench," according to league officials. The Suns would go on to lose the next game and ultimately the series.
Stoudemire and Diaw barely left the bench. Words may have been spoken, but there were no physical altercations and no one had to be restrained. Yet both of these players were suspended for an emotional reaction to their teammate being bullied.
At the very least, Horry received a two-game suspension. Did that make up for the Suns losing two of their best players for a game to the strictest application of a rule? Not even close.
4.) Tiger Woods Rule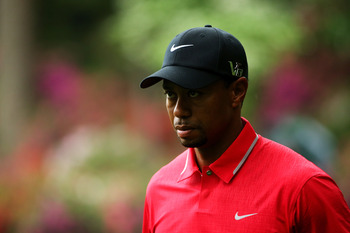 Even Woods is not quite sure how that ruling worked.
Andrew Redington/Getty Images
This refers to whatever exception the rules committee brought out at the Masters to allow Woods to stay in contention.
Woods made an illegal drop on the 15th hole at Augusta and, by letter of the law, should have been disqualified after he signed his scorecard and did not include the penalty.
Instead, the rules committee just granted him a two-stroke penalty and said, "play on." Seems fair to the rest of the tournament field, right?
This ruling caused a mini controversy that everyone forgot about once it was obvious Woods was not going to win the Masters. But if he had won, we would still be wondering if his win was legitimate or not.
3.) Fan Interference in Baseball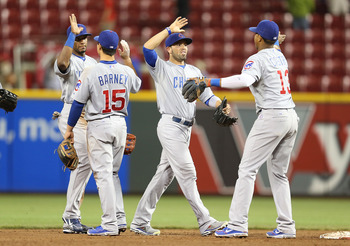 Steve Bartman is proof that these guys must really be cursed.
Andy Lyons/Getty Images
This one has to be an umpire's nightmare. Judging what would have happened in a play had a fan not interfered must be the most difficult call they have to make.
Of course, the reason this rule is so strange has to do with the fact that rarely in sports can fans affect games to this degree. Just look at the Steve Bartman and Jeffrey Maier cases.
Both instances of possible fan interference directly affected the outcome of playoff games. Okay, Bartman's effect on the Cub's late-game playoff meltdown is questionable.
But the death threats he received afterward mean most of Chicago believes he had an impact.
2.) Fan Call-Ins in Golf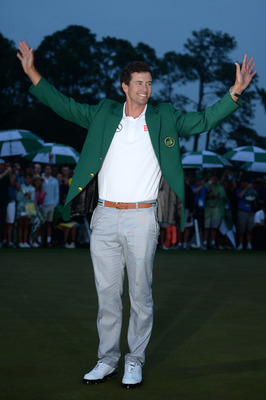 Luckily for Adam Scott, no fans found any problems with his game.
Harry How/Getty Images
Speaking of fans affecting the outcome of sporting events, in what world does this rule make any sense?
Fans can call tournament officials and tell them what they saw on television. Sometimes, they catch things these officials miss and thus directly influence the sport.
In fact, that was how Tiger Woods's dropped ball penalty was first spotted. Two fans called in that said they thought there might have been some foul play on the 15th hole.
This rule could be seen as just an extra way of policing tournaments. But, and correct me if I am wrong, should that job not belong to trained judges instead of fans sitting on their couches? Just a thought.
1.) Field Goals Above the Upright Are Good in Football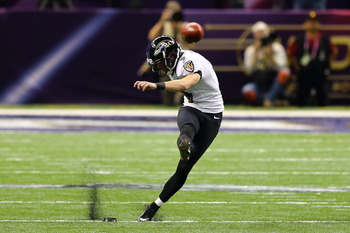 How that Justin Tucker kick was good is beyond my comprehension.
Al Bello/Getty Images
I have been trying to rationalize this one ever since the Baltimore Ravens beat the New England Patriots by a field goal during Week 3 of the 2012 regular season.
Justin Ticker's kick went above the right upright. It was called a field goal because, according to the rules, kicks where the entire ball passes inside the outside edge of the post are good.
Basically, you have to draw an imaginary line extending upward infinitely. Any kick that passes within that line is considered good.
Here is my issue with that rule: if the goalpost was extended higher, the football would just bounce off the upright and the field goal would be no good. So then why does that imaginary line suddenly become ghost-like? Why does the ball get to travel through that line and still count? Seriously, I am baffled.
Maybe I am just an angry Steelers fan who was rooting hard for a Ravens loss. But that rule, to me at least, is the strangest one I have yet to encounter in sports.
Keep Reading