UFC 159 Results: Top 10 Middleweights in the UFC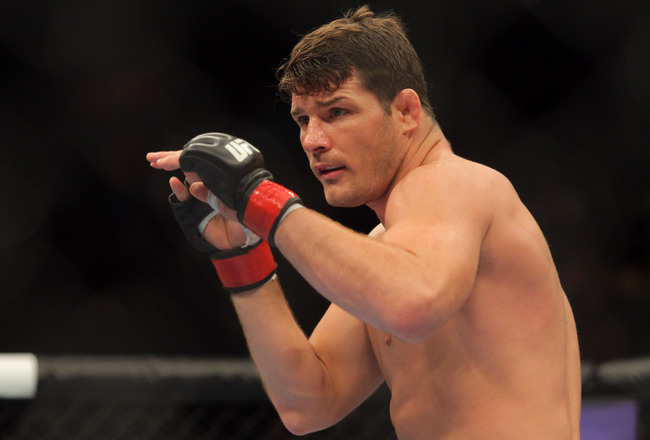 Brad Penner-USA TODAY Sports
Michael Bisping bounced back quickly from his recent knockout loss to Vitor Belfort, picking apart Alan Belcher in the UFC 159 co-main event.
Although he's going to need a couple more wins to make up for that setback against Belfort, Bisping's name constantly puts him within striking distance of title contention.
Belcher, meanwhile, has now lost back-to-back fights. He'll likely need to take a step down in competition now and earn his way back into fights with top-10 middleweights.
Following UFC 159, let's take a look at who those top-10 UFC middleweights are exactly.
10. Hector Lombard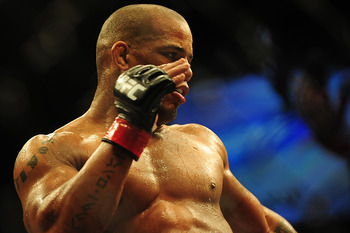 Anne-Marie Sorvin-USA TODAY Sports
Record: 32-4-1 MMA, 1-2 UFC
Last Fight: Loss vs. Yushin Okami
Next Fight: TBD
Hector Lombard has not had a ton of success since joining the UFC roster, but that doesn't mean he's not still an elite 185-pound fighter. Both of Lombard's defeats inside the Octagon came via split decision against very tough competition.
While Lombard is still capable of contending at middleweight, it appears he's considering a move to 170 pounds.
Looking forward to be workingwith Mike Dolce!
— Hector Lombard (@HectorLombard) April 8, 2013
Lombard's partnership with MMA nutritionist Mike Dolce could lead to a lifestyle change and welterweight title contention. Dolce said nothing has been decided, but he added that Lombard is capable of hitting the welterweight limit.
9. Yushin Okami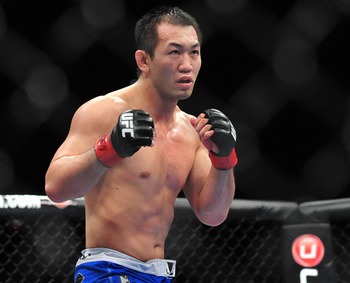 Gary A. Vasquez-USA TODAY Sports
Record: 30-7 MMA, 13-4 UFC
Last Fight: Win vs. Hector Lombard
Next Fight: TBD
Yushin Okami has regained the momentum he once had before losing back-to-back fights against Anderson Silva and Tim Boetsch.
In beating Alan Belcher and Hector Lombard in his past two outings, Okami proved he's still an elite middleweight.
With one more victory, the Japanese fighter could put himself back into serious title contention.
8. Tim Boetsch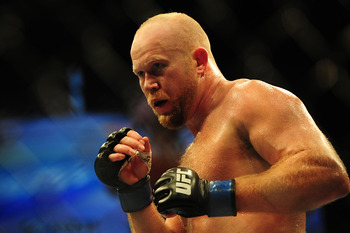 Anne-Marie Sorvin-USA TODAY Sports
Record: 16-5 MMA, 7-4 UFC
Last Fight: Loss vs. Costa Philippou
Next Fight: Mark Munoz at UFC 162
Tim Boetsch's meteoric rise into middleweight title contention finally hit a speed bump in the form of Costa Philippou.
Though Boetsch is no longer undefeated in the middleweight division, he still holds wins over the likes of Yushin Okami and Hector Lombard, making him one of the better 185-pound fighters in the world.
With a win over Mark Munoz in July, Boetch could find himself right back in the mix for a middleweight title shot.
7. Michael Bisping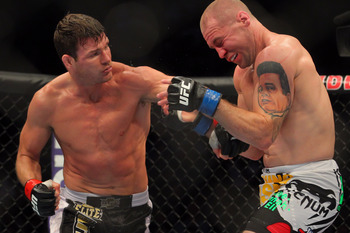 Brad Penner-USA TODAY Sports
Record: 24-5 MMA, 14-5 UFC
Last Fight: Win vs. Alan Belcher
Next Fight: TBD
Michael Bisping's win over Alan Belcher at UFC 159 kept him relevant in the middleweight title picture.
Though he'll likely need a few more wins to earn a spot in a championship bout, Bisping is one of the more well-known figures in the middleweight division and will accordingly have an easier path to UFC gold than most.
A victory over Belcher got Bisping back on track, and one more win would put the British fighter back in the conversation for fighters in the running for a title shot.
6. Ronaldo Souza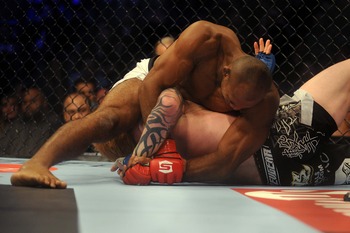 USA TODAY Sports
Record: 17-3 MMA, 0-0 UFC
Last Fight: Win vs. Ed Herman
Next Fight: Costa Philippou at UFC on FX 8
Ronaldo Souza has yet to make his UFC debut, but the former Strikeforce champion is expected to make an immediate impact on the middleweight division when he does.
After breezing through UFC veteran Ed Herman in his final Strikeforce appearance, Souza has proven he's ready to compete with the best in the world and should be a UFC contender right away.
Aside from a controversial loss to Luke Rockhold, Souza has not been defeated in the past four years.
5. Luke Rockhold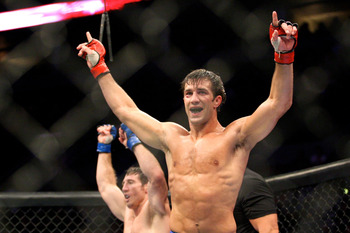 Scott Olmos-USA TODAY Sports
Record: 10-1 MMA, 0-0 UFC
Last Fight: Win vs. Tim Kennedy
Next Fight: Vitor Belfort at UFC on FX 8
Luke Rockhold will make his UFC debut already considered one of the top contenders in the middleweight division.
Undefeated under the Strikeforce banner, Rockhold finished his time with the promotion as the 185-pound champion and should be a threat to capture the UFC championship in the years to come.
With a win over Vitor Belfort, who recently knocked out Michael Bisping, Rockhold may already have a strong argument for a middleweight title shot.
4. Costa Philippou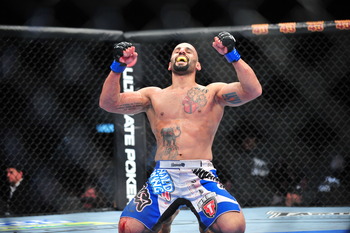 Gary A. Vasquez-USA TODAY Sports
Record: 12-2 MMA, 5-1 UFC
Last Fight: Win vs. Tim Boetsch
Next Fight: Ronaldo Souza at UFC on FX 8
In stopping Tim Boetsch to pick up a fifth straight win, Costa Philippou rocketed upward in the middleweight rankings.
A regular training partner of top contender Chris Weidman, Philippou has emerged as one of the best 185-pound fighters in all of MMA.
If Philippou can stuff the takedowns of world-class grappler Ronaldo Souza and pick up a win at UFC on FX 8, it could be time to start considering the 33-year-old as a serious title threat.
3. Chris Weidman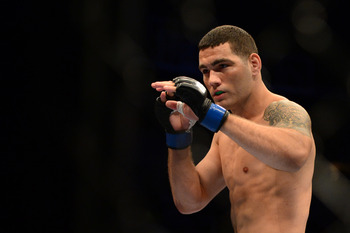 Kyle Terada-USA TODAY Sports
Record: 9-0 MMA, 5-0 UFC
Last Fight: Win vs. Mark Munoz
Next Fight: Anderson Silva at UFC 162
It took some campaigning, but Chris Weidman was eventually awarded a middleweight title shot against long-reigning champion Anderson Silva.
Weidman's chance to nab UFC gold will come in July, when he'll take on Silva in the UFC 162 main event.
Although Weidman doesn't have the most impressive resume of all Silva's challengers, the former All-American wrestler possesses the skill set needed to put the champion's dominance to a stop.
2. Vitor Belfort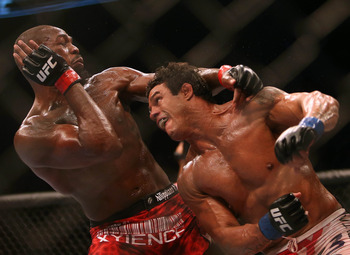 Tom Szczerbowski-USA TODAY Sports
Record: 22-10 MMA, 11-6 UFC
Last Fight: Win vs. Michael Bisping
Next Fight: Luke Rockhold at UFC on FX 8
Though he's already been knocked out by Anderson Silva, Vitor Belfort has returned to the front of the race for a middleweight title shot.
Since returning to the UFC for his current run with the organization, Belfort has only lost to Silva and light heavyweight champion Jon Jones.
If Belfort beats former Strikeforce champion Luke Rockhold decisively at UFC on FX 8, it'd be hard to imagine a middleweight more deserving of a chance to fight the middleweight titleholder.
1. Anderson Silva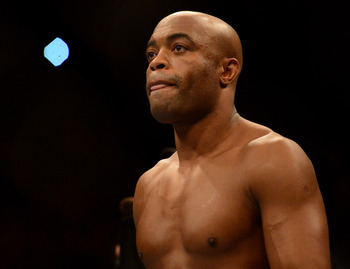 Mark J. Rebilas-USA TODAY Sports
Record: 33-4 MMA, 16-0 UFC
Last Fight: Win vs. Stephan Bonnar
Next Fight: Chris Weidman at UFC 162
Anderson Silva continues to reign over the middleweight division years after dethroning Rich Franklin.

A stiff test stands in front of him, though. As he continues to age gracefully, Silva will meet the surging Chris Weidman, who presents a difficult stylistic matchup for the champion.

Superfights await Silva should he beat Weidman, but so do several rising new challenges in the 185-pound class.
Keep Reading