All 30 MLB Teams' Worst-Case Injury Scenario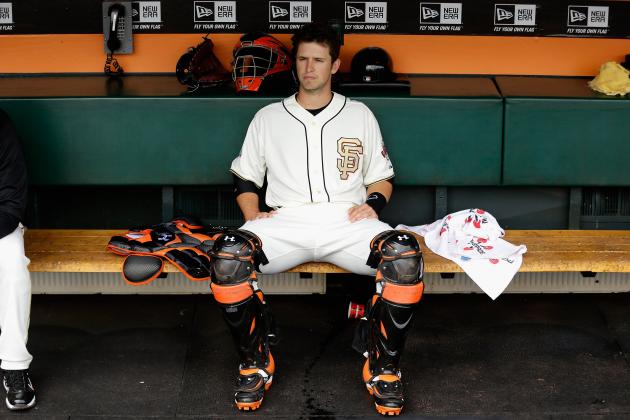 Ezra Shaw/Getty Images

Be forewarned, friends, as what you'll see on the pages that follow is not for the feint of heart.
It doesn't matter how talented a player may be, how much money he may make or how the numbers on the back of his baseball card read—injuries don't discriminate, and they usually affect the one player that a team can least afford to lose, even if it's only for a handful of games.
While it may seem obvious that a team's worst-case injury scenario would be one that impacts a team's best player, that's not necessarily the case.
For contenders, do they have the depth to weather the storm that generally comes along with an injury to a key member of the team?
For pretenders, do they have other assets that are equally as attractive to potential buyers at the trade deadline?
With that in mind, let's take a look at the worst-case injury scenario for every team in baseball.
Begin Slideshow

»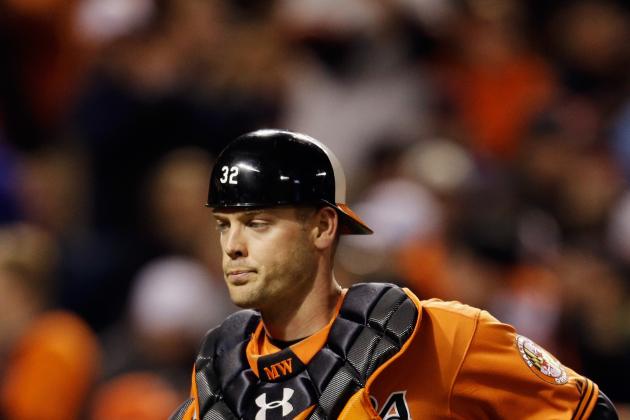 Rob Carr/Getty Images

Worst-Case Scenario: Losing Matt Wieters for an extended period of time.
Despite his struggles at the plate, losing catcher Matt Wieters would be a crushing blow to Baltimore's chances of repeating its success of a year ago.
The best defensive catcher in the American League (second to only St. Louis' Yadier Molina in all of baseball), the 26-year-old backstop not only does a solid job of handling Baltimore's pitching staff, but he makes it virtually impossible for the opposition to take an extra base when he's behind the plate.
Wieters has thrown out a remarkable 7-of-11 would-be base stealers so far in 2013—a ridiculous 63.6 percent that trails only Colorado's Wilin Rosario for the best percentage in baseball. Though, to be fair, Rosario has only had to deal with six attempted thefts, just about half the workload that Wieters has had.
Taylor Teagarden is a fine backup catcher, but neither he nor anyone else in the organization can replace what Wieters brings to the table on a nightly basis in Baltimore.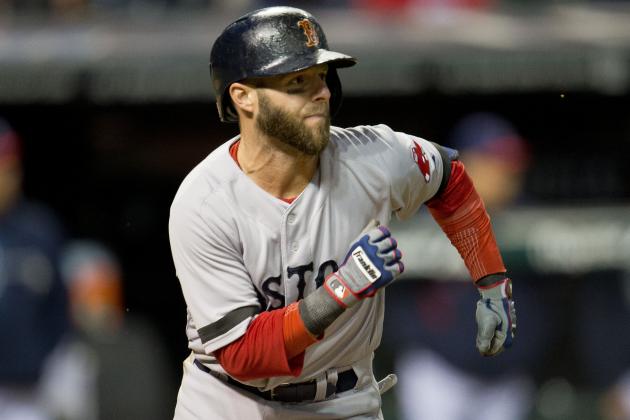 Jason Miller/Getty Images

Worst-Case Scenario: Watching Dustin Pedroia suffer a Jeter-esque injury
Despite playing different positions and breaking onto the scene a decade apart from one another, there are plenty of parallels to draw between Boston's Dustin Pedroia and New York's Derek Jeter.
Both are the heart and soul of the team and the unquestioned leaders in the clubhouse. Watching Jeter field a ground ball, drop to the ground and scream in agony, you could feel the life get sucked out of the Yankees as quickly as Mega Maid sucked the air from Planet Druidia in Spaceballs.
Unlike Jeter, who is New York's second-best hitter after Robinson Cano, Pedroia is the best player in Boston's lineup on a daily basis.
Losing Pedroia at all would be a damaging blow.
Losing Pedroia in similar fashion to how the Yankees lost Jeter would be a knockout one.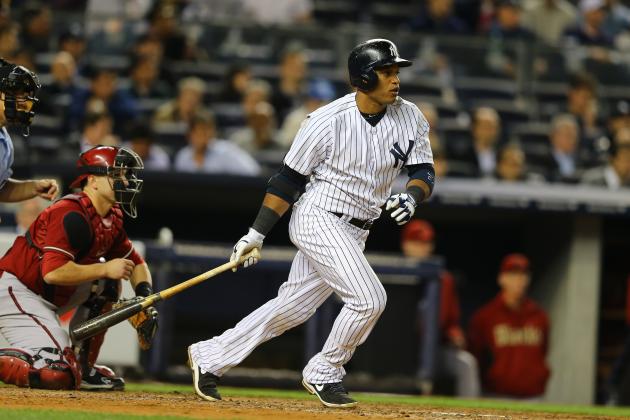 Al Bello/Getty Images

Worst-Case Scenario: Losing Robinson Cano
That the Yankees have stayed above .500 and within only a few games of first place in the AL East without Curtis Granderson, Derek Jeter, Alex Rodriguez and Mark Teixeira is nothing short of remarkable and a testament to the players that make up the team's 25-man roster.
None of those players is more irreplaceable than Robinson Cano, who has reverted back to his World Baseball Classic ways after starting the season off slowly. Over his past 13 games, Cano has hit .429 with a 1.333 OPS, driving in 14 runs.
Half of his 24 hits during this streak have gone for extra bases (six doubles, six home runs), and in just the past few days, Cano has made team history:
2 #Yankees have posted 3 extra-base hits in back-to-back games: Lou Gehrig & @robinsoncano. And Cano's done it twice: atmlb.com/13uQ5Tt
— New York Yankees (@Yankees) April 24, 2013
While the resurgence of Travis Hafner, Vernon Wells and Kevin Youkilis has been great, they cannot be counted on to play like this all season long. Nor can it be expected that those injured will come back and immediately perform up to their past performances.
Cano is the only sure thing in the Yankees' lineup. Without him, this team is going nowhere.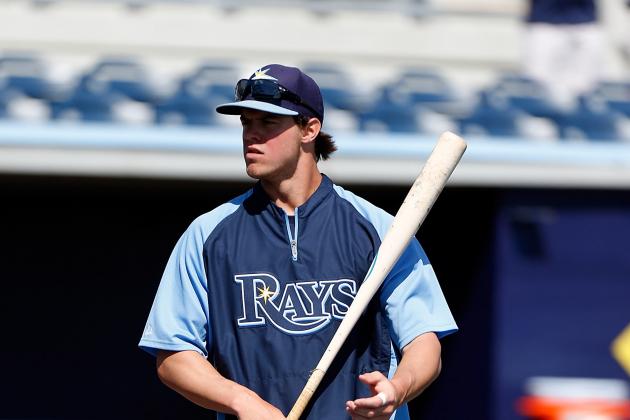 J. Meric/Getty Images

Worst-Case Scenario: Wil Myers goes down with a major injury before making his MLB debut
It might seem odd to pick a 22-year-old who has yet to take a regular season swing over more established members of Tampa Bay's 25-man roster, like Evan Longoria or David Price, but think about it for a second.
Tampa Bay has already proven that it can win in spite of Longoria's penchant for getting injured—something he's done in each of the past two seasons. While the Rays certainly don't have another Price on the roster, Matt Moore looks the part of an ace this season, and the team has plenty of reinforcements in the minor leagues—including top prospect Chris Archer—biding their time.
What the Rays don't have is an impact bat like Myers—one that can truly compliment Longoria and Ben Zobrist in the lineup.
Tampa Bay is averaging fewer than four runs per game—below the league average—while posting a lethargic team slash line of .230/.302/.373 over the first 21 games of the season.
Myers, who was pulled from a game last week after fouling a ball off of his foot as a precaution, has since returned to action and has not missed a beat, showing that he has nothing left to prove in the minor leagues:
Wil Myers singles to lead of the Bulls half of the 6th. He's now reached base in 17 consecutive games, the longest active streak in IL.
— Durham Bulls (@DurhamBulls) April 24, 2013
It's not as if Tampa Bay has a plethora of talented corner outfielders blocking his path, either. Sam Fuld, Matt Joyce and Luke Scott are serviceable players but nothing more.
Myers is the future of Tampa Bay's offense. It's one thing for the fiscally conservative franchise to keep him in the minors to delay starting the clock on his service time; it's another thing entirely if he's stuck in the minors due to injury.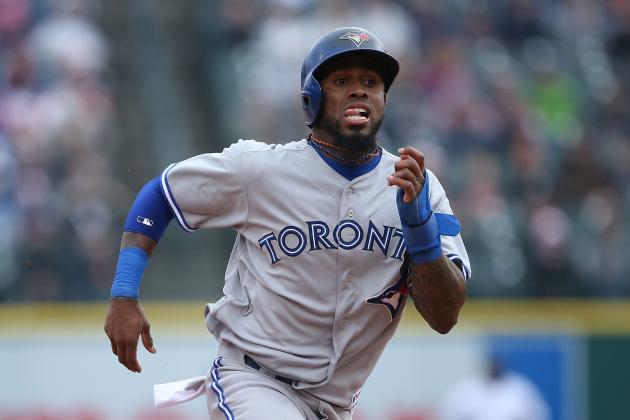 Leon Halip/Getty Images

Worst-Case Scenario: Losing Jose Reyes for months.
Of the multiple big-name players that the Blue Jays acquired during the offseason, none were playing nearly as well as shortstop Jose Reyes
Hitting .395 with a .991 OPS and five stolen bases through his first 10 games of the season, Toronto's worst-case scenario came to pass when Reyes slid into second base against Kansas City:
#BlueJays GM Alex Anthopoulos expects Jose Reyes to miss up to 3 months with left ankle sprain, is exploring trades for short-term solution.

— MLB (@MLB) April 13, 2013
In one fell swoop, the Blue Jays lost their starting shortstop and the table-setter atop their lineup.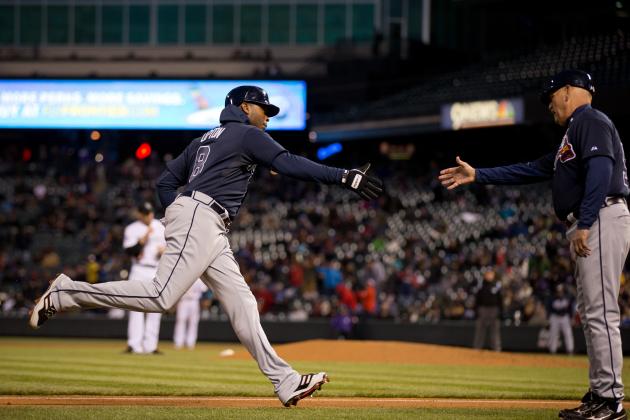 Justin Edmonds/Getty Images

Worst-Case Scenario: Losing Justin Upton before the lineup's other big bats wake up.
While we all figured a change of scenery would do Justin Upton some good, nobody in their wildest dreams expected that it would suit him quite as well as it has.
Upton has been driving the ball with authority, leading all of baseball with 11 home runs and a 1.200 OPS and pacing what, for the most part, has been a relatively dormant Atlanta offense.
Take a look at what some of the other big names in the Braves' lineup have done so far:
| | | | | |
| --- | --- | --- | --- | --- |
| | BA | OPS | HR | RBI |
| Jason Heyward | 0.121 | 0.519 | 2 | 5 |
| Andrelton Simmons | 0.209 | 0.558 | 1 | 7 |
| Dan Uggla | 0.185 | 0.696 | 4 | 6 |
| B.J. Upton | 0.150 | 0.525 | 3 | 5 |
| Totals: | 0.167 | 0.577 | 10 | 23 |
Despite the team having the best pitching staff in baseball (and not necessarily needing gaudy offensive numbers on a daily basis), losing Upton before some of the other impact bats in Atlanta's lineup wake from their slumber would be a pretty significant problem.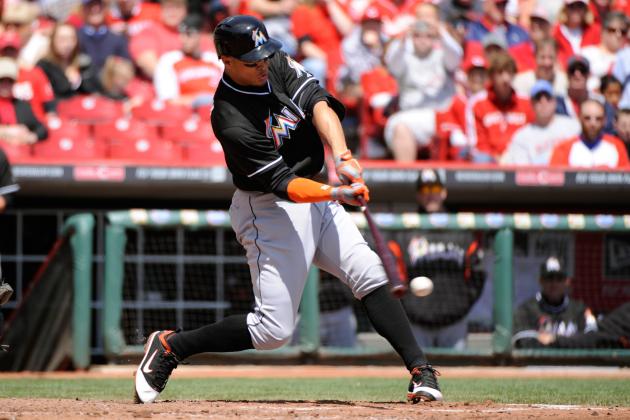 Jamie Sabau/Getty Images

Worst-Case Scenario: Losing Ricky Nolasco or Giancarlo Stanton to injury before or at the trade deadline.
It goes without saying that the Marlins are in full-on rebuilding mode, and Miami truly only has two established trade chips that contenders will have interest in at the trade deadline: Ricky Nolasco and Giancarlo Stanton.
Nolasco (1-2, 3.86 ERA, 1.27 WHIP) isn't a front-of-the-rotation starter, despite being cast as Miami's ace, but he's a serviceable starter who has the ability to give a team some quality innings and keep things close.
Stanton, a player that both contenders and non-contenders alike would love to get their hands on, has as much raw power as any player in baseball. Yet, without anyone that resembles a dangerous hitter around him in the lineup, the 23-year-old's numbers have suffered.
Over his first 15 games, Stanton has a lethargic .200/.333/.255 slash line. More surprising is the fact that he is the last member of an exclusive club that he'd surely rather not be in:
Matt Kemp homers, and then there was 1: RETWEET if you have as many homers as Giancarlo Stanton! #mlbmemes twitter.com/MLBMeme/status…

— MLB Memes (@MLBMeme) April 25, 2013
Nolasco would bring back a package of so-so prospects, while a team would have to part with multiple top prospects and young major league players to get its hands on Stanton.
Losing either of them to a significant injury before the trade deadline would be the worst possible scenario for the Marlins, who will assuredly move Nolasco and very well could move Stanton as well to further their rebuilding efforts.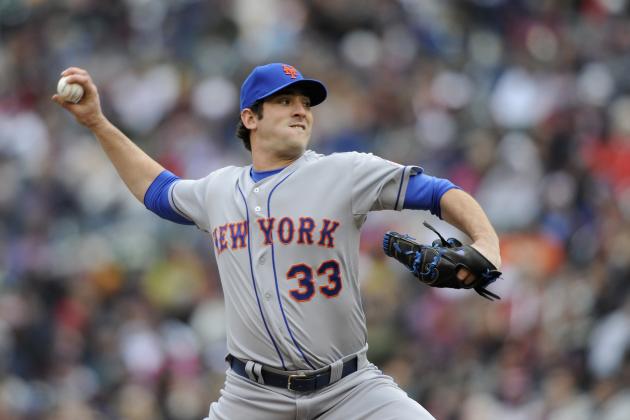 Hannah Foslien/Getty Images

Worst-Case Scenario: Losing Matt Harvey to an arm injury.
While the Mets have certainly had their fair share of pitchers work their way through the team's minor league system and take the mound in Flushing, few have made the impact—or created a palpable buzz—Matt Harvey has.
You have to go back nearly 30 years, to Dwight Gooden's rookie season of 1984, to find a Mets pitcher who comes close. Actually, when you look at the first 15 starts of their respective careers, you might be surprised to see which one has the better numbers:
| | | | | | | | |
| --- | --- | --- | --- | --- | --- | --- | --- |
| | W-L | ERA | WHIP | IP | H | BB | K |
| Gooden | 6-5 | 2.89 | 1.14 | 96.2 | 70 | 40 | 113 |
| Harvey | 7-5 | 2.29 | 0.98 | 94.1 | 56 | 36 | 109 |
Granted, Harvey's first 15 starts have been split over two seasons, while Gooden's all came in '84. But that doesn't change the fact that Harvey has been harder for the opposition to hit than even the legendary "Doctor K," who was one of the elite starters in the game before drugs and injury ruined his career.
Harvey is New York's answer to Stephen Strasburg, and he represents both the club's present and future.
Losing him to an arm injury would not only rob the current team of its most dominant starter, but it would deflate a fanbase that is slowly but surely coming back after years of mismanagement and disappointing results.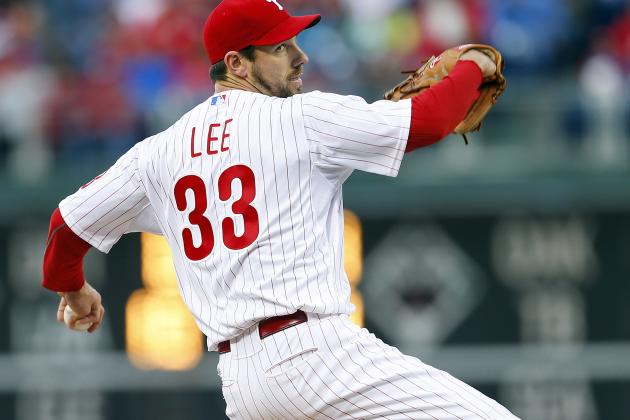 Rich Schultz/Getty Images

Worst-Case Scenario: Cliff Lee losing any trade value due to an arm injury
The Phillies aren't getting any younger, and GM Ruben Amaro Jr. will be faced with the same dilemma at this year's trade deadline as he was last season: Does he move a valuable trade chip like Cliff Lee to inject new, youthful talent into an aging roster?
Under contract through the 2015 season (with an option year for 2016), Lee is the one player on the Phillies (aside from Cole Hamels, who isn't going anywhere) that could bring back a substantial package, infusing much-needed youth into an aging roster.
While he's still one of the better starting pitchers in baseball, Lee's value to other teams becomes less with each passing year.
Now, I'm not saying that Philadelphia will move Lee at the deadline, but it could.
That option all but disappears if Lee were to become injured—especially if it's an arm injury.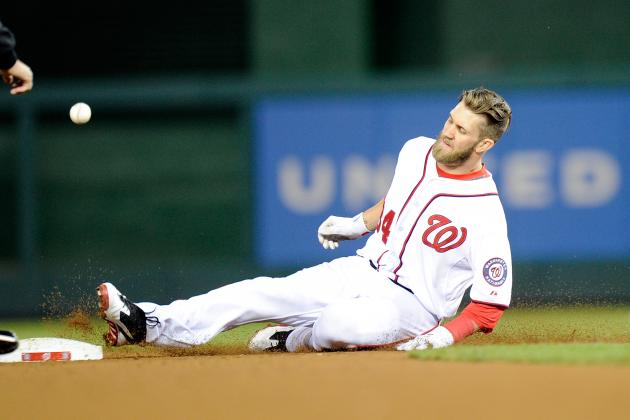 Greg Fiume/Getty Images

Worst-Case Scenario: Losing Bryce Harper for an extended period of time.
After years of relying on Ryan Zimmerman to pace the offense, Bryce Harper has supplanted the All-Star third baseman as the most irreplaceable piece of the Nationals lineup.
Harper has quickly established himself as one of the most dangerous hitters in baseball, and he leads Washington in nearly every offensive category this season, including batting average (.351), OPS (1.118) and home runs (seven)—numbers that put him among the leaders in the National League.
A legitimate MVP candidate in 2013 and beyond, losing Harper for any length of time would be a difficult hurdle for the team to get over. Losing the 20-year-old for an extended period of time would deal a crushing blow to the team's chances of repeating as NL East champions.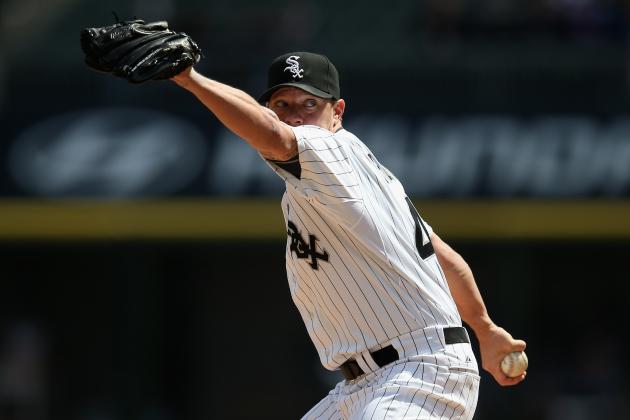 Jonathan Daniel/Getty Images

Worst-Case Scenario: An injury to Jake Peavy—any injury.
The White Sox have been mediocre at best in 2012. They sit in the basement of the AL Central with record of 8-12 and look nothing like the team many believed would once again contend for the division title and a playoff berth in 2013.
Chris Sale remains the team's best starting pitcher and he represents the future in Chicago, but should the team find itself out of contention when the trade deadline rolls around, a handful of players could find themselves the subject of trade rumors.
That includes Jake Peavy, who stayed healthy for the first time in years last season, reestablishing himself as a legitimate front-of-the-rotation arm and someone who has value around the league.
Signed through the 2014 season, the 31-year-old right-hander could land Chicago a multi-player package, allowing the team to add talent to the mix without totally breaking up the team.
But if Peavy were to get injured, the concerns about his durability would once again come to the forefront, all but destroying his value to a contender and leaving the White Sox with an immovable asset.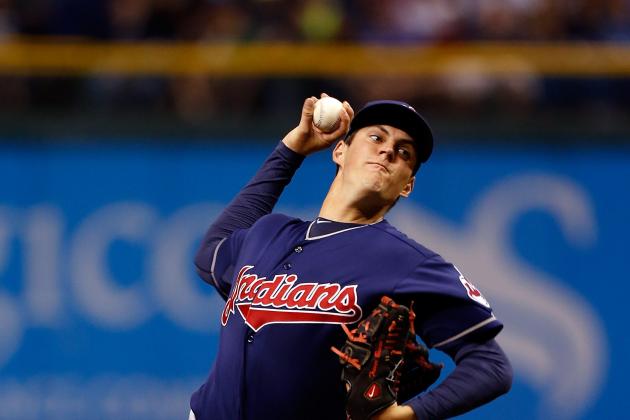 J. Meric/Getty Images

Worst-Case Scenario: An arm injury to Trevor Bauer
Different season, same story in Cleveland, where a decent offense has seen its efforts thwarted by an absolutely atrocious starting rotation.
Cleveland's starters have gone 5-11 with a 5.56 ERA and 1.44 WHIP—numbers that put the group among the least effective in all of baseball. Those numbers also include one start from Trevor Bauer, who walked seven batters in his lone start of the season.
But it's Bauer, 22, who represents the future of Indians pitching. While he's not yet a finished product, big things are expected from him in Cleveland down the road. Were he to suffer an arm injury before arriving in Cleveland for good, it would only serve to deflate a fanbase that hasn't had much to cheer about in recent years.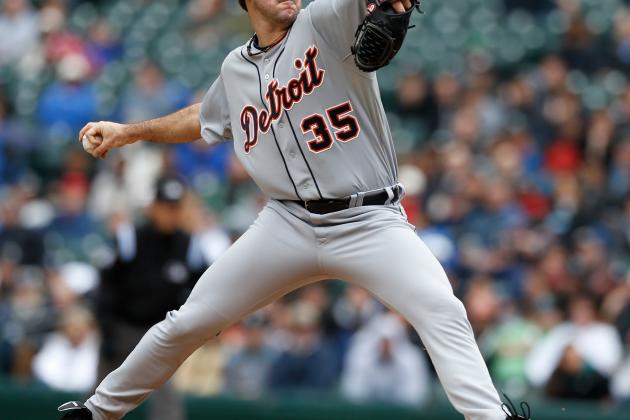 Otto Greule Jr/Getty Images

Worst-Case Scenario: An injury to Justin Verlander.
Losing Miguel Cabrera or Prince Fielder to injury would be a major deal in Detroit, but it wouldn't necessarily be a crushing blow to the team's playoff aspirations. The same can't be said about a potential injury to Justin Verlander, one of the two best pitchers in baseball.
Sure, the Tigers have quality starting pitchers up and down their rotation, and Verlander's 2.13 ERA on the season isn't even good enough to lead the team—both Anibal Sanchez (1.75) and Doug Fister (2.00) have been equally as impressive in 2013.
But there's no question that Verlander is on a different level than those two, on a different level than nearly everyone else in baseball with the exception of a few (Clayton Kershaw and Felix Hernandez being the others).
If Verlander were forced to miss more than one or two starts due to injury, it would spell the end of Detroit's reign atop the AL Central.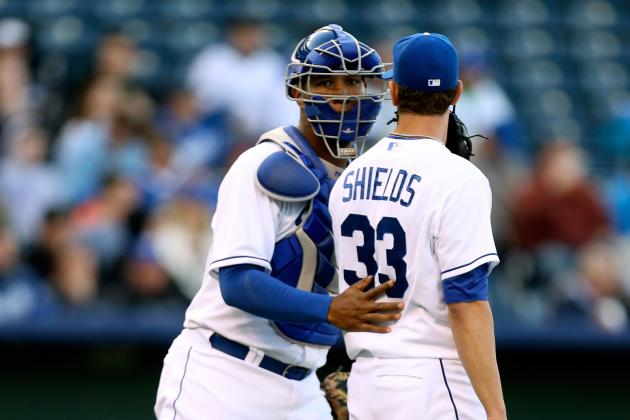 Ed Zurga/Getty Images

Worst-Case Scenario: An injury to Wade Davis, Ervin Santana or James Shields
The AL Central appears to be ripe for the taking, and, for now at least, Kansas City is sitting on top.
A big reason for that has been the play of the trio of starters that GM Dayton Moore bought in to bolster an awful starting rotation: Wade Davis, Ervin Santana and James Shields.
| | | | | | | | |
| --- | --- | --- | --- | --- | --- | --- | --- |
| | W-L | ERA | WHIP | IP | H | BB | K |
| Davis | 2-1 | 3.20 | 1.68 | 19.2 | 26 | 7 | 17 |
| Santana | 2-1 | 2.48 | 1.07 | 29 | 26 | 5 | 26 |
| Shields | 1-2 | 3.00 | 1.11 | 27 | 24 | 6 | 28 |
| Totals: | 5-4 | 2.85 | 1.24 | 75.2 | 76 | 18 | 71 |
While acquiring Santana cost the team only cash, Davis and Shields came at a hefty price, one that included sending pitching prospects Jake Odorizzi and Mike Montgomery to Tampa Bay.
Were one of the three to be lost for any period of time due to injury, the Royals don't have the depth needed to effectively replace them in the rotation—and ending a nearly 30-year playoff drought would become nearly impossible.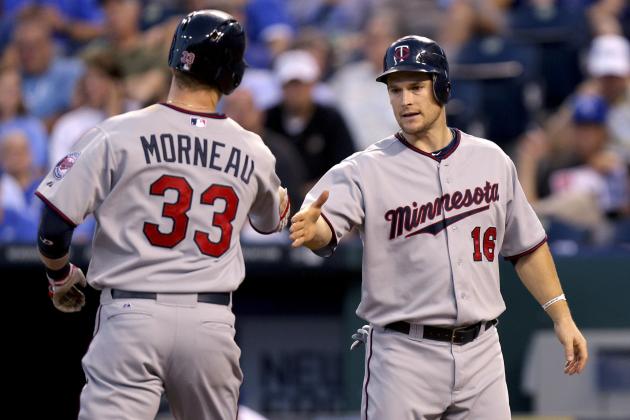 Ed Zurga/Getty Images

Worst-Case Scenario: Losing a trade chip to injury before the trade deadline.
While we've talked about how the AL Central race is wide open—a race that includes the Minnesota Twins—if we are being realistic, the Twins simply don't have the pitching needed to truly contend with the AL's elite teams.
What the Twins do have are veteran position players who are sure to intrigue contenders as the trade deadline approaches, namely left fielder Josh Willingham and first baseman Justin Morneau.
Healthy, the pair of sluggers could each bring back additional pieces to aid the Twins in their rebuilding efforts.
Injured, the pair of sluggers have no value—to either the Twins or a contending team.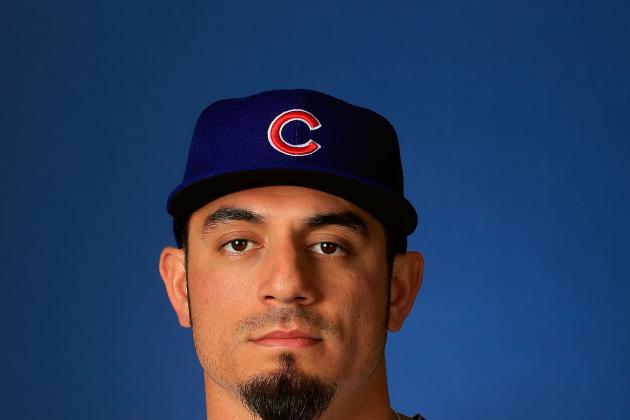 Jamie Squire/Getty Images

Worst-Case Scenario: Matt Garza never gets healthy
He's been the subject of trade rumors for two years, and now, in the final year of his contract, 29-year-old Matt Garza remains the most valuable trade chip that GM Jed Hoyer has to play.
Playing, of course, is something that Garza hasn't done in quite some time. His 2012 season ended before the trade deadline due to an elbow injury, and he's currently sidelined with a lat injury.
For the Cubs to move Garza, he needs to return to the mound and show that he's still able to deliver quality innings every fifth day for at least a month, proving to potential suitors that his injury issues are firmly behind him.
If he's unable to take the hill, the Cubs won't be able to move him, and they run the risk of losing him for no compensation at all via free agency after the season.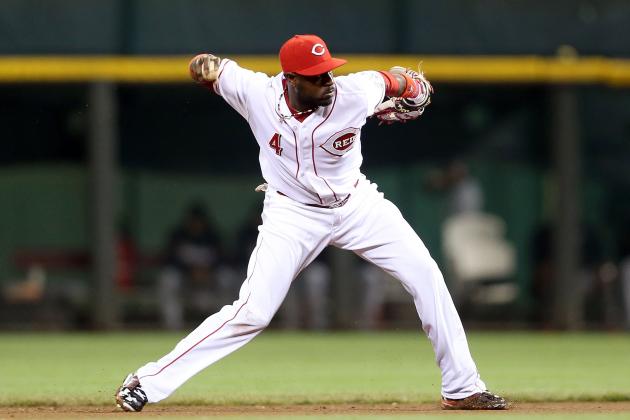 Andy Lyons/Getty Images

Worst-Case Scenario: Losing Brandon Phillips
Cincinnati proved last season that it can succeed without one All-Star, first baseman Joey Votto.
It would be hard-pressed to replicate the feat without another All-Star, second baseman Brandon Phillips.
It's not just Phillips' contributions in the middle of the Reds' lineup, which are significant. His 21 RBI lead the team and are second in the NL to New York's John Buck, who has 22. Phillips is consistently one of the best defensive second basemen in baseball, and his presence in the middle of the Reds' infield would prove nearly impossible for the team to replace.
While players like Emmanuel Burriss, Jason Donald and Henry Rodriguez are capable fielders, none of them are on Phillips' level, in the field or at the plate.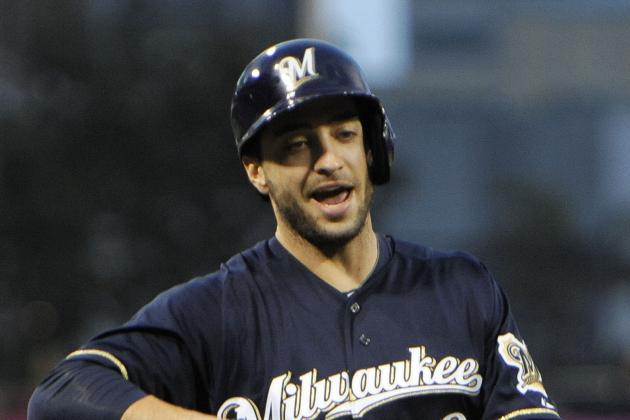 Denis Poroy/Getty Images

Worst-Case Scenario: Losing Ryan Braun for the season
When it comes to Brewers left fielder Ryan Braun, two things are indisputable: He will forever have a cloud of speculation hanging over his head as it pertains to PEDs, and despite that cloud, he is, on a yearly basis, one of the best players in baseball and a perennial MVP candidate.
While his .274 batting average on the season is about 50 points below his career average, Braun remains one of the premier run producers in baseball, leading Milwaukee with six home runs and 20 RBI.
Taking his bat out of Milwaukee's lineup for any extended period of time, much less the entire season, would leave a gaping hole in the middle of the team's lineup that it simply could not fill.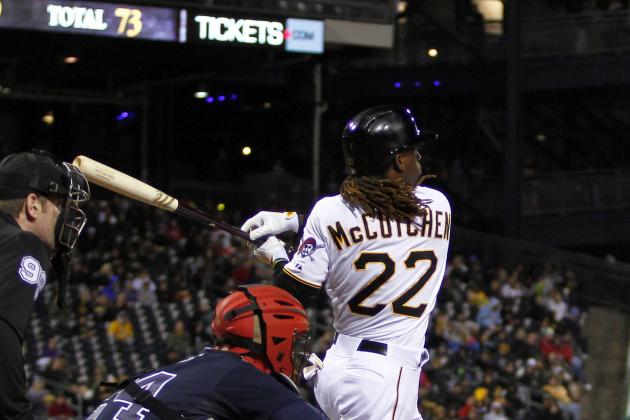 Justin K. Aller/Getty Images

Worst-Case Scenario: Losing Andrew McCutchen
When you're talking about franchise players, it goes without saying that a team will suffer should that player be forced out of the lineup due to injury.
Magnify that impact by 100, and that's what removing Andrew McCutchen from the equation in Pittsburgh would be like for the Pirates.
He isn't just a franchise player, he is the franchise.
McCutchen is off to a terrible start in 2013, with a .234/.294/.416 slash line and only two home runs, but he leads the team with 12 RBI and is unquestionably the one player in the Pirates' lineup that opposing pitchers are most leery of facing.
Were he to be lost for an extended period of time, Pittsburgh would quickly join the ranks of the Astros, Marlins and Padres as owners of the most inept and unproductive offenses in the game.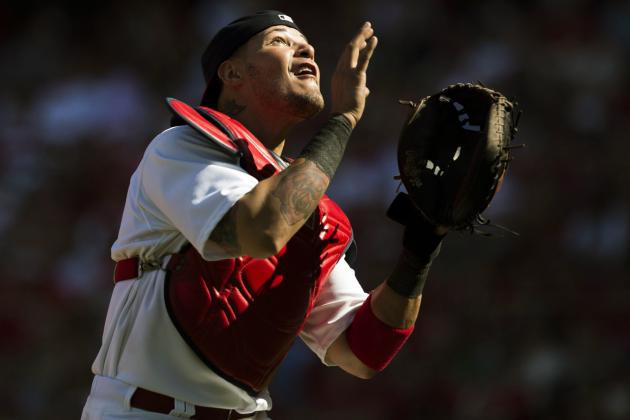 David Welker/Getty Images

Worst-Case Scenario: Yadier Molina going down with a serious injury
When you talk about irreplaceable players in baseball, few are as vitally important to their team's success as Yadier Molina is to the Cardinals.
The best catcher in baseball, Molina's offensive contributions, which are significant, are overshadowed by his skills behind the plate.
Nobody in baseball calls a game quite as well as Molina, who is consistently near the top of the leaderboards in CERA (catcher's ERA) and knows how to bring along a pitching staff as well as any catcher in baseball.
St. Louis simply cannot replace what Molina brings to the field on a daily basis, and having to play without him for an extended period of time would prove to be disastrous for the team's playoff hopes.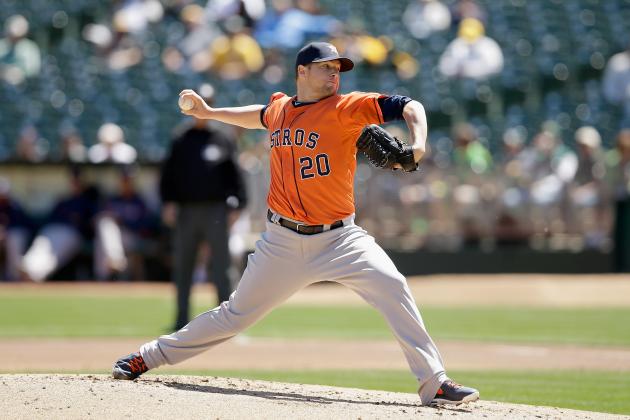 Ezra Shaw/Getty Images

Worst-Case Scenario; Bud Norris blowing out his arm
While the Astros haven't been quite as bad as people expected them to be in 2013, a 100-loss season is all but inevitable for the rebuilding franchise in its first season as members of the AL West.
Stockpiling talent is the name of the game for GM Jeff Luhnow, who has done a good job of moving veteran pieces for younger talent that can be part of the future in Houston. But that's left the Astros with little talent on the major league roster and given Luhnow fewer trade chips to play with at the deadline.
The team's biggest trade chip in 2013 is 28-year-old right-hander Bud Norris, a back-of-the-rotation arm on a contender but the ace in Houston.
Norris, who shut down the Texas Rangers on Opening Day, isn't going to command a big package of top talent from interested parties. But he can surely land the team one or two mid-level prospects. Were he to be lost to injury, the Astros would have nothing of substantial value to offer contenders as the trade deadline drew near.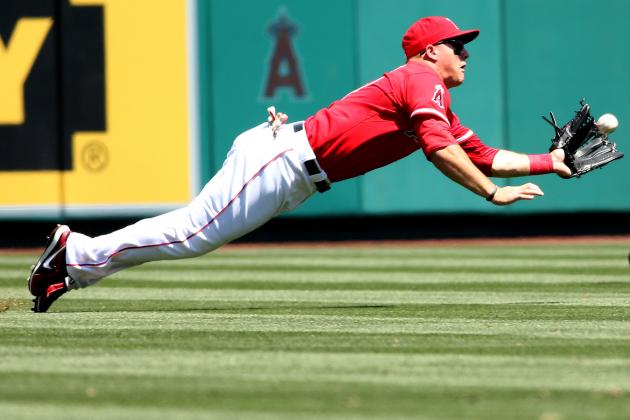 Stephen Dunn/Getty Images

Worst-Case Scenario: Any injury to Mike Trout
This is probably the most obvious choice for any of the 30 teams in baseball.
Things in Los Angeles are bad enough: the starting rotation has been medicore, Albert Pujols has a foot injury, Josh Hamilton has struggled to adapt to his new surroundings and the team sits with a record below .500.
Losing Mike Trout, the most exciting youngster in the game and someone who figures to be an All-Star and MVP candidate for the next decade (at least), would be the the blow that truly knocks the Angels out of contention for a playoff spot.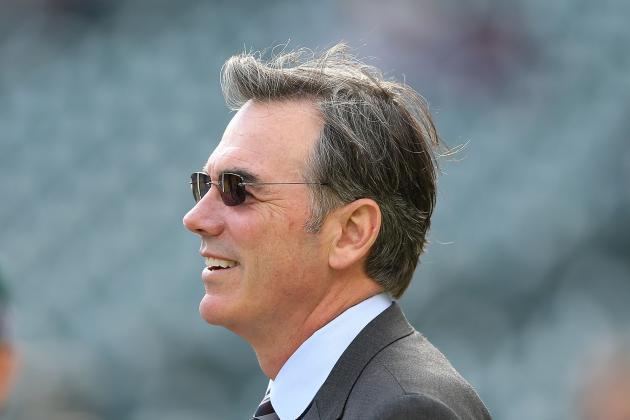 Leon Halip/Getty Images

Worst-Case Scenario: Billy Beane being incapacitated at the trade deadline
A debilitating illness to a team's GM may seem like a bizarre choice, but the A's are a bizarre franchise.
Yoenis Cespedes is the closest thing that the A's have to a superstar, and they've won in spite of his stints on the disabled list both last season and again in 2013.
The A's have plenty of moving parts, able to swap players in and out of roles rather seamlessly, and the team continues to have a strong farm system that provides it with quality pitching should a starter or reliever be lost to injury.
The mastermind of it all, Billy Beane, is the one constant.
Were he unable to fill his role as GM of the team, you have to wonder how the A's would operate at the trade deadline. Chances are that they wouldn't miss a beat, as Beane's most trusted assistants would be capable of stepping in and filling his role. But it's certainly a scenario that the team would prefer to avoid.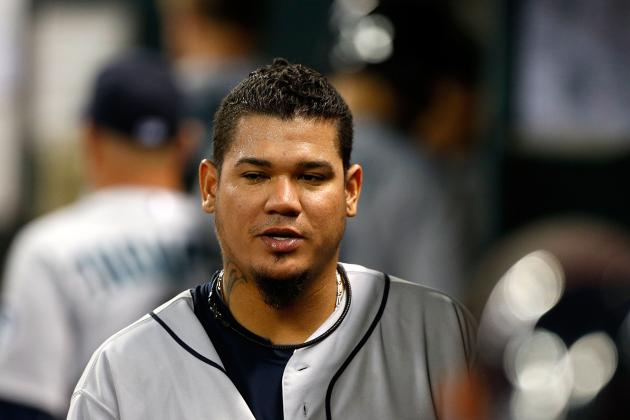 Scott Halleran/Getty Images

Worst-Case Scenario: Injury forcing the King to abdicate the throne
For all of the high-end pitching prospects that Seattle has in its minor league system, none of them are capable of supplanting Felix Hernandez as King of the Emerald City.
Sure, Hisashi Iwakuma (2-1, 1.99 ERA, 0.73 WHIP) has been terrific so far in 2013—his numbers are better than Felix's (2-2, 2.08, 1.01)—but nobody's about to call him the ace of the staff.
While Seattle's offense is improved from a year ago, the team's pitching has been mediocre at best and is the primary culprit in why the team is currently sharing the basement of the AL West with Houston.
An injury to Hernandez would all but assure that the Mariners would be splitting rent with the Astros for the rest of the season.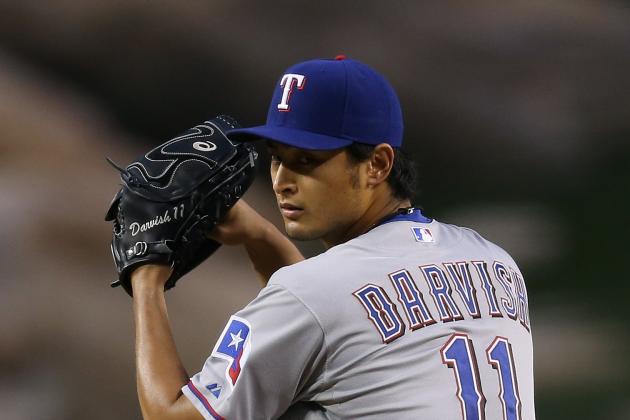 Jeff Gross/Getty Images

Worst-Case Scenario: Injury forcing Yu Darvish out of the rotation
While the Rangers starting rotation has been one of the best in baseball this season, going 9-6 with a 3.18 ERA (sixth-lowest in baseball), the group would take a significant step back if Yu Darvish were not able to take the ball every fifth day.
Stat lines like this have become the norm when the 26-year-old right-hander takes the mound:
Yu Darvish ends his night in Anaheim with 6 IP, 3 H, 0 R, 2 BB, and 11 Ks. @rangers lead it, 11-0. #TEXvsLAA

— MLB (@MLB) April 25, 2013
You don't easily replace that kind of dominance. Losing Darvish for any extended period of time would deal a debilitating blow to a Rangers squad looking for redemption after a disappointing ending to the 2012 season.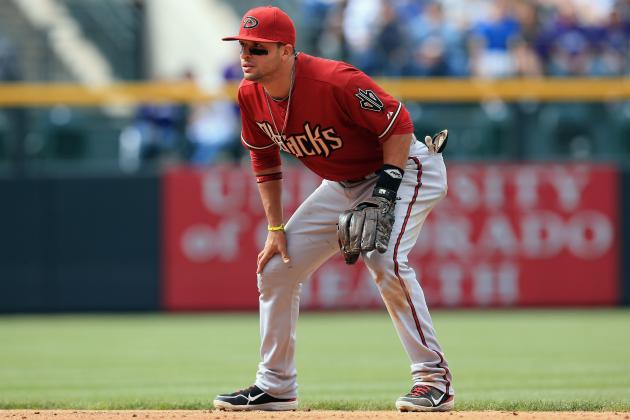 Doug Pensinger/Getty Images

Worst-Case Scenario: Losing Martin Prado to injury
As Kirk Gibson told reporters (including D-Backs play-by-play man Steve Berthiaume), Martin Prado has been invaluable to the team in the early part of the 2013 season:
Kirk Gibson praising Martin Prado's versatility as a "savior" through all #Dbacks injuries. Prado playing 2nd base tonight with Hill on DL.

— Steve Berthiaume (@BertDbacks) April 16, 2013
While Prado has scuffled at the plate so far, with a very un-Prado-like .226/.277/.355 slash line, the 29-year-old's versatility has been a blessing for the Diamondbacks.
Primarily the team's starting third baseman, Prado has seen time at second base, shortstop and in left field as well in the season's first month. Taking that versatility out of the Diamondbacks' lineup would severely limit the moves that Gibson is able to make during a game and force the team to reconfigure its bench.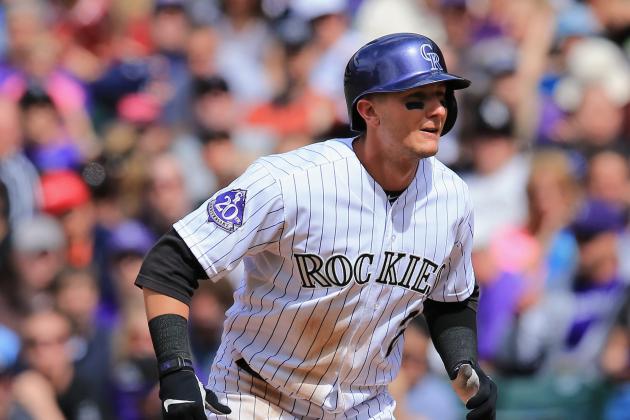 Doug Pensinger/Getty Images

Worst-Case Scenario: Losing Troy Tulowitzki for the season (again)
Colorado lived its worst-case scenario last season when All-Star shortstop Troy Tulowitzki was lost for the season with a groin injury at the end of May.
A perennial MVP candidate, it's not so much Tulowitzki's bat that is irreplaceable, it's his glove.
One of the premier defensive shortstops in baseball, the Rockies are ill-equipped to insert a comparable defender at what is arguably the most important position on the field other than catcher.
Were Tulo to be sidelined with another significant injury, all the positive vibes flowing around the surprising first-place Rockies would disappear, as would the team's chances of ending its playoff drought.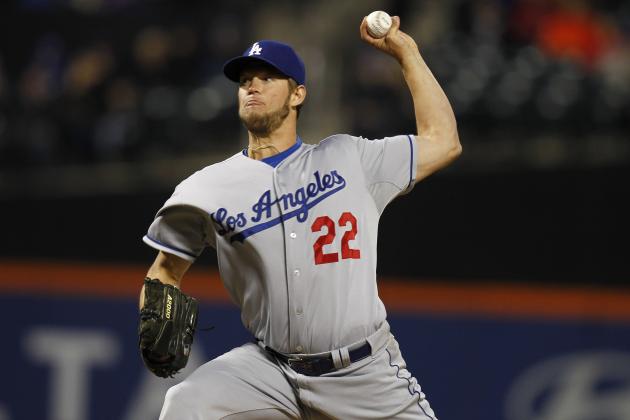 Jeff Zelevansky/Getty Images

Worst-Case Scenario: Clayton Kershaw going down with an injury
The Dodgers have already lost three-fifths of their starting rotation to injury this season: Zack Greinke to a a broken collarbone (courtesy of Carlos Quentin), Chris Capuano to a strained calf (indirectly caused by Quentin charging the mound) and Chad Billingsley to Tommy John surgery.
Losing the best pitcher on the planet, Clayton Kershaw, would be the final nail in the team's coffin.
Unlike many of the other starting pitchers around baseball who boast minuscule ERAs and WHIPs, Kershaw can sustain his 2.14 ERA and 1.01 WHIP throughout the season. You simply don't replace that kind of production on the mound.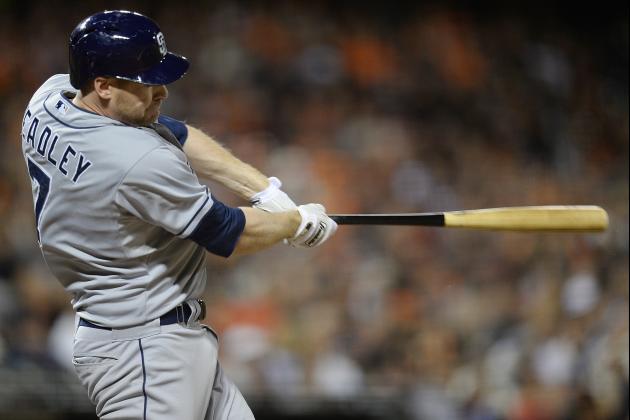 Thearon W. Henderson/Getty Images

Worst-Case Scenario: Chase Headley suffering another significant injury
San Diego got a taste of what life was like without Chase Headley in the lineup, as the third baseman began the season on the disabled list with a fractured left thumb, missing the first 14 games of the season.
Headley was the talk of baseball as the trade deadline approached last season, and while San Diego opted to not trade the 28-year-old then, the team is sure to receive multiple inquires from teams around the game as the trade deadline approaches this season.
With a lack of quality pitching necessary to contend in the National League and Headley set to hit free agency following the 2014 season, his trade value will never be higher than it will be at this year's deadline.
If he's injured, that robs GM Josh Byrnes of what might be the most valuable trade chip in baseball—a player who could bring back a package of players that would fill multiple holes and move the team's rebuilding process along.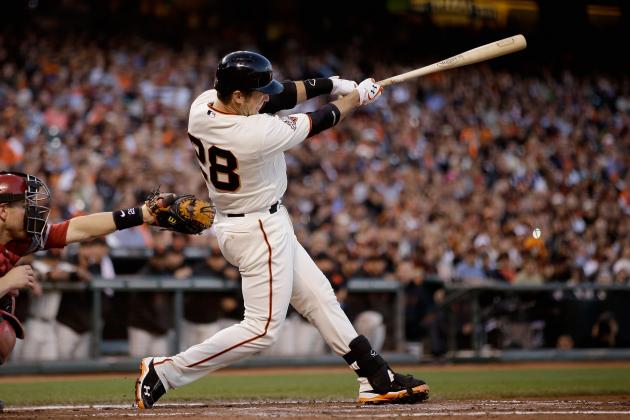 Ezra Shaw/Getty Images

Worst-Case Scenario: Buster Posey going down for the count a second time
San Francisco has won the World Series in two of the past three seasons, failing to reach the playoffs in 2011—the same year that Buster Posey suffered a gruesome injury to his lower left leg, limiting the reigning NL MVP to only 45 games behind the plate.
Coincidence?
I think not.
Posey is far and away the most important piece to the puzzle in San Francisco, and not having him in the lineup on a daily basis would not only deflate the clubhouse, it would all but assure that the team was unable to successfully defend its World Series title.