Brandon Bishop: Video Highlights for the Former N.C. State FS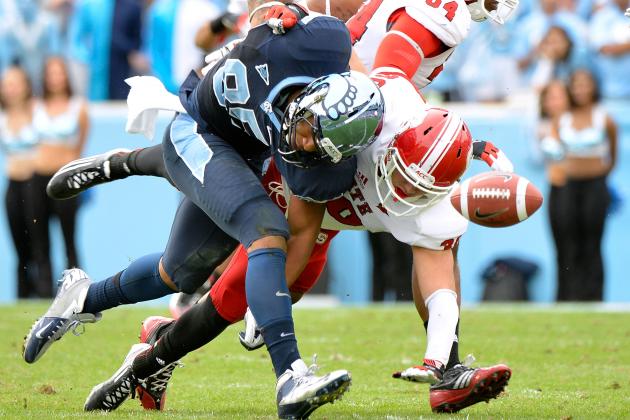 Grant Halverson/Getty Images

Brandon Bishop is an intriguing late-round pick who has performed well for the N.C. State secondary over the years.
The 6'1", 208-pound safety earned honorable-mention All-ACC honors as a senior after recording 103 tackles and three interceptions last season.
He may not be at the top of the safety rankings entering the upcoming draft, but here's some footage that should help illustrate why he is worthy of a late selection.
Begin Slideshow

»
Brandon Bishop has great reaction time and anticipation, which should translate to success at the next level. He does a fine job of reading the quarterback and then flying to the ball to make a play.
You'll notice on this particular pass attempt that one of the receivers nestles in comfortably in the flat and appears to be wide open.
Bishop, however, is all over the QB's intentions on this play and comes out of nowhere to break up the reception the moment it hits the receiver's hand.
Playing either safety position requires a lot of patience and instinct in addition to the obvious physical tools required. Brandon Bishop has both of these characteristics, which allows him to bait the quarterback at times and jump routes at the last possible moment.
In this clip, he uses his athleticism but also anticipates the throw well enough to cut off the receiver and make a clutch red-zone interception.
Brandon Bishop provides a prime example of why you never give up on a play, even after being beat by your man.
It's evident in this clip that Bishop has some trouble with his coverage across the middle, as he allows the easy reception downfield.
However, even after being beaten by his man, he continues the pursuit and sticks with the play. This gives him the opportunity to make up for the blown coverage and knock the ball out of the receiver's hands to force a turnover.
One thing you like to see out of your safeties is reliable coverage in one-on-one situations.
This offers some flexibility for a defensive coordinator to utilize different looks throughout the game.
In this clip, the inside corner sends the blitz, forcing Bishop to step up and slide into man coverage. The quarterback has plenty of time to get a pass off, but the tight coverage on the outside by Brandon Bishop leads to an easy interception for the Wolfpack.
Bishop likes to play aggressively and will often put his whole body behind a hit.
In this highlight, he comes full speed from across the field on a halfback pass and absolutely destroys the receiver on what otherwise would have been a surefire TD.
For Brandon Bishop, this aggressive play isn't anything new. He's been doing it since high school.