Reviewing Odds for the 2013 NFL Draft's Top Overall Pick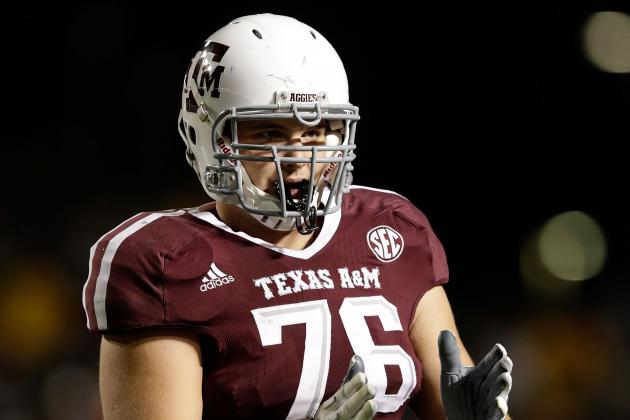 Scott Halleran/Getty Images
Is Texas A&M left tackle Luke Joeckel still the favorite to be the No. 1 overall pick?
Back in January, I was asked by Bleacher Report to rank the top five candidates to be the Kansas City Chiefs' No. 1 overall pick in this year's draft.
They've asked me to do it again, but I thought that the picture for the No. 1 overall pick would be far more clear one day prior to the 2013 NFL draft.
I was wrong.
Things have changed considerably in regards to the Chiefs' projections since January. Alex Smith was not yet a Chief at the time, and my top two candidates for the Chiefs' pick were West Virginia quarterback Geno Smith and Arkansas quarterback Tyler Wilson. This time around, there are no quarterbacks on my list.
The only holdover from January's list to make it onto this list is Texas A&M left tackle Luke Joeckel, who was ranked as the No. 3 candidate in January. The competition that has emerged to challenge Joeckel for the top spot, however, does not feature the players I anticipated in January.
Chiefs general manager John Dorsey said at his pre-draft news conference on Friday that the Chiefs had narrowed their list of prospects down to four players. He did not identify those players in name, but based on various reports, it would seem that those four players are Joeckel, Central Michigan left tackle Eric Fisher, Oregon outside linebacker Dion Jordan and Florida defensive tackle Sharrif Floyd.
Truthfully, the latter three were not even considered, let alone included, the first time I did this ranking. That's how fluid and unpredictable the months leading up to this draft have been.
In the following slides, I rank the four most likely players to be drafted No. 1 overall by the Chiefs on Thursday night.
Begin Slideshow

»
As a predictor of what I think will actually happen, Utah defensive lineman Star Lotulelei does not crack the list. As the Chiefs GM, however, Lotulelei would be No. 1 on my list.
Lotulelei makes the most sense for the Chiefs of any prospect in the draft class. He could make an immediate impact to the Chiefs' three-man defensive front, as he projects to be a Haloti Ngata-type player who can play both 5-technique defensive end and nose tackle with his explosive quickness, power, strength, penetrating ability and size.
While the Chiefs could ultimately go defensive line by drafting Florida's Shariff Floyd, Lotulelei is the better prospect of the two. He is a more natural fit for a 3-4 defense at both nose tackle and 5-technique, and while Floyd is a slightly better athlete, Lotulelei's size, strength, technique and explosion off the snap could make him an absolute superstar in the pros.
Although the Chiefs could trade left tackle Branden Albert or release outside linebacker Tamba Hali, they are currently set at both positions with the players they have on their roster. That doesn't make them any less likely to draft Joeckel, Fisher or Jordan, though.
Florida's Sharrif Floyd makes sense in terms of the Chiefs' current roster needs. Although the Chiefs signed free-agent defensive end Mike DeVito this offseason, they could certainly use an impact player at the 5-technique position on their defensive line.
Floyd may be the worst fit among the four players, however. Although he does have some experience lining up as a 5-technique/7-technique defensive end at Florida, his game is much better suited for playing in a 4-3 defense as a 3-technique defensive tackle—much like Glenn Dorsey. He had a solid five-year stint for the Chiefs, but he did not live up to his potential as the No. 5 overall pick in the 2008 NFL draft, possibly due to poor scheme fit in a 3-4 defense.
Chiefs general manager John Dorsey called Sharrif Floyd on Monday, according to NFL Network's Ian Rapoport, which would indicate that he is among the four players the Chiefs are considering or have considered. An explosive athlete for a defensive tackle who is both a strong interior pass-rusher and powerful run-stopper, he could have many teams considering him as their first-round pick.
That said, if the Chiefs were serious about drafting a defensive lineman with the No. 1 overall pick, I would expect to be hearing more about Lotulelei and Missouri's Sheldon Richardson being considered at the top spot as well. Floyd could very well end up being the selection here, as he does have upside as a 5-technique, even if it is not his natural spot. Still, the following three players are more likely to be selected.
Odds: 15%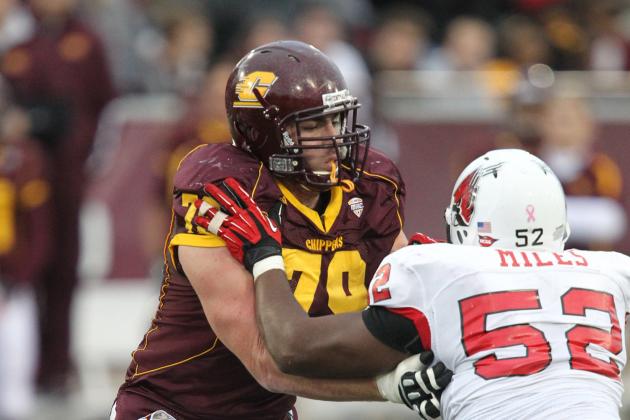 Tim Fitzgerald/CMU Athletics
Central Michigan's Eric Fisher is not even the best all-around left tackle prospect in the draft class, but he could be the No. 1 overall pick, even if the Chiefs are unable to trade Branden Albert.
Jason La Canfora of CBS Sports tweeted on Tuesday night that Fisher is expected to be the Chiefs' No. 1 pick, even if they do not trade Albert. La Canfora added that Fisher is a better fit to play right tackle, which is true, as he is a stronger, more powerful run-blocker. The Chiefs could also play Fisher at right tackle if they keep Albert at left tackle next season.
Given that the Chiefs have a need at right tackle and are scheduled to play Von Miller twice and J.J. Watt once next season, this strategy does make sense. They could fill that need immediately for 2013 with Fisher, keep Albert at left tackle for the year and then install Fisher as the franchise left tackle in 2014.
It isn't the best strategy, however, and given that an offensive tackle drafted No. 1 overall will ultimately be expected to play left tackle, the Chiefs should not make their decision at the top based on who is better suited to play right tackle.
That is not to say that Fisher won't be a great left tackle—his collegiate pass-blocking consistency, length, footwork and strength suggest that he will—but he isn't quite the prospect Luke Joeckel is. And while La Canfora's word can be trusted, as he is one of the best NFL reporters in the business, it should not be taken as a certainty that the Chiefs will draft Fisher over Joeckel.
Odds: 25%
Dion Jordan certainly wouldn't be the first boom-or-bust prospect to be the No. 1 overall pick, but he would be one of the riskiest top picks in recent years. Inconsistent collegiate production, lacking pass-rush technique and strength as well as shoulder injury concerns are all factors that should keep him from being the top pick in the draft. But in a draft without any sure-fire top pick, that simply isn't the case.
Jordan is among the favorites to be the No. 1 overall pick because, although his game needs to develop significantly, he has a truly unique skill set and set of measurables that give him enormous upside as a 3-4 outside linebacker. He has great length (measured in at 6'6", 33 7/8" arms at the NFL Scouting Combine, per NFL.com), and is both an explosive and fluid athlete who has not only pass-rushing potential, but can make plays all over the field in space and drops back into coverage well.
While the most recent buzz seems to be favoring Fisher, both Bleacher Report's Ryan Riddle and Detroit Lions Draft's Jeff Risdon reported earlier this month that the Chiefs were leaning toward Jordan with the No. 1 overall pick. That lean may very well have changed over the past two weeks, but if the Chiefs are unable to trade Albert and decide to address the defense instead, Jordan would be the odds-on favorite to be the selection.
Outside linebacker is not a position of significant need for the Chiefs, as they have a very good pair of starters in Justin Houston and Tamba Hali. That said, Jordan could add unique athleticism and versatility to the rotation, while drafting Jordan at No. 1 overall could also lead to the release of Hali, who has a $15.5 million cap hit this season ($9 million dead money hit if released), according to Spotrac.
Odds: 27%
Joeckel became the favorite to be the No. 1 overall pick as soon as the news broke in late February that the Chiefs were trading for Alex Smith. He became an even bigger favorite on March 22, when ESPN's Adam Schefter tweeted that the Chiefs were looking to trade Albert.
Drafting Joeckel makes sense here. A terrific left tackle prospect with great size and length, outstanding footwork for the position, great pass-blocking technique and proven success against top collegiate competition, Joeckel is the most polished and complete player in the draft class, and he can be a franchise left tackle for the Chiefs for many years to come.
As the draft approaches closer, however, the buzz for Joeckel going to the Chiefs has been quiet.
In the season of misinformation, that could be exactly what Kansas City wants people to believe.
Yes, the Chiefs have the No. 1 overall pick, so they don't need to mislead anyone for fear of teams moving ahead of them to take that player. They can, however, increase the trade value of Albert by making it unclear whether they will draft the top left tackle. They can also cause confusion in regards to the pick that they are interested in trading down to, though that remains very unlikely.
If the Chiefs are able to trade Albert by Thursday, the odds of Joeckel being the No. 1 overall pick will certainly increase. But even if Albert is still a Chief by Thursday, it does not mean that he will be a Chief when the 2013 season begins, and he almost certainly won't be when the 2014 season begins.
As a team needing to build their way back to the top, the Chiefs need to make the best pick for their long-term success, and assuming Albert is not part of their long-term plans, that pick would be Joeckel.
Odds: 33%
Dan Hope is an NFL draft featured columnist for Bleacher Report, and one of B/R's national correspondents for the 2013 NFL Draft.