Final Regular-Season Grades for Each Chicago Bulls Player in 2013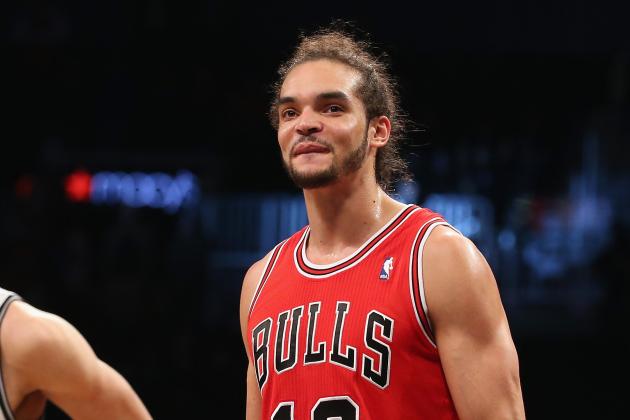 Bruce Bennett/Getty Images
Joakim Noah will be happy about his grade.
Chicago Bulls fans, it is that time of the year again! The playoffs have begun and the Bulls—along with 15 other teams—are vying for an NBA championship while the remaining 14 teams are home. Fans of every team have gathered together to discuss how the players on their favorite teams performed throughout the year.
How did the Bulls fare? That question has been asked in several locations.
The Bulls entered the 2012-13 season already behind the eight ball.
No Derrick Rose—who has been sidelined the entire time after tearing his ACL—means no title.
It has been a year full of surprises. They finished out the year with a record of 45-37, had two representatives in the NBA All-Star Game and many unsung heroes.
The Bulls have played with resolve all year, defying the odds despite falling victim to countless injuries to many key contributors.
Overall, the Bulls deserve a B.
There are some things that could have been handled better, most notably the situation regarding Rose's recovery. The organization failed to control a couple of PR disasters that would cripple most teams.
Bulls head coach Tom Thibodeau gets a B for his best job coaching. Had he learned to harness his players and handle their minutes better, an A would be his grade.
Begin Slideshow

»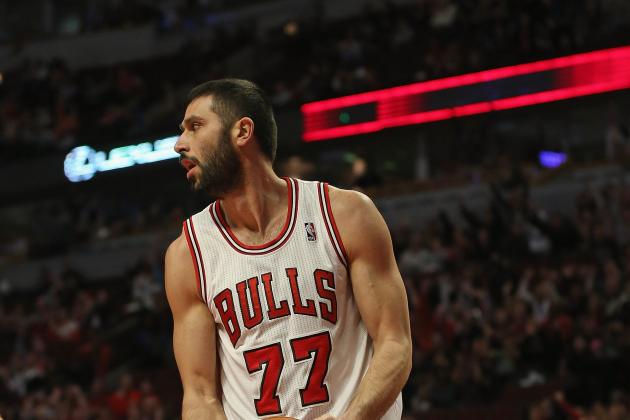 Jonathan Daniel/Getty Images

Malcolm Thomas, Power Forward, B
In most cases, Malcolm Thomas would receive an incomplete grade simply because he has only appeared in six games. His best outing as a Bull was a six-point, eight-rebound performance in a losing effort versus the Toronto Raptors. It bought the team some time to rest a few players. He has proven that when given some playing time, he can produce.
Vladimir Radmanovic, Small Forward, D
Vladimir Radmanovic's biggest impact came in a 87-86 win over the Orlando Magic. Normally a cheerleader glued to the bench, he hit a couple of key shots in that game. Otherwise, it is hard to remember he is on the team. It is a shame, because the Bulls could use his ability to stretch the floor. It is on Thibodeau to find a way for him to contribute.
Daequan Cook, Shooting Guard, C
The three-point shot has not fallen for Daequan Cook the way that the Bulls had hoped, and given injuries to guards Richard Hamilton and Marco Belinelli, Cook has played sparingly. Not having been with the team at the beginning of training camp hurt his chances to add more. As a shooter, Cook must have a larger role. It is all up to Tom Thibodeau at this point.
Marquis Teague, Point Guard, C
It is apparent that Marquis Teague has a future as an NBA point guard. The rookie from the University of Kentucky needs a little more experience to develop. If there is a criticism on Teague, it is that he must become stronger with the ball. Playing a total of two minutes over the Bulls last 14 games is not the answer.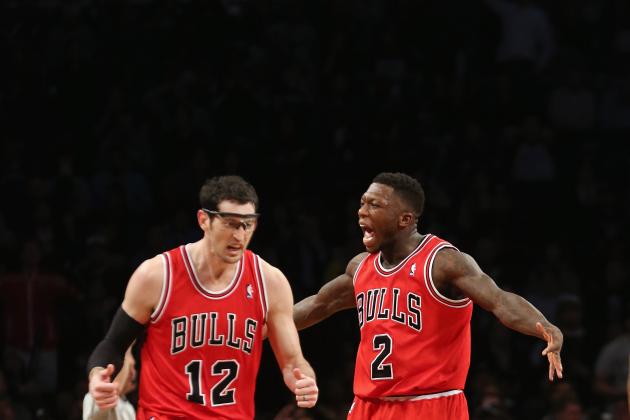 Bruce Bennett/Getty Images

Nate Robinson, A
Say what you will about Nate Robinson, but without him the Bulls are probably on the outside looking in when it comes to the playoffs. Poor shot selection and iffy defense are the reasons why fans cringe when he enters a game.
Robinson added some offense to a team that was in dire need of scoring. He finished the season third on the team in points (13.1 PPG). When Robinson scores, he scores in bunches, and he is underrated when it comes to his passing and taking care of the ball.
Here is an interesting statistic: Robinson has an assist/turnover ratio of 2.8. It is the second highest on the team behind Kirk Hinrich.
Kirk Hinrich, B
If Kirk Hinrich has a good game, the Bulls usually win.
This season, scoring is not what they need Hinrich to do. What is necessary is his veteran leadership and the ability to facilitate the offense. He does not have to become the team's leading scorer; all he needs to do is take a few shots to keep opposing defenses honest.
Hinrich probably deserves a C, but if you can recall a certain game versus the Miami Heat, he played outstanding. In the process, he earned some extra credit for that game.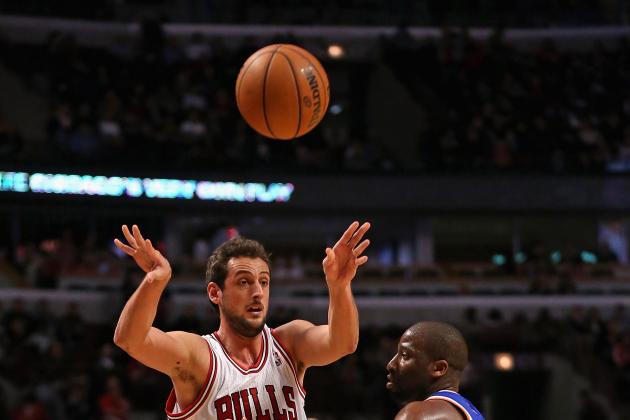 Jonathan Daniel/Getty Images

Marco Belinelli, B
When the Bulls needed some help, Marco Belinelli would come to the rescue. With each big shot, Belinelli earned the respect of more and more fans.
Belinelli's shooting is a dreadful 39 percent. For his career he is a 42-percent field-goal shooter. There were times when he went through a shooting slump, but his confidence was unaffected.
Part of his struggles can be blamed on injuries, while his inconsistent playing time during December cost him the chance to develop chemistry with his Bulls teammates.
Richard Hamilton, C
Richard Hamilton is not the same player he was with the Detroit Pistons. Age has ruined his ability to be the player that fans remember running off of countless screens.
In short stretches, Hamilton has reminded us how good he can be. He can still hit his dangerous mid-range jump shot. The problem is and has been his health.
One injury after another has held Hamilton from playing his best. The latest was a bulging disc in his back. It hurt his momentum this season, causing him to miss 19 games.
When healthy, Rip has played steady basketball. Unfortunately, he is not paying dividends the way the Bulls imagined.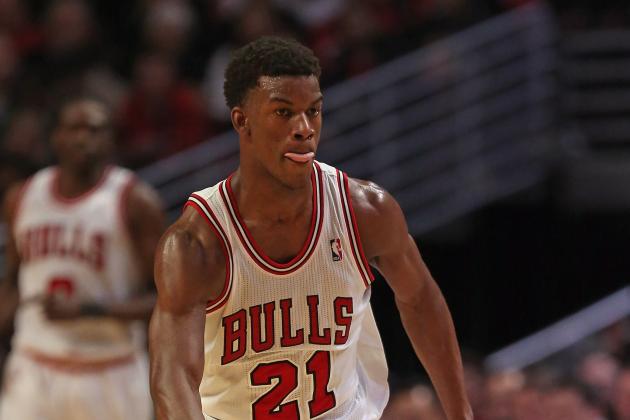 Jonathan Daniel/Getty Images

Jimmy Butler, A
Jimmy Butler was already an awesome defender. He has the length that can harass his opponents and force them to take bad shots. His defense has stymied among others, the likes of LeBron James, Kobe Bryant and Carmelo Anthony.
His defense is that good.
The problem has been his offense. Butler is a developing offensive player with a fantastic shooting stroke. He shot 38 percent from behind the three-point line this season, including a whopping 56 percent in April. Despite his clear improvement from long-distance, Butler is reluctant to shoot at times.
The Bulls do not run many plays with a particular player in mind. This hurts not only Butler, but the team as well.
Coach Thibodeau demands ball movement. Sadly this takes the ball out of Butler's hands at times. When he does have the ball, he will opt to pass up a good shot attempt for the sake of sharing the basketball.
Despite his hesitation to shoot, Butler earned his A.
Luol Deng, A
Luol Deng is a NBA All-Star for the second time. That distinction says enough.
Leading the NBA in minutes per game, Deng has proven he is a gamer regardless of the lingering injuries he is suffering from.
After sitting out a couple of games late in the season, he appears rested thus far in the playoffs. He will not be completely healthy until the Bulls postseason run is over, but the time off helped.
If there is a criticism for Deng, it is the constant time he spends on the perimeter for his corner jump shot. Deng needs to move around without the ball in his hands, instead of standing stationary. He also must take advantage of his size to post up his defender. Doing so would help him get to the free-throw line for easy scoring opportunities.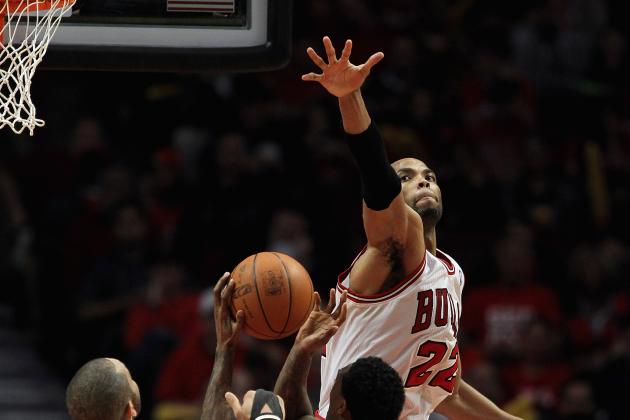 Jonathan Daniel/Getty Images

Taj Gibson, B
Just when Taj Gibson started to break out of his early season slump, he got injured.
In the month of February, Gibson's defense, rebounding and shooting improved significantly. He averaged 10 points, 7.2 rebounds and 1.6 blocks per game.
Just as his play was beginning to turn the corner, Gibson sprained his MCL. The injury caused him to miss 10 consecutive games. He came back to put up similar statistics—10.2 points, 6.3 rebounds and 1.3 blocks per game—only to aggravate the injury yet again.
The fact that Gibson has played well given his lingering injury is remarkable.
Carlos Boozer, A
Carlos Boozer should have been an All-Star. After leading the Eastern Conference with 45 double-doubles this season, it is time for Bulls' fans to finally embrace and put to rest the foolish talk of using the amnesty clause.
Against certain teams, he is the Bulls' go-to player. He sets the tone offensively when the Bulls play inside-out.
There were times during a game when fans would wish for something more.
For instance, Boozer does not move his feet as quickly as he should on both ends of the floor. If he did so on offense, he would average 20 points a game. On the defensive end, his footwork would allow him to become a better help defender.
Those problems aside, this was Boozer's best season as a Bull.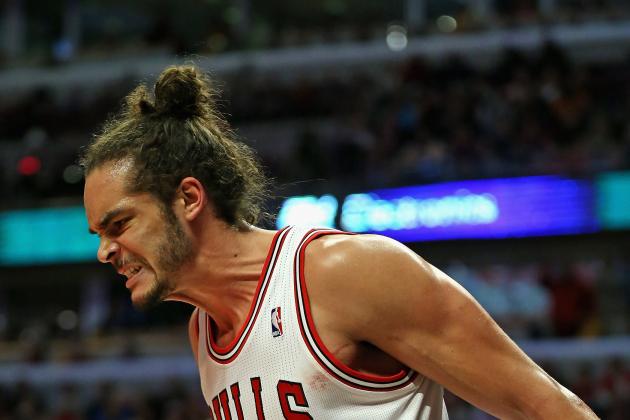 Jonathan Daniel/Getty Images

Nazr Mohammed, C
Nazr Mohammed gets a C for his late-season play in place of an injured Joakim Noah (plantar fasciitis). He had some strong games down the stretch, playing with the reckless abandonment he played with during his earlier years in the NBA.
Before Noah experienced trouble with his feet, Mohammad languished on the sideline. On the surface he seemed like a wasted signing. That was until he averaged 6.9 points and 7.4 rebounds per game.
It is a wonder what would have happened if Thibodeau had played him earlier in the season.
Joakim Noah, A
How many NBA centers had two triple-doubles this year?
The answer is Joakim Noah, the heart and soul of the Chicago Bulls.
Without question Derrick Rose is the best player on the team, but between the two of them, Noah is the leader.
This season Noah has done everything the Bulls have asked him to do. If he has to play 45 minutes, he will play, no questions asked. When the Bulls need scoring, rebounding, etc., Noah provided it. This is while Rose has missed the season.
Basketball fans oftentimes get caught up by a player's stat sheet. We never see the intangibles, the put-backs, the screens that are set, along with other hustle plays.
Noah is the Bulls do-it-all center. The only setbacks he suffered were his injuries. Otherwise, the overdue All-Star selection solidifies his solid A-grade.