Golden State Warriors vs. Denver Nuggets: Postgame Grades and Analysis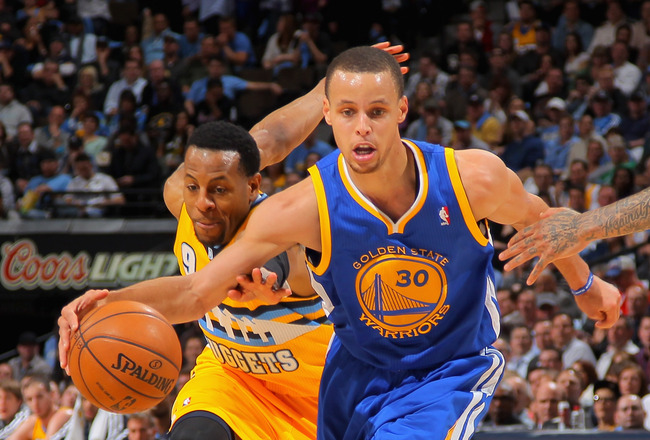 Doug Pensinger/Getty Images
The Golden State Warriors came out April 24 on fire against the Denver Nuggets, and four of five starters had at least 20 points in the game. The Warriors scored 35 points per quarter over the final three quarters, a pace which would have rendered the team 140 point scorers if not for a human-like 26 in the first period.
The 131-117 Dubs victory evens the series at 1-1 as the series heads to the Bay Area for games 3 and 4.
Not a lot went right for George Karl's Nuggets, who found themselves entirely without answers for Golden State's backcourt. The Dubs received 77 points from their three-guard rotation of Jarrett Jack, Stephen Curry and Klay Thompson.
For a team that is now without All-Star David Lee, there was no quit in Golden State. Their high marks reflect that in the grades.
Point Guard: Stephen Curry vs. Ty Lawson
Doug Pensinger/Getty Images
Stephen Curry is the best player who didn't make an All-Star team in either conference this year, and he's continuing to take that fact out on each and every opponent. Tonight, he went against another guy who will struggle to make career All-Star teams due to guard depth in the west: Ty Lawson.
Lawson is a good scorer, but it's difficult for any 1-man in the league to keep pace with Curry.
The former Tar Heel hit 6-of-11 from the floor for 19 points and he was dropping dimes the entire night, eventually finishing with 12 assists. Lawson's 12 assists came on just one miscue, and the Nuggets had less turnovers (15) than Golden State did (17).
The Nuggets offense looked good with Lawson at the helm. It was just that the defense, including Lawson's on Curry, was not good enough.
Lawson: A
The rotations were slow, the defenders beaten of the dribble—and it was topped off by the ineffectiveness of a weak Nuggets' frontcourt which blocked only one shots and changed very few. The Warriors got what they wanted, whether it was at the arc, or at the rim, and Curry carved the Nuggets defense apart.
Despite suffering a rolled ankle late in the third quarter, Curry finished out the game tallying a team-high 30 points and 13 assists. Perhaps most importantly, he kept the ball moving and led a balanced attack in which three other starters scored at least 21 points a piece.
Curry: A+
Shooting Guard: Klay Thompson vs. Andre Iguodala
Doug Pensinger/Getty Images
Klay Thompson hit his first jumper to even the score at 2-2, then following a Denver Nuggets three, he answered with another to tie it 5-5. He answered another Nuggets bucket to tie the game at 7-7, and his 3-of-3 shooting set the tone for what the Warriors were going to do as a backcourt.
Thompson is just in his second season, but the Warriors felt confident enough about his prospects as a rookie to deal Monta Ellis.
The Warriors acquired Andrew Bogut, who has been injured plenty since joining the team, but the fact that the team thought Thompson could handle full-time starter duties by the end of his rookie season shows their immense confidence in Thompson.
He finished with 21 points on an ultra-efficient 8-of-11 shooting (including 5-of-6 from three-point range).
The fact that Thompson was able to have such a good night against Andre Iguodala and Evan Fournier is impressive, especially given the fact that Iggy has been defending on an All-NBA level for quite some time.
Thompson was able to exploit the natural pace of the game and find shots in transition, and Iguodala's man-to-man defense was typically pretty sound.There's just too many spots for a guy with a release as quick as Thompson's to exploit.
Thompson: A
Iguodala finished with 18 points to Thompson's 21, and the Nuggets were just negative-10 for Iggy's time on the court, which isn't bad compared to the other Nuggets starters (Lawson was negative-24).
Inevitably, Iggy will be measured by his defensive impact, and it's hard to say he made much of a dent in the Warriors' 131-point onslaught. With a flurry of those points coming from Thompson and Barnes on the wing, Denver's perimeter defense can't feel especially good at the moment.
Still, Iguodala scored efficiently (6-11 from the field) and remained a key play-maker with 7 assists.
Iguodala: B +
Small Forward: Harrison Barnes vs. Wilson Chandler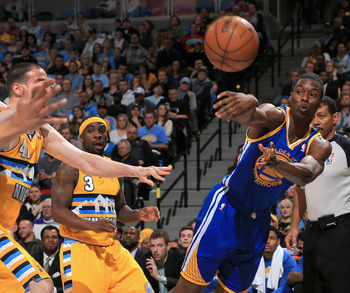 Doug Pensinger/Getty Images
Rookie Harrison Barnes showed that experience can come quickly. The small forward had his best game of the young postseason, and Nuggets forward Wilson Chandler found himself frustrated defensively.
Barnes' 9-of-14 shooting night featured a pair of thunderous exciting dunks, and he scored 24 points and tied the team high for plus-minus for Dubs starters at plus-17.
Barnes is developing into a pretty natural small forward who can stretch the court and provide a lot of different improvements for the Warriors on both ends of the court.
Early in the 2011-12 NCAA season, Barnes was considered a candidate for the first overall pick in the 2013 draft before an inconsistent and disappointing final year at Chapel Hill caused him to drop to the Dubs on draft night.
Barnes: A
Chandler hit just 4-of-15 from the floor and also had a lot of difficulty staying in front of Barnes on the wings. The defensively-minded forward reached several times and failed to stop Golden State's balanced inside and outside attack.
Thrust into a more prominent role in the wake of Danilo Gallinari's season-ending injury, Chandler never looked comfortable taking on much of a scoring load tonight. The shooting rhythm just wasn't there.
Chandler: D
Guard/Forward: Jarrett Jack vs. Evan Fournier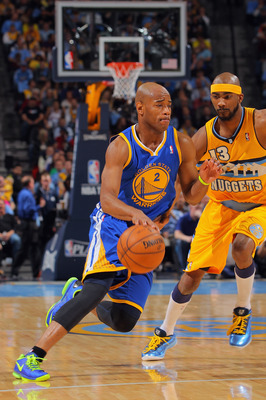 Doug Pensinger/Getty Images
George Karl gave Evan Fournier a starting role, but that's about all he was wiling to give the rookie. Fournier played just a hair over nine minutes, with Karl opting to give Andre Miller and Corey Brewer extended run. Fournier is a good player and can make an impact, but he can't do it with a cup of Gatorade in his hand.
Nuggets fans on Twitter were complaining that Karl should play the rookie more, especially given the defensive problems that the Nuggets were having tonight.
Fournier: I (Incomplete)

Golden State's sixth man (on most nights) Jarrett Jack showed why he was a candidate for the award. He was the Warriors' second-leading scorer behind Curry, putting up 26 on 10-of-15 shooting, while dishing out seven assists, two of which came after igniting the Dubs fast break and feeding Barnes in transition.
The Warriors had 26 assists on 51 field goals, and a quarter of those assists were the result of their combo guard being aggressive.
Jack: A+
Center: Andrew Bogut vs. Kosta Koufos, Kenneth Faried and JaVale McGee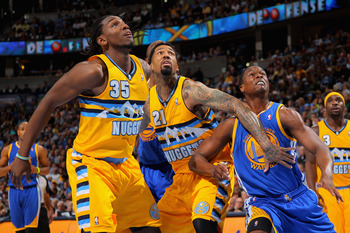 Doug Pensinger/Getty Images
Though Kosta Koufos got the start at the 5-spot for the Denver Nuggets, George Karl would use the 6'10" Kenneth Faried more in the game, while also giving JaVale McGee and even Anthony Randolph some time.
The four bigs split time 14 (Koufos), 14 (McGee) 21 (Faried), and 10 (Randolph), combining to shoot 9-of-11 from the floor and tallying 25 points and eight rebounds.
Nuggets Centers: D
Andrew Bogut faced foul trouble much of the night and finished with just six points in 22 minutes. He led the Warriors with eight rebounds and helped clog the interior against a Denver team that loves to exploit the paint.
Nevertheless, Bogut has yet to display his pre-injury prowess with these Warriors, and he didn't play a significant role tonight for a team whose backcourt was up to the task.
Bogut: C-
Sixth Man: Carl Landry vs. Andre Miller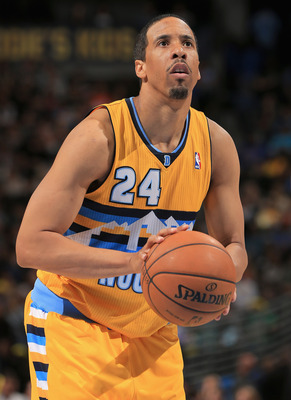 Doug Pensinger/Getty Images
Carl Landry and Andre Miller are both great veterans who can make a difference off the bench.
Neither are typically the sixth man of their respective teams. Due to the injuries of Danilo Gallinari for the Nuggets and David Lee for the Warriors, Landry and Miller both were bumped up one spot in the rotation.
They made the most of it. Miller had 18 points, five assists and five boards, while hitting an efficient 6-of-9 from the floor. It didn't live up to Miller's 28-point Game 1 explosion, but it was just about as good as anything else the Nuggets had going on Tuesday night.
Miller even dropped in a couple of 3-pointers, showing off a rare touch from range.
Miller has become one of the oldest heroes in the league in his 13th NBA season out of Utah. The 37 year old is still posting an above average Player Efficiency Rating of 15.69 this season, and even in just 26 minutes per game he is still able to average almost six dimes per contest.
Miller: A
Landry finished with nine points and five rebounds. You might have expected the skilled veteran to have been pressed into extended duty in the wake of David Lee's injury, but Golden State opted to go small for much of the evening, limiting Landry to just under 18 minutes behind starters Harrison Barnes and Andrew Bogut.
If the formula continues to work, Landry may continue see limited action. If Denver's size becomes an issue, though, Landry could become a key contributor.
Landry: C
Benches
Doug Pensinger/Getty Images
This telling stat says all that needs to be known regarding the depth disparity between the two teams:
Bench scoring: Nuggets 62, Warriors 24
The Warriors just didn't need their bench. Four of their five starters were on fire, and the team shot 64.6 percent from the floor. The bench played no small role in that, as they hit 8-of-11 from the field and continued the trends developed by the starters.
They stayed out in transition in their minutes on the court and gave the Dubs starters a chance to rest. That what a bench is supposed to do, and you can't hold limited minutes against them.
Warriors: C
The Nuggets bench contributed over half its points. Only three Nuggets had positive differentials for their time on the court, and all came off the bench: Kenneth Faried (plus-10), Anthony Randolph and Andre Miller (plus-five each).
The Nuggets bench helped the team outscore the Warriors in the game's final period, but going into the quarter down 16 proved to be too much for Karl's team to overcome.
The Nuggets were handily outplayed because they couldn't keep up with the Warriors, but most of their production in trying to do so came from their reserves.
Nuggets: A -
Keep Reading