UFC 159 Preview: Fun Facts and Stats for Jones vs. Sonnen Fight Card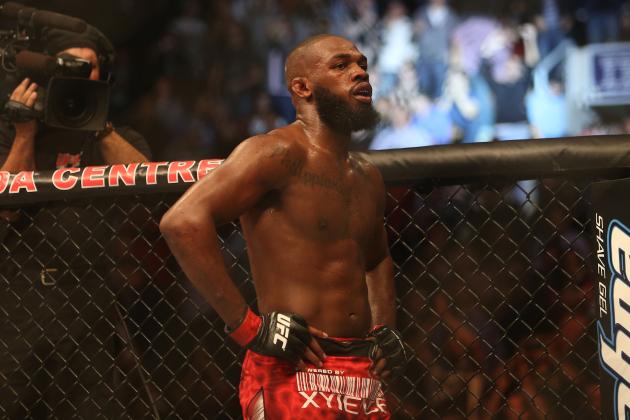 Tom Szczerbowski-USA TODAY Sports

UFC 159 will go down on Saturday, April 27 from the Prudential Center in Newark, N.J. The main event will see UFC light heavyweight champion Jon Jones put his title on the line against Chael Sonnen. While in the co-main event, Michael Bisping and Alan Belcher will meet in what has developed into a nice grudge match.
Also on the main card, Phil Davis and Vinny Magalhaes will settle their simmering grudge, and Roy Nelson and Cheick Kongo will meet in a bout that has slobberknocker potential.
As we get closer to fight night, here are a few facts and stats you can use to throw out there to impress your friends.
*Stats via FightMetric unless otherwise noted.
Begin Slideshow

»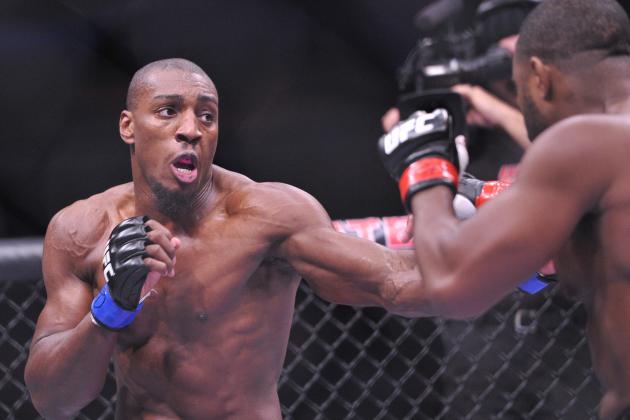 Mike Dinovo-USA TODAY Sports

The UFC average for significant strike defense is 58 percent. Phil Davis, who will be facing Vinny Magalhaes at UFC 159, leaves that number far in his rear-view mirror. Davis' significant strike defense comes in at a staggering 71 percent, ranking him No. 1 in the history of the UFC.
On average, Davis absorbs .94 strikes per minute. The next best number among active fighters is Chael Sonnen, who comes in at 1.146.
That number may fall even more post-UFC 159 as Magalhaes, a dangerous submission artist, has a very low striking accuracy, connecting just 28 percent of the time.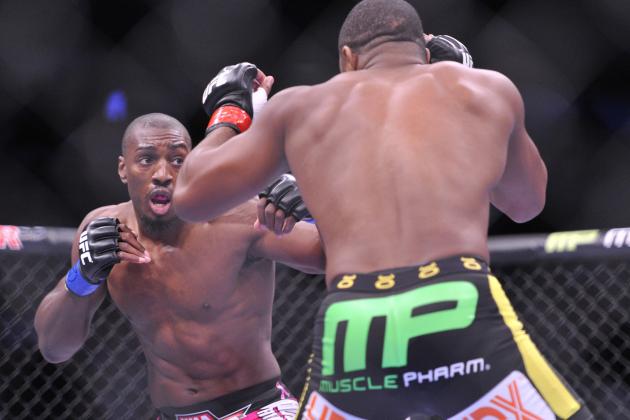 Mike Dinovo-USA TODAY Sports

Phil Davis has fought eight times in the UFC. In seven of those eight fights, he has attempted at least one takedown, finding success at least once in each of those fights. His 3.2 successful takedowns per 15 minutes is the fourth-highest average in UFC light heavyweight history.
The problem facing Davis at UFC 159 is that his opponent, Vinny Magalhaes, is a world jiu-jitsu champion and will have no fear of being put to his back by the All-American wrestler.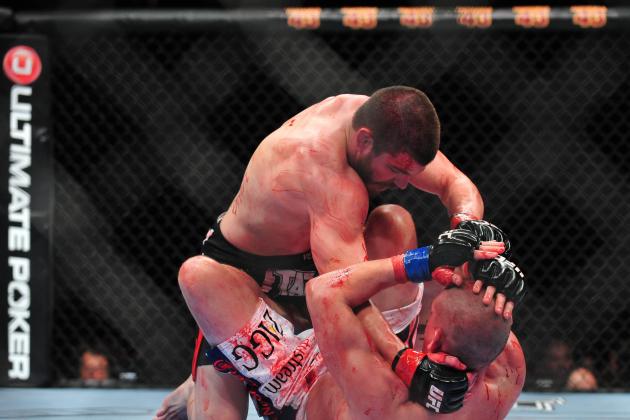 Gary A. Vasquez-USA TODAY Sports

Off the top of your head, name the fighter with the most wins in UFC lightweight history.
If you named someone other than Jim Miller—and odds are that you did—well, you'd be wrong.
Miller took home his 11th win in the lightweight division when he defeated Joe Lauzon at UFC 155.
Miller is 11-3 in the UFC with his losses coming to Gray Maynard, Benson Henderson and Nate Diaz. He'll look to gain his 12th win in the UFC when he faces Pat Healy in New Jersey.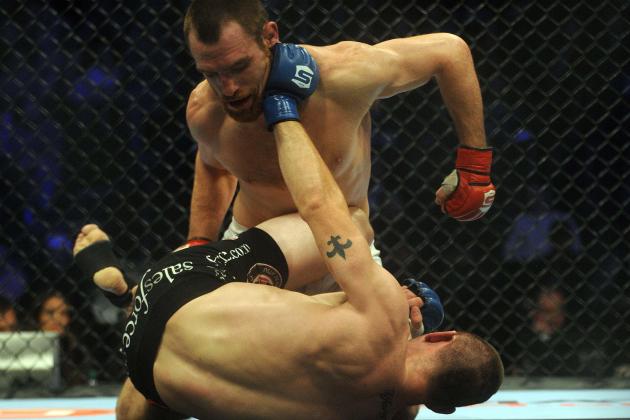 USA TODAY Sports

Pat Healy has been around the fight game for a long time, making his professional debut in 2001. Since that time, he has run up a professional record of 29-16. Healy is riding a six-fight winning streak as he moves back to the UFC from Strikeforce.
Healy fought for Strikeforce a total of eight times, during those eight fights, he racked up 28 takedowns, landing at least one takedown against each of this Strikeforce opponents. His 28 takedowns give him the most in the history of the fight promotion.
Don't be surprised to see Healy go for the takedown early and often against Miller, a fighter who has defended less than half of the takedowns attempted on him (42 percent).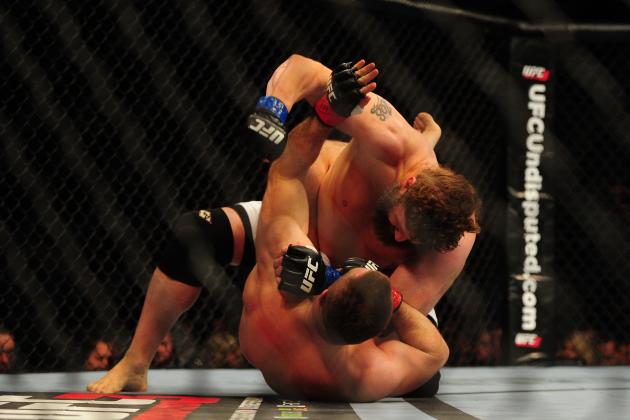 Mark J. Rebilas-USA TODAY Sports

Only one heavyweight in UFC history has been hit with more significant strikes than Roy Nelson without being knocked out. Nelson has eaten 327 significant strikes,18 less than Tim Sylvia.
The best example of Nelson's ability to take superhuman amounts of abuse came when he absorbed 130 significant strikes in his loss to Junior dos Santos. The number of strikes that dos Santos landed were the second-most strikes landed in a heavyweight bout.
Nelson's strengths do not solely rest on his ability to get punched repeatedly; he's also pretty good at doling out his own share of abuse and doing so quickly. Four of his five UFC knockouts have come in the first round with his fastest finish coming at Ultimate Fight Night 21 where he TKO'd Stefan Struve in 39 seconds, the fifth-fastest knockout in UFC heavyweight history.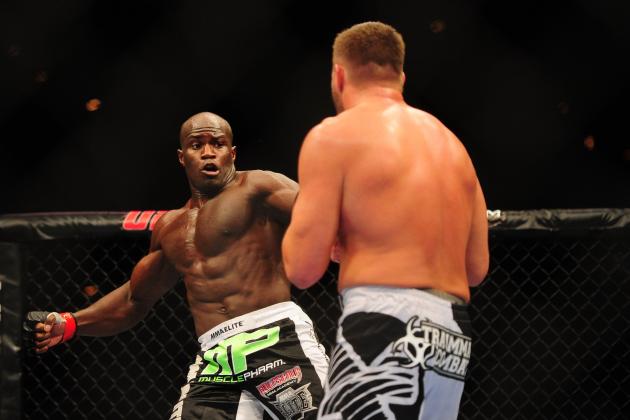 Mark J. Rebilas-USA TODAY Sports

Cheick Kongo made his UFC debut back in July 2006. Since that time, he has gone 11-5-1 with the promotion. Over his total fight time of 241:23, Kongo has landed a total of 1,017 strikes—the most strikes landed in UFC heavyweight history.
Kongo's striking accuracy comes in at 58.1 percent—the best of all active UFC heavyweights.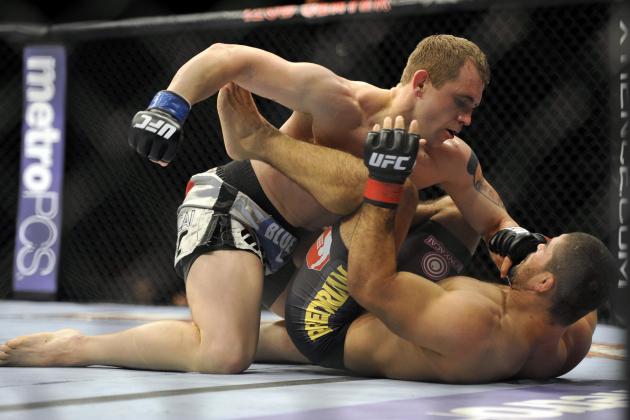 Joe Camporeale-USA TODAY Sports

He is in the top three of a couple pretty significant statistical categories.
Belcher trails only Anderson Silva and Chris Leben for number of finishes in the UFC's middleweight division. Belcher has six combined knockout and submission wins with the UFC.
The other category where Belcher comes in at No. 3 is striking accuracy at distance. Belcher's kickboxing-based approach allows him to work effectively at distance with his accuracy coming in at 40.7 percent, behind only Tim Boetsch (42.3 percent) and Anderson Silva (59.1 percent).
Mark Nolan/Getty Images

If Michael Bisping lands just five significant strikes against Alan Belcher, he will move to No. 2 all time in significant strikes landed in the history of the UFC. Bisping currently sits at No. 4 with 854 strikes, ahead of him are Rich Franklin (856), BJ Penn (858) and Georges St-Pierre (1,153).
If the fight gets past the first round and follows the normal pattern of a Bisping bout, odds are that he will put some distance between himself, Penn and Franklin. The longer Bisping's fights go, the more strikes he lands on average. Bisping averages 3.49 significant strikes in Round 1, 5.36 in Round 2 and 6.02 in Round 3.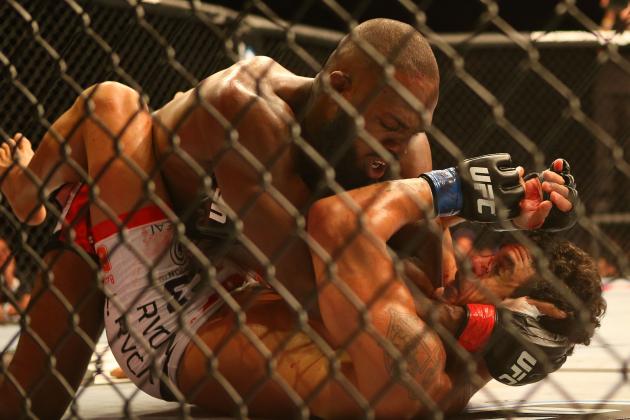 Tom Szczerbowski-USA TODAY Sports

Jon Jones currently sits at No. 2 in a couple statistical categories in UFC light heavyweight history. On Saturday, against Chael Sonnen, he will get the opportunity to move into a tie for first all time in those categories.
If Jones defeats Sonnen via stoppage, he will move into a tie with Chuck Liddell for light heavyweight finishes with nine. If he defeats Sonnen in any form, successfully defending his title, he will move into a tie with Tito Ortiz for most consecutive light heavyweight title defenses with five.
If you're inclined to prop bets, you may want to consider putting some money down on Jones to get the finish by submission. His five submission wins rank him first all time in the division, combine that with Sonnen's eight career submission defeats and that bet becomes pretty attractive.
Mark J. Rebilas-USA TODAY Sports

I'm sure that everyone will agree that Chael Sonnen is going to be the underdog going into his fight against Jon Jones. If you need numbers to back up that fact, well, here you go.
Sonnen is known for his ground control. He controls his opponents on the ground 64.2 percent of the time. Sonnen uses a strong takedown game to get his opponents to the mat, landing 35 takedowns during his UFC middleweight stint—No. 1 in that division all time.
The problem is that Jones has never been taken down in the UFC and has spent a grand total of 20 seconds on his back in the Octagon.
Sonnen has been able to avoid significant strikes during most of his bouts, absorbing on average, 1.15 strikes per minute, which ranks him No. 1 all time among UFC middleweights.
The problem here is he is facing a fighter in Jones who ranks fourth in light heavyweight history in striking accuracy (52.1 percent) and third all time in the division in significant strikes landed (532).