The 2013 College Football Coaches Mock Draft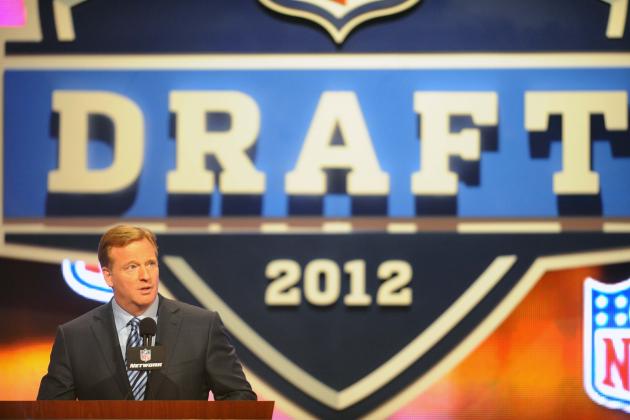 James Lang-USA TODAY Sports

Are you tired of obsessing over NFL mock drafts that will be completely and utterly destroyed after a single trade or general manager gone rogue? We feel your pain, which is why we've crafted…another mock draft.
This, however, is not your typical forecast of prime-time picks.
Imagine for a moment that the NFL has just fired all of its coaches. It fired Norv Turner twice just to be sure, but the entire slate is clean. Roger Goodell decreed that all teams must draft a college football head coach before the 2013 season, mostly because he is Roger Goodell and typically makes all decisions with the helping hand of a bourbon IV.
Much of this is impossible, of course. Well, minus Goodell operating under the influence of a bourbon IV, which somehow seems very likely. The rest is a hypothetical scenario that is actually slightly more realistic than some of the mock drafts you will come across.
Which college coaches would be the first names off the board? Who would NFL teams line up to draft? Who might stumble out of the first round? Using this year's NFL draft order, we've created the 2013 Coaches' Mock Draft in an effort to seek answers.
Kansas City, you're on the clock, and this shouldn't take long. If it does, we've got problems.
Begin Slideshow

»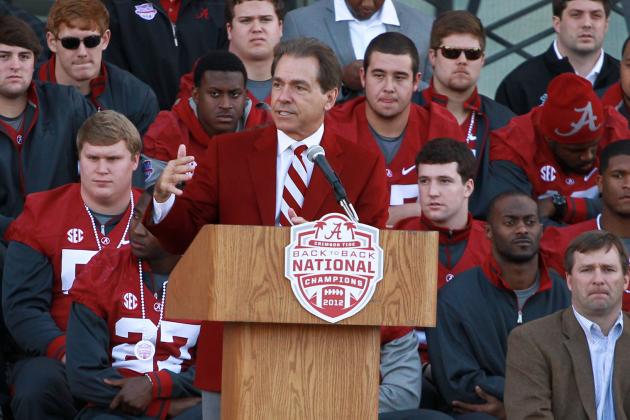 Marvin Gentry-USA TODAY Sports

Of course Nick Saban is the No. 1 overall pick, and pegging anyone else for the top spot would be unadvised.
Although his ugly coaching stint with the Miami Dolphins is a legitimate concern, I wouldn't worry. Unless you're an Alabama fan, in which case, I would assume your liquor cabinet is now empty.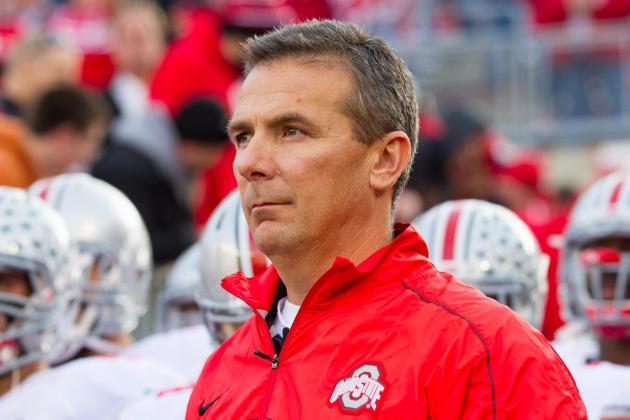 Jeff Hanisch-USA TODAY Sports

If Tim Tebow isn't coming to town, Urban Meyer will have to suffice. Hopefully, no one actually believes "suffice" is the appropriate term, as Meyer is a clear second choice behind Nick Saban.
With this official, however, you may now start your Tim Tebow-to-Jacksonville rumors, and wait, you've already started.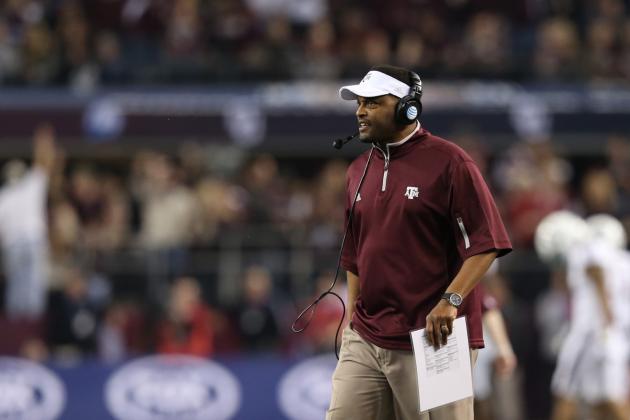 USA TODAY Sports

This a surprise pick, at least to a degree, although the Raiders don't exactly have a track record of following draft protocol.
In terms of potential, however, there aren't many coaches you'd name before Kevin Sumlin. And because the Raiders can't force millionaire coaches to run a 40, picking Sumlin here seems like a fine (and slightly bold) alternative.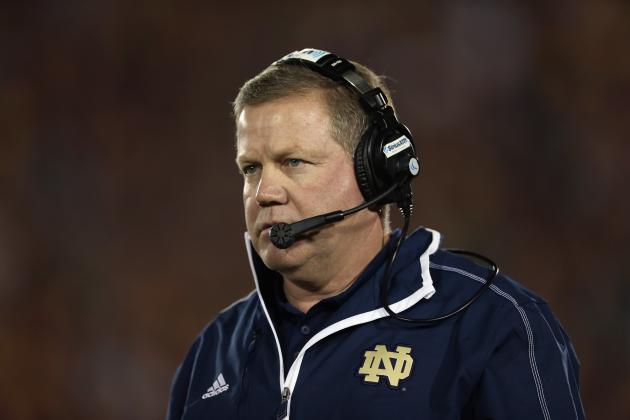 Jeff Gross/Getty Images

Oh, our mock draft indeed has a brain and also a sense of humor, apparently.
After a brief offseason flirtation, the Philadelphia Eagles tab Brian Kelly as their coach after a handful of heavy hitters have already been selected. Notre Dame message boards, you may now light yourselves on fire again—this time with feeling.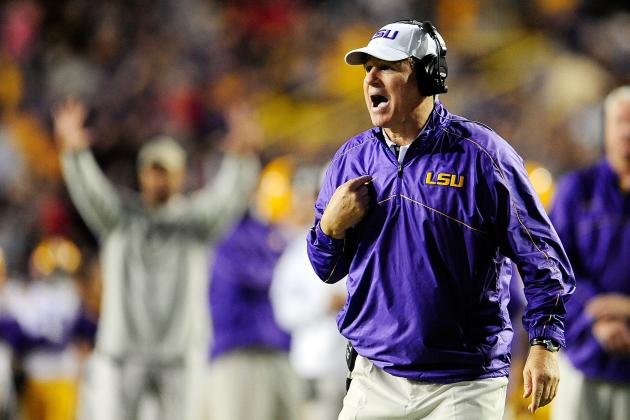 Stacy Revere/Getty Images

The Detroit Lions jump at the opportunity to land college football's unofficial mascot. Oh, he's a pretty decent coach as well.
Although clock concerns and coaching challenges were an issue last season for the Lions, with Les Miles at the helm this shou...—you know what, I can't even finish this sentence.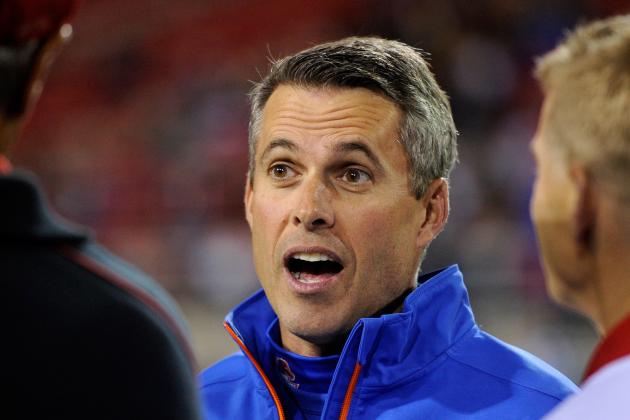 Ethan Miller/Getty Images

The Browns, very much in need of football stability, select one of college football's rocks. No, Chris Petersen hasn't done it in a premier conference, but this pick will be greeted with cheers.
There's also no one better when it comes to doing much with very little. (Cleveland fans, this part is about your team).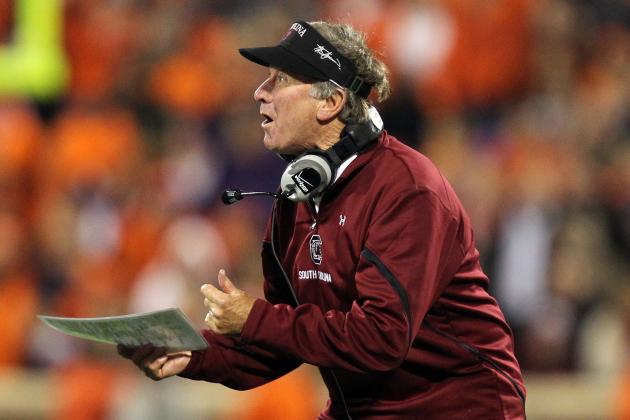 Streeter Lecka/Getty Images

Although the quarterbacking situation is in flux, the Arizona Cardinals believe Steve Spurrier is the man to turn it around.
Debates over how much longer he wants to coach are certainly a concern—as is that Washington Redskins' debacle—but this is a chance 'Zona has to take. The biggest winner in this selection? Spurrier's golf handicap.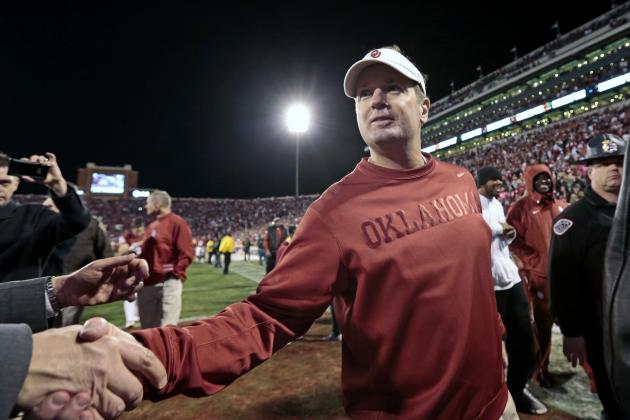 Brett Deering/Getty Images

I can hear the Buffalo Bills fans breaking out the boo birds, but "Big Game" Bob is still one of the best coaches out there. Feel better? No? Well, despite the reputation that seems to follow him, Oklahoma is still a yearly BCS contender and Big 12 roadblock.
At this point, Bills fans, we're long past the time to be picky.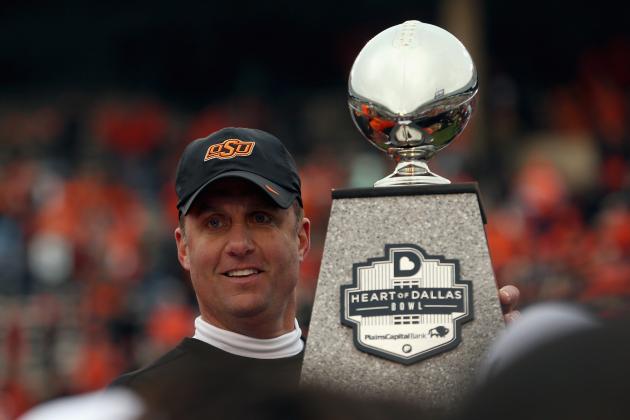 Ronald Martinez/Getty Images

The New York Jets go from big talker to the man who's past 40 and occasionally still dances in the locker room.
New York would be thrilled to land Mike Gundy in this spot, and it seems like an ideal fit. Gundy had success playing at least three quarterbacks in one season last year, and that scenario seems likely to take place in NYC—very, very likely.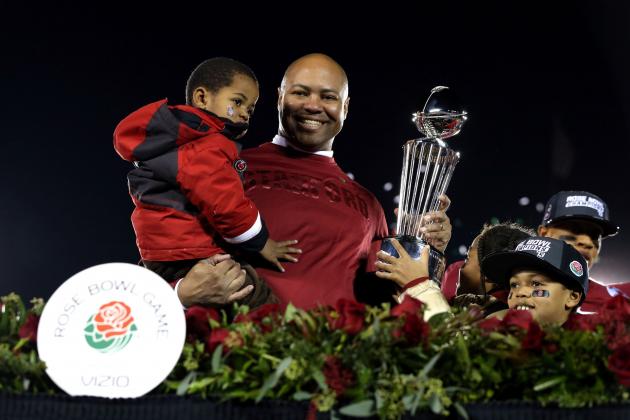 Jeff Gross/Getty Images

For all we know, this move could actually transpire in the next year or two.
David Shaw is regarded as, perhaps, the most NFL-ready college football head coach, and the Tennessee Titans would be happy to see him fall to No. 11. Drafting tight ends in all seven rounds might be strange in Year 1, Titans fans, but he knows what he's doing.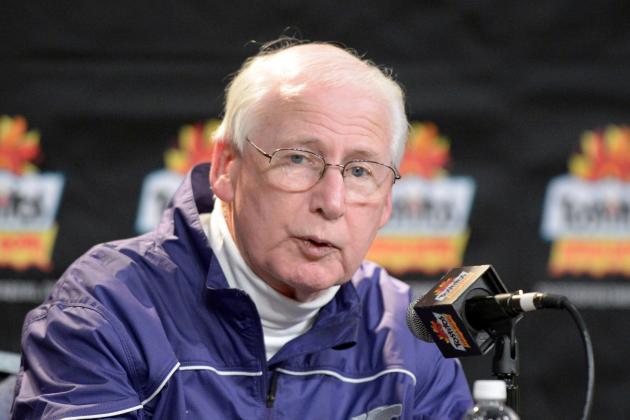 USA TODAY Sports

He'll likely be sound asleep by the time his name is called Thursday evening, but don't sleep on this pick.
Bill Snyder has accomplished much without the helping hand of major recruits, and he also knows how to get the most out of his QBs. How will Snyder figure out a way to get JUCO recruits on his team? Oh, he'll find a way.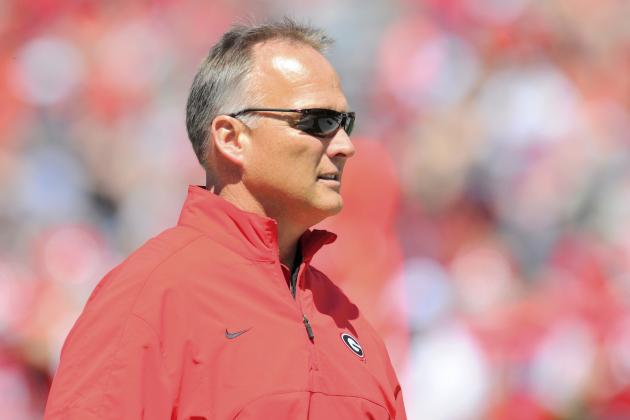 Dale Zanine-USA TODAY Sports

Quietly, and despite yearly rumors of his job somehow being on the line, Mark Richt has become one of the nation's most reliable coaches. Yes, really, and the Miami Dolphins will be more than comfortable with this selection.
Now when he loses to the Cleveland Browns by double digits in the opener and the masses are calling for his job, he'll know the drill.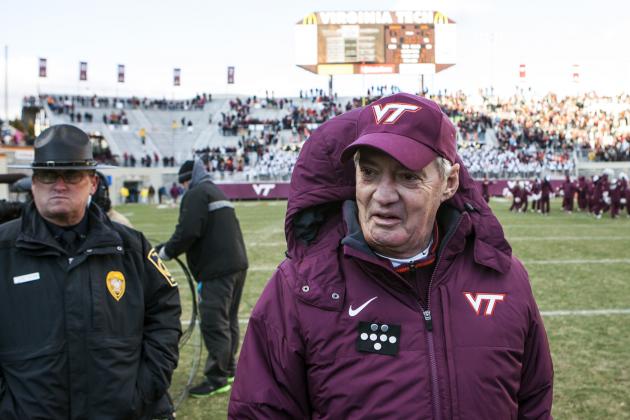 USA TODAY Sports

Our first trade and the New York Jets, indeed, get to keep this pick. With Mike Gundy locked in at head coach, the Jets shore up special teams and bring plenty of experience to the sidelines with Frank Beamer.
Tim Tebow could very well lead this team in touchdowns in 2013, playing strictly in the punt protector role, and I wish this was a joke.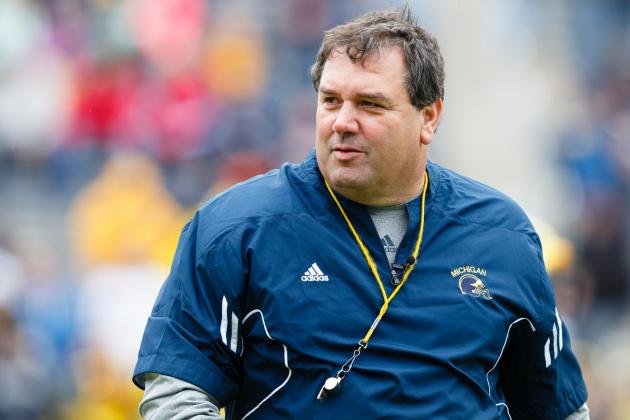 Rick Osentoski-USA TODAY Sports

This is a solid draft value in the middle of the first round, as Brady Hoke has quickly worked his way up the coaching ranks.
He will likely petition the NFL that the Carolina Panthers be added to the AFC South—aka Urban Meyer's future new home—and I seriously hope they take it under consideration.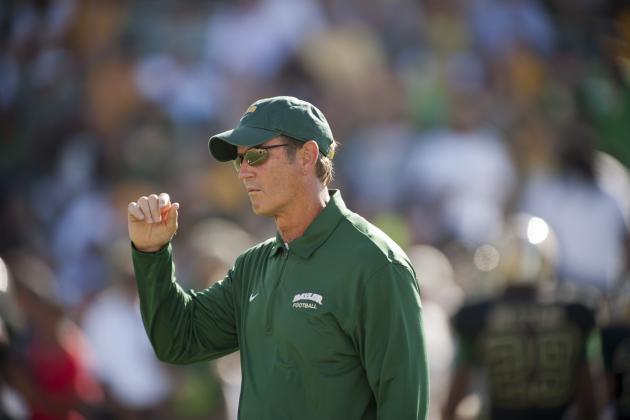 Cooper Neill/Getty Images

Here we have a dream fit, and Drew Brees will likely be doing living-room fist pumps if this pick is called.
The offense under Art Briles will continue to be damn near impossible to stop, and the defense will continue to be, wait, what is this "defense" you speak of? It doesn't matter; it's going to work brilliantly.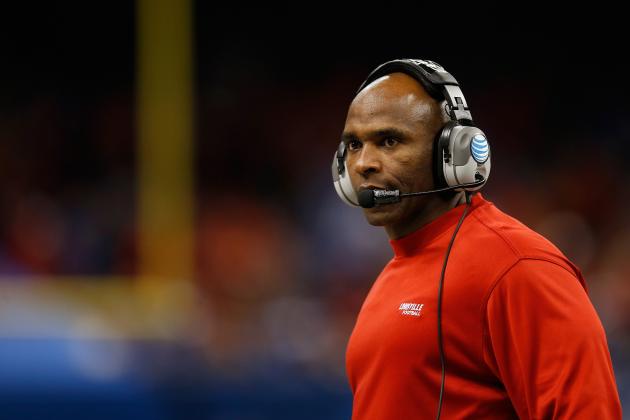 Chris Graythen/Getty Images

Charlie Strong's rapid coaching climb continues, as the St. Louis Rams take him smack-dab in the middle of the first. With more draft-pick ammunition, they lock up the man who would absolutely destroy this group in a pushup contest.
Oh, he can coach a bit, too.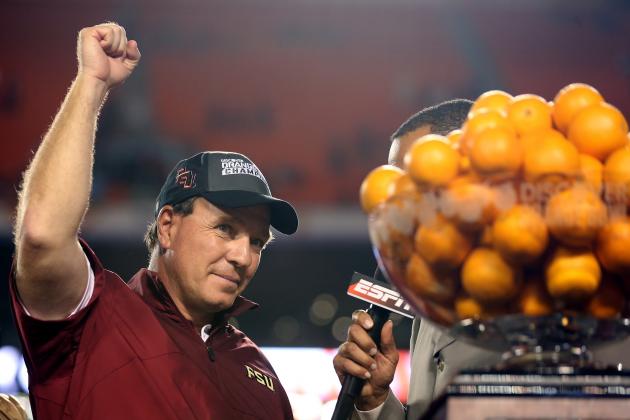 Streeter Lecka/Getty Images

This is not necessarily the most popular choice, although I'm not sure why.
This pick might draw a few boos from the the Steelers' faithful at the draft, but there's no doubt he can coach. Oh, and a PRO TIP to the Pittsburgh media: Get your tape recorders ready. This man talks like Chip Kelly calls plays—fast, very, very fast.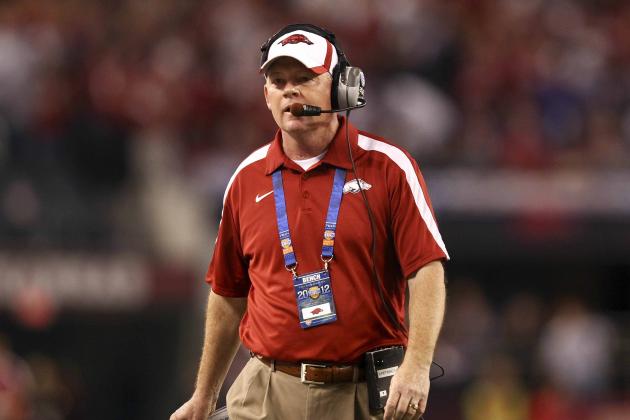 Kevin Jairaj-USA TODAY Sports

Finally some real fireworks.
Jerry Jones gets his Arkansas man, and Bobby Petrino finds his way out of Western Kentucky eight months earlier than anticipated. This is your classic high-risk, high-reward stab in the middle of the first, and you can be certain there will be some motorcycle fine print in the contract.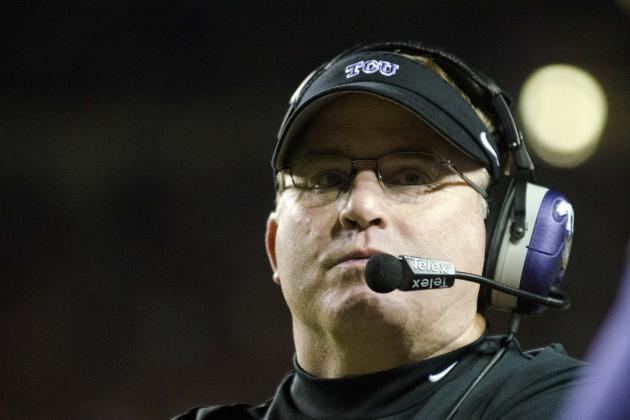 Brendan Maloney-USA TODAY Sports

This is an absolute steal.
Gary Patterson is one of college football's most consistent coaches, and TCU is going to miss him dearly. Not even the New York Giants fans, who are 11 or 12 beers deep at this point, can boo. Ah, that's not true. They'll boo, but it'll be an optimistic kind of boo.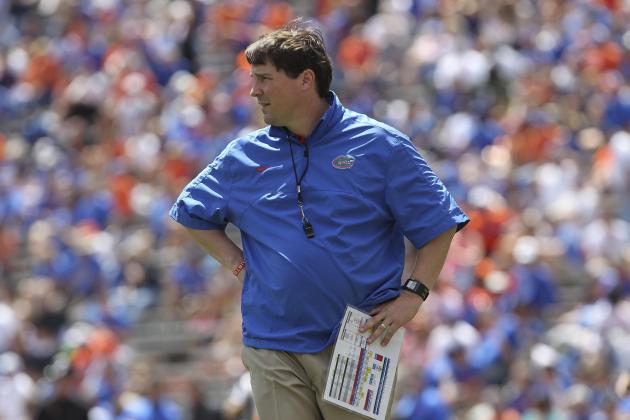 Kim Klement-USA TODAY Sports

Although Will Muschamp is still somewhat unproven over the long term, the team that prides itself on playing great defense gets one of the best defensive minds in the game.
If you're wondering who will win the first wrestling match between Muschamp and Ed Hochuli, the answer, of course, is all of us.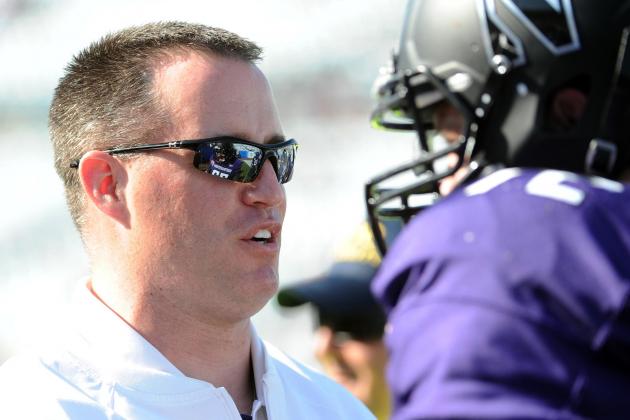 USA TODAY Sports

Cincinnati lands one of the most under-appreciated coaches and gets one heck of a motivator with this selection.
Pat Fitzgerald no longer has to worry about lofty admission standards and will now have A.J. Green on his side. That's like letting me drive a Ferrari, although you should never, ever do this.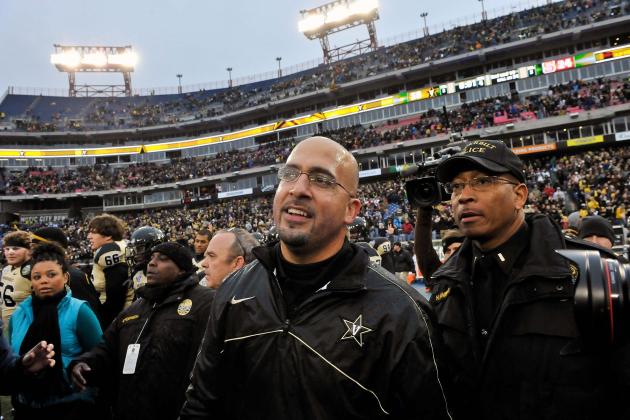 USA TODAY Sports

With Charlie Strong drafted, the St. Louis Rams use their second first-round selection on another fast riser.
James Franklin knows offense, and this duo should provide a tremendous spark for the franchise. Better yet, the massive bro hug between Franklin and Roger Goodell will likely be felt in California.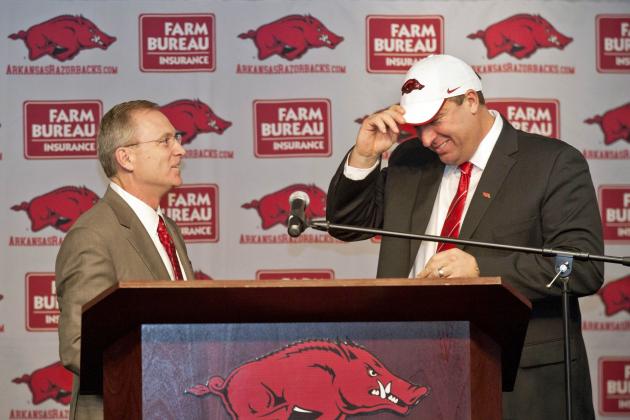 Beth Hall-USA TODAY Sports

This is a lovely match, and Bret Bielema returns to his Big Ten roots after an unexpected departure.
His affinity for running the football factors in here, and Adrian Peterson will certainly benefit—as will the former ACC quarterbacks (notice the plural) he will bring in, because he simply can't get enough of them.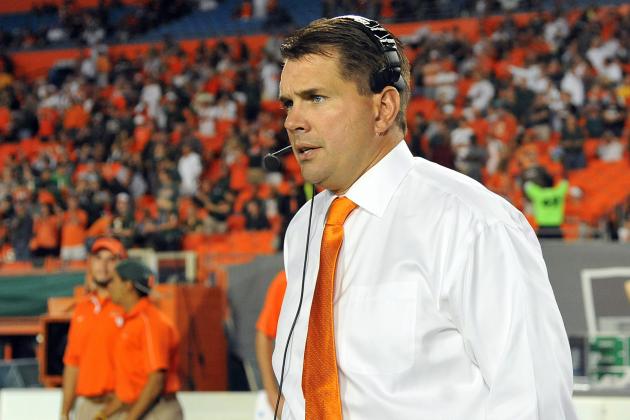 Steve Mitchell-USA TODAY Sports

Just imagine how a bright blue tie will look on one of CFB's sideline fashion savants—well, at least until the second quarter when Golden looks like he's been working on Wall Street for 36 straight hours.
With Andrew Luck likely to improve, Indy could draft a chair and still win eight games yearly. Al Golden, much more valuable than a chair, will do just fine.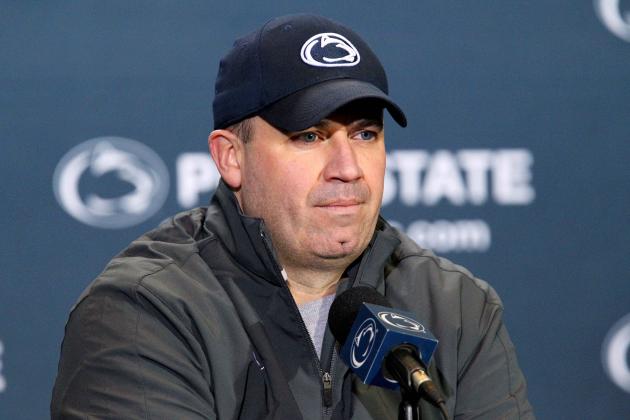 Matthew O'Haren-USA TODAY Sports

The third and final team to hold two first-round draft picks comes away with a terrific coach who has also logged hours as an NFL offensive coordinator.
If Bill O'Brien can turn Matt McGloin into one of the best QBs in the Big Ten—seriously, that happened—then there's still plenty of hope for one Christian Ponder.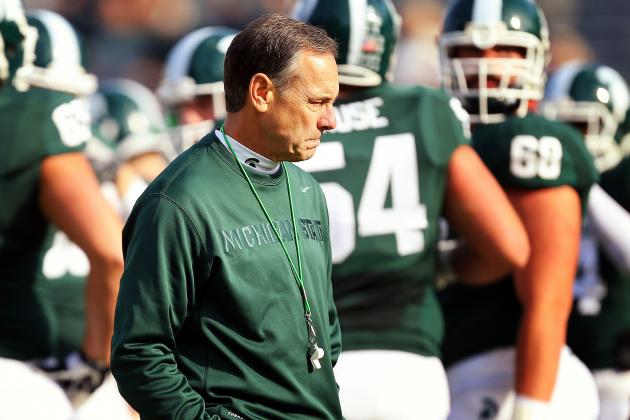 Mike Carter-USA TODAY Sports

It's not the sexiest pick, but Mark Dantonio is undoubtedly a first-round talent and a solid selection for the Green Bay Packers.
He led Sparty to a bowl win with Andrew Maxwell under center, and he'll have a slightly better quarterback to work with at his new destination—just slightly, though.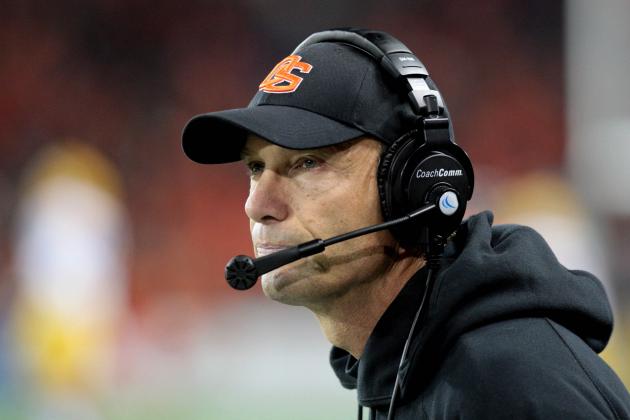 Scott Olmos-USA TODAY Sports

In his previous life, Mike Riley was an NFL head coach.
The results weren't jaw-dropping, and he's certainly had much better success on the college level. The Texans are willing to take a chance that he can succeed at both. In case you were wondering, Texas has plenty of In-N-Out Burgers for team motivation. Yes, I actually Googled this.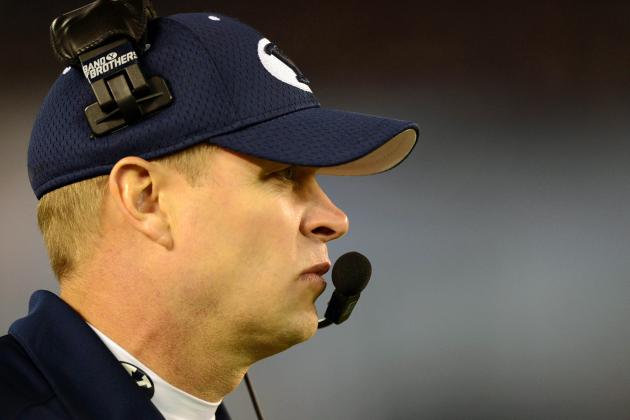 Jake Roth-USA TODAY Sports

Bronco Mendenhall is a name we often overlook, and we really shouldn't.
He's done wonders with BYU, and I imagine he'll gladly inherit a defense that should be to his liking. Also, the possibility of mocking a coach with the same name as the team drafting him was simply too good to pass up.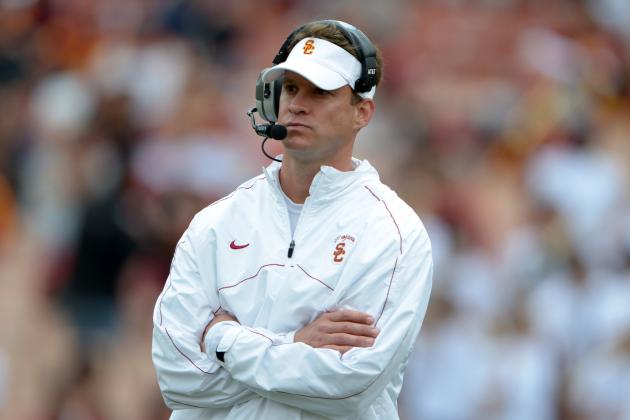 USA TODAY Sports

His stock mirrors that of his former quarterback, Matt Barkley, although Lane Kiffin still finds a way to sneak into the first round.
This path to success stays in line with his unorthodox rise, and it also somehow makes the New England Patriots more unlikeable nationally. This is an amazing accomplishment in itself.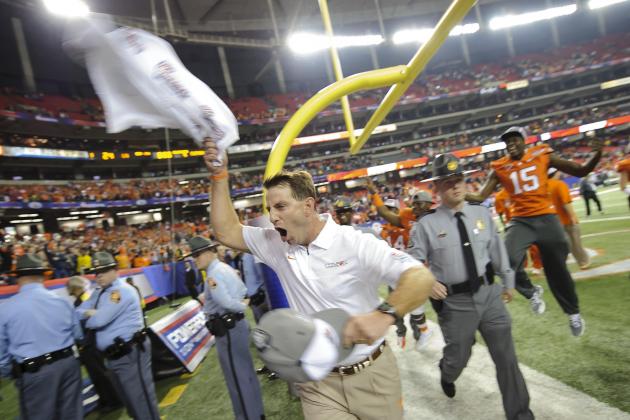 Paul Abell-USA TODAY Sports

Dabo Swinney has plenty of potential, although there are enough questions and concerns to drop him late into the first round.
He also knows a fair amount about coaching with incredible talent—as well as expectations—and there's no possible way this relationship could fail. If I had a sarcasm font, I would have used it right there.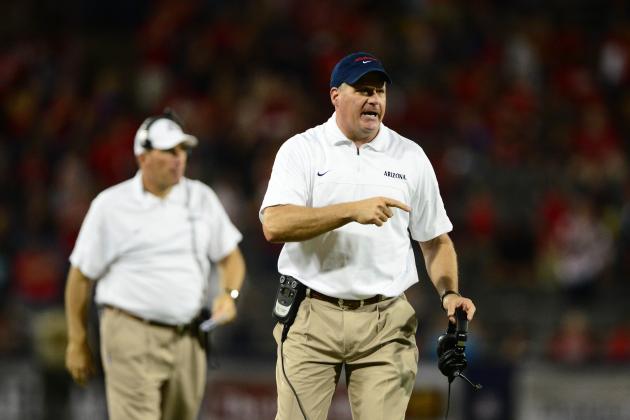 Mark J. Rebilas-USA TODAY Sports

Anyone else excited about seeing Rich Rodriguez paired up with Colin Kaepernick?
The 49ers decide to key in on a head coach who can liven up that offense—I'm assuming you've seen the talent on that defense. You could be named the defensive coordinator, and they would still lead the league in most defensive categories.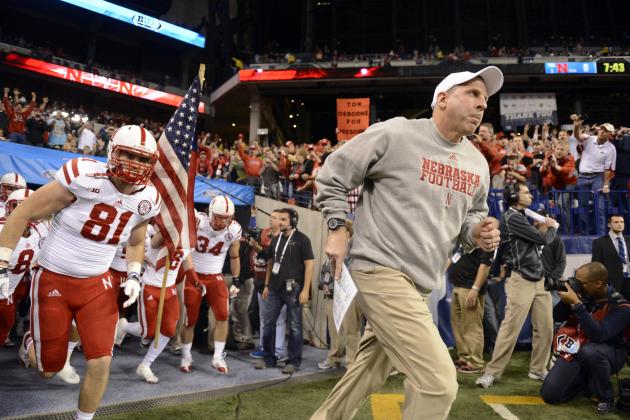 Richard Mackson-USA TODAY Sports

Good ol' Bo Pelini has the task of heading to a city coming off a Super Bowl win. He'll also inherit a roster that was picked apart by NFL teams.
If you can't wait for the first sideline blowup between Pelini and new billionaire Joe Flacco, you're not alone. It will come in the second quarter of the first game, and it'll be pay-per-view material.