Bayern Munich-Barcelona Fixtures Mark Beginning and End of Football Era
Use your ← → (arrow) keys to browse more stories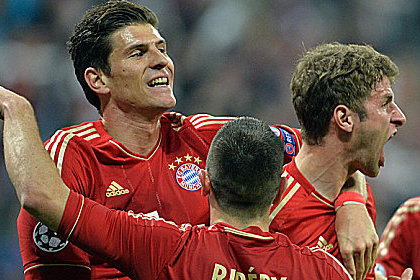 Bayern's stunning performance against Barcelona challenges club football hierarchy.
It was an evening of contemplation for Bayern's bosses.
A match ending 4-0 featuring a revitalizing and ascendant club in world football—and not just any club, but FC Barcelona itself.
Yes, the Champions League fixture was about far more than merely setting the stage for advancement to the next round in the competition. It was a mile-marker in determining where the club stood vis-à-vis other traditional football heavyweights.
And as it turned out, it was a wasted evening. Ask any Bayern fan—it was a night of frustration and disappointment and despair.
The date: April 8th, 2009. The site: the Camp Nou. Bayern's manager: Jürgen Klinsmann.
The Catalans had just thrashed the Bavarians 4-0 in the first leg of the Champions League quarterfinal. In that very moment—or at the very least for that very moment—Bayern had become inconsequential to its European competition.
And Barcelona, with its new manager Pep Guardiola, was on the rise. Trophies galore followed in the succeeding years.
Now fast-forward 1,476 days.
The same question of Bayern's place in world football loomed over Tuesday's Champions League semi-final at the Allianz-Arena.
Did a club that has been challenged successfully in the domestic league in the past two years and that has choked in key international matches still deserve a place in the highest echelons of world football, its rich heritage notwithstanding?
Does Bayern's victory over Barcelona reshuffle football hierarchy?
Tuesday's answer was unequivocal: Yes, Bayern remains a powerhouse in international football. Yet the match revealed more than that.
Not only did the first leg of the semi-final prove that Bayern is still a football powerhouse, it simultaneously suggests that Barcelona is no longer the non-plus ultra of club football.
Justifiably, skeptics will point out that one should not pass judgments on football hegemony on single matches. They will point out that two of Bayern's goals—Mario Gomez' goal from an offside position and Arjen Robben's goal, which was preceded by a foul by Thomas Müller—should have been disallowed. They will point out that one cannot make an accurate assessment of Barcelona's strength with an injured Lionel Messi.
But it is not merely the match result that signals a paradigm shift in the European football house. Rather, it is the manner in which Bayern completely dominated the Blaugrana on the pitch. Bayern outplayed Barcelona in the manner Barcelona has been known the world-over for outplaying its opponents.
Of course, Barca's relative degeneration does not imply it is not a force to be reckoned with moving forward. A quick glance at the La Liga table suggests the opposite.
It does imply, however, that Barcelona is no longer the football superpower the world had grown accustomed to in the past four years.
And as fate would have it, Bayern's 4-0 demolition of Barcelona mirrors the Catalans' victory over the Bavarians by the same margin four years earlier.
Barcelona's victory over Bayern in April of 2009 had set a new power structure in motion. The days of English dominance in European football had evolved into the reign of one: that of FC Barcelona.
Four years ago, the football landscape changed from a multipolar to a unipolar framework.
It may only be one match, but Tuesday night may very well be remembered as the end of that era—and the return to a multipolar power structure in club football.