Sports Pranks That Are Totally Played Out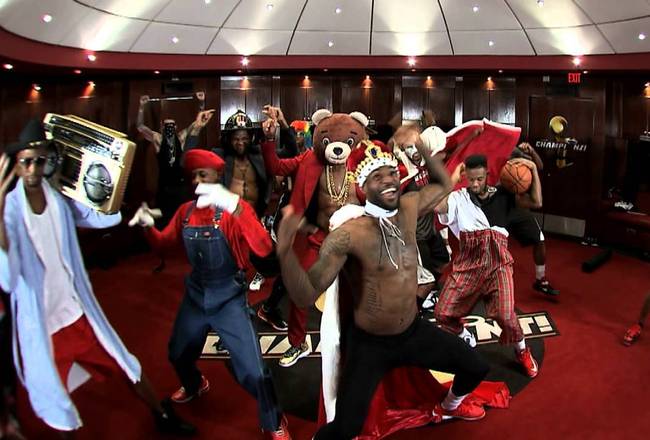 A sports prank is a very broad term that casts a very wide net. But don't get bogged down with the semantics of a prank, vs. a fad, trend, or even a tradition.
Then again, the ability and desire to argue semantics may be the most unpleasant distinction between humans and animals. It's misery in the making, so try to avoid it.
Back on track.
In some ways those things are different, but fundamentally they are pretty much the same. At least most of the time. They all start out as a single, creative moment in time. If it goes unnoticed, it fades away.
If it goes viral, it's copied, recycled, repurposed, and outright ripped off, until every last bit of humor and entertainment is stripped away. Eventually it's nothing but an empty shell of an outdated relic.
And all that's left is the distant memory of something that was once amusing, but is now giving you an ulcer because of the rage it creates, which boils inside you. Or something slightly less dramatic—but that's not really my specialty.
Here are some sports pranks that are totally played out.
Inflatable Mascots Menacing Mall Goers
I'm known as a bit of a cynic, but mascots are actually one of my favorite things—so I can't be that cynical. Although, as much as I love mascots, I can't say that I've ever understood the NBA's need for those weirdo inflatable mascots.
They already have actual mascots in most cases, so it's redundant. And the people in those costumes are always tumbling over because someone upstairs thought it'd be a great idea to make him wear rollerblades and walk down steps.
Whatever though, I live in DC and Wizards fans need all the distraction you can throw at them during the course of a game. But these things aren't locked down in arenas, most of them must be teenage girls because they all seem to love hanging out at the mall.
Or maybe they're jumping spiders because they excel at scaring the bejeezus out of everyone. There are dozens of videos just like this on YouTube of these things doing the exact same thing at the exact same place and people reacting in exactly the same way.
Maybe next time hit up McDonald's or something. Learn to shake things up!
Will Ferrell's NBA Shenanigans
Some people are going to get all up-in-arms about this because the most devoted fans of comedian Will Ferrell are angrily convinced the man can do no wrong. Now, I'm no hater here. I love the crap out of Will Ferrell.
But he's just one of those guys who always tells a joke at least three more times after it stopped being funny. Just like his endless array of sports-themed movies, the first of which was Talladega Nights: The Ballad of Ricky Bobby.
It was hilarious, an instant classic. The rest were pretty much garbage; recycling the same tired jokes. That's exactly what's been going on with Ferrell's high-profile comedy bits at NBA games over the last year or so.
His introduction of the Bulls and Hornets during a game in early 2012 was legendary and became an instant viral sensation. Then he did it at a Cubs game. Then he pretended to be security at a Lakers game. Ferrell is a comedic God, he doesn't need to be double dipping like this.
[Insert Thing Here]ing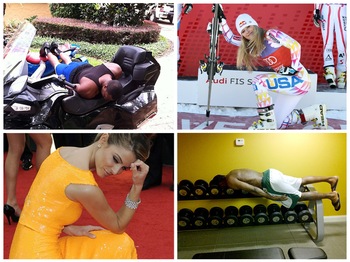 Images via @agentzeroshow, Getty, and @dwighthoward
Planking.
Tebowing.
Owling. (An "ing" with less staying power)
They were all ridiculous fads/trends/pranks for a brief moment in time that people became absolutely obsessed with. It was one thing to see my cousins posting their own versions to Facebook. Annoying, but whatever.
But it was another thing altogether to see attention-seeking athletes and members of the media doing the same thing and, for some reason, attracting national attention for it. Is a society that rewards idiocy even a society at all?
Ponder that one, chump.
Throwing Dead Animals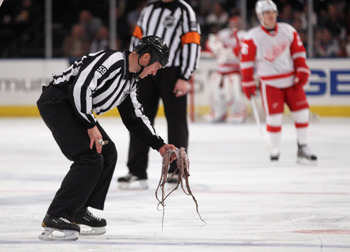 Bruce Bennett/Getty Images
There's probably a fascinating story behind the Red Wings fan tradition of chucking dead sea creatures onto the ice during the game. At least I hope there is.
But I could seriously not care less about it. Honestly, even if you paid me a million dollars. I'd certainly try to care less because I could use the money, but I just don't think it's humanly possible.
It's disgusting and disturbing when fans, not just in Detroit, throw dead animals at a sporting event. Not to mention wasteful. And how long have those people been walking around with dead bodies stashed in their pants?
Most people at most professional sporting events are adults. I suppose I'm just of the mind that adults shouldn't be throwing anything, particularly carcasses, at anyone at any time. Ugh. When did I get so old?
NOW GET THE HELL OFF MY LAWN YOU DAMN KIDS!
NFL Hazing Haircuts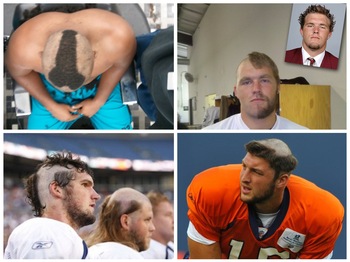 Images via BustedCoverage & Getty
The rookie hazing haircuts are a tradition in the NFL. The tired old veterans like to show all the fresh-faced newbies, who are there to eventually take their jobs, who's boss by giving them horrible haircuts.
I wonder if it hurt Kyle Orton any less when Tim Tebow took his quarterbacking job in Denver because he had the fond memories of shaving his head into the shape of an idiot. I bet it didn't. Actually, I'm quite certain it didn't.
And I bet you didn't know idiot was a shape. Well, it is. It's a shape that can take many forms, kinda like Mystique from The X-Men. And one of the most popular forms is the penis. I suppose everyone wins, eh, gentlemen?
Literally Screaming for Attention
If you scream something just the right amount of weird at just the right moment, around just the right person, it's positively stunning the amount of fame, however fleeting, one can achieve. This happens all the time during local, and even national, news coverage.
It's basically the verbal equivalent of all of those amazingly ridiculous signs people wave in the background during ESPN's College Game Day. But, obviously, instead of it being a sign in the background, it's a human being screaming in the foreground.
In December 2011, golf legend Tiger Woods sunk a birdie on the 18th hole at the Chevron World Challenge, winning his first tournament in two years. Which was almost a big deal, but because a fan screamed "mashed potatoes" as he teed off, it was not so much.
The dude who yelled, however, briefly became the most important person in the world. The infamous "mashed potatoes" incident made international news and the man, himself, was tracked down by ESPN's Page 2 within three days.
God forbid we move forward without hearing the thoughts and feelings of mashed potatoes man. But I'm sure everyone slept better knowing that the guy who shouted did so because he recognized he had a captive audience and wanted to make the most of it.
Wonderful.
Oversized Faces at Basketball Games
Hey look. I've got terrible seats to this basketball game and an oversized cardboard cutout of my own (or someone else's) head. Annnnnd now I'm famous.
Well, that's not exactly how my story goes. But that's how it went for Alabama student Jack Blankenship, who parlayed his big ugly mug into temporary national fame back in February 2012.
Apparently he had been doing this down in 'Bama for some time, but it wasn't until he took his stupid face show on the road to a Knicks game that he finally gained the attention he so desperately desired.
Blankenship was interviewed by everyone, appeared on Late Night with Jimmy Fallon, and eventually his face became the pretend president of the University of Alabama.
This kind of stuff just encourages people, which is why you see more oversized novelty faces at basketball games than ever. Every Tom, Dick, and Harry is hoping to be the next big thing in cardboard face cutouts.
Unfortunately for them, I think lightning is only going to strike once on this one.
Mascots 'Eating' Cheerleaders
There are countless variations of this same video littering the interwebs. Different teams, different sports, and different cheerleaders are involved, but "mascot eats cheerleader" is a verified viral hit.
Or it was. I'm too old to keep up with all the trends these days.
The thing is that it's not that entertaining even the first time you see it, let alone the 100th. And the name of the video is very misleading—nobody is getting eaten in the Hannibal Lecter sense of the word.
That's not to say I want anyone to be cannibalized by a mascot live at a sporting event, because that sounds awful. But, it'd be more honest to name this video "cheerleader willfully gets sucked into mascot balloon for the 100th time."
Bodysuit Guys
I think I'm actually torn on these bodysuit guys. On one hand, I kinda respect their dedication to their creepy craft and willingness to literally put their manhood on display, day after day.
But on the other hand, gah! It's been going on for years, seemingly taking root in Vancouver, and spreading its skintight seeds to sporting events around the globe.
This whole thing was always walking a very fine line between funny and freaky. And the longer it goes on, the further it leans toward the latter.
Can you even imagine having to sit next to one of these guys for three hours? And how do they go to the bathroom?! Do they just strip naked in a public restroom?
Ew.
Flipping off the Camera
I'm of the mind that words are only as powerful as you let them be. Some people just like to swear because it's awesome and fun. While others do it specifically because they know someone, somewhere is likely to freak the hell out over it.
The same concept holds true for flipping the bird on national television. Not to mention the double bird. I do remember a time when giving someone the finger was a really big deal—it was called grade school.
Sure it wasn't creative, but it was the easiest possible way to tell everyone in class that you recently viewed The Breakfast Club for the first time and John Bender was your role model.
I expect slightly more from college kids. And I expect much more from so-called "artists," whose only idea to create controversy during the Super Bowl in 2012 was to give the finger. Wow, M.I.A.! You're just so edgy and creative.
'Call Me Maybe' Parodies
I was afraid to even write about this one because the well producing the once-seemingly endless stream of "Call Me Maybe" parody videos finally dried up. But I really don't want to jinx it.
For most of 2012, you couldn't even have a bowel movement (at the gym or grocery store) without being subjected to Carly Rae Jepsen's song "Call Me Maybe," which, I'll admit, was as catchy as it was crappy.
But much like Ke$ha's "Tic Toc," the song curdled after a few days but somehow remained on the shelves for months and months. And managed to inspire even more terrible parody videos.
There are millions of these things online. Maybe trillions. Perhaps gazillions. I majored in history, though, so I'll leave the numbers to the people who majored in numbers and number-related things.
The first couple were mildly amusing and some were better than others, of course. But eventually the market became complete saturated with these videos and that song, eventually killing them both.
Gangnam Style
Korean singer Psy's ridiculous song and dance "Gangnam Style" caught on like...well...gangbusters in the summer of 2012. That spectacle hit the web and in an instant, Psy became a global superstar.
Of course, when the whole world is looking, you just know everyone and their mother is going to be desperate to get in on the action. And that's exactly what happened.
The whole fad was amusing for about a week, so naturally it held on strong for nearly six months; spawning parody after parody. There are so many, and most are wretched.
But when Psy's "Gangnam Style" Super Bowl commercial was met with a universal groan and eye roll in February 2013, it finally seemed like an end may be in sight. Fingers crossed.
Flash Mobs
I think a lot of people tolerated, if not enjoyed, the flash mob trend a lot longer than a lot of other fads because these things can be pretty impressive when people put the time into the preparation to make it good.
I was particularly taken by some of the flash-mob videos that went viral, wondering how surreal it must have felt to inadvertently stumble into one somewhere like Grand Central Station. But eventually I stopped wondering.
In fact, I stopped caring altogether. These things need to stop. It's time to get a new thing, because this one is grody and moldy and stinking up the fridge.
The Harlem Shake
Ah yes. The Harlem Shake. Believe it or not, I managed to avoid actually seeing one of these videos for nearly six weeks after it first became a thing in early February 2013. Which is extremely impressive, considering the supposed original has over 80 million views on the YouTube.
Pretty much everyone on earth, give or take (a couple of billion) had seen it and I remained willfully ignorant for as long as humanly possible. But ultimately the Harlem Shake videos were coming out at such a fast and furious pace that eventually I saw one by accident on Conan.
The seal was broken and since then I've seen about 100 billion of these things and hated just about all of them. Particularly the one on The Today Show and any featuring frat bros. Now the mere mention of the Harlem Shake fills me with dread that eventually turns to blind rage.
Unless it involves the troops overseas. The troops can keep doing whatever they want because they are doing a job most of us are way too scared to even fathom. So I'll keep watching their untimely viral videos, even if it pains me. And it usually does.
That's what they mean when they say "Freedom isn't free."
Flash Mobbing and Harlem Shaking
The flash mob and the Harlem Shake are two of the more complicated sports pranks to pull off en masse. There are a lot of balls in the air. A lot of loose ends. Which is tough to manage when the world is being consumed by apathy.
You know how people can be. For every Type A, list-making go-getter in the world, there are about two dozen useless goofballs who wander aimlessly through life for years before eventually being run over by a bus. So you wouldn't think these could be pulled off in conjunction.
But apparently the human spirit knows no bounds when it comes to being irritating. There are two ways to look at this video. First, the half-empty cup is filled when people manage to come together and do two irritating things at once, somehow canceling out the stupidity.
Or, the half-empty cup is drained when the flash mob begins and then stolen and shattered on the ground when it transforms into the Harlem Shake, thereby doubling and tripling the stupidity. I think you know which side of the line I come down on this one.
So What Kind of Prank Never Gets Played Out?
Something like this with a joke that never gets old. Potty humor is a gold mine that never runs dry...I mean never runs out of gold. Mixed up my metaphors there.
Doesn't change the fact that this video never fails to make me LOL.
**If you're the type of person who appreciates a girl who saw Jackass 3D at the theater twice, well then you should follow me on Twitter. And if you don't appreciate that, you should still follow me because I'm sure we'll find some common ground: Follow @blamberr
Keep Reading