Michael Mauti: Video Highlights for Former Penn State LB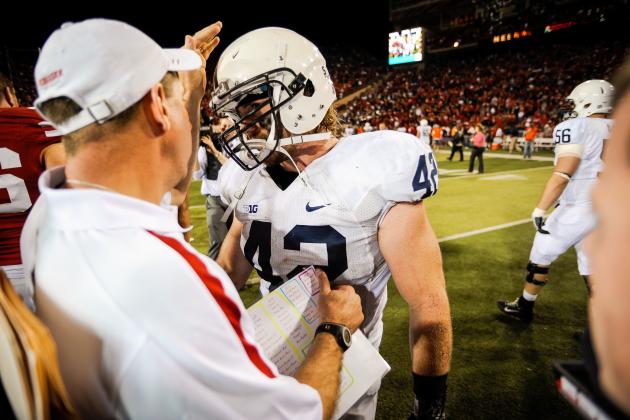 Eric Francis/Getty Images

The last season at Penn State was the most surreal in the history of college football, as the team was left reeling in the wake of sanctions levied as a result of the Jerry Sandusky sexual abuse scandal.
Many athletes transferred, but among the players who stayed was linebacker Michael Mauti, who racked up 96 tackles for the Nittany Lions before an ACL tear cut his season short.
That injury, the third of its type that Mauti has suffered, casts a dark cloud over the 6'2", 243-pound senior's draft stock, but here's a look at what Mauti could be capable of once healthy.
Begin Slideshow

»
For many young players entering the NFL, the ability to contribute on special teams can be the difference between a spot on the 53-man roster and a trip home.
Luckily for Michael Mauti, he's shown that not only can he contribute in that facet of the game, but that he can be an impact player.
As in the impact that the return man for the Michigan Wolverines felt in this game from 2008, where Mauti lays the lumber on a kick return, forcing a fumble.
Michael Mauti's first ACL tear cost him the entire 2009 season, but by 2010, Mauti was back on the field and making life miserable for his opponents.
In this highlight from an October loss to Iowa, Mauti shows off his ability to get after the passer.
In the play, Mauti shows excellent strength and good hustle, continuing to fight his way upfield until he sheds the block and corrals the quarterback.
The general consensus is that Michael Mauti is a hard-nosed football player who makes up for a lack of elite athleticism with excellent instincts.
However, that doesn't mean that Mauti is incapable of explosive playmaking.
Mauti shows that's the case in this highlight from a 2010 victory over Northwestern. In the play, Mauti diagnoses the run, hesitates just a moment to allow a gap to develop and shoots that gap to haul down the ball-carrier for a big loss.
Granted, Michael Mauti may not be the fastest linebacker out there, but that doesn't necessarily make him slow, either.
Mauti shows that he's able to make up ground in a hurry on this play from a September victory over Illinois.
In the highlight, Mauti blitzes from the outside, closing quickly to bring down quarterback Nathan Scheelhaase for the sack.
Penn State University cranks out linebackers like Hershey's cranks out chocolate bars, with Michael Mauti being only the latest in a long list of skilled players at the position to play in Happy Valley.
All those skills were on display in that win over Illinois last year.
While he's not known for it, Mauti even demonstrated that he can do damage in coverage against the Illini, showing soft hands when he stepped in front of a Scheelhaase pass for the interception.