What the Numbers Tell Us About OKC Thunder 2013 Title Chances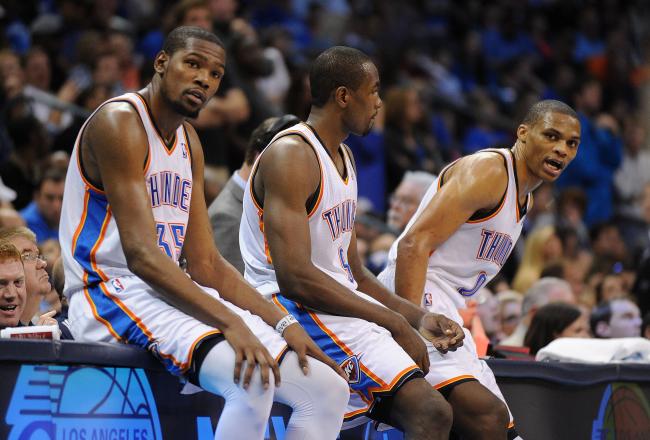 Mark D. Smith-USA TODAY Sports
To put it in the simplest possible terms, whenever a basketball team possesses two of the league's 10 best players, it's a very good team.
When that same team's roster is filled out with players who understand their role and maximize their ability inside a team-oriented scheme, what you probably have is a championship contender.
This is the Oklahoma City Thunder, a team that possesses Kevin Durant (the best scorer in basketball and a transcendent offensive talent), Russell Westbrook (one of the NBA's three best point guards and as consistent a star as exists in sports), perennial Defensive Player of the Year candidate Serge Ibaka, interior post-defending savant Kendrick Perkins, bench-scoring Kevin Martin, "Three and D" specialist Thabo Sefolosha and all the other filler that compliments everything to a near perfect degree.
The Thunder ended this season averaging 110.2 points per 100 possessions (second best in the league) and allowing 99.2 points per 100 possessions (fourth best in the league). They have the highest net rating as well, outscoring opponents by 1.1 points per possession.
On offense they're as efficient as anybody (second in True Shooting percentage and third in Effective Field Goal percentage) and their best player just slapped together what will go down as one of the two or three most impressive shooting campaigns in NBA history.
In clutch situations (last five minutes of a game either ahead or behind by five or less points) only the Miami Heat and Los Angeles Clippers had a more efficient offense, but the Thunder's defense dropped out of the top 10 to 12th, allowing 101.5 points per 100 possessions.
The one area where they hold a distinct advantage over the Heat—one of just two teams worth discussing when talking about Oklahoma City's chances at winning the title (the other being the San Antonio Spurs)—is on the glass.
Oklahoma City ended the year with the fifth-highest rebounding percentage in the league, grabbing 51.7 percent of all available missed shots.
While the Heat are one of the five worst offensive rebounding teams in basketball, the Thunder are precisely average, coming in at 15th in the league.
But while rebounding is a modest advantage, what could negatively outweigh it in the playoffs is their low percentage of made field goals that are unassisted. The Thunder rely on the abilities of their two stars, Durant and Westbrook; giving them the ball and telling them to score is, overall, an effective strategy in various ways, but it's also incredibly simple and can make an opposing defense's game plan easy throughout the course of a long playoff series.
Here are three isolation sets, each of them resulting in a turnover. The action lacks creativity or movement. In the first two clips, Oklahoma City runs a high screen to force a switch, providing Durant a favorable mismatch.
There's nothing wrong with running a play like this every once in a while—especially when you're using the best scorer in basketball—but the Thunder rely on it far too much when they should be a little more resourceful.
Can The Thunder Win It All?
On the third clip, Durant tries to muscle his way through a wall of Golden State Warrior defenders. The result is deserved and expected.
The Thunder ended the season ranked 28th in made field goals that were assisted. Contrasting this with a team like the Spurs that passes the ball beautifully and leaves defenses at their mercy with several different scoring options, only two teams assisted more made baskets this year than San Antonio: the Atlanta Hawks and Chicago Bulls.
Facing a Miami Heat defense that traps and doubles more than any other, this strategy could be an issue for the Thunder. Going back to the 2011 Dallas Mavericks, the last team to defeat the Heat in a playoff series, they actually led the entire league that year in percentage of made shots that were assisted. These facts aren't mutually exclusive.
Passing the ball from side to side forces the defense to spread itself, rotate, then, hopefully, break down over the course of 24 seconds. In clutch situations Oklahoma City's offense gets even more iso-heavy, with just 41.1 percent of their made baskets coming directly from a pass. That's second worst in the entire league.
By contrast, the Heat assist on 62.4 percent of their made baskets in the clutch, good for fourth best in the NBA.
If faced with another Finals showdown against Miami, Oklahoma City will need to move the ball much better than they have or there's almost no chance they can win.
They came in at 18th in attempted corner threes this season, behind the Phoenix Suns, Philadelphia 76ers and Sacramento Kings. That's not good, as the corner three is a shot that's been embraced by all the other elite offenses in basketball. Oklahoma City should be near the top of this list given their ability to attack the basket (they get to the line more than anyone else) and capable shooting personnel (why can't Serge Ibaka attempt more shots from the corner? He's clearly capable of making them).
Can the Thunder win the title? Sure. But it isn't probable. They'd be the undisputed favorite had LeBron James never been born. But he was, and unless the Thunder's elite offense gets even better throughout the playoffs—ball movement, spacing the floor better with Ibaka and Martin, etc.—the Heat still stand as a wall too high for them to climb.
The use of NBA.com/Stats, Basketball-Reference.com and Synergy Sports were used in writing this article.
This article is
What is the duplicate article?
Why is this article offensive?
Where is this article plagiarized from?
Why is this article poorly edited?

Oklahoma City Thunder: Like this team?