Arizona Cardinals 2013 Draft Picks: Results, Analysis and Grades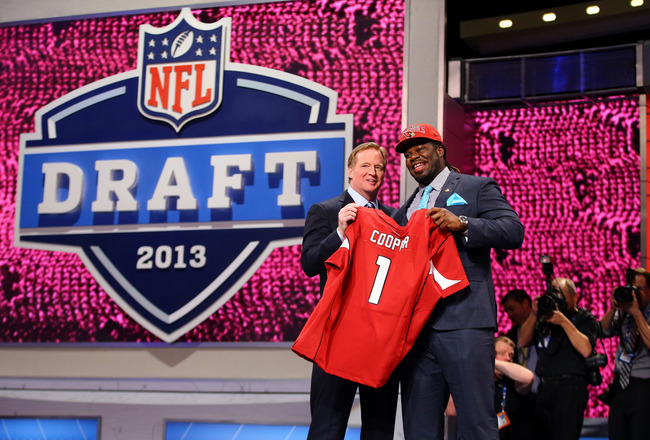 Jonathan Cooper was the Cardinals pick at No. 7 overall.
Al Bello/Getty Images
Posted here will be the results for all Arizona Cardinals draft picks during the 2013 NFL draft. There will be in-depth analysis for every player selected, followed by a grade for each pick.
Included in the analysis will be, A) college statistics of the player (if available), B) the player's potential role with the team and C) the potential ramifications of the pick—such as whose roster spot is in jeopardy because of this pick.
Keep it right here throughout the draft, as every pick will be analyzed within 15 minutes of the pick being made. Further analysis will be linked within an hour of each pick as well, so keep this page open for everything you need to know about your new Arizona Cardinals.
ROUND 1, PICK 7: Jonathan Cooper, OG, North Carolina

Matt Miller's Scouting Report for Jonathan Cooper

Jonathan Cooper is not Chance Warmack. He is more athletic—the most athletic offensive guard in many years to come out of college—and has better footwork when pulling.
This is a great pick for the Cardinals. It spells the end of the short road for right guard Adam Snyder in Arizona, as he will be immediately replaced by Cooper between center Lyle Sendlein and right tackle Bobby Massie.
Not only is he a Day-1 starter, Cooper becomes one of the best guards in the NFC West, likely behind only Mike Iupati of the San Francisco 49ers.
Grade: A
ROUND 2, PICK 45 (from San Diego): Kevin Minter, ILB, LSU

Matt Miller's Breakdown of Kevin Minter

The Cardinals have taken former LSU inside linebacker Kevin Minter at No. 45 overall after trading the No. 38 pick to the San Diego Chargers in exchange for a fourth-round pick (No. 110).
Minter was a productive run-stopper in Baton Rouge. He was a role-player until his junior season of 2012, when he notched 130 total tackles, 15 tackles for loss (fourth in the SEC, led SEC ILBs) and four sacks.
He will compete with Jasper Brinkley for the starting inside linebacker spot opposite Daryl Washington, and while Washington is suspended the first four games he may start in place of him. He is good enough to fill in early, and there may not be much drop-off in production from Washington to Minter.
Keim and Arians left former Kansas State linebacker Arthur Brown on the board to take Minter, so this pick is a high "B" rather than a low "A."
Grade: B+
ROUND 3, PICK 69: Tyrann Mathieu, CB, LSU

Matt Miller's Breakdown for Tyrann Mathieu

Patrick Peterson is jumping for joy right now. Keeping with the LSU theme, Tyrann Mathieu is on his way to the Valley to be reunited with his good friend and mentor.
If he can be kept in line, Arizona will not have to worry about its coverage for years. Peterson and Mathieu can be dynamic if for nothing more than the combined on-field swagger they bring, but they can back it up as well.
Mathieu picked off four passes during two seasons at LSU. But with him it is more about instincts and knowing where to be to defend passes. He got his hands on 19 other passes in two seasons,
With the additions of Jerraud Powers and Antoine Cason via free agency, Mathieu may not be slated to play much right now. But if he proves his worth—this young man has first-round talent—in camp and during the preseason, he just may earn a starting spot opposite Peterson by Week 1.
That would be among the bolder predictions for now, but do not underestimate the power of a second chance.
Grade: A-
ROUND 4, PICK 103: Alex Okafor, DE/OLB, Texas

Matt Miller's Breakdown of Alex Okafor

This one is a surprise to anyone with the understanding that the Caridnals are keeping with the 34 defense. Alex Okafor was announced as an outside linebacker, but he played almost exclusively as a 43 defensive end at the University of Texas.
Nonetheless, he is a solid football player who shows good burst off the line and violent hands when rushing the passer. He can get to the quarterback with an array of different moves—many thought he could go at the bottom of Round 1.
He produced 19.5 sacks and 29 tackles for loss his last two seasons in Austin, and if that translates to the NFL he will be a good pick.
Okafor must show he is able to stand up and drop into coverage with success to earn early playing time in Todd Bowles' defense, especially if O'Brien Schofield is unable to start the season healthy.
Grade: C
ROUND 4, PICK 116 (from Giants): Earl Watford, OG, James Madison

Matt Miller's Breakdown of Earl Watford

Another curious pick for Keim and the Cardinals after trading back with the New York Giants leaves them with guard Earl Watford out of James Madison.
This is a developmental pick through and through, as Watford is in need of some fine-tuning at the next level before he is ready to contribute. He was projected later, so this may be a bit of a reach—especially when considering Alabama all-everything offensive lineman Barrett Jones was still available.
He went to the St. Louis Rams just a few picks after Arizona traded out of No. 110.
As for where he fits, it would seem a spot on the bench behind Daryn Colledge is in order for Watford for a while while he learns how to play with the big boys in the NFL.
Grade: D-
ROUND 5, PICK 140: Stepfan Taylor, RB, Stanford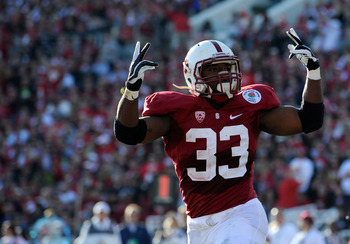 Matt Miller's Breakdown for Stepfan Taylor
Robert Laberge/Getty Images
Stepfan Taylor was productive for the Stanford Cardinal. He is the first running back in school history to record three straight 1,000-yard seasons and is its all-time leading rusher with 4,300 yards.
But that doesn't mean he was the right pick.
College production does not necessarily mean a player will be a hit at the next level. Too often, players come from great situations in college and have trouble taking their game to the next level when players are faster, stronger and bigger than anyone they faced on campus.
That may be the case for Taylor. He is one of the most productive slow backs in college history, right up there with Ron Dayne.
He has most things you'd want from a back, like good vision, good hands and good pad level when absorbing contact. But there is zero burst to is game. He is fast like sap in December.
He is durable, though, and he could potentially be a long-term guy if he has the blocking and somehow is able to speed his game up. He should battle Alfonso Smith for the final RB spot on the roster.
Grade: C-

ROUND 6, PICK 174: Ryan Swope, WR, Texas A&M

Matt Miller's Breakdown for Ryan Swope

This is by far the best pick of Day 3 for the Cardinals. Ryan Swope is a slot receiver to the fullest, and he can step in immediately and be productive for Arians' vertical attacking offense.
He ran a 4.34 40-yard dash at the combine, and he possesses good hands and decent route-running ability.
He doesn't have huge hands, at just 8-1/2", but his hands are strong, and he can go up and high-point a ball if need be. He can run every route in the tree, including routes over the middle.
Swope is the deep-threat receiver Arians wanted, and he got him.
At Texas A&M, he caught 252 passes for 3,117 yards and 24 touchdowns in four seasons—19 of those TDs came over his last two years.
Grade: B+
ROUND 6, PICK 187 (from Giants): Andre Ellington, RB, Clemson

Matt Miller's Breakdown for Andre Ellington

Andre Ellington rushed for over 1,000 yards in back-to-back seasons over his last two years at Clemson. He totaled 35 touchdowns for the Tigers in four years, notching 33 on the ground, two receiving and two via returns—one punt and one kickoff.
He is a shifty speed guy who did not run well at the combine, and it is possible his 4.61-second 40—during which he pulled a hammy—scared off teams from taking him higher.
Still, though, Ellington presents a good problem for the Cardinals. He is a home-run threat from the backfield and in the passing game, so putting him together with Mendenhall, Williams and Taylor could add a good dynamic.
Or, it could get under the skin of Mendenhall, who had to share a crowded backfield in Pittsburgh and was more than happy to sign with Arizona on a one-year deal to be the feature back. Maybe he still will be, but he will have to work to keep that title.
Grade: C
ROUND 7, PICK 219: D.C. Jefferson, TE, Rutgers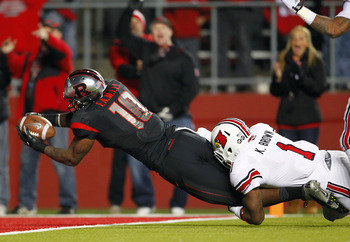 Rich Schultz/Getty Images
Arizona took a tight end with its last pick of the draft. D.C. Jefferson is a blocking tight end by default, unfortunately.
While at Rutgers, he caught 47 passes for 560 yards and two touchdowns—in four seasons.
He is slower than I am, running a 4.97 40-yard dash at his pro day in March. He did not run at the combine due to an injury he suffered while performing the bench press workout.
Jefferson is not a threat in the passing attack. No one is in jeopardy of losing a roster spot because of him. If he makes the roster, it likely will be the practice squad for him.
Grade: F
Keep Reading

Arizona Cardinals: Like this team?