Scouting Report, Video Highlights and Predictions for 5-Star ATH Nathan Starks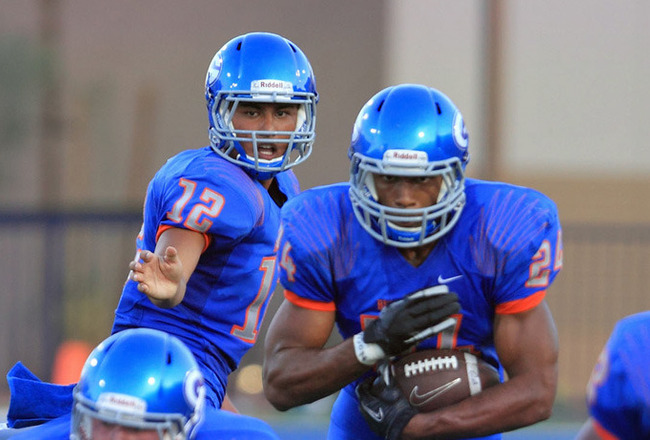 247Sports

Though on some boards and lists he's considered a pure RB prospect, one of the best ATH prospects in this year's class is one Nathan Starks. He really enjoyed a breakout season as a junior and is a top-tier prospect for 2014 recruiting.
Instead of just hitting on some quick points, how about we break Starks down with a scouting report, show you some highlight footage of him displaying his abilities and make some predictions? We'll talk about where he could end up in college and also what type of player he'll be.
Another interesting discussion point for Starks is just exactly where he'll play. We'll cover that and more, so come inside and learn more about Mr. Nathan Starks with some scouting reports, highlights and predictions!
Who Is Nathan Starks?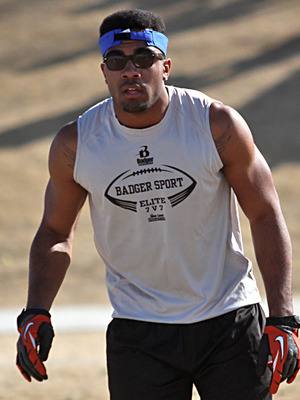 247Sports
Starks is a 2014 ATH/RB prospect from Las Vegas. He plays at Bishop Gorman High School in Sin City and is the best player in Nevada.
Starks has been playing against varsity competition since he was a freshman, rushing for 321 yards and four scores and following that up with a 656-yard 10-TD performance as a sophomore.
His junior season, however, is what put him on the national map as Starks ran for 1821 yards and 27 TDs. He also can play safety and OLB for a team, and I feel Starks could be a Rover/Drop end in college if he wanted to be.
Scouting Report: Strengths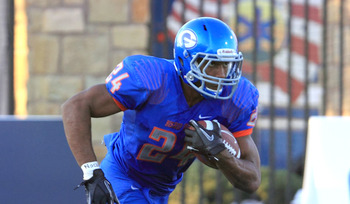 247Sports
Starks is a 5'11", 200-pounder who's known mainly for his production as a RB. He is an athletic runner who shows good quickness to skate through tight alleys and has good instincts.
Starks shows a visible burst with the ball after he allows his blocks to set up. He chooses his lanes well and can be a load at the point of attack for tacklers. He can get expose leaky-yardage tacklers and will get yards after contact.
Starks also displays solid hands in the passing game and can elude defenders a little bit. He also has the strength to be able to become a very good blocker.
Scouting Report: Weaknesses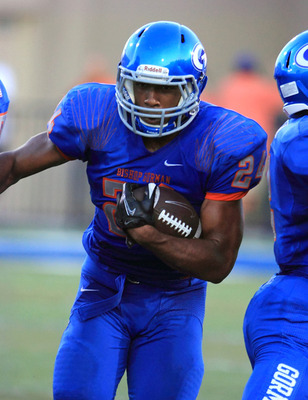 247Sports
For as athletic as Starks can look with the ball, his elusiveness isn't where it should be on a consistent basis. He can look a little bit like a straight-liner at times.
Also, there are RBs in this class who can outrun Starks on the field. He's got good speed and will make a big play, but he's not a dangerous scoring threat each and every time he has the ball.
Those are really the only two visible weaknesses he has, and they aren't major.
Sophomore Year Highlights
Here are some highlights of Starks' sophomore season for Bishop Gorman. What I like about this footage is that it has some snaps of Starks playing defense.
He made 53 tackles and intercepted four passes as a sophomore that season. Not only is he a BCS-level RB prospect, Starks could also be one of the best safeties in the country.
Junior Year Highlights
A few plays on this junior highlight tape show Starks being used in the screen game. He's eluding defenders in some of these plays, but I don't see "loosey-goosey" hips with him.
Starks could hear himself get knocked for playing in Las Vegas, as the national public seems to disregard Sin City's football competition level. However, DeMarco Murray has proven that he can produce against the best competition in the world, as the Cowboys' RB is also a Las Vegas native.
Starks is next up.
Predictions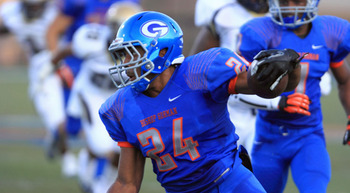 247Sports
According to 247Sports, Starks has USC, Notre Dame, Oklahoma and Alabama as his core four schools. He could choose to stay close to home and play for USC; though, I have noticed the Sooners recruit Las Vegas pretty well.
Alabama is the premier program in the country, and Starks certainly could be tempted to play in the SEC. However, right now, I think he goes to Notre Dame.
I don't see Starks becoming a scat-back in college at all, as I think he'll be a bell-cow guy. He seems to be on a similar track as Chris Polk, but with more bulk at this point. Polk went on to become a fine, every-down back in Washington who produced, and Starks should be a similar player.
Edwin Weathersby is the College Football Recruiting Analyst for Bleacher Report. He has worked in scouting/player personnel departments for three professional football teams, including the New York Giants and Cleveland Browns.


Keep Reading