Buccaneers 2013 Mock Draft: Final 7-Round Predictions for Tampa Bay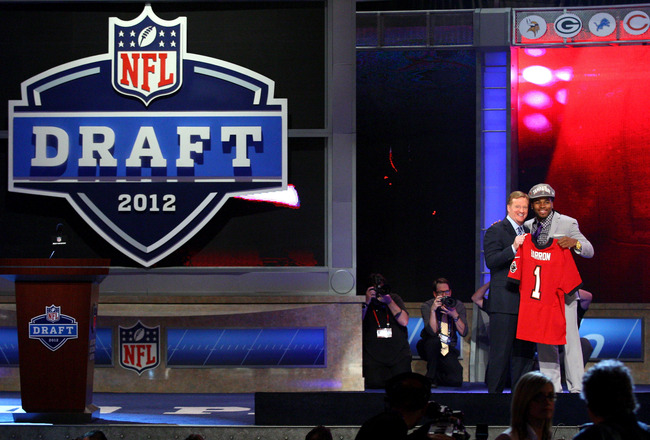 Chris Chambers/Getty Images
After months of scouring through countless player profiles and endless highlight reels, the long, agonizing wait for the 2013 NFL draft is just about over.
Unfortunately for Bucs fans, their wait has been extended by an additional day following last weekend's trade with the New York Jets for CB Darrelle Revis, which sent their first-round pick (No. 13 overall) as compensation.
Unless, as Tampa Bay Times Bucs beat writer Stephen Holder is suggesting, the Bucs trade back into the first-round to land a prospect that falls farther than expected.
Until that happens, however, the Bucs will have to wait until the second-round (No. 43 overall) on Friday evening before choosing their first prospect.
In spite of trading away their first-round choice, the Bucs are still left with seven choices overall, including a pair of picks in both the fourth and sixth rounds.
Keep in mind, the Bucs could certainly trade up, or down for that matter, and turn this mock draft into fireplace fuel. With that said, I've based the final 2013 mock draft for the Tampa Bay Buccaneers on needs alone and nothing more.
Let the debate begin.
Round 2, No. 43 Overall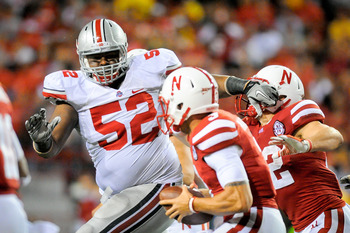 Hankins (No. 52) can be a presence on the defensive line.
Eric Francis/Getty Images
DT Johnathan Hankins, Ohio St.

Had the Bucs stayed at No. 13, there was a good chance they would have addressed the defensive line, particularly tackle, with the pick. After all, they sorely need depth along side Gerald McCoy having lost DT Roy Miller to free agency.
Hankins (6'3", 320-lbs) is a one-man wrecking crew willing to take on double-teams and do the dirty work that the aforementioned Miller grew accustomed to doing. Also like Miller, Hankins is much more adept as a run-stopper than a pass-rusher, though he is certainly capable of punching through the offensive line and wreaking havoc in the backfield, as evidenced by his four tackles for loss and one sack in 2012.
Alternate consideration: TE Gavin Escobar, San Diego St.
Round 3, No. 73 Overall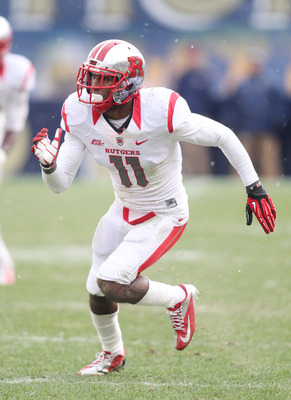 Charles LeClaire-USA TODAY Sports
CB Logan Ryan, Rutgers

The Rutgers connection is obvious, as is the need, but more than anything, Ryan brings a physical-style of play that the Bucs are sorely in need of.
Known for being bruising tackler and capable of helping in run defense, Ryan (5'11", 191-lbs) would give Tampa Bay excellent depth and would step in on day one as someone comfortable in Coach Schiano's system and way of doing things. Though he may not be the fastest or strongest amongst this year's class, Ryan is said to possess a natural "nose" for the ball and is comfortable in both man or zone coverages.
Alternate consideration:TE Vance McDonald, Rice

Round 4, No. 112 Overall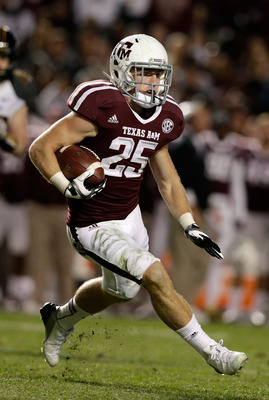 Scott Halleran/Getty Images
WR Ryan Swope, Texas A&M

Swope (6'0", 205-lbs) ran a 4.34 40-yard dash time, tops among all receivers at the NFL Scouting Combine. He is also a natural slot receiver, which would allow the Bucs to line him up between receivers Vincent Jackson and Mike Williams in hopes of exploiting the middle of the field.
Though he isn't particularly big, he has still shown a knack for finding windows and creases in the secondary, which have lead to his 171 receptions and 19 touchdowns over the past two seasons.
Alternate consideration: QB Matt Scott, Arizona

Round 4, No. 126 Overall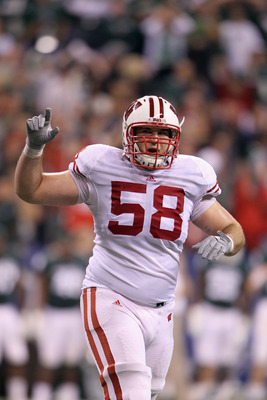 Andy Lyons/Getty Images
RT Ricky Wagner, Wisconsin
It seems all Wisconsin does is churn out NFL-caliber offensive linemen and Wagner is no exception. Though not particularly strong in pass-protection, Wagner (6'6", 308-lbs) more than makes up for it as a bulldozing run-blocker, something the Bucs would surely utilize.
While I'm cognizant of the fact Tampa Bay recently extended the contract of current RT Demar Dotson, there's nothing wrong with adding much needed depth, particularly along an offensive line that was ravaged by injuries last season, and Wagner would provide just that.
Alternate consideration: OLB Sean Porter, Texas A&M
Round 5, No. 147 Overall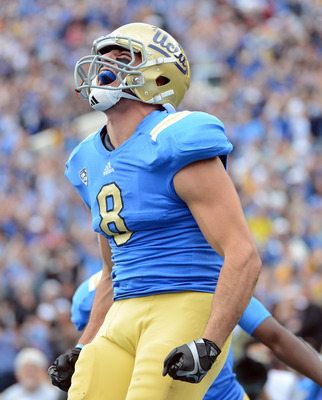 Harry How/Getty Images
TE Joseph Fauria, UCLA

With the Bucs having already addressed their slot concerns by drafting Swope in the fourth-round, they can turn their attention to an area in need of both depth and production—tight end.

Fauria (6'7", 260-lbs) is a red zone match up nightmare, using his good hands and massive frame as an obvious advantage over normally smaller linebackers. Though he lacks the speed to outrun most defenders, Fauria is more than capable of finding soft spots in defenses and picking up chunks of yards at time.
Alternate consideration: RB Knile Davis, Arkansas
Round 6, No. 181 Overall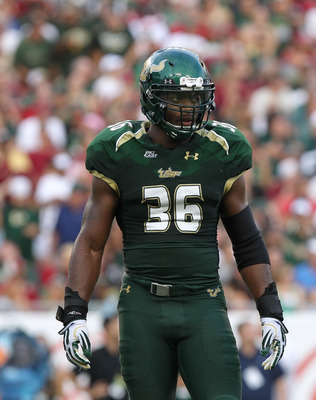 Kim Klement-USA TODAY Sports
LB Sam Barrington, South Florida

The Bucs need depth at linebacker and could very easily address it earlier in the draft, particularly if they're looking for someone who can step in and start this season. Such is not the case with Barrington (6'0", 246-lbs), who would more likely find himself on special teams or the practice squad in 2013.
In fairness, Barrington displayed great leadership and ability on a young, under-performing South Florida team last season, tallying 80 tackles (6.5 for loss), three passes defensed, two forced fumbles and 3.5 sacks, which led to second-team All-Big East honors.
Alternate consideration: CB Daxton Swanson, Sam Houston St.
Round 6, No. 196 Overall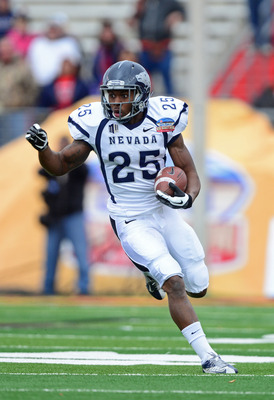 Mark J. Rebilas-USA TODAY Sports
RB Stefphon Jefferson, Nevada

With Doug Martin firmly entrenched as the starting tailback in Tampa Bay and last season's backup, LeGarrette Blount possibly on his way out, the Bucs could stand to add the likes of Jefferson (5'10", 213-lbs) if for nothing else other than quality depth.
With that said, he is more than just another body on the roster, as Jefferson rushed for nearly 1,900 yards and 24 touchdowns last season for the Wolfpack. Though his 40-yard dash time (4.68) leaves much to be desired for the position, he has shown himself capable of being a short-yardage back, something the Bucs notoriously struggle with.
Alternate consideration: CB Demetrius McCray, Appalachian St.
Keep Reading

Tampa Bay Buccaneers: Like this team?