NFL Draft: Stock Up or Down on 20 Top Players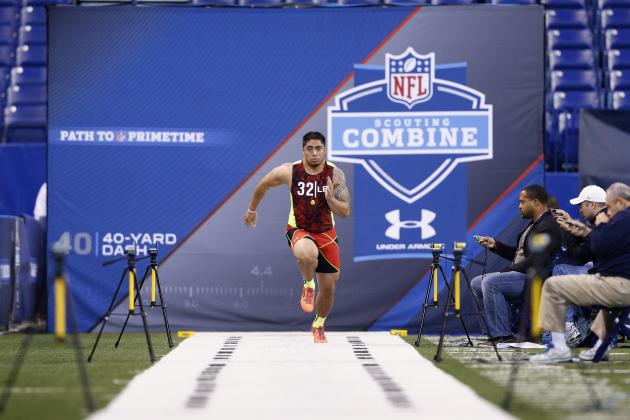 Joe Robbins/Getty Images

The NFL draft is this weekend, which means scouts have had nearly an entire year to evaluate this year's prospects and decide who they would like to select. Luke Joeckel is the likely No. 1 overall pick, but that's no guarantee. After that, the selections could go anywhere.
The following months have given scouts, teams and fans an opportunity to fully evaluate the top collegiate players. Collectively, we've seen 40-yard dash times, bench-press repetitions and drug tests skyrocket or plummet the draft stocks of many players.
The following players are the epitome of those that have dropped or risen rapidly for any reason.
Begin Slideshow

»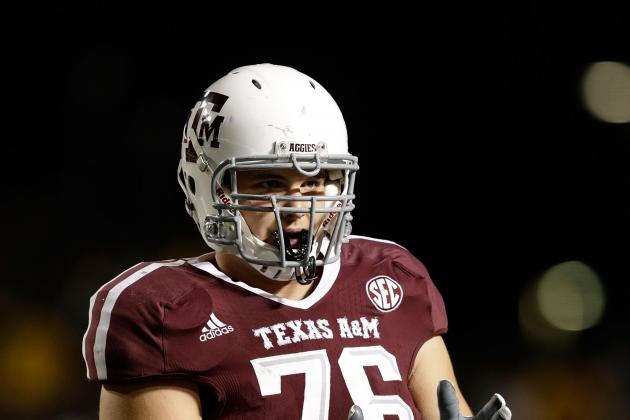 Scott Halleran/Getty Images

For the months leading up to the NFL draft, Luke Joeckel was the clear-cut favorite to be the No. 1 overall pick. Joeckel is a tremendous player who excels in pass protection and run blocking, and he can hold down the blind side of an National Football League franchise for a decade or more.
The gap has gotten closer, though. Multiple sources, including Tony Pauline of Draft Insider, have said they prefer Central Michigan's Eric Fisher over Joeckel. Fisher does offer the versatility to play several positions on the offensive line, and that's not the case for Joeckel.
If Joeckel does fall past the Chiefs, he's not likely to get picked up before fourth overall. The Jacksonville Jaguars and Oakland Raiders have franchise tackles, and teams don't pick right tackles that high. It's not inconceivable for Joeckel to even fall out of the top five, considering Oklahoma's Lane Johnson would be a perfect fit for Philadelphia.
Stock: Down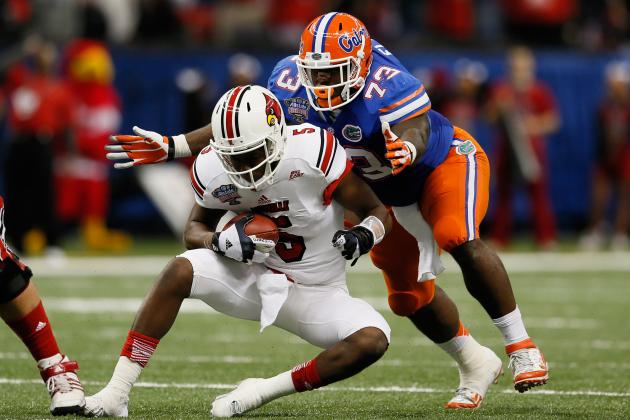 Kevin C. Cox/Getty Images

Few players have seen their stock rise as much recently as Florida's Sharrif Floyd. Floyd was once seen as a mid-first round prospect, but his stock has elevated to the point that he could easily go second or third overall.
Floyd is a complete player at defensive tackle. He's a pure 4-3 tackle who could also play 3-4 end if necessary. Floyd is a fine pass-rusher and a good run-stopper. He's the kind of player that should definitely succeed in the NFL, regardless of the defense's system.
Stock: Up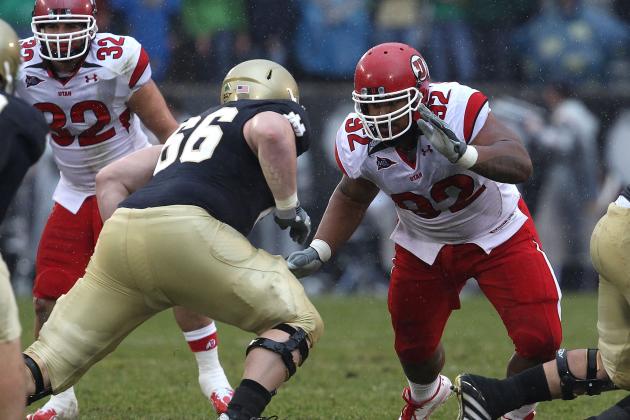 Jonathan Daniel/Getty Images

Star Lotulelei has had a wild several months leading up to the NFL draft. He's almost always been a top-10 prospect, although he's slipped several spots in recent weeks.
What's interesting is that Lotulelei is now completely cleared regarding his medical condition. That shouldn't hurt his draft stock; what should, though, is the fact that he tends to wear down late in games.
Lotulelei offers little as a pass-rusher and his passion for the game of football has been questioned, seeing as he briefly quit during his collegiate career. He was sluggish in some of the timed drills at the NFL Scouting Combine as well.
He will probably still go in the top seven to 10 picks considering the versatility he offers on the defensive line. But he won't challenge for the first overall pick as he would have initially.
Stock: Down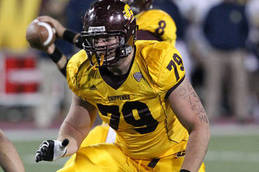 Most mock drafts had Eric Fisher heading to the Philadelphia Eagles (fourth) or Detroit Lions (fifth) around Super Bowl time. Fisher could still go to either team, but he may go higher.
Fisher is every bit the player Luke Joeckel is, and that could entice a team to trade up to the second or third selection. Fisher is NFL-ready and he can play anywhere on the offensive line but center. He is athletic, having played quarterback in high school, and he can fill a huge void for many teams.
Stock: Up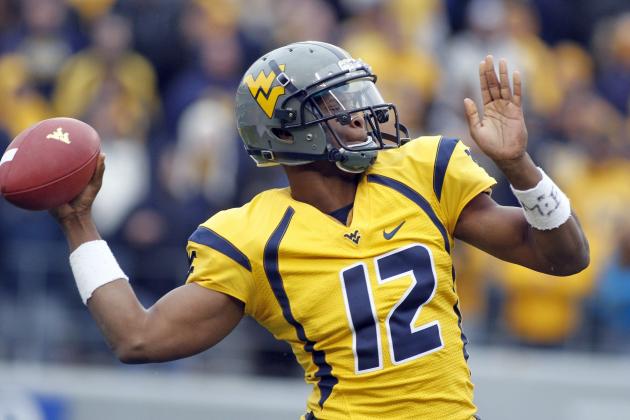 Justin K. Aller/Getty Images

Geno Smith's stock has really dropped in the last several months, and he may not be the top quarterback taken anymore. Smith has been linked to seven of the top nine teams, but there's a chance he could drop past the New York Jets.
If that does happen, there's no telling where he will go.
No team picking from 10 through 22 is likely to take a quarterback. The Minnesota Vikings are a sleeper candidate to pick Smith, but they have a lot still invested in Christian Ponder. That means Smith could fall to the second round unless a team trades up from the second to the back of the first.
Stock: Down
Streeter Lecka/Getty Images

Without really doing anything negative, Dee Milliner's stock has taken a big hit. He is probably still the top cornerback in the draft and should go in the top 10 overall picks.
But Milliner was initially seen as a lock to go to the Philadelphia Eagles or Detroit Lions at four or five. Now he may fall to the Tennessee Titans at 10 or even later. Milliner should be a terrific NFL corner. He possesses great speed and the ability to cover the game's best players.
Questions about his shoulder surgery and the subsequent rise of pass-rushers may push Milliner down further than expected. Jeff McLane of The Philadelphia Inquirer recently reported that Milliner had an operation to fix a torn labrum and may not be ready for the start of training camp.
Stock: Down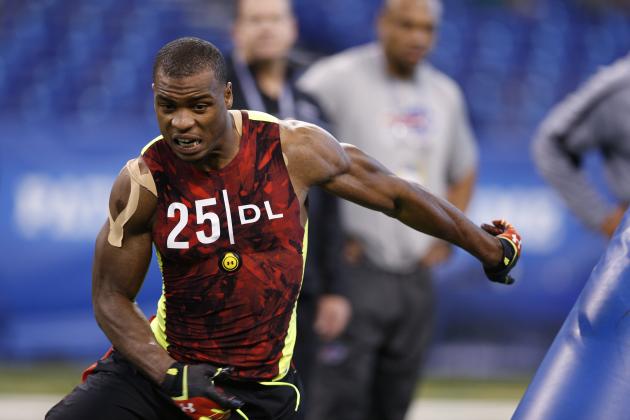 Joe Robbins/Getty Images

Dion Jordan is one of the highest-risk players in recent years. His production wasn't what would be expected of a hybrid defensive end/outside linebacker projected to go second overall.
But Jordan possesses the physical tools to succeed in the NFL. He's quietly moved up the draft boards to the point where most people have him as the top defensive player on their big board. He can play in a 3-4 or a 4-3. Defensive coordinators will have fun figuring out where to play Jordan all over the field, and offensive coordinators will be up many nights scheming ways to block him.
It's difficult to imagine a scenario in which Jordan falls out of the top five.
Stock: Up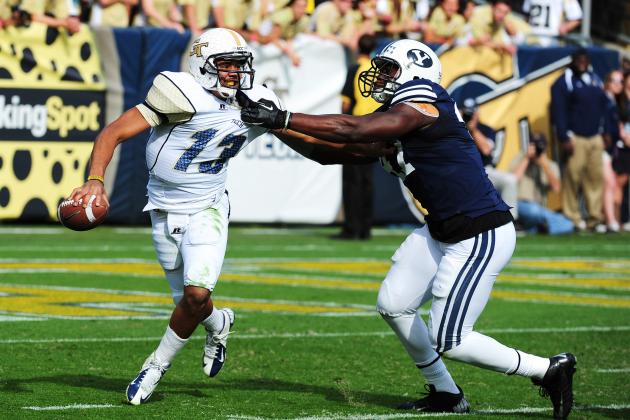 Scott Cunningham/Getty Images

If Ezekiel Ansah gets drafted in the top 10 (or even five), credit it to the read-option that has revolutionized the NFL.
Ansah is a similar player to Dion Jordan, except he's essentially a one-year wonder. Ansah barely played as a sophomore or junior in college, and his "breakout" senior campaign consisted of just 4.5 sacks.
Ansah will have to be used creatively for a team to maximize his potential, or else he could be the next Vernon Gholston—physical freaks that mastered the NFL Scouting Combine but put up little production in the next level. But a team is going to take a chance on Ansah in the top several picks for sure.
Stock: Up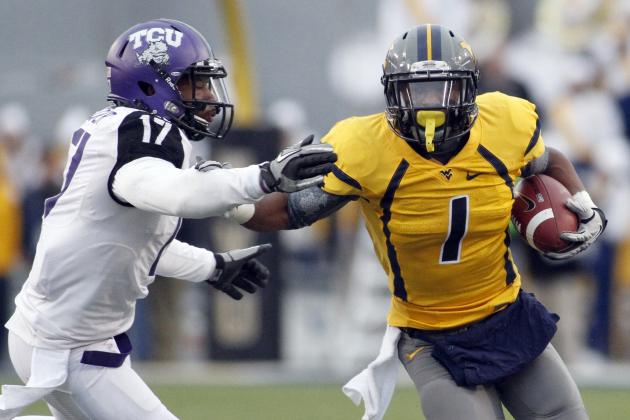 Justin K. Aller/Getty Images

The NFL is all about speed, and Tavon Austin will go in the top 10 because of that. He's undersized and essentially a one-trick pony, but that trick will make him a playmaker for whichever team selects him.
Austin will be a nightmare for nearly every defensive back in the league. He has speed that can't be taught, and he can score from anywhere on the field. There's still the chance his size won't translate and he will be the next Ted Ginn Jr., but odds are higher that he will be a better version of DeSean Jackson.
Stock: Up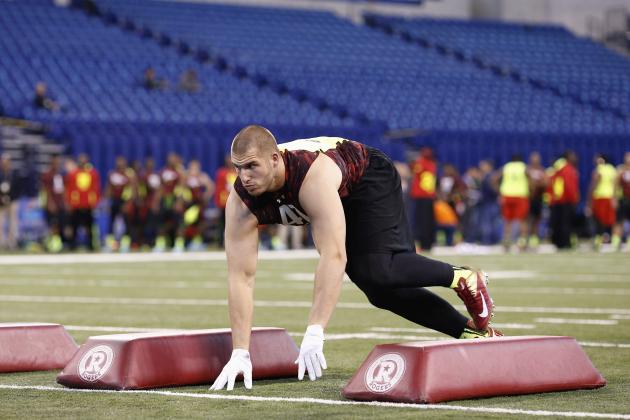 Joe Robbins/Getty Images

For no real reason, Bjoern Werner's stock has dropped as of the last several months. He was initially viewed as a likely top-five overall pick. Now, there's a chance he may slip to Round 2.
Werner doesn't have elite quickness for the NFL. He doesn't project to be an effective 3-4 outside linebacker given his limited skills in coverage. He's not a track athlete and didn't test particularly well at the NFL Scouting Combine. No one was blown away by his 4.83 40 time or his 25 reps on the bench press.
He still should be an effective player in the National Football League, but he's more of a mid-to-late first-round pick than top 10.
Stock: Down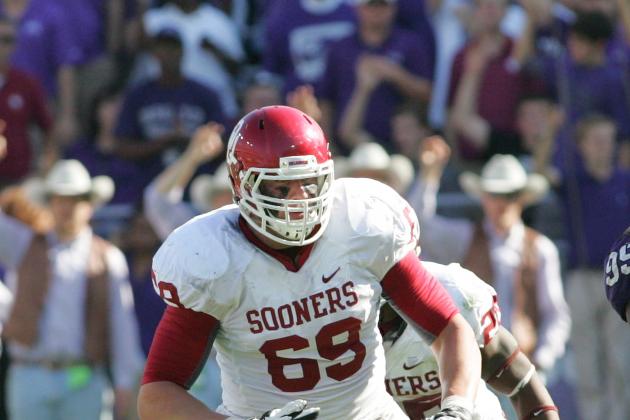 R. Yeatts/Getty Images

Lane Johnson is the most athletic offensive lineman in this year's draft. He's going to be one of the most athletic players to hit the NFL in quite some time. He projects as a Jason Peters type of player with exceptional strength, speed and quickness.
Johnson posted in the low 4.7s in the 40-yard dash. He is a former quarterback, tight end and defensive end, all in the collegiate ranks. Johnson won't go ahead of Luke Joeckel or Eric Fisher on draft day, but he could be picked as high as fourth overall by the Philadelphia Eagles.
Johnson is raw and will need proper coaching to maximize his potential, especially since he hasn't been playing offensive tackle that long. But he will be very coveted on draft day, and he could warrant a team trading up.
Stock: Up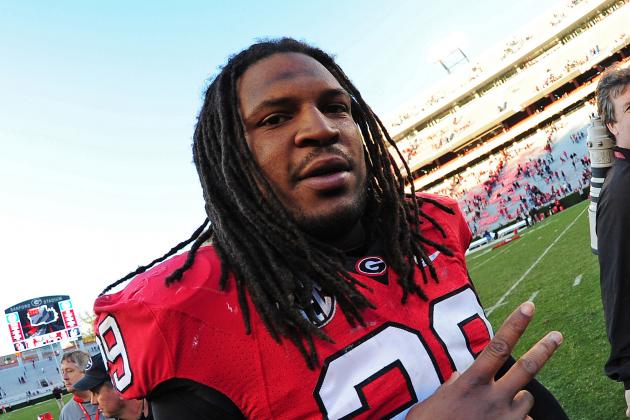 Scott Cunningham/Getty Images

Despite what Jarvis Jones thinks about himself, he's not a slam-dunk prospect, according to NFL scouts.
Jones registered 14.5 sacks in 2012, more than any other collegiate player in the nation. He was a ridiculous pass-rusher, getting to the opposing quarterback often. But the concerns about Jones are endless.
He reportedly ran a 4.9 40-yard dash at his pro day, and this from a guy that weighs just 245 pounds. Because of his small frame, he projects best as a 3-4 outside linebacker and nothing more. He dealt with a medical condition in college so serious that his USC coaches urged him to retire. Spinal sternosis is the same medical problem that forced former San Diego Chargers offensive tackle Marcus McNeill to retire at age 28.
Jones will still be a coveted prospect on draft day, although not nearly as much as before. NFL Network's Gil Brandt doesn't believe Jones is a first-round prospect anymore.
Stock: Down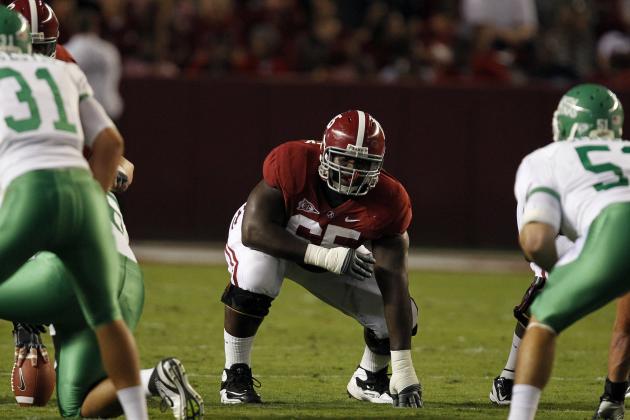 Butch Dill/Getty Images

Chance Warmack is one of the highest-touted guard prospects in recent years, and he compares favorably to Steve Hutchinson.
Warmack enjoyed a stellar collegiate career at the University of Alabama, paving the way for three national championship teams. He was an All-American in 2012, helping Eddie Lacy and T.J. Yeldon enjoy terrific seasons on the ground.
Still, guards aren't valued highly in the NFL. Last year, David DeCastro slipped to the 24th overall pick. No interior offensive lineman has gone in the top 10 since Chris Naeole in 1997. Mike Pouncey is the only guard or center selected in the first 15 picks this decade. That's reason to suggest Warmack will fall on draft day.
Warmack posted a pretty slow 5.49 time in the 40-yard dash at the NFL Scouting Combine. According to Pro Football Weekly's Nolan Nawrocki, Warmack struggles to pick up blitzes. He has experienced conditioning issues and he wears down late in games. He has excessive sweating problems and plays overweight.
All those, coupled with the NFL's overall disinterest in guards, suggest Warmack could fall as late as the 20s in the first round.
Stock: Down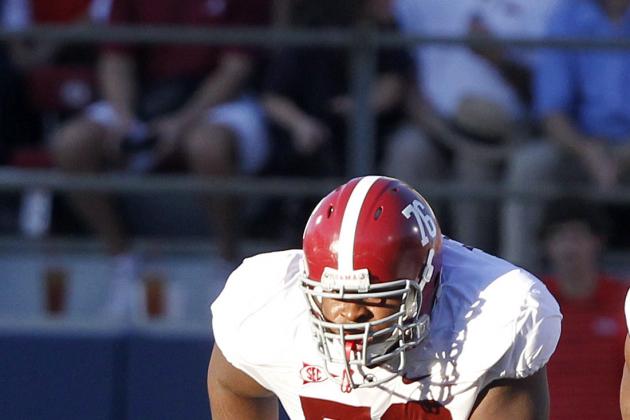 Butch Dill/Getty Images

Elite offensive tackles always go high on draft day, and D.J. Fluker should be no exception. He's much better served as a right tackle, but he's still a highly coveted player.
Fluker will benefit from the recent rise of Eric Fisher and Lane Johnson, each of whom should be top-five overall picks. The Arizona Cardinals desperately need an offensive tackle, which means they may be in the market for Fluker as high as seventh overall. The San Diego Chargers (11th pick) and Miami Dolphins (12th) certainly need offensive tackles, all of which bodes well for Fluker.
This is despite a sub-par 40 time and poor bench-press numbers from Fluker. His game tape speaks louder than his numbers, and he should be drafted in the top half of the first round.
Stock: Up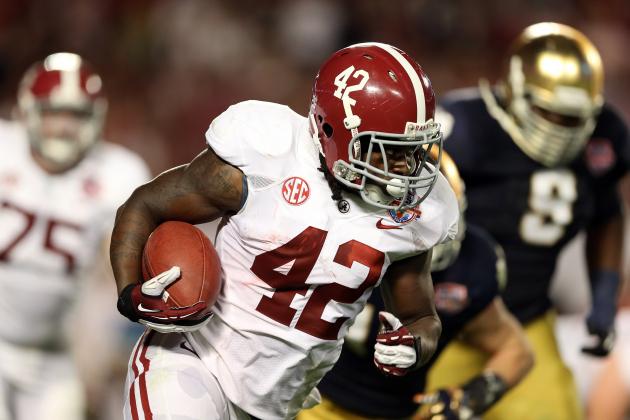 Streeter Lecka/Getty Images

Eddie Lacy seemed like a sure thing as a running back. In a year in which there are no elite running back prospects, Lacy is the finest player available. He's a big, bruising 231-pound runner that compares to Steven Jackson at the NFL level.
Lacy looked to be a definite first-round prospect until reports started leaking about his work ethic. He couldn't work out at the NFL Scouting Combine or the Crimson Tide pro day because of a hamstring injury. Then he showed up at his own pro day out of shape, an absolutely inexplicable occurrence.
Lacy ran times in the low 4.6s, which won't impress any scouts. NFL.com's Bucky Brooks tweeted that he appeared out of shape and conditioning was a serious issue. Lacy's work ethic issues concerns be addressed if he is going to be a feature back in the NFL.
Lacy will probably still be the top running back taken, but there's a chance he slips to the second round. He may not go in the top 50 picks. Fortunately, his game tape is better than his workout numbers, and that will entice a team to grab him to be its back of the future.
Stock: Down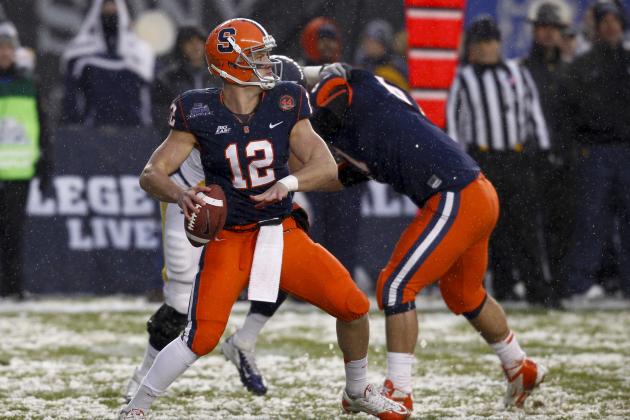 Jeff Zelevansky/Getty Images

Ryan Nassib has to be enjoying the last week or two. Geno Smith's stock is dropping with every passing day. Matt Barkley doesn't seem to have the arm strength to warrant a first-round pick. That almost puts Nassib as the top quarterback by default.
Nassib has been heavily linked to the Buffalo Bills eighth overall. ESPN's Chris Mortensen suggests the Bills will take Nassib eighth or trade down. After all, Nassib played for Doug Marrone at Syracuse University, and Marrone happens to be the new head coach of the Bills.
Nassib is an experienced three-year starter with above-average arm strength and the intelligence to succeed in almost any offense. He has excellent mechanics, he's a sound fundamental quarterback and he made strides as a senior. That's enough to make him arguably the top quarterback taken in the draft.
Stock: Up
Jeff Gross/Getty Images

A year ago, most people assumed Matt Barkley would be the first overall selection in this year's draft. Now, he's no guarantee to be a top-50 pick.
Barkley was a four-year starter at USC where he played under the spotlight on a regular basis. He averaged 29 touchdown passes per season, topping out as a junior.
Barkley's decision to come back for his senior campaign didn't go as planned. His numbers dropped, he suffered an injury that caused him to miss the final several games and he threw multiple interceptions six times.
Barkley's arm strength seems to be the No. 1 concern transitioning to the NFL. He was accurate at his pro day, but seemed to lack the ability to hit his receivers in stride on deep passes.
Other than the arm strength, he looks ready for the NFL, so it will be interesting to see which team takes him and where in the draft.
Stock: Down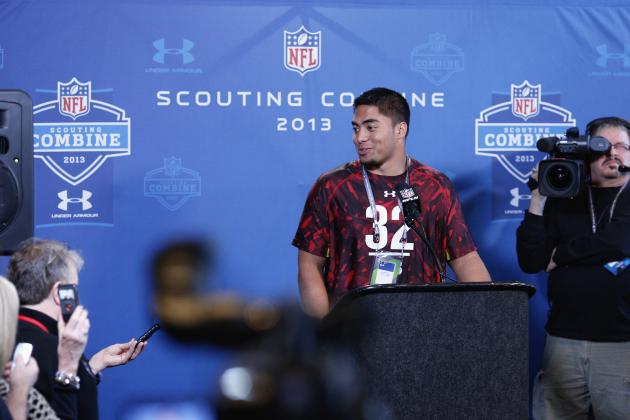 Joe Robbins/Getty Images

Manti Te'o has become one of those strange cases of a player so overrated he's now underrated. Te'o was initially seen as a potential top-five overall prospect, nearly winning the Heisman Trophy as an inside linebacker.
The downfall of Te'o began with the BCS National Championship Game performance against Alabama, the well-publicized girlfriend issues and less-than-stellar numbers at the NFL Scouting Combine. He's seen as undersized, slower and as a best fit as an inside linebacker in a 3-4 defense.
Te'o slipped to the second round in most mock drafts, but now he's back up to the end of the first round. The Chicago Bears (pick 20), Minnesota Vikings (23 and 25), and Baltimore Ravens could all use inside linebackers, and Te'o may be an ideal fit. It may not be quite what he would have expected midway through his senior season, but a first-round selection is still an impressive achievement.
Stock: Down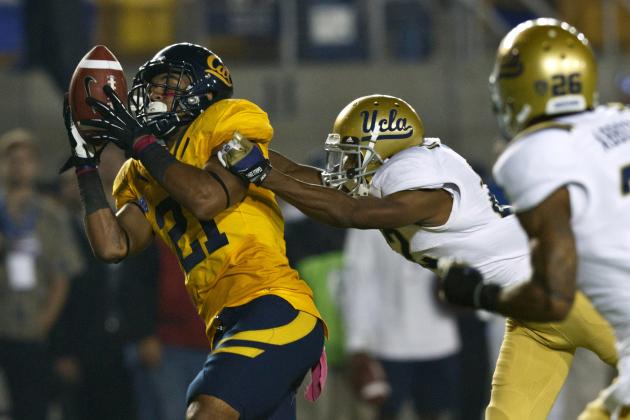 Jason O. Watson/Getty Images

Whereas most people viewed Keenan Allen as a potential top-15 pick on draft day, he's now dropped to likely the second round. Allen didn't help himself when he ran just a 4.71 and 4.75 at his pro day recently. He also was red-flagged for a recent drug test at the NFL Scouting Combine, which reportedly showed high levels of water in his system.
Allen may fall behind Cordarrelle Patterson, Justin Hunter and DeAndre Hopkins as a result. He may slip even more. Allen missed the end of his 2012 season with a PCL sprain and didn't work out at the combine because of it.
Fortunately for Allen, the injury doesn't appear to be too serious. He's also a bigger receiver who made his mark in college on short to intermediate routes, as opposed to deep fly patterns. That's why his speed numbers won't hurt his stock as much as they would for a player like Tavon Austin.
Stock: Down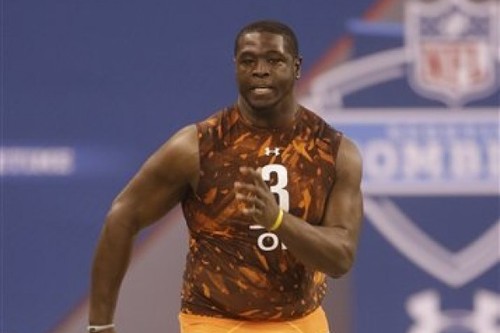 Terron Armstead's scouting combine performance put him on the national radar. Armstead, who came from little-known Arkansas Pine-Bluff, posted a ridiculous 40 time of 4.71 seconds. That's the fastest of any offensive tackle in the combine in 2013.
Armstead has the incredible athleticism to succeed in the National Football League. He projects to be a fantastic offensive tackle should he get the proper coaching. Armstead was initially viewed as a mid-round prospect, but he's shot up draft boards to the point where he may go in the first round.
Teams like the Green Bay Packers, Houston Texans and Indianapolis Colts, all of whom need offensive tackles, could take a chance on the freakish Armstead.
Stock: Up