Ranking the NCAA Basketball Seniors Who Will Be Most Difficult to Replace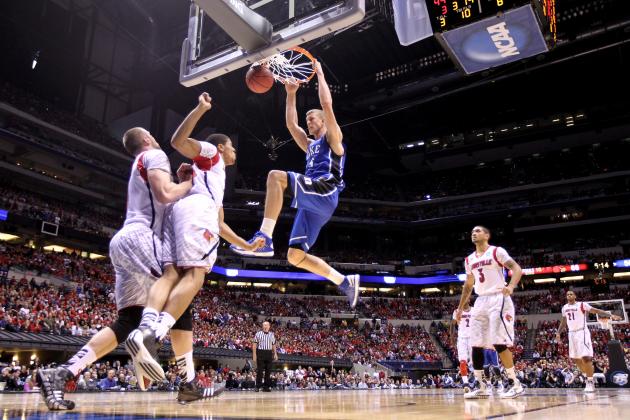 Andy Lyons/Getty Images

Here are some NBA players who should just be graduating from college: John Wall, DeMarcus Cousins, Kawhi Leonard, Derrick Favors, Avery Bradley, Xavier Henry, Lance Stephenson and Thomas Robinson.
A majority of the most valuable players in the 2009 freshmen class didn't make it to even their sophomore years, but the beauty of college basketball is the guys who stay, develop and become extremely valuable to their teams when they're upperclassmen.
Scrolling through this list will be a reminder of why the mid-majors can compete in March. They get guys to stick around and become stars.
Ranking the 10 most difficult to replace was not easy, and if everyone stayed in school these days, it would be close to impossible.
This is the formula I used to determine to pick the final 10:
Value to their team.

How would each respective team fare with a replacement-level player?
Honorable mentions: Erick Green, Virginia Tech; Ryan Kelly, Duke; Seth Curry, Duke; Colton Iverson, Colorado State; Zeke Marshall, Akron; C.J. McCollum, Lehigh; Carl Hall, Wichita State; Malcolm Armstead, Wichita State; Arsalan Kazemi, Oregon; Brandon Paul, Illinois; Rodney McGruder, K-State; Brandon Triche, Syracuse; Jared Berggren, Wisconsin; Jack Cooley, Notre Dame; Ramon Galloway, LaSalle; Rotnei Clarke, Butler; Ian Clark, Belmont; Michael Snaer, Florida State; Travis Releford, Kansas; Elias Harris, Gonzaga; Christian Watford, Indiana; Brandon Davies, BYU.
All advanced stats used in this piece come from KenPom.com.
Begin Slideshow

»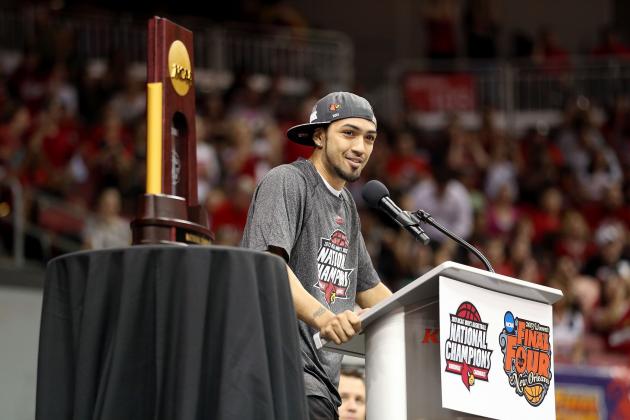 Andy Lyons/Getty Images

2013 Statistics: 10.0 points per game, 5.7 assists per game, 2.3 steals per game
Value to Louisville: More so than any other player, Peyton Siva is on this list for the leadership he provided his team this past season.
Rick Pitino loved this guy, and he has been one of the more unappreciated point guards in college basketball the last couple years because he's not a great shooter or consistent scorer.
For Louisville, however, he was a rock. His offense would come and go, but he didn't need to score to be effective. His pressure defense bugged every guard Louisville faced, and he allowed Pitino to sit leading scorer Russ Smith when Smith would get out of control.
The national championship was a perfect example. Smith was trigger-happy and almost hurting the Cardinals, but Siva was solid and finished with a complete line (18 points, six rebounds, five assists and four steals).
Finding a point guard to play the type of defense he played and leadership he provided will be difficult for Pitino next season.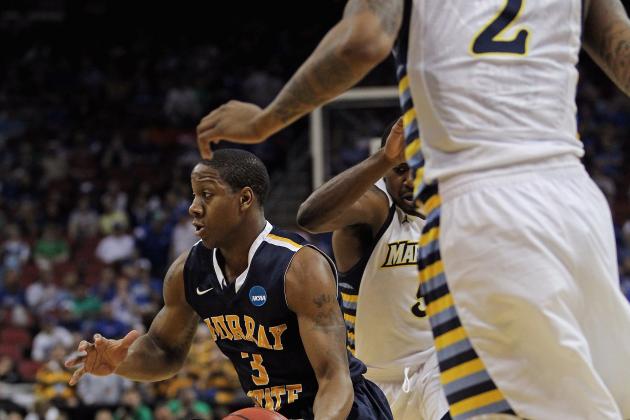 Jonathan Daniel/Getty Images

2013 Statistics: 21.8 points per game, 4.3 assists per game, 3.5 rebounds per game, 1.5 steals per game
Value to Murray State: Isaiah Canaan was within range right after he brought the ball across half court, and he almost had to be this season.
The Racers went 21-10 this past season and had a disappointing year after going 31-2 in 2011-12, but a big part of the reason was they graduated three starters and Canaan didn't have nearly as much help. He played 36.5 minutes per game and took 32.4 percent of the shots when he was on the court.
Canaan shot a career-low 37 percent from deep after shooting 45.6 percent the previous year. Even with the team's struggles and the load he had to carry, the Racers nearly made the tournament, losing on a last-second shot in overtime to Belmont in the Ohio Valley Conference championship game.
Murray State made two NCAA tournaments in Canaan's career and won a game in both tourney appearances. The first tourney appearance in 2010 broke a four-year tourney drought and the win against Vanderbilt that season was the school's first tourney win since 1988.
Canaan finished his career as Murray State's fifth all-time leading scorer, and his game brought a lot of attention to the school.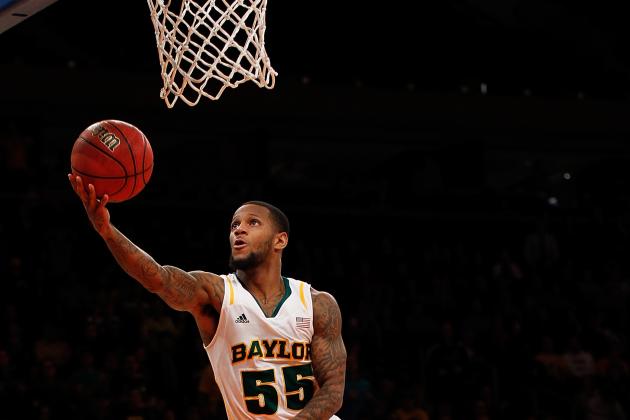 Mike Stobe/Getty Images

2013 Statistics: 19.8 points per game, 7.1 assists per game, 3.8 rebounds per game, 1.5 steals per game
Value to Baylor: The greatest mystery for me this past season is how a team with a point guard this good went 9-9 in the Big 12 and missed the NCAA tournament following an Elite Eight run. (Insert coaching jokes if you must, but Jackson was so good Baylor should have won if Bozo the Clown was the coach.)
Baylor's Big 12 record kept Jackson off the first-team All-Big 12 team, a slight that doesn't make a lot of sense when you consider this: Jackson became the first player to lead a power conference in both scoring and assists since Jason Terry did it for Arizona in 1999.
The numbers are amazing and so was watching Jackson play. If he got a step, defenses were toast. He exploded through gaps like a lightning quick running running back and he jumped at the rim like he had springs in his shoes.
The one knock on Jackson was he had so much ability sometimes he would try to make an extremely difficult pass or move almost just to see if he could pull it off.
To the credit of the Bears, they finally figured out how to be awesome with their awesome point guard in the postseason NIT, which they won. In his final four games as a college point guard, Jackson averaged 21.8 points and had 49 assists.
He was so good during that stretch I'm convinced the Bears would have gone on another NCAA run if they had somehow made the tourney.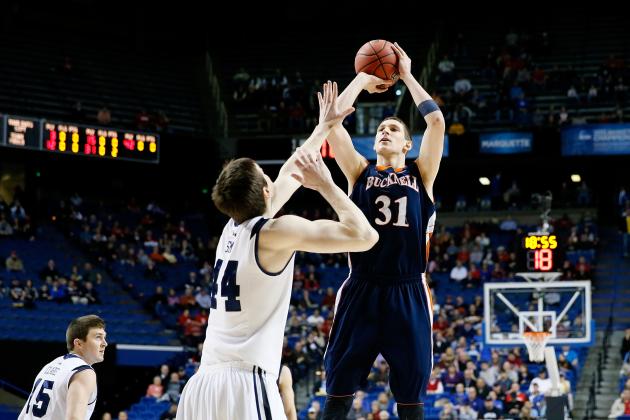 Kevin C. Cox/Getty Images

2013 Statistics: 18.7 points per game, 11.1 rebounds per game, 2.3 assists per game, 80 blocks
Value to Bucknell: It's rare for a big man this skilled to end up at a school like Bucknell.
Mike Muscala would have started for any team in the country and is projected to get drafted in June. Bucknell coach Dave Paulsen realized what he had and tried to get Muscala the ball as much as possible.
Most high-usage players play on the perimeter. Muscala, who used 31.6 percent of Bucknell's possessions, was one of two players in the top 30 in the country in percentage of possessions used.
The big man finished well and also was adept at getting to the line and capitalizing on those opportunities. He drew 6.5 fouls per 40 minutes and made 78.9 percent of his free throws.
Muscala was also one of the best defensive rebounders in the country, pulling down 28.9 percent of opponents' misses, which ranked second nationally.
The Bison made two NCAA tournaments in his career and won 78 games the last three seasons with the big man as their star.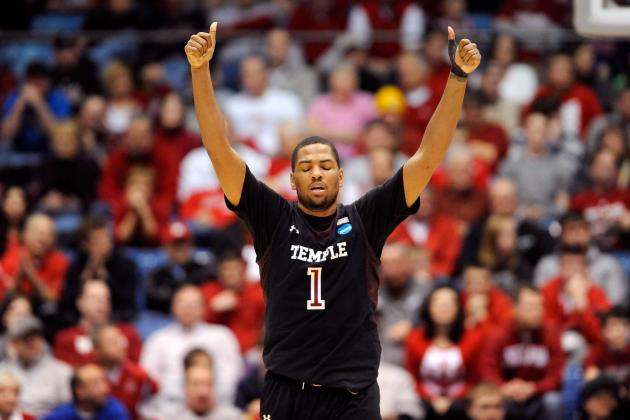 Jason Miller/Getty Images

2013 Statistics: 20.5 points per game, 4.0 assists per game, 2.9 rebounds per game, 1.7 steals per game
Value to Temple: Let's say the game is tied with 20 seconds left and the call is an isolation for one player to go get himself a shot. If I could have anyone in the country to go get that bucket, I'm taking one of two guys, either Michigan's Trey Burke or Temple's Khalif Wyatt. And it's a coin flip.
Temple was as close to a one-man show as any team in the country. The Owls had only one other player average double figures, and they were still the 35th-most efficient offense in the country.
It was all Wyatt and his old-man game. He could get a shot up or get fouled in almost any situation, and no one in college basketball was better at making difficult shots.
The country finally got to see what the Atlantic 10 experienced on a nightly basis in the NCAA tournament. Wyatt scored 31 points against NC State and followed that up with another 31 against Indiana, nearly beating the Hoosiers himself in a 58-52 loss.
Fran Dunphy had an option when nothing else was going right—give the ball to Wyatt and get out of the way. That will be a difficult luxury to live without next season.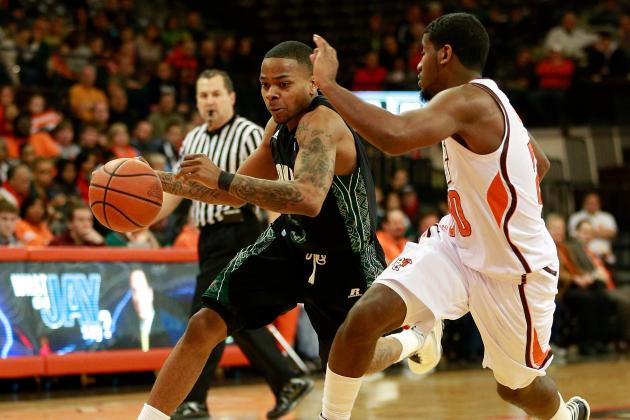 Gregory Shamus/Getty Images

2013 Statistics: 14.1 points per game, 7.1 assists per game, 3.2 rebounds per game, 2.0 steals per game
Value to Ohio: Ask Illinois coach John Groce how much D.J. Cooper meant to his career. Groce should thank Cooper as much as anyone for helping him land the Illini job.
Cooper was so good at Ohio that other schools reportedly tried to convince him to transfer. He stayed put and had a historical career.
Cooper became the first player in NCAA history to rack up more than 2,000 points, 900 assists, 600 rebounds and 300 steals in his career.
The wins came with all those numbers. The Bobcats made the tourney his freshman year in 2010 and knocked off Georgetown. That was the program's first tourney win since 1983.
In 2012, the Bobcats were the Cinderella of the tournament, advancing all the way to the Sweet 16 before losing to top-seeded North Carolina in overtime.
Ohio returned most of its contributors from that team, but Groce leaving seemed to have a big impact. The Bobcats went 24-10 and lost to Akron in the Mid American Conference championship.
Cooper was the one guy who did not disappoint. He still put up his numbers and was one of the best assist men in college basketball, assisting on 44.2 percent of his teammates' baskets when he was on the court, which ranked third nationally. He also improved his jumper as a senior, shooting 36.4 percent from distance after shooting around 30 percent his first three seasons.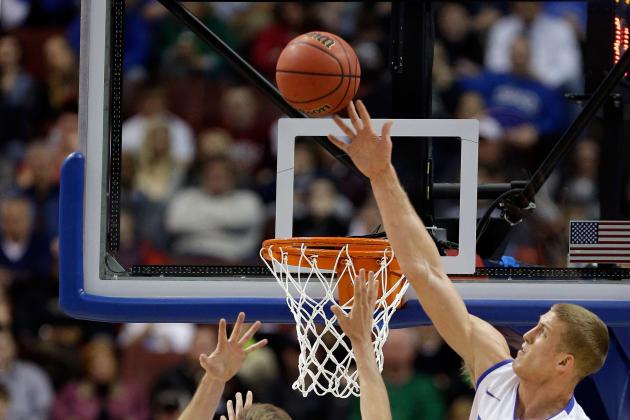 Rob Carr/Getty Images

2013 Statistics: 17.1 points per game, 10.0 rebounds per game, 1.9 assists per game, 52 blocks
Value to Duke: The Blue Devils were proof that a high-major program can develop a class and win big when they are seniors.
Duke didn't exactly "win big" for Duke's usual standards, but it would be interesting to see what would have happened if Ryan Kelly had been healthy the entire year.
The Devils held it together during Kelly's absence in large part because of Plumlee, who was the most valuable of the three senior starters.
What made Plumlee so valuable was he helped make up for the pressure Duke wanted it guards to apply with his help defense and then he was a dependable scorer from the low block.
That's where Plumlee made his biggest strides as a scorer. He not only improved his post moves, he also improved drastically at the free throw line. He hoovered around 50 percent most of his career and shot 68.1 percent as a senior.
Plumlee is the one guy Duke will have a hard time replacing next season as there's not another player in the program capable of providing what he did on both ends.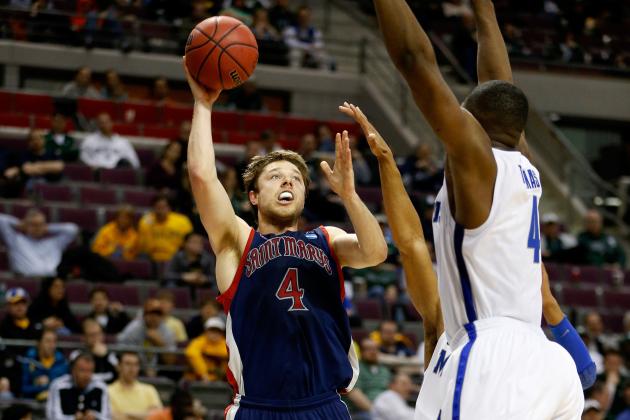 Gregory Shamus/Getty Images

2013 Statistics: 15.8 points per game, 6.4 assists per game, 3.4 rebounds per game, 1.1 steals per game
Value to Saint Mary's: The numbers are nice, but they do not begin to quantify how important Matthew Dellavedova was to the Gaels in his four years at the school.
Saint Mary's made three NCAA tournaments during that time, and before he arrived on campus, the school had made five tournaments in its history. Dellavedova led the 2012 Gaels to the WCC conference title. That broke a string of 11 straight conference titles by Gonzaga.
Every season, Randy Bennett put the ball in his Australian point guard's hands and let him go to work.
The Gaels' offense was mostly a series of ball screens for Dellavedova and they would spread the floor around him. His assist numbers would be higher if college basketball kept hockey assists, as he often made the pass that led to the assist.
Saint Mary's offense put up the fourth-best points per possession in the country and its not like Dellavedova was surrounded by great talent. He simply made everyone around him better.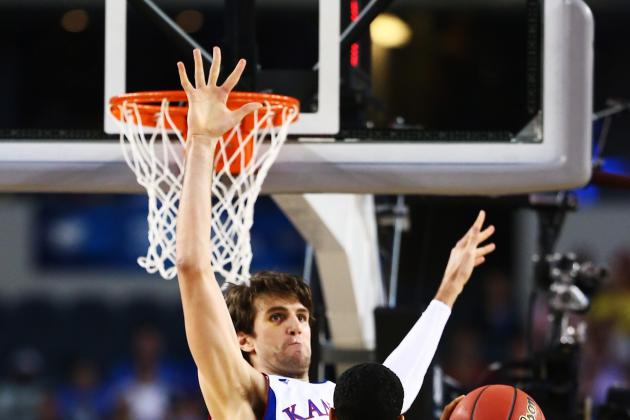 Tom Pennington/Getty Images

2013 Statistics: 13.7 points per game, 8.5 rebounds per game, 146 blocks
Value to Kansas: Jeff Withey was the best defensive player in the country, and if defense carried more value when picking All-American teams, you could have argued he belonged on the first team.
If not for an epic collapse in the Sweet 16 against Michigan, it might have been Kansas and not Michigan in the national title game for the second straight year. In 2012, the Jayhawks got there because of great defense. In 2013, they would have gotten there because of historically good defense.
Kansas led the nation in two-point defense (39.3 percent), which was the best since KU's D in 2006, and effective field goal percentage D (41.5 percent), which was the best since Memphis in 2009. Withey deserves most the credit for those numbers.
Withey was at his best the last two years in the tourney. He set the single-tournament record with 31 blocks last year and finished with 49 blocks in NCAA tournament games for his career, one block shy of Tim Duncan's record. Duncan accomplished his feat in 11 games. Withey played in 12 games; however, his first three tourney appearances were mop-up minutes and he had only one block.
It was just that Withey was a great shot-blocker. His blocks also turned into offense for the Jayhawks. KU came away with 104 of Withey's blocks this year, a retention rate of 71.2 percent. The NCAA does not track this stat, so no way of telling how it compares to others. Just trust me that this is out of the ordinary, and last year KU retained 65 percent of his blocks.
Withey also became a much improved offensive player, and in March, he was KU's most consistent threat. The Jayhawks will miss Ben McLemore next season, but his departure will have nowhere close to the impact of Withey's.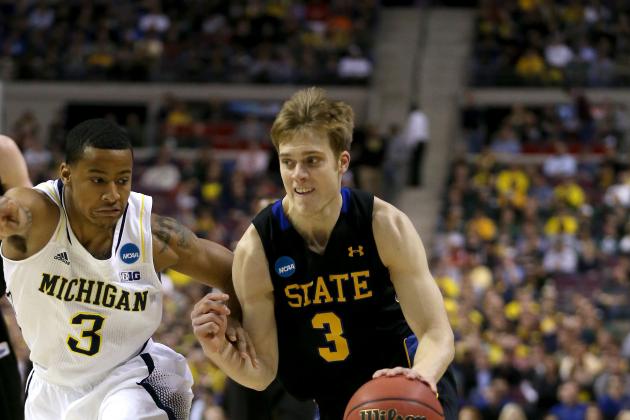 Jonathan Daniel/Getty Images

2013 Statistics: 22.3 points per game, 5.8 assists per game, 5.6 rebounds per game, 1.7 steals per game
Value to South Dakota State: Before Nate Wolters arrived on campus, the most wins South Dakota State had in one season as a Division I school was 13.
In the last two years, the Jackrabbits have made back-to-back NCAA tournaments and won 57 games.
Many of the players on this list are a blast to watch, but Wolters tops the list of guys who you had to tune in if he was playing on TV. It's a shame the Jackrabbits didn't get more TV games.
I went to watch him play in-person when he came to Kansas City to play UMKC. When you see him in warmups, it's easy to think "that's the guy."
Then the game begins, and watching Wolters in college was comparable to Steve Nash in his prime in the NBA. Not to say that Wolters will be as good a pro as Nash, but his game, vision and skill set is similar. He can shoot floaters and leaners off either foot, he has a great handle and can fire a pass with either hand off the dribble, and similar to Nash, he always keeps the defense off-balance.
Wolters will have a long career as a professional whether it is in the NBA or overseas, and I would pay to watch him play wherever he ends up.
As for South Dakota State, the program will have a tough time finding a player ever again who had the kind of impact Wolters had.