Every MLB Team's Biggest Weakness That Is Already Being Exposed
Abelimages/Getty Images

It is still early in the 2013 MLB season, but we're far enough along now that early-season struggles are starting to become legitimate concerns.
Whether a team has struggles in the starting rotation, a black hole of production in the lineup or something else entirely, there is a notable weakness that has already been exposed at this point in the season.
Here is my take on every team's biggest exposed weakness and the root cause of those weaknesses.
Note: All statistics are current through April 22 games.
Begin Slideshow

»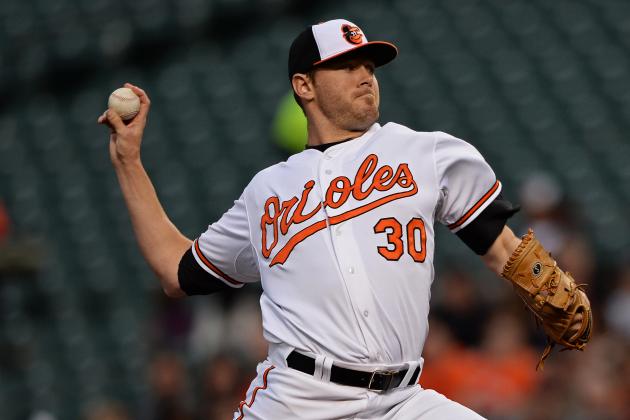 Patrick Smith/Getty Images
Orioles SP Chris Tillman
Baltimore Orioles: Back end of the rotation
The Orioles struggled to find consistency in their rotation throughout their postseason run last year, as Wei-Yin Chen was the only starter to top 20 starts.
Jake Arrieta (1-1, 6.63 ERA) has already been demoted to Triple-A, and Chris Tillman (0-1, 5.23 ERA) has struggled as well. The team may be in for some season-long rotation shuffling once again.
Boston Red Sox: Left-handed relief
The Red Sox bullpen has been hit-and-miss this season, and closer duties have already shifted from Joel Hanrahan to Andrew Bailey , but the lack of a reliable left-handed reliever is the team's biggest weakness at this point.
Andrew Miller is the only southpaw in the bullpen, and he has a 6.75 ERA and 2.50 WHIP over seven appearances so far this season. The team doesn't have anything in the way of an in-house option to call up.
New York Yankees: Shortstop
The Yankees were without Derek Jeter to open the season, but he was expected to be back within the first month.
However, a second fracture to his ankle will sideline him until after the All-Star break (h/t ESPN), and the team will continue to miss his production. Jayson Nix (.194 BA, .509 OPS) and Eduardo Nunez (.167 BA, .465 OPS) have filled in for him to this point and provided virtually nothing.
Tampa Bay Rays: Overall offensive production
The Rays set out to improve their offense this offseason, and while James Loney (.295 BA, .845 OPS) has been a solid addition, the offense as a whole has struggled once again.
Newcomers Kelly Johnson (.182 BA) and Yunel Escobar (.167 BA) have been terrible, while outfielders Sam Fuld (.138 BA), Matt Joyce (.204 BA) and Shelley Duncan (.205 BA) have struggled in their rotation at the corner outfield spots.
Toronto Blue Jays: Star production
After a busy offseason in which they added a number of star players, the Blue Jays entered the season with sky-high expectations.
However, they've fallen well short of those expectations to this point, and their star players are largely to blame. Edwin Encarnacion (.200 BA, .592 OPS) and Brett Lawrie (.160 BA, .385 OPS) haven't hit well, while Josh Johnson (0-1, 6.86 ERA), Mark Buehrle (1-0, 5.87 ERA) and R.A. Dickey (2-2, 4.30 ERA) have been average at best.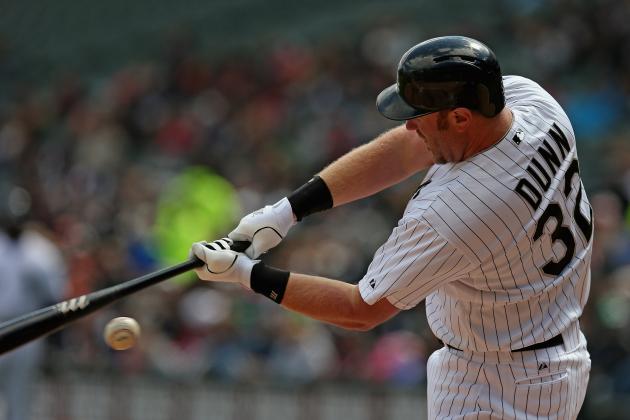 Jonathan Daniel/Getty Images
White Sox DH Adam Dunn
Chicago White Sox: Clutch hitting
Entering the season, the biggest question for the White Sox appeared to be how their starting rotation would perform behind Chris Sale and Jake Peavy.
Instead, their offense has been the problem in the early going, especially in the clutch. As a team, they're hitting just .163 with runners in scoring position. Adam Dunn has been the biggest culprit, going 2-for-22 with a .364 OPS.
Cleveland Indians: Starting pitching
The Indians spent a good deal this offseason to improve their offense, signing Nick Swisher, Michael Bourn and Mark Reynolds, among others.
While the offense has been better, starting pitching remains a serious concern. Justin Masterson (4-1, 1.85 ERA) and Zach McAllister (1-2, 3.12 ERA) have been solid, but Brett Myers (0-3, 8.02 ERA) and Ubaldo Jimenez (0-2, 10.06 ERA) have struggled, and the No. 5 spot has been in flux from the get-go.
Detroit Tigers: Bullpen
With a 4.53 ERA, the Tigers bullpen has been far from lights-out to open the season, and their closer-by-committee has not been great in converting three of six save chances.
Phil Coke (8 G, 4.91 ERA), Octavio Dotel (6 G, 13.50 ERA) and Brayan Villarreal (7 G, 20.77 ERA) have been the biggest issue, and as a result, top prospect Bruce Rondon was called up Tuesday (per ESPN).
Kansas City Royals: Middle-of-the-order production
Starting pitching was the focus of the Royals offseason, and so far, their staff has been vastly improved. It's a big reason why the team is 10-7 on the season.
Offense, on the other hand, has been somewhat hard to come by, especially in the middle of the order. Mike Moustakas (.419 OPS, 1 RBI), Salvador Perez (.617 OPS, 5 RBI) and Eric Hosmer (.629 OPS, 4 RBI) have each yet to homer. They need to pick things up for the team to have a real shot at contention.
Minnesota Twins: Starting pitching
Saddled with one of the American League's worst rotations last season, the Twins added a trio of starters in the offseason.
Kevin Correia (2-1, 2.86 ERA) has been solid, but Vance Worley (0-2, 7.11 ERA) and Mike Pelfrey (2-1, 7.30 ERA) have been terrible. The rotation has a combined 5.00 ERA on the season.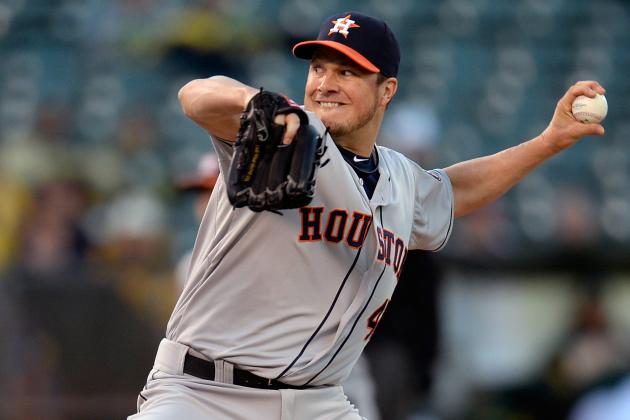 Thearon W. Henderson/Getty Images
Astros SP Erik Bedard
Houston Astros: Starting pitching
After a solid 4-6 start to the season, the Astros have gone 1-8 since. The falloff has been thanks in large part to the team's starting rotation, which has combined for an MLB-worst 6.17 ERA.
Bud Norris and Lucas Harrell have been passable with ERAs under 5.00, but Phil Humber (0-4, 6.63 ERA), Brad Peacock (1-2, 7.50 ERA) and Erik Bedard (0-1, 8.64 ERA) have been awful.
Los Angeles Angels: Back-end of the rotation
The Angels cut ties with Dan Haren and Ervin Santana this offseason, and they opted not to re-sign Zack Greinke, entering the season with a trio of new starters in the rotation.
Jered Weaver is currently on the DL, while Jason Vargas (0-2, 6.75 ERA) and Joe Blanton (0-3, 7.84 ERA) have struggled. The rotation could wind up being a major issue all season long.
Oakland Athletics: Starting pitching
Much of Oakland's surprise run to the postseason last year could be attributed to the performance of their young pitching staff. The A's are off to a good start this year at 12-8, but their pitching has been a bit shaky.
Jarrod Parker (0-3, 7.50 ERA) and Brett Anderson (1-3, 5.95 ERA) in particular need to turn things around. Bartolo Colon (2-0, 3.32 ERA) is the only starter with an ERA under 4.00.
Seattle Mariners: Middle infield offensive production
The Mariners added Michael Morse and Kendrys Morales to what has been the league's worst offense the past three seasons, but they still have a number of holes in their lineup.
Middle infielders Dustin Ackley (.197 BA, .459 OPS) and Brendan Ryan (.148 BA, .365 OPS) have been particularly awful, but they're hitting just .224 as a team.
Texas Rangers: Left field
Losing Josh Hamilton was a serious blow to the Rangers offense (though he's off to a rough start in Los Angeles), and the team opted to go with David Murphy and Leonys Martin alongside Nelson Cruz in the outfield.
Martin (.243 BA, .695 OPS) has started off slow, but the real issue has been with Murphy, who is currently hitting in the No. 5 spot in the lineup with a .194 BA and .598 OPS.
Mike Zarrilli/Getty Images
Braves 2B Dan Uggla
Atlanta Braves: Strikeouts
At this point, finding something wrong with how the Braves have opened the season is nothing short of nitpicking, but one area that is a bit concerning is the rate at which they're striking out.
Their 170 strikeouts are tops in the National League. B.J. Upton, Dan Uggla and Justin Upton have all struck out over 20 times already.
Miami Marlins: Offense in general
The Marlins may be the worst team in baseball right now. There are not many positives to take away from their start to the season.
They've managed just 46 runs through their first 20 games, hitting .211 as a team with a grand total of six home runs on the season. Placido Polanco (.294 BA, .695 OPS) is the only starter hitting over .240 at this point.
New York Mets: Back-end of the rotation
The Mets have been a pleasant surprise to open the season, and starters Matt Harvey and Jon Niese have led the way for the pitching staff.
The rest of the rotation has held the team back, though, as Dillon Gee (1-3, 5.95 ERA) has shown flashes of being decent, but Jeremy Hefner (0-2, 7.07 ERA) and Aaron Laffey (0-0, 7.20 ERA) have been hit hard.
Philadelphia Phillies: Starting pitching
For the past several seasons, the Phillies have been team building on strong starting pitching. Even with an aging offense, they entered the season with hopes of contention, thanks to their rotation.
Instead, their starters have been their biggest issue, and ace Cole Hamels (0-2, 6.46 ERA) has been at the root of the struggles. An aging Roy Halladay (2-2, 6.04 ERA) and newcomer John Lannan (0-1, 6.14 ERA) also haven't impressed.
Washington Nationals: Middle-of-the-order production
The Nationals bullpen scuffled to open the season, but they've turned things around as of late. The biggest issue now is with their sluggers in the middle of the order.
Bryce Harper (1.127 OPS, 7 HR) has been awesome, but Ryan Zimmerman (.226 BA, .670 OPS) and Adam LaRoche (.185 BA, .649 OPS) have stumbled out of the gates. It's just a matter of riding it out at this point, as they should both turn things around eventually.
Christian Petersen/Getty Images
Reds LF Chris Heisey
Chicago Cubs: Clutch Hitting
It looks as though it will be another trying season on the North Side. While there have been some positives for the Cubs in the early going, their struggles at the plate remain.
They're currently 19-for-129 with runners in scoring position, including 41 strikeouts, and until they start capitalizing on the few run-scoring opportunities they get, the losses will continue to pile up.
Cincinnati Reds: Left field
The Reds lost starting left fielder Ryan Ludwick for three to four months when he dislocated his shoulder on Opening Day, and they've struggled to replace him to this point.
Chris Heisey (.179 BA, .472 OPS) has seen the bulk of the at-bats in his absence, and the team may need to look for an alternative before long if he doesn't turn things around.
Milwaukee Brewers: Protection for Ryan Braun
The Brewers had the highest-scoring offense in the National League last season, and they returned essentially the same group in hopes of making a run at the postseason in 2013.
With Corey Hart and Aramis Ramirez both on the disabled list, Rickie Weeks has slid into the cleanup spot behind Ryan Braun and is hitting just .171 with three RBI on the season to this point. Jonathan Lucroy and Alex Gonzalez follow him in the lineup, and they haven't provided much either.
Pittsburgh Pirates: Back end of the rotation
The Pirates are one of the hottest teams in baseball right now, and the trio of Wandy Rodriguez, A.J. Burnett and James McDonald have been solid fronting the rotation.
Prospect Jeff Locke (1-1, 5.17 ERA) is likely on thin ice as the No. 4 starter, and minor league free-agent signing Jonathan Sanchez (0-2, 11.12 ERA) has been shelled at the back of the rotation.
St. Louis Cardinals: Bullpen
The Cardinals bullpen was among the best in baseball last season, but it has been a mess this year. It all started with the loss of Jason Motte to a torn elbow ligament, and he may wind up lost for the year if he needs Tommy John surgery.
Mitchell Boggs (10 G, 12.46 ERA, 2-for-4 SV) stepped into the closer's role to open the year, but he has since been bumped in favor of Edward Mujica.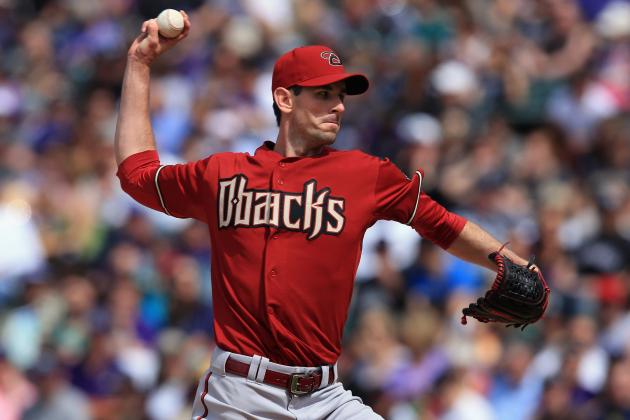 Doug Pensinger/Getty Images
Diamondbacks SP Brandon McCarthy
Arizona Diamondbacks: Starting pitching
The Diamondbacks underwent a good deal of change to their lineup this offseason, but it is their starting rotation that has been the issue so far in 2013.
Patrick Corbin (2-0, 1.42 ERA) is surprised to win a rotation spot this spring, and he's wound up leading the staff. On the flip side, Ian Kennedy (1-2, 5.47 ERA) and Brandon McCarthy (0-2, 7.06 ERA) have failed to pave the way like the team expected them to.
Colorado Rockies: Back end of the rotation
The Rockies have been the surprise team of the season so far. While their offense was expected to be a plus, it's their pitching that has played a big role in their success.
Jhoulys Chacin has pitched like an ace, and Jorge De La Rosa and Jon Garland have both been plus arms. However, Jeff Francis (1-2, 8.44 ERA) has been bad, and with Chacin on the DL, the team will now have to rely on their thin organizational depth.
Los Angeles Dodgers: Pitching depth
The Dodgers entered the season with eight viable starting pitching candidates. At this point, they have just three of those starters remaining on the active roster.
Zack Greinke (broken collarbone) and Chad Billingsley (Tommy John surgery) will both miss significant time, while Chris Capuano and Ted Lilly are both on the DL and Aaron Harang has been traded. Suddenly, the team that had too many starters to choose from is forced to tap into its farm system.
San Diego Padres: Front-end starting pitching
The Padres entered the season without a true ace, as Edinson Volquez and Clayton Richard opened the season atop the rotation, despite being better suited as middle-of-the-rotation arms.
To this point, they've been the two worst pitchers on the staff. Volquez (0-3, 8.84 ERA) and Richard (0-1, 5.28 ERA) have to turn things around if the team has any chance at avoiding the NL West cellar.
San Francisco Giants: Run production
The Giants starting rotation has been up and down to open the season, with ace Matt Cain struggling, but they are a relatively safe bet to turn things around.
The bigger concern right now, as it has been the past several seasons, is the team's lack of punch at the plate. They've hit just 12 home runs with a .698 OPS as a team. Getting Brandon Belt (.197 BA, .485 OPS) on track would be a big help.