Josh Evans: Video Highlights for the Former Florida FS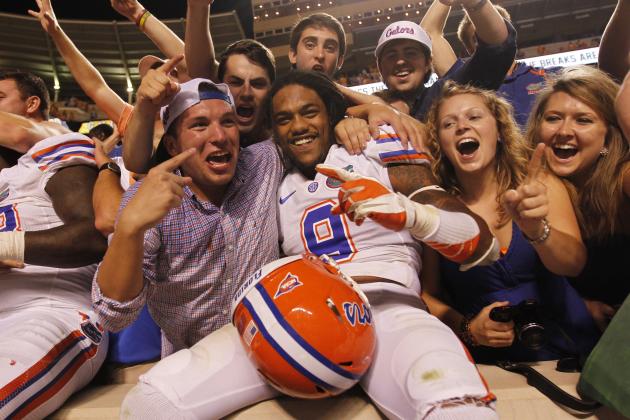 John Sommers II/Getty Images

Josh Evans hasn't generated nearly as much hype as fellow Florida safety and first-team AP All-American Matt Elam.
Regardless, Evans has still earned his opportunity to make an immediate impact in the NFL next season.
Evans led the Gators in tackles last year as a senior, starting in all 13 games for the first time in his collegiate career.
His 6'1", 207-pound frame is ideal for a free safety at the next level, and the following highlights only help illustrate his value in the secondary.
Begin Slideshow

»
Josh Evans is known for his motor and has relatively good speed for a safety.
Every now and then, he puts that speed and energy to work and sends the pass rush from the secondary.
Here you'll notice he's able to perfectly time his blitz and fly around the offensive line with ease en route to a sack.
Evans' length and athleticism are on full display here as he elevates nicely to reel in an interception against Tennessee.
His 34.5" vertical isn't all that impressive, but his timing on this play is what really catches the eye.
Evans is somehow able to go up and fully extend to get this ball, all while pedaling backwards. The best part about it is how effortless he makes it look in the process.
Here's a prime example of how valuable it is to have a guy in the secondary who can patiently sit back and read the quarterback.
Evans waits comfortably in zone coverage, surveying the field as Georgia's Aaron Murray drops back in the pocket.
Rather than checking off to one of the open guys underneath, Murray makes the mistake of throwing into triple-coverage. Because of this, Josh Evans is able to get his hand on the ball and deflect the stray pass to a teammate for the interception.
Josh Evans does a great job of locating the ball and sticking with plays to the finish.
In multiple clips here, Evans puts his high motor to use as he pursues every play until the very end and winds up hauling in four interceptions as a result of tipped passes alone.
He finds a way to be in exactly the right place at the right time, and it all stems from his constant hustle and excellent ability to read the quarterback.
One of the best parts about Evans' game is his consistent and reliable tackling.
He has the size and strength to deliver a crushing blow to an opponent, but he also knows when to break down and focus strictly on making the play.
You'll notice in this clip that he does a nice job of wrapping up ball-carriers in the open field, but when he has the opportunity to lay the wood on a player, he jumps right at it.
Reliability is precisely the kind of thing that NFL coaches are looking for when they consider bringing in a young player to act as their last line of defense, and that's exactly what Josh Evans provides.