Penn State Football: Post Spring-Game Two-Deep Depth Chart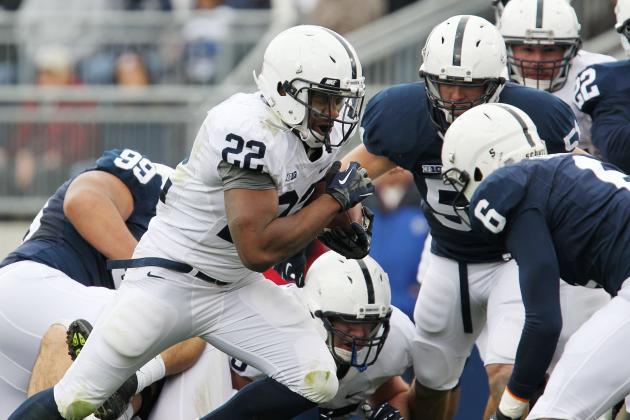 Matthew O'Haren-USA TODAY Sports

As coach Bill O'Brien and Penn State begin to build off a successful Blue and White game, it's time to look forward to the summer.
This means that the depth chart is beginning to take form in many spots.
Even with injuries during the spring, some players will keep their spots while others are in jeopardy of losing theirs.
So let's jump right in. Here's the first glimpse at how the depth chart is shaping up after the spring game.
Begin Slideshow

»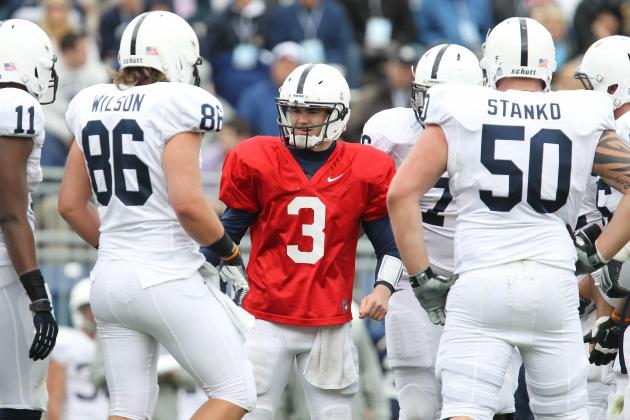 Matthew O'Haren-USA TODAY Sports

1. Tyler Ferguson
2. Austin Whipple / D.J. Crook
Steven Bench has decided to transfer away from Penn State.
This really leaves only Tyler Ferguson in the standing until Christian Hackenberg arrives.
Behind Ferguson are freshman early enrollees Austin Whipple and D.J. Crook.
Bench's decision came after O'Brien began meeting with his players to before school lets out.
This isn't terrible news, but it certainly hurts the depth at the quarterback position.
All we can do now is wait and see what Hackenberg brings this summer.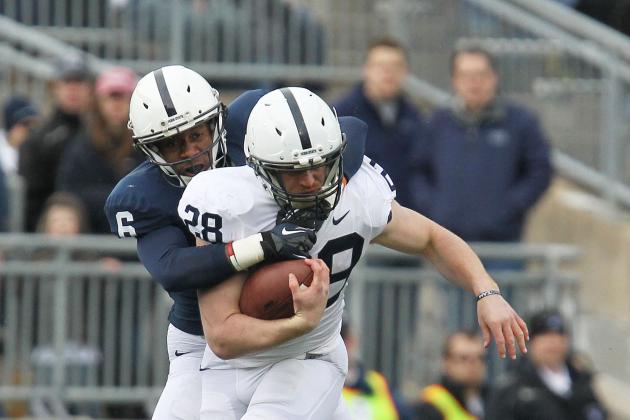 Matthew O'Haren-USA TODAY Sports

1. Zach Zwinak
2. Akeel Lynch
In limited action Zach Zwinak quieted anyone (including me) who questioned his spot as top back in this system.
Zwinak left the game early on but still had would-be tacklers bouncing off of him.
That being said, Akeel Lynch backed up all the hype that was building for the young back.
Lynch showed a balance of speed and power, breaking off long runs and reaching pay-dirt by stuffing it up the middle.
It looks like Bill Belton will have a lot to prove to even get into the second spot in this lineup.
Saturday was a great look into where Lynch is developing—he is right where he needs to be.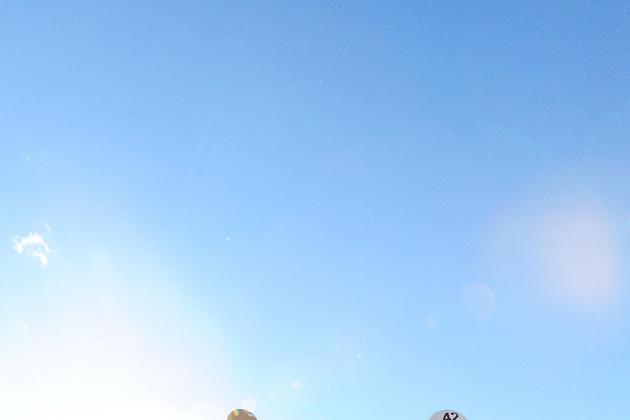 Evan Habeeb-USA TODAY Sports

1. Allen Robinson
2. Eugene Lewis
Much like Zwinak, Allen Robinson played very little on Saturday afternoon.
But when Robinson was in the game he was electric, running a reverse and making plays.
Eugene Lewis will most likely slip into the spot behind Robinson. Lewis is athletic and lanky like Robinson and can get up on jump balls.
Obviously Robinson is Penn State's No. 1 receiver, but Lewis will be able to contend for the third spot.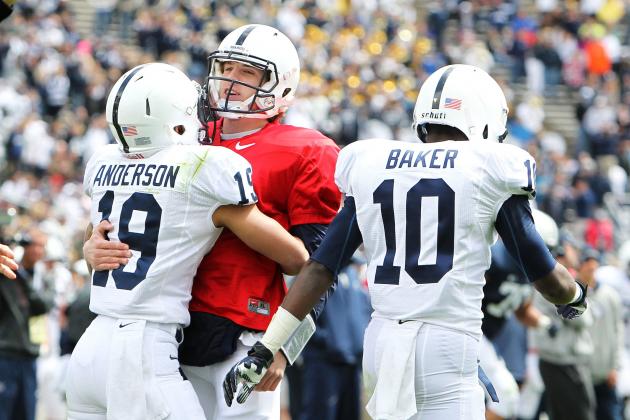 Matthew O'Haren-USA TODAY Sports

1. Brandon Moseby-Felder
2. Richy Anderson
Brandon Moseby-Felder's lack of production made me question his abilities last season.
That is until I realized he was only behind the Big Ten's leading receiver and a Mackey Award tight end.
Moseby-Felder fits into the No. 2 spot well and the senior will bring some experience to a fairly young offense.
Behind Moseby-Felder may be early-enrollee Richy Anderson, who made serious noise on Saturday. Anderson was all over the slot and was able to score a touchdown.
He is small and quick, both key attributes needed to be a good slot receiver.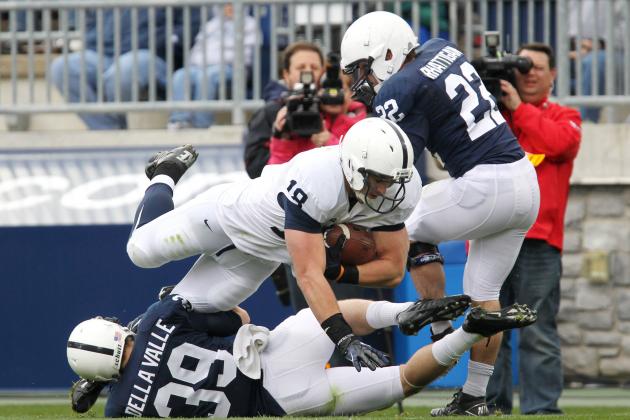 Matthew O'Haren-USA TODAY Sports

1. Matt Lehman
2. Jesse James
With Adam Breneman injured for the spring game, we saw a lot of Jesse James.
James had a nice touchdown catch on a jump ball pass from Ferguson. But it will be tough to supplant senior Matt Lehman from his starting spot on the offense.
Both Breneman and Kyle Carter were no-shows, giving Brent Wilkerson a shot.
Wilkerson looked raw and dropped a pass or two.
Tight end is a deep position, but being injured won't get the talented Breneman and Carter anywhere on the depth chart.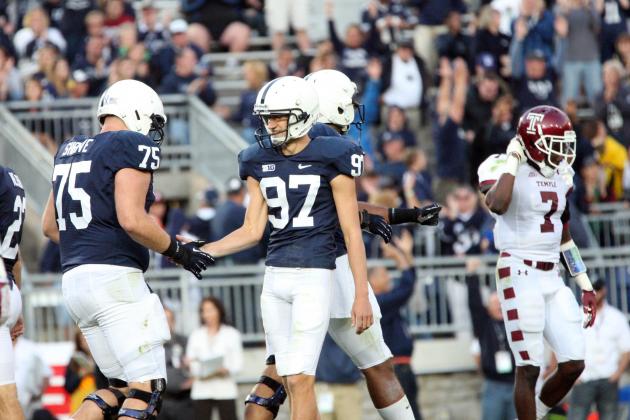 Rob Christy-USA TODAY Sports

1. Donovan Smith
2. Eric Shrive
Donovan Smith's sophomore season needs to be the year he starts putting it all together.
Last year Smith didn't have a bad year by any means, but O'Brien and whomever he chooses to play quarterback will need Smith to be dominant.
Behind Smith will be senior Eric Shrive, providing size and experience to help mentor the young Smith.
Shrive is a senior and provides much needed depth.
AND
1. Adam Gress
2. Anthony Alosi
Like Smith, Adam Gress is another returner from last season.
The 6'6" senior will need to be one of the leaders amongst the group of offensive linemen.
Sophomore Anthony Alosi is a talented young player with the durability to move between tackle and guard, and will back up Gress.
If there are any injuries in the starting group on the line Alosi will probably be the top choice to fill in.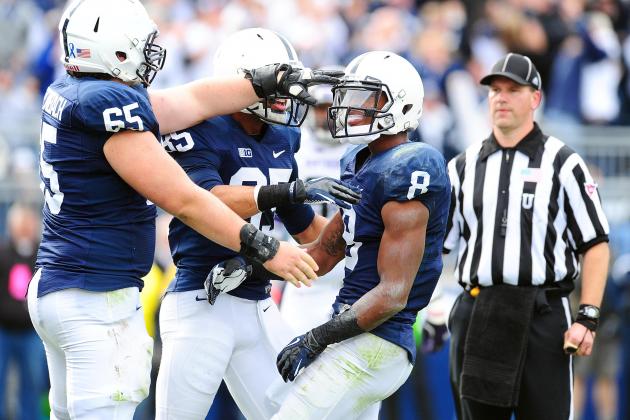 Evan Habeeb-USA TODAY Sports

1. Miles Dieffenbach
2. Anthony Alosi
The junior Miles Dieffenbach is another returning starter on the line for the Nittany Lions.
Dieffenbach is a hard worker and a talented, athletic guard.
Behind Dieffenbach will be the multi-talented Alosi.
It's nice to have a player like an Alosi or Shrive because they can play both guard and tackle.
AND
1. John Urschel
2. Bryan Davie
In his fifth year at Penn State, John Urschel will be the oldest in the group of offensive linemen.
Urschel brings experience to the line, and like all the starters on the offensive line he is familiar with the system O'Brien has in place.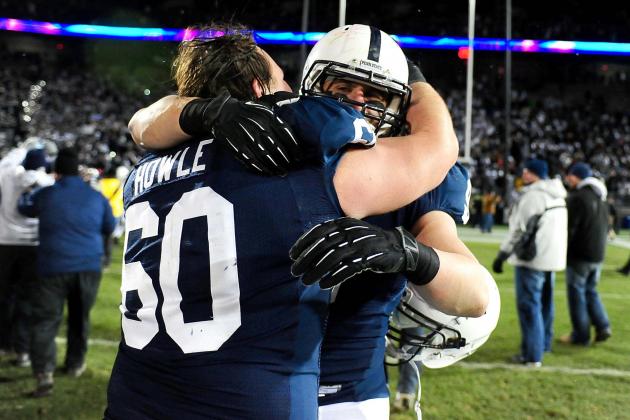 Evan Habeeb-USA TODAY Sports

1. Ty Howle
2. Wendy Laurent
At 6'0" Ty Howle is the shortest offensive lineman on the roster but that doesn't stop him from being one of the most dependable linemen that O'Brien has.
Howle will be replacing Matt Stankiewitch, who was one of the best centers in the NFL.
Redshirt freshman Wendy Laurent will most likely back up Howle.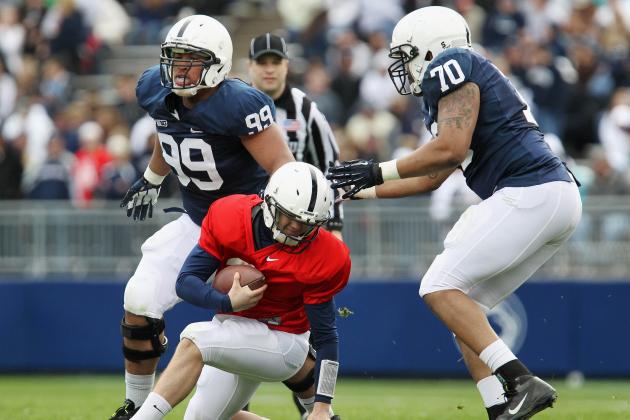 Matthew O'Haren-USA TODAY Sports

1. Da'Quan Jones
2. Nate Cadogan
Senior Da'Quan Jones is set with the task of trying to replace Jordan Hill.
This isn't going to be easy for Jones, and Penn State will undoubtedly miss Hill's presence on the defensive line.
Jones has the most experience though and will be the go-to guy in the interior part of the defensive line.
Senior Nate Cadogan has seen multiple position changes during his time in Happy Valley.
Cadogan has moved from tackle to tight end, and now he is on defense.
Now redshirt freshman Austin Johnson and sophomore Anthony Zettel both will be pushing for time, but I think Cadogan will be the other player next to Jones on the line.
Cadogan is big and athletic—he might fly under the radar and have a good senior season.
Rich Barnes-USA TODAY Sports

1. Deion Barnes
2. C.J. Olaniyan
Defensive end is one of the most concrete positions on this Penn State defense.
Deion Barnes had a breakout freshman season last year and C.J. Olaniyan has proven throughout the spring that he can be consistent opposite of Barnes.
Both of these guys compliment each other, with Barnes being a little more lanky and quick while Olaniyan is a great run stuffer.
Behind these guys will be Brad Bars and Anthony Zettel.
Zettel moved back and forth between defensive tackle and end last year, and he probably will do the same this year.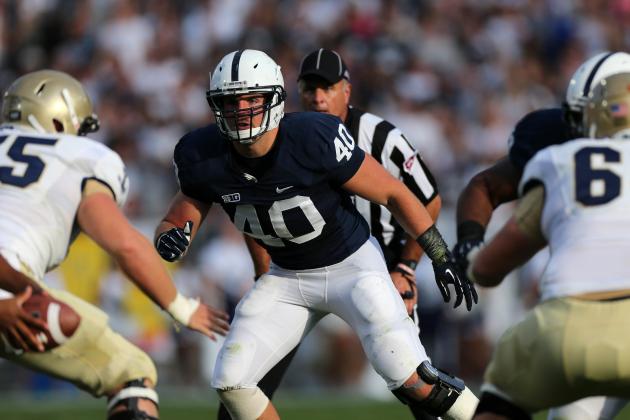 Rob Christy-USA TODAY Sports

1. Glenn Carson
2. Gary Wooten
Glenn Carson needs to be the leader of this defense.
As the most experienced part of "Linebacker U" Carson has the talent to be an All Big Ten performer.
This Saturday though, we got a nice look at Gary Wooten.
Wooten did a solid job up the middle and it seems like he will be behind Carson.
Carson and Wooten are virtually the same size, and being behind Carson can be a huge part of Wooten's development.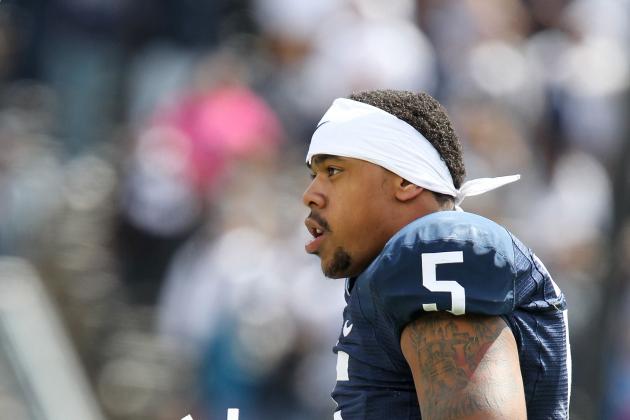 Matthew O'Haren-USA TODAY Sports

1. Mike Hull
2. Nyeem Wartman
Heading into the offseason, outside linebacker was the hardest position hit by graduation.
But the transition away from Michael Mauti and Gerald Hodges will be a little easier with Mike Hull taking over on one side.
Hull has some experience from last season and he is a talented junior.
Nyeem Wartman is a player many fans should be excited about though.
Wartman tore up the spring game, most memorably blowing up a screen play and laying a nice hit on the running back.
He was able to redshirt after his injury last season, so Wartman is going into 2013 as a freshman.
You can expect big things from Wartman.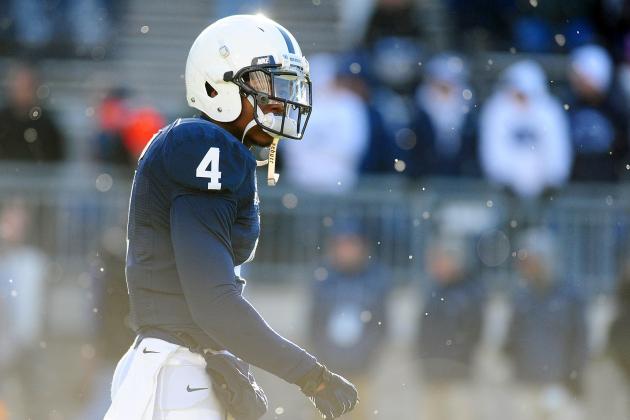 Evan Habeeb-USA TODAY Sports

1. Adrian Amos
2. Da'Quan Davis
Obviously Adrian Amos is the top guy in the Penn State secondary. Behind Amos though, it gets a little foggy.
Da'Quan Davis should be the second corner on this defense, but not by leaps and bounds.
Jordan Lucas is very close behind Davis as is Trevor Williams.
Amos is going to be the top corner but Davis needs to have a strong summer to keep his spot as the other corner. If he doesn't, Lucas might be replacing Davis.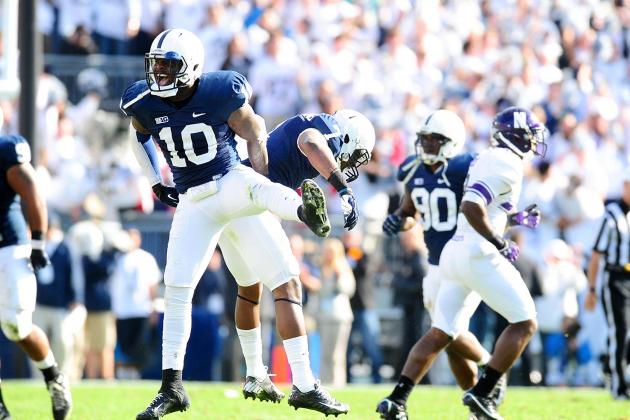 Evan Habeeb-USA TODAY Sports

1. Malcolm Willis
2. Malik Golden
Like many of the top returning players, Malcolm Willis did very little at Penn State's spring scrimmage.
O'Brien smartly kept many of his top players out of much of the action to try to keep his scholarship-penalized team healthy.
Willis will start in his senior season but behind him will be the quickly rising Malik Golden.
Golden has had a great spring after jumping from offense to defense. He is quick and athletic and will be able to make it into games in dime and nickel packages.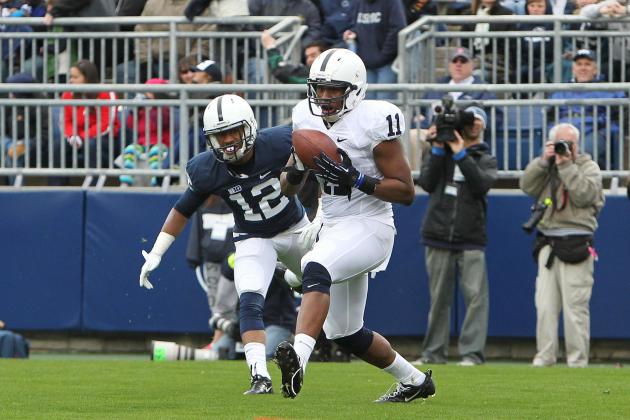 Matthew O'Haren-USA TODAY Sports

1. Trevor Williams
2. Jordan Lucas
With the injury to Stephen Obeng-Agyapong, Trevor Williams should be the starting safety heading into the summer.
Williams was all over the field last Saturday and really showed what he could do in the defensive backfield.
Jordan Lucas is another player that was mentioned in an earlier slide. Lucas had a great spring and he adds depth at both corner and safety.
Although the return of Obeng-Agyapong will probably push these guys down in the depth chart, they both made their cases on Saturday.
I'm not sure how O'Brien and defensive coordinator John Butler will do it but they need to get these two young guys on the field some how.