Texans 2013 Mock Draft: Final 7-Round Predictions for Houston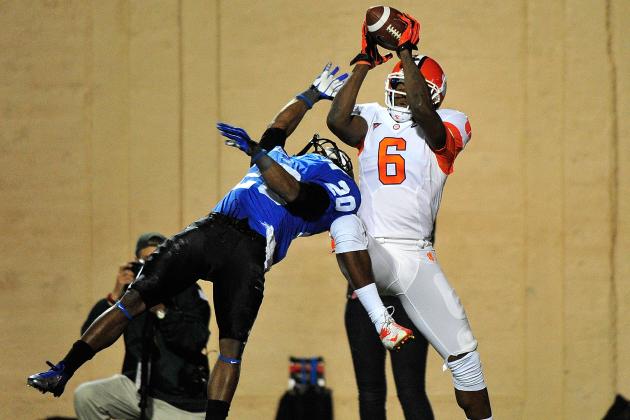 Grant Halverson/Getty Images

The Houston Texans are a well-built team that won 12 games last year. As a result, they have relatively few holes to fill; the key in the draft is to fill those holes with the right talent.
The Texans need a second wide receiver who can start day one, as well as another inside linebacker opposite Brian Cushing on the front seven. For that matter, an extra linebacker or two for depth, both outside and inside, will also be needed.
Minor additions include an extra offensive lineman and safety in the later rounds as well. If the picks fall just right, this could turn the Texans into a top team in the AFC easily.
For this mock, I looked primarily at need and best players available, but for day three picks in particular I tried to channel GM Rick Smith and tried to think of what players he might draft near the end.
Begin Slideshow

»
The Texans need a second wide receiver who could become a number one target soon more than anything. Andre Johnson has no one across from him, and he's going to be 32 at the start of the season. The question is, which wideout should Houston take?
Presuming Tavon Austin and Cordarelle Patterson are off the board, the options are Keenan Allen, Robert Woods, Justin Hunter, and DeAndre Hopkins. While I'm a fan of Hunter personally and think he has the best potential to become a number one receiver, his frame may not hold up to NFL scrutiny.
Instead, the Texans have to go with a safe pick who can realistically be a top target as well, and DeAndre Hopkins fits that perfectly. He can catch and make plays after, and while he will not be physically elite, he won't need to be; he just needs the ball in his hands to make things happen.
The possibility remains that they grab a linebacker here to fill that void, but they have used first round pick after first round pick there, it cannot stay a trend forever. Besides, if Ogletree and Minter are taken early, then there is no linebacker worth taking there.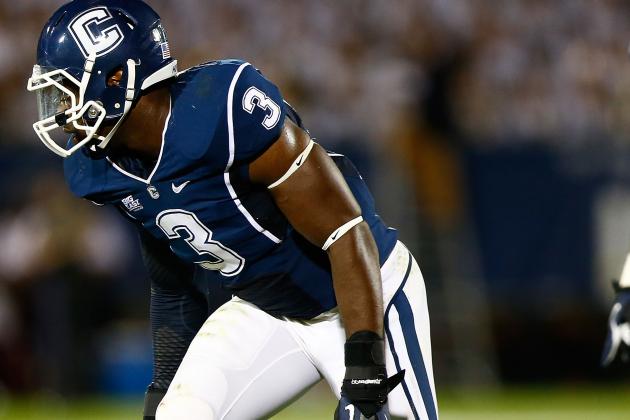 Jared Wickerham/Getty Images

I am not convinced that Moore will be available at this point in the draft, as teams in the late 40s are taking a look at him. Should he be there, Moore fits perfectly with Houston.
Moore is both fast and strong, and has the tools to succeed in the NFL. The key will be a transition. He played the 4-3 OLB slot at Connecticut, but a 3-4 ILB move should not be an issue given his skill set.
As long as he continues to improve when dropping in coverage, then he's a guy who can flourish under Wade Phillips, and having Cushing next to him will make the transition to the NFL relatively easy.
Jon Bostic is also an option here, but I feel that Moore has more upside and would prefer him; Bostic may also be a slight reach here, but if Moore's off the board then I can understand that pick.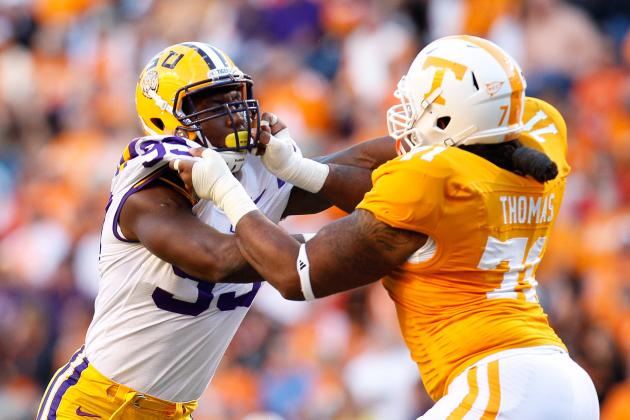 Kevin C. Cox/Getty Images

Unlike Hopkins and Moore, I'm not all that high on Thomas. However, this is about where he is likely to be drafted, and in terms of both need and value he is great for the Texans here.
Thomas is a big guy who can hold off rushers well, and is strong enough to be able to push defenders down.He's also surprisingly agile for an offensive lineman, and is one of the most durable offensive linemen out there.
He is susceptible to pass rushers due to iffy footwork, and as a result may end up being a guard at the next level. In any case, someone who can provide depth behind Derek Newton and can start if he falls apart bolsters the line a great deal.
I think David Bakhtiari from Colorado makes more sense for the Texans here, but I don't see him falling this far. If somehow he does, then that's a much better option. If both are off the board, selecting a different position may be a better use of the pick.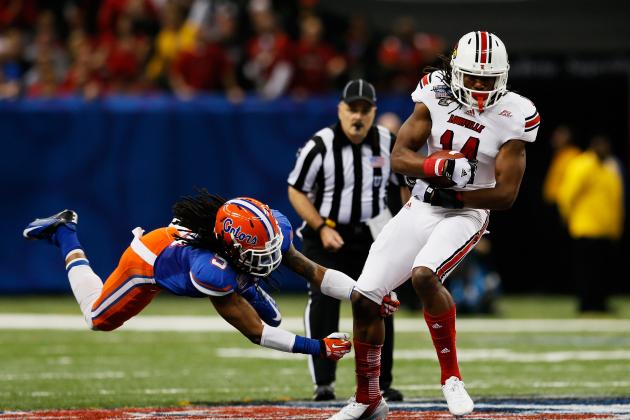 Kevin C. Cox/Getty Images

Here's a guy who I see going a little bit earlier than where his stock is. While I think Baccari Rambo fits just as well, if not better, I don't see him lasting until the end of day two, so instead here's the next best option.
Yes, the Texans have Ed Reed, and he might be great for three years. He might also not be able to play every down at his age, so the Texans need depth here. Josh Evans would have the perfect person to learn under.
Evans is not the strongest guy available, but he's athletic and physical, and is not afraid to blitz if needed, and he has the ball skills to be a quality backup who could become a starter if something does happen to Reed.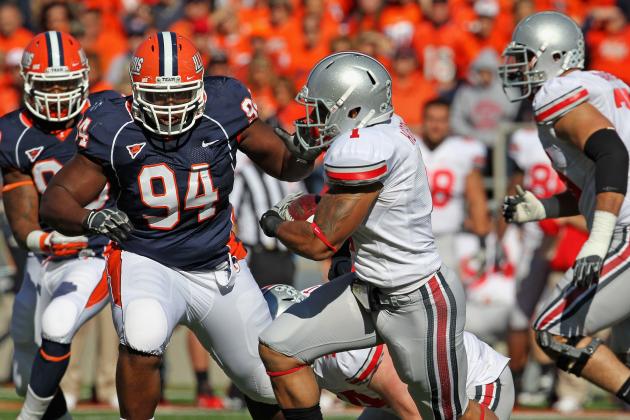 Jonathan Daniel/Getty Images

Texans fans who want a nose tackle are reading this wondering why it took me so long to get to that need. It is a valid point, and if the Texans do decide to take a nose tackle earlier, I entirely support it.
That being said, the smaller 3-4 nose tackles who fits with Wade Phillips's scheme are scarce in this draft. What the Texans want at that position is a player who can stuff the run and be a strong tackler, making the lives of J.J. Watt et al up front that much easier.
Akeem Spence isn't going to wow players with his finesse, but he is a strong tackle who had good durability and mobility. He's not a pass rusher, concentrating on the run, but he does fill a need, and could very well wrestle with Earl Mitchell for the starting job in training camp.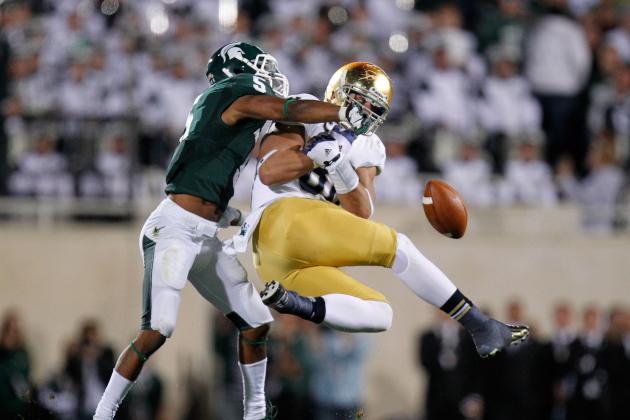 Gregory Shamus/Getty Images

At cornerback, the Texans are going to be looking for someone athletic that they can have as depth going forward, and Johnny Adams has the tools they are looking for.
I'm partial to him, having scouted him in the past, and I saw a tremendous athlete who can cover the field with ease. He can be plugged in as a nickel cornerback and make leaping picks.
He may not be a starter at the NFL level, but as depth, he's a great value pick in day three who can make life easier for Kareem Jackson and Johnathan Joseph.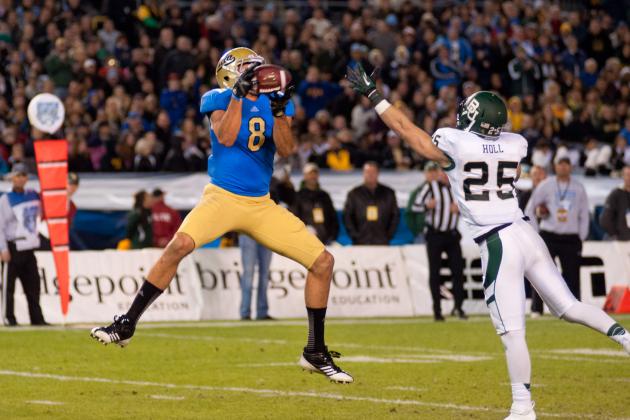 Kent Horner/Getty Images

The tight end class is quite deep this year, and the Texans need someone to run alongside Owen Daniels, or at least compete with Garrett Graham for that second spot, as they have no one behind him.
A great change of pace option would be Joseph Fauria out of UCLA. A huge target at 6'8", he provides the size that the other tight ends don't, yet is athletic enough that it will not be a detriment.
Fauria's still raw, but he's someone who can be worked on and could potentially start with the right coaching, and it helps that tight ends coach Brian Pariani is a UCLA guy.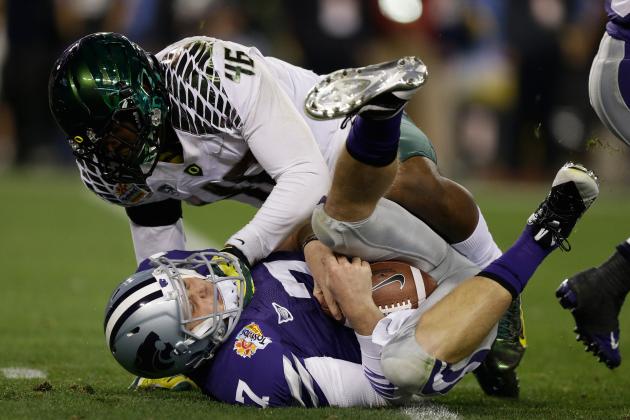 Ezra Shaw/Getty Images

When you get to this late in the draft, high character guys who would love an opportunity to play special teams are must-have. A player who fills a depth need who will do that is even better.
Michael Clay has some glaring weaknesses that may never make him a starter, but as a backup behind Brooks Reed and Whitney Mercilus, he will be able to concentrate the use of his tools.
He is the type of player who would love to play anywhere, even if the Texans needed an emergency long snapper. GM Rick Smith loves high character guys, and if he isn't drafted, I have to think that Clay is on the Texans' short list of undrafted free agents to being in.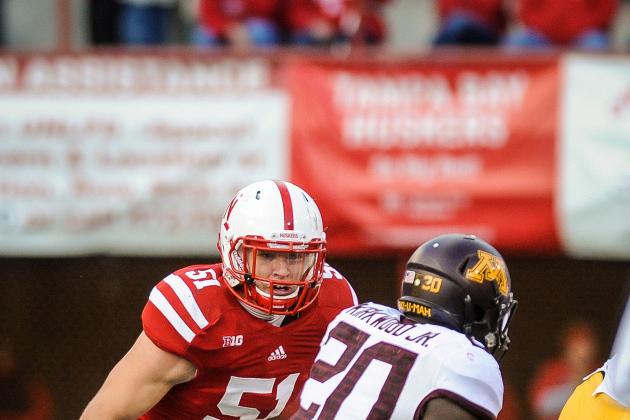 Eric Francis/Getty Images

For good measure, why not have the Texans drafting one more linebacker? At this point, a team would be looking for a guy who's great in the clubhouse, and Will Compton fits that bill.
Compton has one of the best football IQs in the draft pool, and even if he just plays special teams, it would be like having a coach on the field.
As for his skill set, he's not a guy who will set the field on fire, and may only be a backup option. He has nice instincts, and his drive will at least allow him to remain on a team for a few seasons.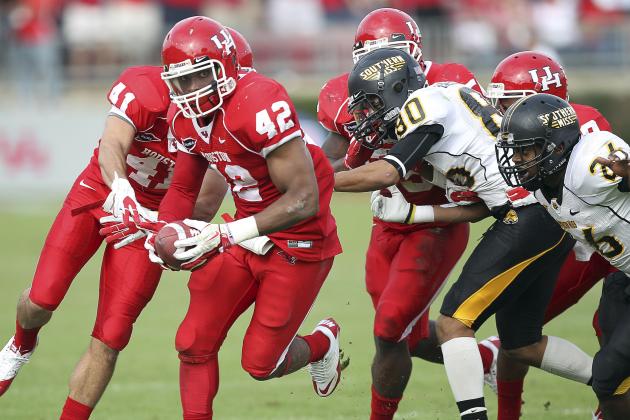 Bob Levey/Getty Images

With this mock draft, the Texans have filled most of their holes, both for starters and for depth. As with every draft, there are diamonds in the rough, and the Texans know that better than anyone with their star running back Arian Foster being an undrafted free agent.
UDFAs are always tough to predict, but possibilities include grabbing another offensive lineman, perhaps the 6'9" Luke Marquardt of Asuza Pacific.
Houston's OLB Phillip Steward and G Jacolby Ashworth are longshots even to be brought into camp, but it would not surprise me if the Texans tried the hometown route just to see if either would stick.
I don't see the Texans drafting an RB, but I can see them picking up one to try out. Someone like Boise State's D.J. Harper or LSU's Spencer Ware could be possibilities, as they have a skill set that could work in Houston.