7 Gimmick Matches Sheamus Would Thrive in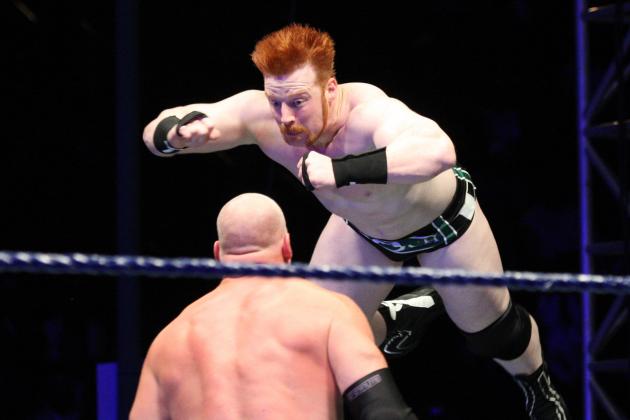 Gallo Images/Getty Images

Sheamus, WWE's resident brawler, would flourish in the company's most violent and intense gimmick matches.
The Irish powerhouse earned his first championship in a Tables match. Sheamus has since steadily improved in the ring. His straight-ahead style has helped produce a number of quality matches.
As his feud with Mark Henry gains momentum, one has to wonder what kind of match those two will have at Extreme Rules 2013. Sheamus will do well with a variety of stipulations.
Hand him weapons. Throw out the rulebook. Stick him in the most barbaric structures that company has to offer and watch him club away on his opponent.
The following are seven gimmick matches that The Celtic Warrior has yet to compete in, but they are ones that would best highlight Sheamus' skills and allow him to compose another classic.
Begin Slideshow

»
When a three-count is not decisive enough, when the standard beating one takes in a regular match is not sufficient, the Last Man Standing match offers brutality in surplus.
Sheamus' brawling skills would fit perfectly into this kind of match. He would give and take a mighty pounding.
Imagine his skin reddened by chair shots and crashing into the steel steps.
This is the most likely gimmick for his match with Mark Henry. It's one where both men's power and toughness are valuable assets, and one that can be done at a slower pace for Henry's sake.
Sheamus has developed a reputation for being able to take an enormous amount of punishment. That skill would be put to the test here, as he would struggle to get to his feet after every onslaught.
Daniel Bryan and Sheamus composed a masterpiece in their 2-out-of-3 falls match at last year's Extreme Rules.
Take that format and add the carnage of three additional gimmick matches, and WWE would have a classic in the making.
The Three Stages of Hell match is a buffet of violence, incorporating a cage match, a ladder match, a street fight or any sadistic combination WWE decides on. It's a rare match that hasn't been utilized since Randy Orton and Triple H went at it at The Bash in 2009.
Most of the brawl-heavy stipulations that would be a part of the Three Stages of Hell would suit Sheamus perfectly.
Be it cage or street fight, he would be compelling to watch as either the aggressor or the victim. His power moves would provide a pop of excitement, especially if they were to be against the wall of a cage or through an announce table.
His feud with Mark Henry is not nearly personal enough to reach the hatred required for Three Stages of Hell, so it's highly unlikely we'll see him in this bout as soon as Extreme Rules.
On November 24, 1983, Roddy Piper and Greg Valentine beat each other bloody in a famous Dog Collar match.
Both men were tied to each other by way of a chain connecting a dog collar around each of their necks. What could have been silly and gimmicky turned into one of the more brutal matches in wrestling history.
There are few men on the WWE roster today that one would least like to be tied to in a fight than Sheamus. His foe would be in Brogue Kick range the entire match, a frightening prospect.
A modern version of this match would of course have to be toned down, but Sheamus could still make it plenty entertaining with his smash-mouth offense.
Like with the Three Stages of Hell, Sheamus and Mark Henry's feud isn't at the point where this kind of match makes sense. It's best reserved for the most passionate of rivalries.
The endurance test that is the Iron Match has produced some of WWE's best matches. Bret Hart vs. Shawn Michaels at WrestleMania XII, Brock Lesnar vs. Kurt Angle on WWE SmackDown in 2003 and Angle vs. Michaels on WWE Raw in 2005 were all stellar.
Sheamus wouldn't have the privilege of going up against either Angle or Michaels, but he has the stamina and the ring psychology to make a lengthy match enthralling.
He has plenty of moves in his arsenal that could earn him falls. His foes would have to watch out for the Texas cloverleaf, White Noise and, of course, the Brogue Kick.
As to whether it will happen against Mark Henry—not a chance. Henry is an impressive athlete for his size, but asking him to go a full 30 minutes or an hour is asking for him to fail.
WCW had some of its best matches inside the double-ringed cage match known as War Games.
Two teams face off in this thrilling match. The teams enter in staggered fashion, creating mismatches along the way.
The same way that Nikita Koloff and The Road Warriors provided the match with intensity and power, Sheamus could be an integral part of one of these. He could toss his foes against the steel cage and pound his way out of double-teams.
The big issue, though, is that even though WWE bought the rights to WCW (h/t PWInsider.com) in 2001, WWE has yet to put on a War Games match.
Perhaps the company feels that the match is so associated with WCW that it doesn't want any part of it. Perhaps WWE feels that the Elimination Chamber is a suitable replacement.
Either way, there's little to no chance we will ever see Sheamus busting heads at War Games, at Extreme Rules or otherwise.
More than just beating an opponent, the I Quit match is about embarrassing them. Having someone pin you is one thing, but being forced to shout, "I quit!" into a microphone in front of a live audience is a shameful defeat.
It's a match that ends a feud better and more decisively than few other matches can.
Ric Flair finally got his revenge on Terry Funk in 1989. The Rock cheated his way to a Mankind surrender 10 years later. Magnum TA and Tully Blanchard delivered one of the finest pieces of storytelling inside a ring during their 1985 I Quit match inside a steel cage.
With Sheamus' history of absorbing punishment, it'd be intriguing to see what it would take to make him say those two words into a mic.
With the right rival, he could have a punishing and moving match. Is Mark Henry that rival? Probably not now. Should their feud continue to escalate in the coming months, the I Quit match is a possibility for them, though not as likely as several other options.
One of Sheamus' finest moments came during TLC 2010 in a Ladder match against John Morrison.
In a battle to become No. 1 contender for the WWE title, Sheamus and Morrison smashed each other against ladders, fighting passionately and desperately.
A TLC match takes all the thrill-ride possibilities of a Ladder match and adds furniture for the opponents to use as weapons, launching pads and surrogate tag team partners.
Sheamus' toughness would allow him to take some major bumps, crashes through tables and collisions with ladders. He would undoubtedly deliver something as entertaining as that match with Morrison.
It's not a likely candidate for his match with Mark Henry, as neither of them have a championship. WWE could repeat what it did with Morrison and Sheamus and put a contender's spot on the line. Still, Henry would be better suited for something where the action stayed closer to the ground more often.