UFC 159 Preview: Shelia Gaff vs Sara McMann Head-to-Toe Breakdown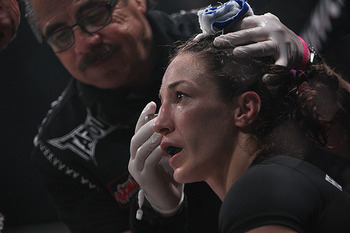 Photo Credit: Dave Mandel/Sherdog.com
UFC 159 plays host to the third women's bantamweight bout in UFC history. Highly touted prospects Sara McMann and Sheila Gaff square off on the FX preliminary card.
MMARising.com's pound-for-pound list has McMann ranked 10th and Gaff 13th.
McMann (6-0) is a former Olympian in wrestling. She entered the sport roughly the same time as UFC champion Ronda Rousey, but has elected to go a slower route for her development. She will be the second mother to compete inside the Octagon.
Gaff (10-4-1) has won three in a row. One of her losses comes to featherweight Romy Ruyssen in 2010. She gave up a significant amount of weight in that bout. The German will introduce herself to the world on Saturday.
This is a preview heading in to Saturday's bout.
Striking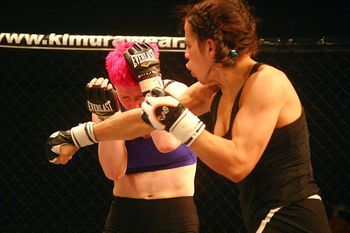 Photo Credit: David Lethaby/Sherdog.com
If there has been one area that needs improvement in McMann's game it is her striking.
That should come as no shock. She was a life-long wrestler who made the transition to MMA. It is only natural that it will take time to develop her striking. Even with her stand-up being a work in progress, she is not afraid to mix things up.
Gaff possesses big power in her strikes. Her last three victories have all come by KO or TKO. The longest bout was between her and former ranked flyweight Aisling Daly, and that fight only lasted 94 seconds. Her two other knockouts lasted a total of 18 seconds.
McMann is strong, but the technique in her striking isn't quite up to Gaff's at this time. That is the difference on the feet.
Edge: Gaff
Wrestling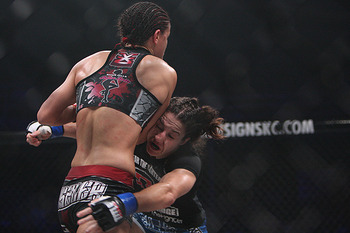 Photo Credit: Dave Mandel/Sherdog.com
No contest. McMann has the edge here.
The 23-year-old Gaff is in over her head in this department. McMann should be able to dictate where this fight takes place. If at any point she feels threatened on the feet, or if she prefers not to risk it, she can take Gaff down at will.
McMann is a powerful woman. She has manhandled her past opponents in the wrestling department, and Gaff should be no different.
Gaff will have trained takedown defense for this fight, but it won't help much. You cannot develop the necessary skills to stop her that quickly.
Edge: McMann
Submissions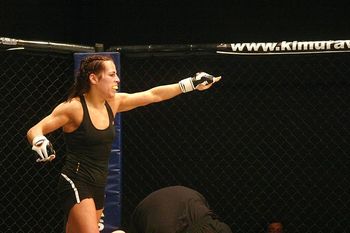 Photo Credit: David Lethaby/Sherdog.com
Much like her striking, McMann is still developing her submission attacks and defense. Against Hitomi Akano, McMann found herself relying solely on her brute strength to power out of several submission attempts.
Her top control and power allows her to avoid being caught in submissions by most, but against the elite of the elite that is going to be a problem.
Gaff has several submission finishes to her credit. She can not only attack from top, but from the bottom as well.
If I were a betting on who is more likely to get the finish via submission, it would be McMann. Position before submission. However, technically, Gaff has more outs in this area. She'll get a slight nod in this category for her variety of attacks.
Edge: Gaff
X-Factors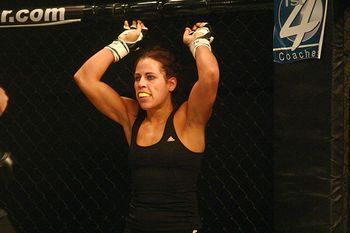 Photo Credit: David Lethaby/Sherdog.com
Gaff's X-Factor: Dealing With McMann's Strength
In previous slides I discussed how strong McMann was, and how that is going to be a factor in the fight. The one thing I omitted in the previous slides is that Gaff is a natural flyweight. She was formerly ranked second in the division. Under the UFC divisional rankings she is ninth.
A flyweight moving up is going to be a difficult task. A flyweight moving up to take on McMann is going to be even more difficult.
Gaff has to avoid McMann's wrestling the best she can, and from her back she has to threaten with submissions much like Akano did. It will force McMann to defend and keep her from finishing the fight.
McMann's X-Factor: Fighting Smart
Against Shayna Baszler, McMann nearly lost her perfect record by slugging it out with the more experience and diverse striker. It made the fight even more exciting for the fans, but it wasn't the smartest tactic.
Gaff has good power, and getting in to a firefight with her is not the best option.
McMann needs to show the UFC and its fans what she is best at. Fight smart and take Gaff down. If she does that then she should show dominance.
Prediction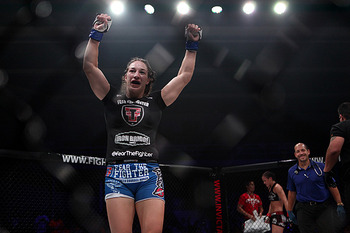 Photo Credit: Dave Mandel/Sherdog.com
Gaff will find it difficult to overcome the strength advantage in this fight.
McMann will take this fight to the mat early, control position, punish Gaff, and eventually finish the fight with a submission. It's that simple.
Much like Rosi Sexton, Gaff is an elite flyweight fighting above her weight. This is the same problem numerous women had when fighting Gina Carano and Cyborg in Elite XC and Strikeforce. They simply give up too much physically to showcase what they are capable of.
It is nice to see these women on the big show, but there are other legit bantamweights out there that would give McMann and more competitive bout. This smells like a showcase fight for the Olympian. That is not to undersell Gaff's abilities.
Look for McMann to be impressive in this fight.
Prediction: McMann defeats Gaff via submission in the first round
Keep Reading