25 of the Best Struck Soccer Goals of All Time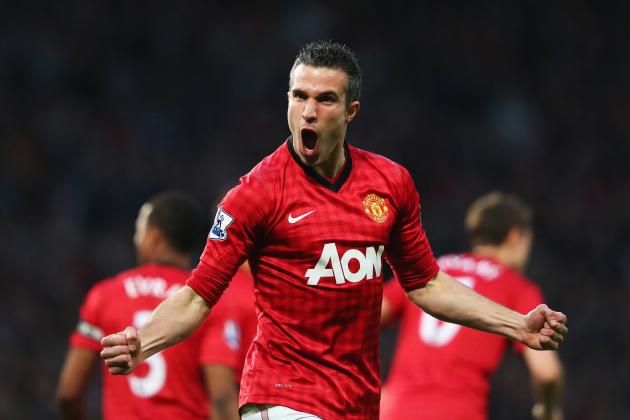 Alex Livesey/Getty Images

Over the last few weeks, we've seen some stunning Premier League goals from the likes of David Luiz, Robin Van Persie and Gareth Bale among others, and it got me thinking.
What are some of the best struck goals of all time? Everyone has their favourites that mean something to them. Whether it was an important goal for their club or country, there are some goals that stand out head and shoulders above the rest.
After watching hours and hours of some of the world's best goals, we've come up with some of the best of the lot. No doubt there will be some debate about the goals that we've included, as well as those that didn't quite make the list.
The list will be in no particular order and the goals included come almost exclusively from games featuring teams or countries from the British Isles. Feel free to leave your own suggestions in the comments section and include a YouTube link of goals that you think are the most well-struck of all time!
Let's get started.
Begin Slideshow

»
Robin van Persie might only have scored this goal in the last 24 hours, but it was a sumptuous finish. Everything about the goal, the pass from Rooney, the timing of Van Persie's run and the sublime first-time volley, were out of this world.
It was a stunning goal that played a huge part in Manchester United clinching their 20th league crown against Aston Villa at Old Trafford, and it's surely one of the best goals ever scored at Old Trafford.
Going into the match, it was simple. England simply had to take something from their World Cup qualifier with Greece at Old Trafford to have any chance of making it to the finals in South Korea and Japan.
With just minutes remaining, England were 2-1 down to Greece when they were awarded a free-kick around 30 yards from goal. Their talismanic captain David Beckham stepped forward and sent his shot swerving straight into the corner of the net to ensure that England would once again make it to the World Cup.
In that moment, under the enormous pressure and weight of expectation, who else would you want to take a free-kick?
Talking of talismanic captains, Steven Gerrard definitely fits in to that mould. The Liverpool skipper stepped up when his team needed him in this crucial Champions League tie against Olympiakos at Anfield.
The Reds simply had to win their last group game by two clear goals against the Greek side to progress to the knockout stages, but found themselves down 1-0 at halftime, courtesy of a goal from Brazilian legend Rivaldo.
In the second half, shooting toward the legendary Kop end, Liverpool had gone into a 2-1 lead thanks to goals from Florent Sinama-Pongolle and Neil Mellor before, with just five minutes left, Gerrard unleashed a thunderbolt of a right-foot shot into the back of the net to ensure his side made it to the knockout stage.
It's one of the most important goals of Gerrard's career and without this goal, Liverpool wouldn't have gone on to win the tournament a few months later. It was just a stunning goal.
A few of you might think this is a surprise inclusion, but this goal from QPR's Trevor Sinclair is simply sensational and one of the best goals that Loftus Road has ever seen.
The cross comes over from the by-line and Sinclair, from around 20 yards out, scores with one of the best overhead kicks in Premier League history.
Polarising, mercurial and talented are just three words you could use to effectively describe Paolo Di Canio.
Famous for pushing a referee and getting hit with a multi-game ban when he was at Sheffield Wednesday, Di Canio often hit the headlines for all the right reasons during his playing career in England. Whether it was his act of fair play, catching the ball when Everton's Paul Gerrard was injured instead of scoring, or scoring some tremendous goals, Di Canio was nothing if not entertaining.
This goal from a Premier League clash with Wimbledon was set up by a magnificent cross-field ball from Trevor Sinclair (who we've just seen), and Di Canio unleashed a bicycle kick—with both feet off the ground—to score one of the goals of the season. It's goals like this that remind us what a truly special player he was.
When Michael Owen burst onto the scene as a teenager at Liverpool, he had the world at his feet. He had skill, electrifying pace and an eye for goals that frightened the best defenders in the Premier League.
Glenn Hoddle included Owen in his squad for the 1998 World Cup in France, and Owen further enhanced his reputation on football's biggest stage. During their last 16 tie with Argentina, both sides were awarded, and scored, a penalty inside the first 10 minutes, tying the score at 1-1.
Picking up the ball midway inside the Argentinian half, Owen's blistering pace and desire to get into a goalscoring position took him past the defenders before hitting a terrific right-footed shot across the keeper and into the corner of the net.
What a goal. What a player.
To be fair, there's not an awful lot to say about this goal. Arguably English football's biggest league fixture John Arne Riise announced himself to the world with a thunderous shot that nearly burst the net!
I'll go ahead and assume that nobody reading this knows who James Grady is, or even who Dundee United and Dundee are. Dundee United and Dundee are two Scottish teams whose grounds lie just hundreds of yards apart, and their rivalry is just as passionate as other teams around the world.
Heading into this match, Dundee had been promoted in the summer of 1998 after a four-year hiatus from Scottish football's top flight. United had been the more successful side in recent years, so when Dundee travelled 150 yards or so down the road, there was nothing for the Terrors to fear.
In a game that United completely dominated from start to finish, little James Grady stepped up to score the winning goal. It's one of the best goals in Dundee derby history. Watch it from the 8:14 mark.
This isn't the first free-kick on the list and it won't be the last!
When Chelsea took on Aston Villa just before Christmas last year, their eccentric Brazilian centre-half David Luiz stepped forward when they were awarded a free-kick 25-30 yards out. Few in the ground thought that he would trouble the goalkeeper, but he sent a crashing, dipping effort into the back of the net to score one of the goals of the season.
Alan Shearer was arguably the best goalscorer of his generation. Throughout his time in the game, he scored all kinds of stunning goals for Southampton, Blackburn and Newcastle.
He was, and still is, hero-worshipped in Newcastle and with goals like this one against Everton in 2002, it's easy to see why.
No list of great goals would be complete without this strike from the summer of 1997. When Brazil were awarded a free-kick around 35 yards out, there looked to be little or no danger.
However, full-back Roberto Carlos stepped up and, after taking a run up of about 10 yards, he scores one of the most outrageous goals ever. There's no other way to describe it.
Marco van Basten was one of the best players of his generation. Blessed with natural ability, he quickly rose to the top of the game, with this incredible volley in the Euro 1988 final against the USSR at the top of his own list of amazing goals.
Zinedine Zidane's strike against Bayer Leverkusen in the 2002 Champions League final was one of those things where you had to see it to believe it.
The mercurial Frenchman had already won the World Cup and European Championships with his country in the four years before this, but this stunning goal added the Champions League to his list of hours.
When Papiss Cisse signed for Newcastle last January, he was in blistering form and it took him no time to settle in to the English game whatsoever.
He struck up a fantastic understanding with his teammates and at Stamford Bridge almost 12 months ago, he scored one of the most impossible goals I've ever seen. He shouldn't be able to score a goal from that position on the pitch against a keeper of Petr Cech's quality, but there was nothing the Czech could do about it. A sublime piece of skill from a player full of confidence.
It's frightening to think that six years ago, Liverpool's midfield comprised of Javier Mascherano, Steven Gerrard and Xabi Alonso. A formidable trio who, more often than not, completely controlled games for Liverpool. Gerrard has stayed, but Mascherano and Alonso have moved on.
But it's strikes like this one against Newcastle in 2006 which ensure that Alonso is fondly remembered by every Liverpool fan. An outstanding effort from well inside his own half. Unbelievable!
The enigmatic Swede cuts a frustrating figure sometimes, but his belief in his own ability is unquestionable. A few months ago, Ibra put England to the sword by himself, scoring four goals, highlighted by this incredible overhead kick.
The Man United fans have a song about Paul Scholes that goes something like "Paul Scholes, he scores goals." The little midfielder has been a tremendous servant to his club and country, and he's scored some belters in his time, but he'll have scored few better than this one against Aston Villa.
Direct from a corner, Scholes sends a volley crashing into the roof of the net from outside the box. It's one of those goals that gets better every time you see it.
As good as Paul Scholes' strike was, this one from Wayne Rooney was even better. With United trailing 1-0 against Newcastle, Rooney ran on to a flick-on and fired an unstoppable effort past the Newcastle keeper, who had no chance.
Ryan Giggs is one of the most decorated players, if not the most decorated player, in English football history, and this goal proves why he's gone on to be one of the best players to grace the game.
Picking up the ball midway inside his own half, Giggs beats four or five defenders before sending his shot into the roof of the net. Not only did his goal win the FA Cup semifinal with Arsenal, it's even more remarkable when you consider that Giggs scored with just 10 minutes of extra-time left.
Wayne Rooney is back on this list, and deservedly so. Big players rise to the occasion in big games, and Rooney did it here against Manchester City a couple of years ago.
Timing his run to perfection, he met Nani's cross with a stunning overhead kick to help his side beat their fierce local rivals. No keeper in the world would've stopped that!
Sometimes there are goals that just leave you speechless. They're indescribable. Ronaldo's strike for Manchester United in their Champions League quarterfinal against Porto four years ago is one of those goals. There aren't many players who would have the audacity to try this, never mind have the belief that they'd score.
I was 18 years old when I watched this goal live, and it just gets better with age. Henry's close control in taking the pass, flicking the ball up and volleying in from outside the box all contribute to making this goal one of the best I've ever seen. This was Henry at his best.
Lampard is closing in on becoming Chelsea's all-time leading goalscorer. He needs just three more goals to achieve that.
He's been an incredible servant for the club, scoring crucial goals at crucial times and while he might have scored more important goals than this, his strike against Everton in December 2006 is surely toward the top of the list of his favourite goals.
Ronaldo's back again and this free-kick is just unbelievable. Taking a free-kick from 30 yards out, Ronaldo's shot does dip and swerve, but it's also the sheer power of the strike that gives the keeper absolutely no chance. It's just an unbelievable goal from one of the best players ever.
We started this list off with a recent goal from the Premier League, so we might as well finish it with another recent goal! It comes from a man who's already appeared on this list, Chelsea's David Luiz.
The Brazilian is carving out a reputation for scoring phenomenal goals and striding on to a pass, the big defender lets fly with a ferocious shot from 30 yards that gives Mark Schwarzer in the Fulham goal absolutely no chance.
Every goal on this list has its merits, and Luiz's strike is no different.