Los Angeles Dodgers vs. New York Mets: Live Coverage of Clayton Kershaw in N.Y.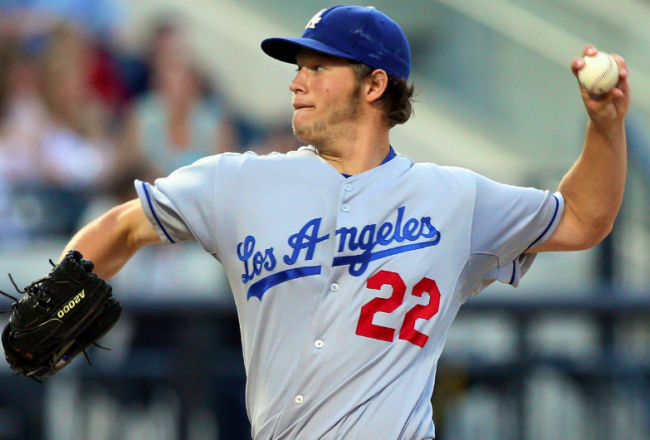 FINAL
Los Angeles Dodgers 7 - 2 New York Mets
Home Runs
LAD: Mark Ellis 2 (1,2)
NYM: none
WP: R. Belisario (1-2)
LP: B. Lyon (1-1)
Jon Niese leaves game with lower leg injury. X-rays negative, being called bone contusion. (day-to-day)
FINAL
Los Angeles Dodgers 7 - 2 New York Mets
Ike Davis strikes out swinging. 3 outs
Davis must work on not chasing so many pitches. He swung at ball four. But the Mets were down by 5 with 4 total hits this game. Barring a miracle they were not going to win this one.
To the Mets' credit, they did a great job of working Kershaw and driving him out of the game. This could have been a different game perhaps if Niese hadn't been injured.
But the Dodgers never gave in and came back with a vengeance late in the game. They would not be denied another game where Kershaw pitches. Great win for them.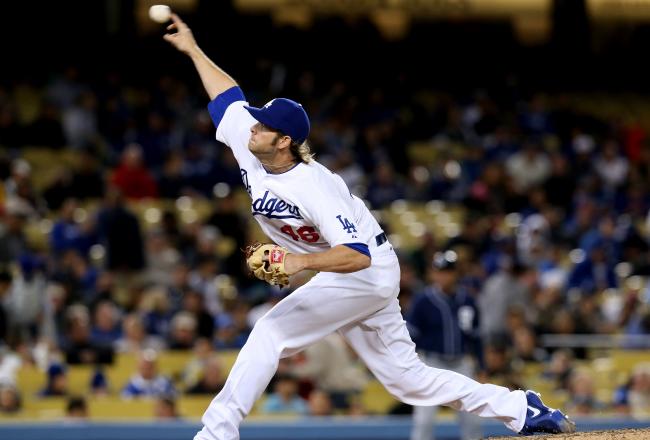 Wall looks like the real deal. Plus slider and great fastball with movement.
Justin Turner flies out to right field. 2 outs
Well hit but right to the fielder. Not much he could do there.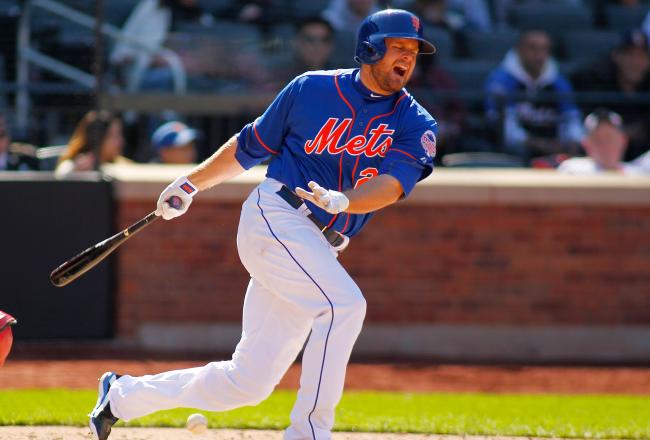 Lucas Duda strikes out swinging. 1 out
Nasty pitch breaking into a lefty. Nothing Duda could've done about that. Also got a questionable check swing call, but it's cold and the umps want to go home.
Skip Schumaker flies out to center.
Good job of recovering from the double by Familia. May not matter in the end though, as the Mets have an uphill battle in the bottom of the 9th.
Adrian Gonzalez strikes out swinging. 2 outs
Familia pumped it up to 97 mph on that one. May be out of frustration but either way it got the job done.
Matt Kemp doubles off the right field wall.
I spoke too soon again! After a quick 0-2 start on Kemp, Kemp worked the count and got a high fastball that he could drive. Still looking for that elusive first home run, but based on that swing it does not seem far off.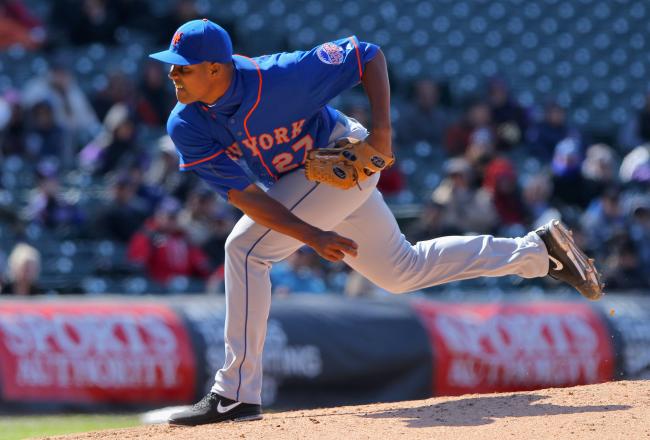 Familia looks very impressive. Really hitting his spots and throws the most effortless 95 mph fastball I've ever seen.
Mark Ellis strikes out swinging. 1 out
Familia went right after Ellis despite the 4 hits already today. It worked well this time for him.
Marlon Byrd flies out to center. 3 outs
Very slow for the Mets in recent innings. Once the Dodgers (Mark Ellis) blew this game open, the team has become much more anxious and is not working counts like they were on Kershaw.
The Mets are trying to be aggressive and force base hits, but the team is simply not talented enough yet to do that.
John Buck flies out to deep left field. 2 out
Just got under it and hit a moon shot. If he hit that well that ball may have gone 450 feet. Buck is the definition of raw power.
Matt Guerrier might have the right-handed equivalent of Kershaw's curveball
David Wright bloops out to second base. 1 out
Wright hasn't looked comfortable all game. Very forgettable performance for him.
Carl Crawford grounds out to first. 3 outs
Great pitch by Familia on that, and Crawford grounds out weakly. Familia looks much more confident this outing, but it is obviously very brief so far.
Juan Uribe strikes out swinging. 2 outs
Huge swings by Uribe, and smart move to go with off-speed pitch with two strikes after those two swings.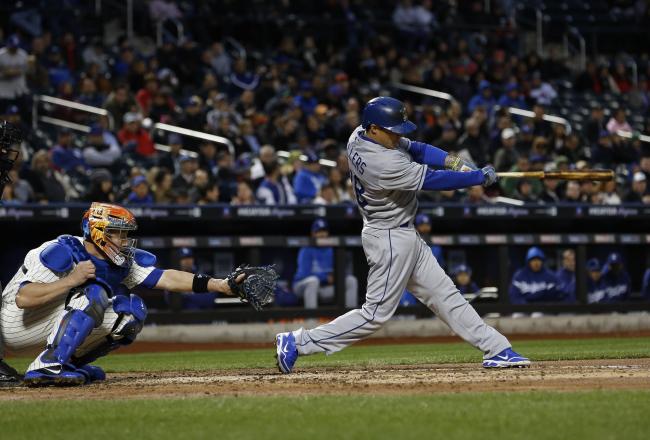 Justin Sellers hits a line drive single to right field.
Actually not too bad of a pitch. Left it down but just too much of the plate and even the No. 8 hitter can take it the other way.
But Edgin needs rest. He is on pace for 90 appearances this year which is outrageous. He will be just fine after some days off.
A.J. Ellis hits a 2-run double off the left field wall. Dodgers 7 - 2 Mets
Bad pitch and great hit. Edgin is struggling with his command, but when he does throw strikes he hangs them over the middle of the plate.
Andre Ethier doubles down the right field line.
Does a good job of waiting back on the hanging slider and taking it down right field. Edgin could be superb for the Mets but he is being overused this early in the season.
Meanwhile the Upton brothers can't stop hitting home runs. The Braves will finally expose that the Rockies are overachieving and they have zero pitching. But the Dodgers and Mets definitely wish they could use some of those home runs.
Tim Federowicz pops up to second base. 1 out
Still looking for his first hit this season. That's gotta be rough to deal with.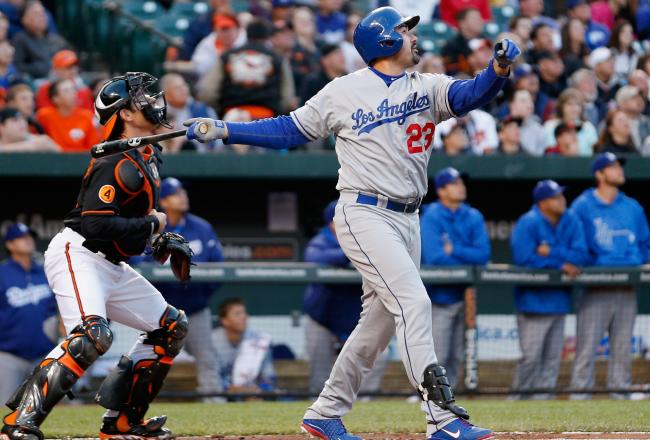 Adrian Gonzalez hits broken-bat bloop single to left.
He's a great hitter, and he will always find a way to get on-base for this team.
Josh Edgin yet to throw a strike and almost hits Adrian Gonzalez in the head. Not his best start to an outing.
Official attendance at Citi Field: 21,135. #mets

— Adam Rubin (@AdamRubinESPN) April 24, 2013
Maybe if you take away 20,000 of that!
Daniel Murphy pops out to shallow right field. 3 outs
Murphy got buckled on a nice slider, and then Rodriguez went back outside to get the poor swing and putout. That was Pitching 101 on how to beat a good hitter.
Ruben Tejada grounds into a fielder's choice to third. 2 outs
Good hustle by Lagares to second and great snap throw by Uribe, too.
This article is
What is the duplicate article?
Why is this article offensive?
Where is this article plagiarized from?
Why is this article poorly edited?

New York Mets: Like this team?