Zach Line: 5 Things You Need to Know About the SMU Fullback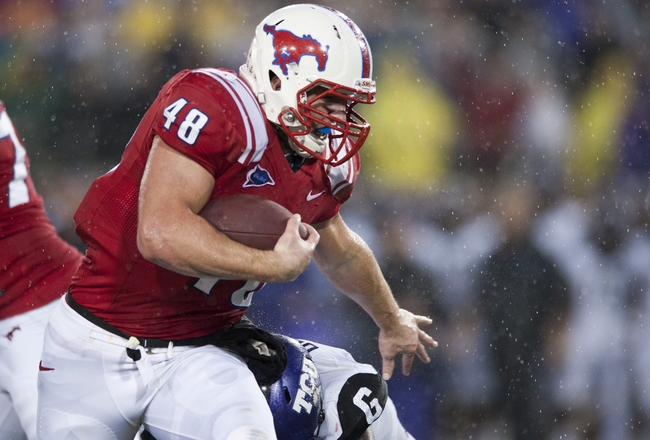 Cooper Neill/Getty Images
Zach Line is powerful runner that is looking to make a living at the next level by clearing lanes for runners behind him. At just over 6'0" and weighing in around 230 pounds, Line brings a combination of size and speed that has become a rarity in the NFL.
Line is part of a fullback draft class that features dual-threat blockers and runners. Most of these players have converted from running back by putting on more size, but still possess the skills and agility of possession backs.
Here we explore the five things you need to know about Zach Line.
Background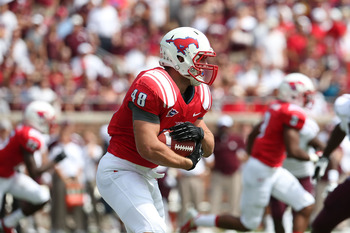 Ronald Martinez/Getty Images
Name: Zachary Line
Hometown: Oxford, Michigan
High School: Oxford Area Senior High School
Major: Business & Political Science
Year: Senior 2013
Zach Line was a multi-sport star coming out of high school with accolades in football and wrestling. After graduating high school early, Line joined the SMU football team and became a hybrid fullback/short yardage back.
Statistics
Ronald Martinez/Getty Images
Season: ATT YDS AVG TD
2012: 277 1,278 4.6 13
2011: 208 1,224 5.9 17
2010: 244 1,494 6.1 10
2009: 49 189 3.9 7
Line's role with the Mustangs increased dramatically after his freshman year as he developed into a reliable short yardage back. By his junior season, Line was posting yardage and touchdown numbers that drew comparisons to other big backs like Toby Gerhart.
Draft Process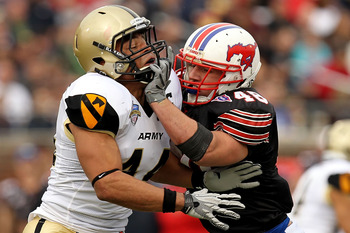 Ronald Martinez/Getty Images
Measurables
Height: 6'1"
Weight: 232 lbs.
Arm Length: 30.75"
Hand Size: 8.75"
40-yard dash (10-yard split): 4.77 (1.63)
Broad jump: 9'3"
Vertical jump: 30.5'
Bench Press: 26
Pro Day Results
40-yard dash (10-yard split): 4.62 (1.63)
Broad jump: 9'9"
Vertical jump: 33'
Shuttle: 4.4
Cone: 7.12
Line was one of a few projected fullbacks invited to the combine and he did not disappoint. Line displayed impressive athleticism with solid speed and strength times on a 230-pound frame. At the SMU Pro Day, Line improved in every category, including a noticeably faster 40 time.
Interesting Facts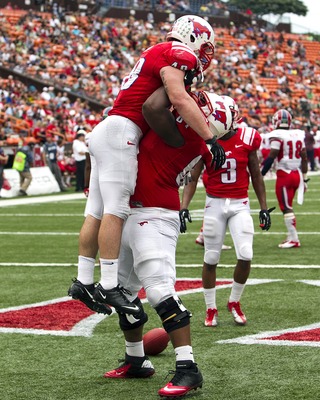 Marco Garcia-USA TODAY Sports
Line was a two-way football player in high school, leading his team as a running back and the starting middle linebacker.
Line was not only a notable football prospect in high school, but he also finished third in the state of Michigan in wrestling.
While not as dynamic or elusive, Line managed to pass SMU and NFL great Eric Dickerson's Mustang record for all-purpose yards.
Observations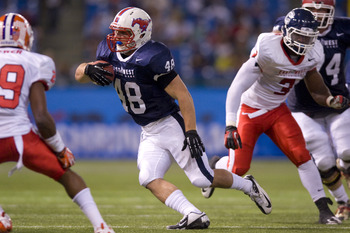 Jeff Griffith-USA TODAY Sports
Analysis of Line's strengths, according to NFL.com:
Solid north-south runner with the eyes to find creases and the feet to make the quick cut inside to take advantage of open space. Follows offensive linemen on the move, knowing when to burst past them. Arm tackles come up short against his ever-working legs and nice lean, and he gives excellent effort to gain an extra yard once wrapped up inside. - NFL.com
WalterFootball.com had this to say in regard to Line's combine performance:
Many teams view Line as a hybrid fullback/running back. He could be an effective goal line and short-yardage back in the NFL. Line had a solid combine 40 time for a fullback, but a poor time for a running back. He did well as a receiver in the field work.
Keep Reading