The first round of the NBA playoffs has provided plenty of entertainment, and the action continues with three marquee matchups on Tuesday evening.
While the Miami Heat figure to continue marching through with ease in pursuit of a second straight championship, the other two contests should provide a bit more competitiveness.
A defensive battle between the Boston Celtics and New York Knicks is on tap in Madison Square Garden, while the Golden State Warriors will look to rebound from a crushing defeat in Game 1 against the Denver Nuggets.
Below is a breakdown of each game with predictions as to which teams will emerge victorious.
Milwaukee Bucks at Miami Heat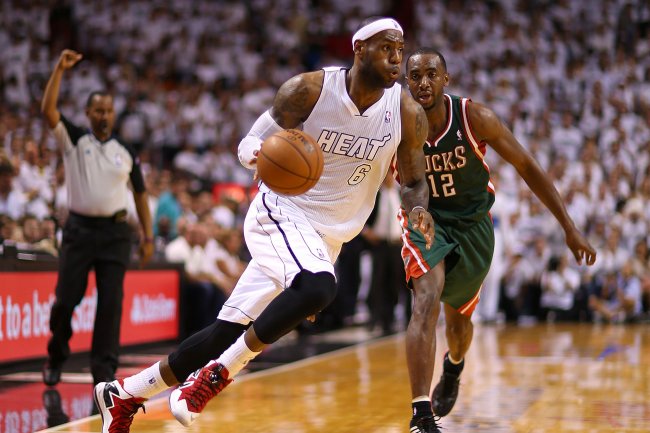 Mike Ehrmann/Getty Images
Miami's Big Three played less than three quarters in Game 1, and it didn't matter. LeBron James made 9-of-11 shots from the field and posted game-high totals of 27 points, 10 rebounds and eight assists.
This contest shouldn't be too much different. After all, the Bucks are a sub-.500 team and don't stand much of a chance against the defending NBA champions as it is. The Heat allowed Brandon Jennings and Monta Ellis to get theirs in the opener, but no one else stepped up for Milwaukee.
During the regular season, the Heat were the worst rebounding team in the league and the Bucks were in the top five. However, Miami out-rebounded its foe 46-to-31 in Game 1.
That certainly makes Jennings' prior prediction of a Bucks series win something that would truly be the work of Angels in the Outfield (via ESPN's SportsNation):
Brandon Jennings says the Bucks will beat the Heat in 6 games. Hey...it could happen! twitter.com/SportsNation/s…

— SportsNation (@SportsNation) April 21, 2013
There really isn't much to be excited about here for the Milwaukee faithful. Other than Larry Sanders patrolling the paint, the Bucks have no answers for the Heat's high-octane offense.
Look for James to continue his dominance and for Miami to have another double-digit triumph thanks to smothering everyone outside of Milwaukee's dynamic backcourt.
Prediction: Heat 115, Milwaukee 98
Boston Celtics at New York Knicks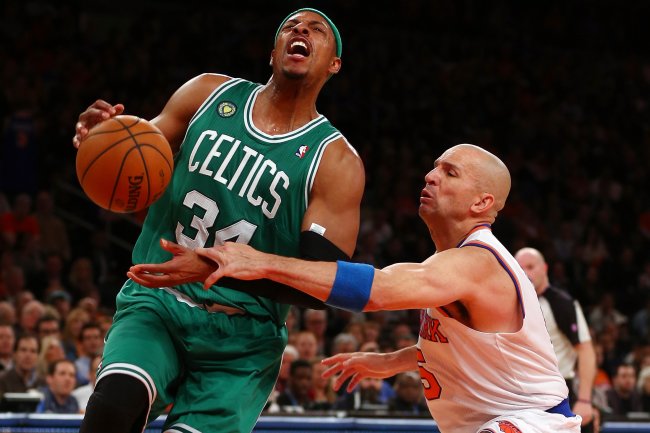 Elsa/Getty Images
Team defense and grit is usually what allows the veteran Celtics to outlast their competition. With the fundamentally sound system head coach Mike Woodson has put in place, though, New York is now a similarly constructed squad.
ESPN's John Buccigross highlighted just how historically great the Knicks' second-half effort was in the last game:
ELIAS: Knicks held the Celtics to 25 points in the second half, Boston's lowest total in a half in any of its 592 playoff games #celticfrost

— John Buccigross (@Buccigross) April 21, 2013
NBA scoring champion Carmelo Anthony also lived up to the hype, pouring in 36 of his squad's 85 points in a seven-point win. The Knicks simply have more offensive firepower with Celtics star point guard Rajon Rondo out.
Boston is in trouble if it continues to get the lack of production from its bench that it experienced in the first outing, with no Celtics reserves making a single shot from the field. Six turnovers apiece by franchise cornerstone Paul Pierce and Jeff Green also won't get the job done, and the C's turned it over 20 times as a team.
While Melo's performance is extremely encouraging for the Knicks in some capacity, it also indicates that they could be in trouble without a similarly sensational display.
Which team has the better chance to pull off an upset on Tuesday?
Sixth-man stud J.R. Smith is streaky, and New York doesn't have any other truly dependable options to create offense—unless Raymond Felton counts. But his impact is essentially neutralized from a scoring standpoint by lockdown Celtics defender Avery Bradley.
This Celtics bunch isn't going down without a fight, and it wouldn't be surprising to see them steal a game at MSG considering how sloppy they were in nearly pulling off that feat in the first game.
Prediction: Celtics 90, Knicks 87
Golden State Warriors at Denver Nuggets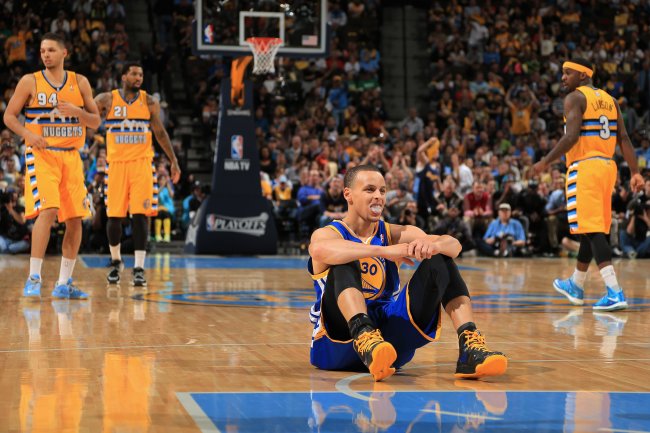 Doug Pensinger/Getty Images

Benjamin Hochman
of the
Denver Post
reports that Nuggets forward Kenneth Faried will return for Game 2. Even if it's not in a starting role, which head coach George Karl's gut says it won't be, this is not good news for Golden State fans.
The Warriors are without All-Star big man David Lee for the rest of the playoffs due to a torn hip flexor. That puts even more of the onus on the historic three-point shooting tandem of Stephen Curry and Klay Thompson to fill it up, absent a true offensive force on the inside.
Carl Landry is no slouch at power forward and actually plays better man-to-man defense than Lee, but it will be nearly impossible for him to replace his level of offensive production.
Andre Miller, Denver's Game 1 hero, continues to be an ageless wonder at 37, and he has the ability to post up either Curry or Jarrett Jack anytime he wants to. His strong play should continue in that context.
Video Credit: NBA YouTube channel
Faried's energy and hustle should give the Nuggets the requisite boost to notch another victory in the Pepsi Center, and the Warriors will have to dig deep just to pull a game out at home in this series.
Prediction: Nuggets 104, Warriors 95