10 Funniest Moments of the 2012-13 Premier League Season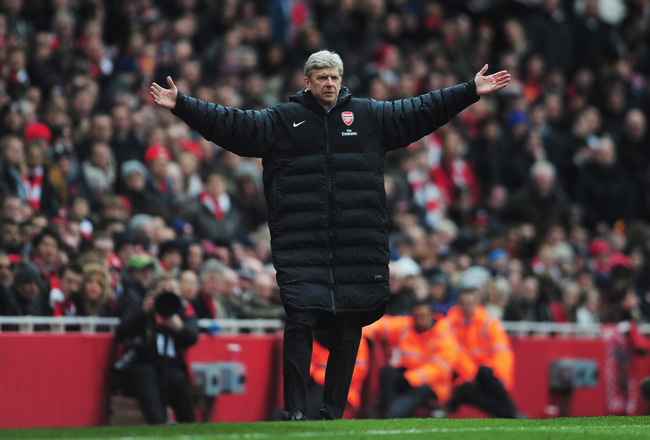 Jamie McDonald/Getty Images
Sunday's action saw two of the more inexplicable moments of the 2012-2013 Premier League season, as Luis Suarez went for his maniacal chomp at Branislav Ivanovic, and Roberto Mancini decided to send Joleon Lescott on as a substitute striker as Sergio Aguero looked on from the bench.
It's been a very strange season, but whatever boredom from Manchester United wrapping up the title so early on this year—after they confirmed the inevitable on Monday night against Aston Villa—can surely be offset by some grand entertainment from a few glorious moments throughout the campaign.
So, without further ado, here are our 10 funniest moments of the season. Enjoy.
10. Andre Santos' Shirt Swap
Look away, Arsenal fans. We're about to remind you of some horrible recent history.
Yes, there was a time when Andre Santos used to play in an Arsenal shirt. And there was a time when Arsenal played Manchester United at Old Trafford. A 1-2 loss to the Red Devils in November, when Robin van Persie scored against his old club, to be exact.
At half-time, after a non-existent marking brief on the United No. 20, Santos had the guts to go up to the archenemy to ask for his shirt. At half-time.
And it wasn't even a mutual exchange. Van Persie didn't take Santos' back. Ouch.
9. Jonathan Walters, Chelsea Spy
When it rains, it pours: Sometimes a player has such a horrible day out that he deserves every sympathy. Or it's just hilarious.
Take a look at Stoke City's Jonathan Walters, who on most days typifies Tony Pulis' workmanlike approach to the game, with a strangely effective brand of forward play.
On January 12, 2013, Walters scored two own goals and missed a penalty in front of his home fans as the Potters succumbed to a 0-4 home loss to Chelsea.
Well, at least that didn't preclude a terrible 2013 and they're not in real danger of relegation. Oh wait…
8. Carlton Cole's Impossible Finish
When Andy Carroll is injured or otherwise unavailable for selection, bad things happen for West Ham United.
Carlton Cole gets to play.
And on January, in the Hammers' first game in the new year, Cole contrived to miss from all of three yards after a Guy Demel cross was handed to him on a plate.
At least he showed some humor about it.
Damn just watched match of the day , it really was a soccer a.m. "Taxi for Carlton " moment, my mum woulda put that away! #chinup

— Carlton Cole (@CarltonCole1) 2013年1月1日
7. Lee Probert Gets Tackled
There have been a lot of headline-making tackles in the Premier League this season, which have unfairly combined to brush this one under the carpet.
The tackle in question was committed by Fulham's Steve Sidwell in a September game against Wigan Athletic, and the victim was none other than referee Lee Probert.
Probert's positioning led to trouble and he was caught in a tangle, requiring attention from the medical team afterwards, but he didn't lose his wit as he playfully brandished a red card for Sidwell.
6. Cheick Tiote Is Frustrated
Here's a classic overreaction.
In an October clash against Manchester United, Cheick Tiote committed a pretty normal yellow card-worthy tackle on Wayne Rooney in the midfield area.
Any other player would probably remonstrate a bit with the referee before trudging away grudgingly, but Newcastle United midfield terrier Tiote lived up to his billing with an almighty roar and an amusingly over-the-top reaction to the whistle.
Roar on.
5. Marouane Fellaini Cushions Ryan Shawcross
Marouane Fellaini is a powerhouse. He is also rash and commits needless fouls.
Ryan Shawcross is less of a powerhouse. But he is also rash and commits needless fouls.
Put the two together and what do you have? Well, according to what transpired in a December fixture between Everton and Stoke, less of an explosive physical encounter as we'd have wanted, actually.
As it turns out, Fellaini's cushion of an Afro still hurts enough for Shawcross to hit the deck after being semi-headbutted. We suspect it's more like a brush to the face, but probably don't want to try what it actually feels like.
4. The Many Faces of Phil Jones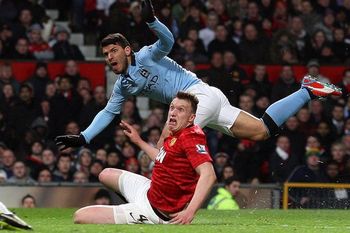 Credit: Daily Mirror
As easy as Manchester United's stroll to the title was, they still can't seem to get over their City hoodoo.
And judging from Phil Jones' brilliant facial expression, he couldn't seem to get over Sergio Aguero's match-winning strike in the Manchester derby this April.
Cue the public admiration for Jones' facial contortions all over the Internet. Here's the Daily Mirror for an excellent compilation.
3. Jason Puncheon Takes a Bathroom Break
It's not every day that a footballer leaves the pitch to visit the dressing room during a game. So it's not every day that a crowd gets to sing about it.
Naturally, then, when Jason Puncheon had to make a dash for a mid-game bathroom break in a 0-0 draw between Southampton and Everton, the Saints fans had a grand old time singing about it.
Credit too to Southampton manager Mauricio Pochettino, who was in charge of his first Saints game following their dismissal of Nigel Adkins and made the following comment: "When there is a new manager, the players want to impress and sometimes nerves get the better of them." (Daily Mirror)
Football banter at its best.
2. Arsene Wenger Is Late
A rollercoaster season for Arsenal looks likely to once again end in Champions League qualification, and Arsene Wenger, just like his team, just keeps delivering.
We've seen him struggle with his puffy jacket too many times over the course of the season, but while that would guarantee him entry into this list already, surely his latest effort on Saturday has elevated him a few places.
Against Fulham, Wenger decided to take his time in the dressing room and saunter jauntily back to his spot on the touchline after play had resumed after half-time. Arsene Knows.
1. Youssouf Mulumbu's Temper Tantrum
Our winner of the Funniest Moment of the Season is West Bromwich Albion's Youssouf Mulumbu, who pulled off this amazing strop against West Ham United in December.
Sprinting in his own half with the ball, Mulumbu decided to get unhappy at a half-challenge from Gary O'Neil and promptly picked up the ball in open play before smashing it at O'Neil.
What?
For more extensive coverage on Liverpool and the Premier League, check out my Bleacher Report writer's profile and follow me @theredarmchair.
Keep Reading