One Advantage Every NBA Playoff Team Has Over the Field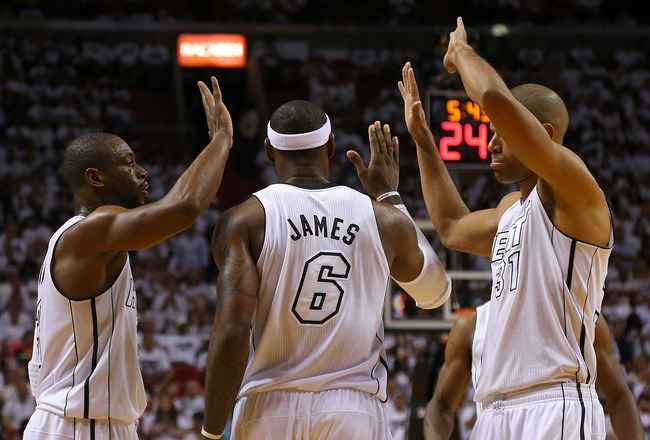 Mike Ehrmann/Getty Images
As Al Pacino might tell you, basketball, like life, is a game of inches. And the inches we need are all around us; we just have to resolve to grab them. Nowhere are these inches more important than in the playoffs.
With the postseason action finally underway—why do they make us wait 82 games?—it's important to remember that all 16 teams left have a host of factors distinguishing them from the lottery teams watching at home.
But among the playoff teams, the differences are slight and the advantages minute. A foot on the line or a fingertip on the ball can turn defeat into victory.
Some advantages, like LeBron James, are more overt, while others are most subtle, like the altitude sickness that creeps over visiting teams in Denver.
Each squad has a unique X-factor, a player or quality that no other playoff team can match, and here's one for every postseason contender.
Milwaukee Bucks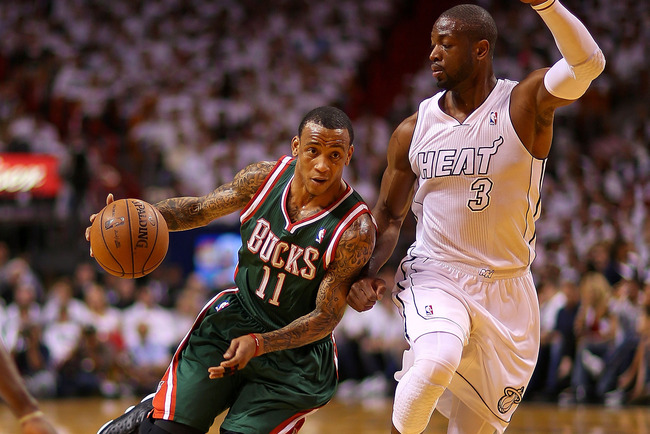 Mike Ehrmann/Getty Images
Backcourt Scoring
This season, Monta Ellis led the Milwaukee Bucks with 19.2 points per game. Brandon Jennings was second with 17.5 per game. Trade-deadline acquisition J.J. Redick finished up his 28 games in Milwaukee averaging 12.3 per game.
Their third leading scorer, Ersan Ilyasova, has been slowed by a wrist injury, so they'll need all the scoring they can get from their big backcourt (per Charles Gardner, Milwaukee Journal-Sentinel). Ellis and Jennings posted 48 points in Game 1, but Redick had just six.
The Bucks will need more than that from all of them if they're to beat the Miami Heat.
Houston Rockets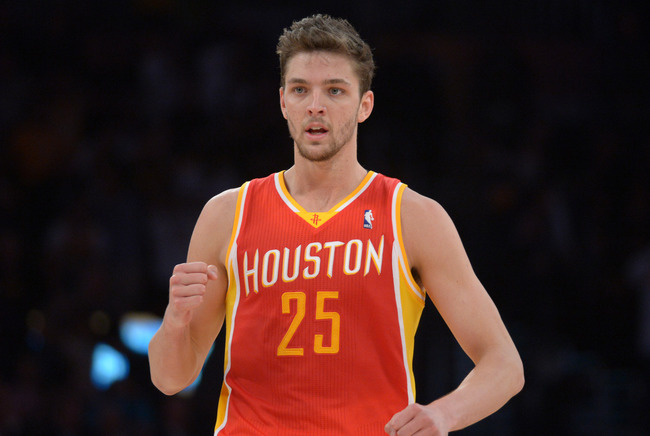 USA TODAY Sports
Shooting Forwards
I know, you always thought "SF" stood for small forward, but not for the Houston Rockets, who rely on a fast-paced, high-scoring style and thus need shooters wherever they can get them.
Chandler Parsons improved by leaps and bounds in his second season, averaging 15.5 points per game on 48.6 percent shooting. He knocked down two three-pointers per game and even improved his free-throw shooting by 18 percent. But Parsons faltered in Game 1, scoring nine points and shooting 1-of-5 from downtown.
Similarly, Carlos Delfino has put in valuable time as a shooting forward off the bench. During the season, he led the Rockets with 2.4 made three-pointers per game. He hit two from deep and went 4-of-10 overall in Game 1, and though that fits with his season averages, he may need to make a few more per game to help this Houston squad upset the Oklahoma City Thunder.
Boston Celtics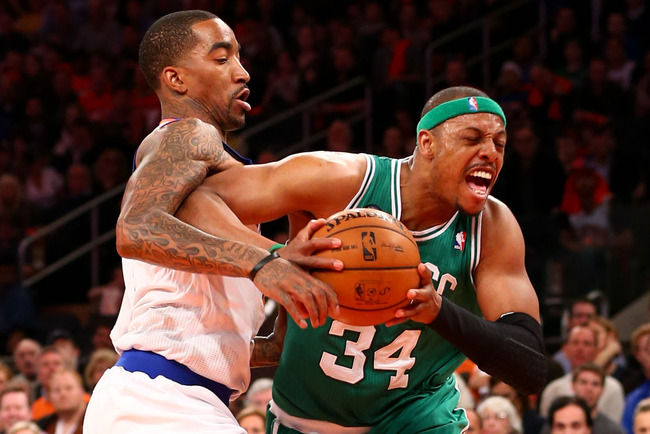 USA TODAY Sports
Pierce's Clutch Play
Paul Pierce put up just 21 points on 6-of-15 shooting and 1-of-7 from three-point range in the Boston Celtics' Game 1 loss, but he also tallied seven dimes and five rebounds.
You can bet that every New York Knicks fan is quaking in his blue and orange boots. They fear the distinct possibility that Pierce, also known as "The Truth," will take over and smite them once again.
See Jan. 7 when he drained a dagger jump shot and then blew a kiss to the crowd at Madison Square Garden. That was the only game the Celtics won against New York this season.
While Pierce's clutch scoring this season was not what it used to be—with a margin of no more than three points in the final two minutes, Pierce shot just 14-of-44 (34.1 percent)—he has developed other ways to punish opponents when it counts, leading the league with 16 assists in the clutch (per NBA.com/stats).
And he would drive nails into New York's coffin just for spite. You'd be a fool to count out The Truth. Just look at March 8, when Pierce Boston's final four points in regulation to force overtime with the Atlanta Hawks, then scored five points in OT and dished the key assist on a Jason Terry triple.
He's got ice water in his veins and no fear in his heart. The Knicks will be hounding him in the endgame, especially considering Jason Terry's disappearance.
Los Angeles Lakers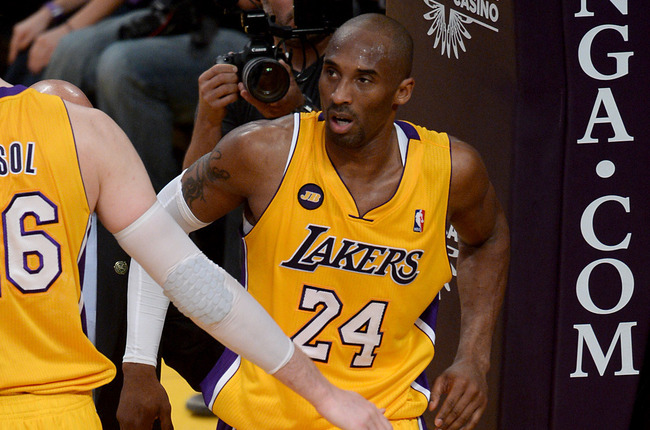 Jayne Kamin-Oncea-USA TODAY Spor
Sage Advice on Post Play
The Los Angeles Lakers' currently lead the NBA in player tweets. Kobe Bryant is unable to travel because of his injured Achilles, so he watched Game 1 at home.
I can only imagine how frustrating it would be to watch the team you've played for since 1996 loaf through a playoff game, so instead of screaming at the TV, the Black Mamba headed to Twitter.
He advised Pau Gasol and Dwight Howard to get down on the block and lamented the poor interior defense on Tony Parker. As annoying as this must have been for coach Mike D'Antoni (he won't be tweeting for Game 2), the fact is that Bryant is right, the Lakers must get more looks for Pau and Dwight on the block.
The Lakers have no Kobe, Steve Nash has been compromised by a sore hamstring and their bench contributed a woeful 10 points in Game 1.
Gasol finished that game shooting 1-of-4 from the mid-range wings and 1-of-5 from beyond 16 feet, but 4-of-5 from within eight feet (per NBA.com/stats). Howard scored 20 points efficiently, but attempted only 12 field goals.
Maybe D'Antoni should fire up his Twitter app and revamp the offensive gameplan. Gasol and Howard are his only difference makers, and one of them can attack Tiago Splitter on every possession.
Atlanta Hawks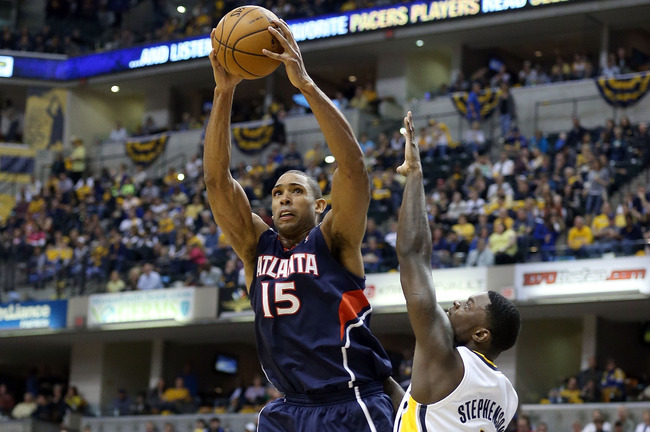 Andy Lyons/Getty Images
The Best Player No One is Talking About
The Atlanta Hawks are fast becoming the Rodney Dangerfields of the NBA. They get no respect, I tell ya, no respect. Atlanta ranked 26th in attendance this season despite a 25-16 home record (per ESPN). LVH Superbook has their odds of winning a title at 100-1.
Al Horford had a season worthy of All-NBA third team discussion, but he gets precious little buzz. He averaged 17.4 points and 10.2 rebounds per game and led the team in PER after playing just 11 games last season due to injury. Injuries to Lou Williams and Zaza Pachulia left Atlanta shorthanded down the stretch, so Horford's bounce back campaign was all the more crucial.
Josh Smith turned in another strong all-around campaign, averaging 17.5 points, 8.4 boards, 4.2 dimes, 1.2 steals and 1.8 blocks, but they might have missed the playoffs altogether without Horford. Smith has also been limited with an ankle injury (per Atlanta Journal-Constitution's Chris Vivlamore on Twitter).
The Hawks won their first two games of the regular season against the Indiana Pacers; Horford played excellently in both games. After Hawks coach Larry Drew admitted his team got "physically manhandled" by the Pacers in Game 1 (per AP, via Fox Sports), it will be imperative for Horford to bang with Indy's bigs.
Horford has the versatility to defend 4s or 5s and he can clean up the glass. With Smith hampered, the Dominican national holds the key to counteracting Indiana's formidable frontcourt.
Golden State Warriors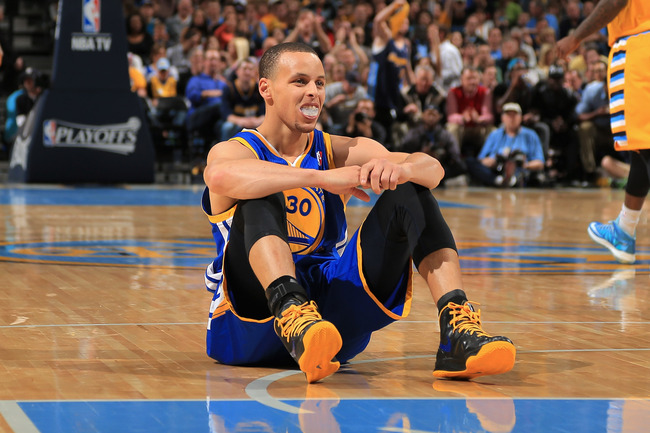 That thin air can get to you.
Doug Pensinger/Getty Images
Curry's Sweet Stroke
Now that David Lee has been lost for the season to a very painful-sounding torn right hip flexor, the Golden State Warriors are left scraping the pieces together (via ESPN.com). The injury leaves them razor thin in the frontcourt, and the Denver Nuggets will get Kenneth Faried back for Game 2 (per Aaron Lopez of Nuggets.com).
Who knows, maybe Andris Biedrins will make an appearance if we're lucky.
With so many woes up front, Stephen Curry will have to continue his historic shooting campaign. Curry broke the league record for three-pointers in a season, draining 272 treys at a 45.1 percent clip. Given the lopsided situation up front for the rest of this series, Golden State's only hope is to score as many points as they possibly can.
Recall that Curry's 54-point outburst at Madison Square Garden on Feb. 27 came with David Lee serving a one-game suspension. Of course, they lost that game, but if Curry can flirt with 40 per game for the remainder of the series, that could add up with Jarrett Jack's contributions to keep the games close. Carl Landry, who scored 14 points on Saturday, will likely fill in for Lee.
Curry had only 19 points on 7-of-20 shooting in Game 1 and he'll have to at least double that going forward for the Warriors to have a puncher's chance.
Chicago Bulls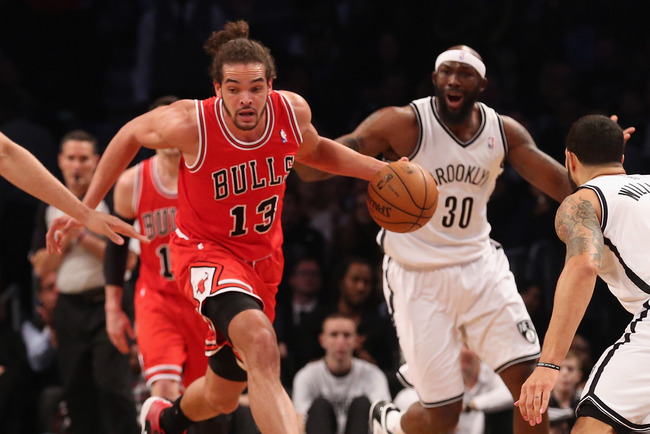 Bruce Bennett/Getty Images
Forward Progress
After Joakim Noah's 25-minute double-double in Game 2, the Brooklyn Nets are in big trouble. With Noah's foot healthy enough to dominate Brooklyn, he joins Luol Deng and Carlos Boozer to form the most formidable frontcourt in the league.
The Chicago Bulls were the first team this postseason to notch a road victory, and Noah's production in the final two minutes put the game out of reach (five points, three rebounds).
Deng and Boozer also tallied double-doubles in the win, and the Bulls are awfully hard to beat when their Big Three put up crooked numbers like those. And it's not just the offensive production. When those three patrol the paint, it makes things much easier for the team defensively.
Chicago held Deron Williams and Gerald Wallace to just one field goal apiece as they bullied their way to a 1-1 series tie.
Memphis Grizzlies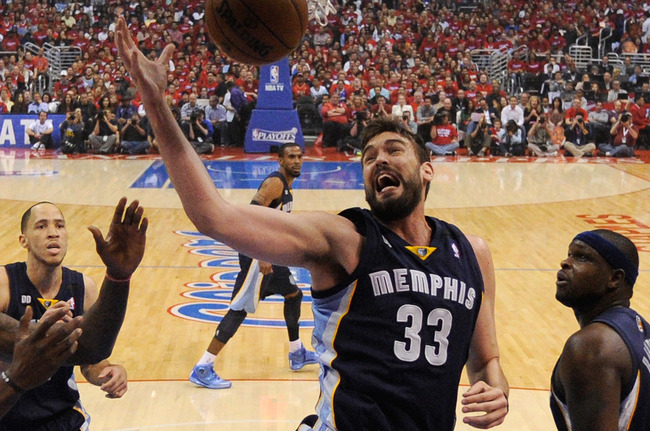 Harry How/Getty Images
The DPOY
According to ESPN radio host Chris Vernon on Twitter, Marc Gasol will be named the 2012-13 Defensive Player of the Year.
It's a tremendous honor for the Spaniard who has become one of the league's finest centers. Gasol plays with great discipline and is almost always in the right position on D.
He anchored a defense that allowed the fewest points per 100 possessions and the fewest possessions per game in the conference (per ESPN). They control the pace against opponents and bully them into submission.
The Grizz desperately need a pair of wins back in Memphis to even the series. Though the L.A. Clippers are a matchup nightmare (both teams rebound well, both teams play well in the half court, etc.), Gasol stands at the center of the West's best defense. He and Zach Randolph make it difficult for the Clips to chuck up alley-oops and for Chris Paul, Eric Bledsoe and Jamal Crawford to knife to the hoop.
If it weren't for CP3 pushing off Tony Allen and hitting the game winner on Monday night, the series might be 1-1. Memphis has to win with their defense, and this series won't begin until the Grizz drop a home game.
Brooklyn Nets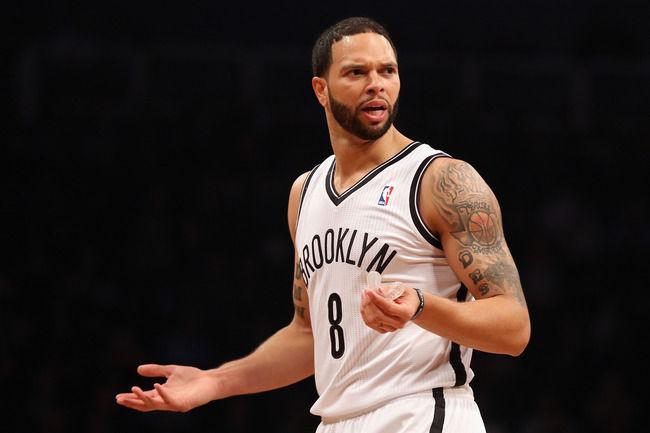 Bruce Bennett/Getty Images
One Plus Five Equals Victory
The Brooklyn Nets don't have the league's best point guard or best center, but add them together and they boast the best combo at the 1 and 5 in the NBA. In their first season on Flatbush Avenue, the Nets have tremendous pressure on them to succeed in the playoffs, and it's all up to the play of Deron Williams and Brook Lopez.
Owner Mikhail Prokhorov—who said in November that the Eastern Conference finals were the goal—addressed the crowd at Barclays Center prior to Game 1. It probably would have been Jay-Z, but he's too busy being a sports agent. The message was clear: Thanks to the fans, and as for the players, don't screw it up.
Everything went to plan in Game 1 as the Nets opened up a 25-point lead at halftime. The Brooklyn fell flat on their faces in Game 2. Williams scored just eight points on 1-of-9 shooting in the loss. Meanwhile, Gerald Wallace shot 1-of-7 and Joe Johnson shot 6-of-18.
With home-court advantage gone, D-Will must put on his big boy pants and play like he's the leader on this team. Lopez has been stupendous so far (21 points, five rebounds and six blocks per game), and his point guard must shake off the rust and adjust to the stifling team defense of the Chicago Bulls.
Williams tallied 30 points and 10 assists against the Bulls on April 4, and that's just the sort of production that would carry the Nets to Round 2.
Los Angeles Clippers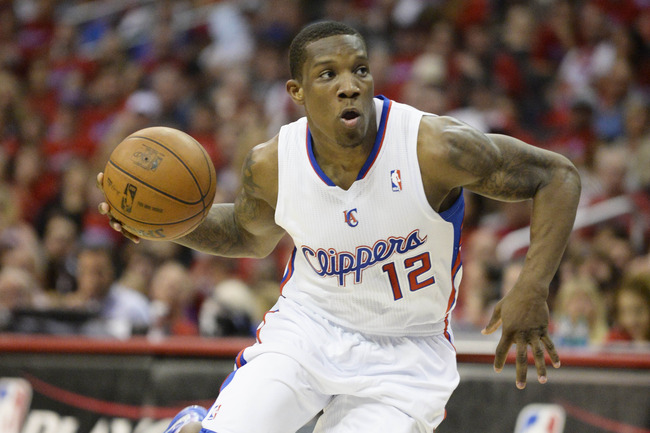 Richard Mackson-USA TODAY Sports
Depth
The L.A. Clippers have players for days. Of course, they have Chris Paul and Blake Griffin, but they are solid down to the 15th man.
Not only do they have the second-place vote-getter for Sixth Man of the Year, Jamal Crawford, but Eric Bledsoe and Matt Barnes have been dynamos off the bench. It's no wonder that Barnes was recently named the most underpaid player this season by Forbes.com.
Even Ronny Turiaf and Lamar Odom made key plays on defense in Game 2, despite being held without a point.
Mike Conley scored a season-high 28 points in Game 2, and it still wasn't enough for the Memphis Grizzlies to avoid a 2-0 series deficit. The Clips bench outscored the Grizz reserves 30-11 and their depth should scare every potential opponent. It can make all the difference this late in the season.
Indiana Pacers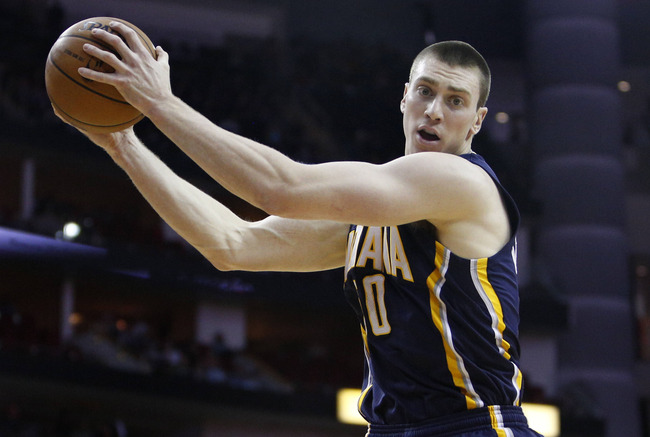 Thomas Campbell-USA TODAY Sports
Rebounding
During the regular season, the Indiana Pacers averaged the most rebounds per game (45.9) and the highest rebounding differential (plus-5.0) in the league.
Come playoff time, it's more important than ever to create and capitalize on second-chance opportunities while limiting those for the opponent. That's precisely what the Pacers do.
With their stout defense and host of underrated stars—you know George Hill, Paul George, David West and Roy Hibbert, right?—the Pacers could make a run deep into June if they can keep up the intensity, especially on the boards.
Denver Nuggets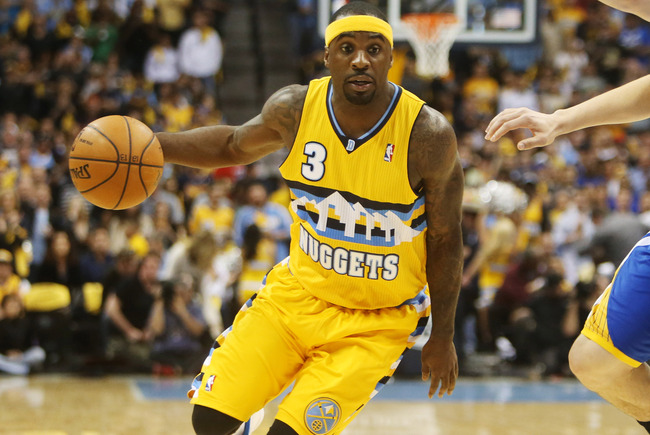 Chris Humphreys-USA TODAY Sports
Home-Court Advantage
For those of you who don't know, Denver is really high up. It's not called the Mile High City just because it joined that airplane club.
The Denver Nuggets posted a 38-3 record at the Pepsi Center this year, which is statistically significant for a team that lost 22 road games.
While it's not like opponents land in Denver and stagger to their hotel rooms gasping for oxygen, the effects of the altitude are concrete, and they are exaggerated by the effort of sprinting up and down the court after the run-and-gun Nuggets.
The Nuggets live in the air up there, so they're used to it. Opponents only get a shallow-breathed sample of life in the Rockies.
All Denver needs to do after Round 1 is win all their home games (easy) and steal one road win per series (hard). That would make them Cinderella NBA champs.
New York Knicks
Anthony Gruppuso-USA TODAY Sport
Three-Point Shooting
The New York Knicks led the league this year with 10.9 made three-pointers per game. When their shots are falling from long range, they are nearly impossible to keep up with.
They posted the third-most efficient offense in the league, so the risk of attempting so many three-point shots (28.9 per game) clearly paid off. They knocked down nine treys in their Game 1 win against the Celtics, and Steve Novak did not even attempt one in his five minutes of play.
While too many pundits deploy the "live-by-the-three, die-by-the-three" characterization, there's no doubt that the long ball serves as an integral component in their offense. Defenses must hustle on every closeout and patrol the perimeter, since every Knicks player except Tyson Chandler and Kenyon Martin can hit from downtown.
San Antonio Spurs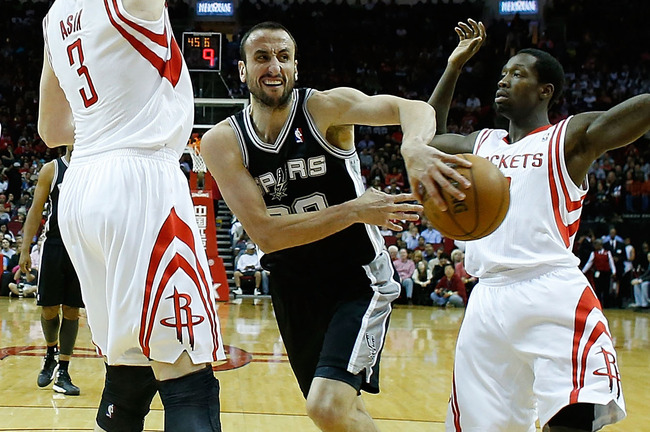 Scott Halleran/Getty Images
Manu Magic
Manu Ginobili was not supposed to be a factor in the series. He's supposed to be held together with little more than chewing gum and electrical tape.
The 35-year-old told Mike Monroe of the SpursNation.com before the playoffs that he'd play limited minutes. He also predicted that he wouldn't do much on offense, saying, "I'm not going to probably be a factor scoring-wise, but I'm going to try to be solid, create for my teammates, play good defense and help."
Ginobili wrapped up Game 1 with 18 points, three assists, two steals and two rebounds. He also had a team-high plus-19 rating in the 12-point win. So much for not being a factor.
Ginobili diversifies the Spurs' attack so much, it creates a nightmare for defenses. Especially the shorthanded L.A. Lakers.
Miami Heat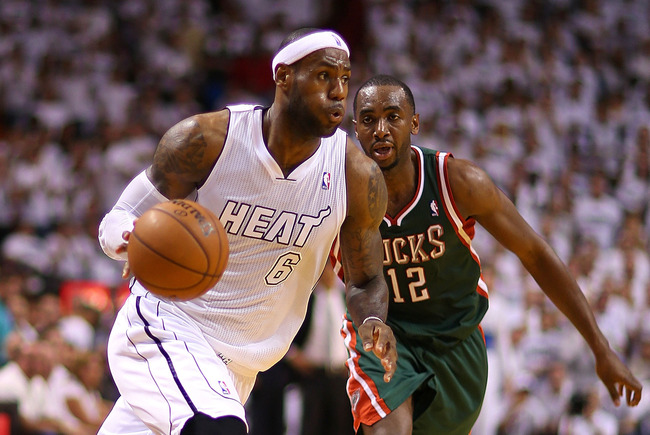 Mike Ehrmann/Getty Images
The Most Talented Player Everyone is Talking About
Let me see... Who's that guy with the talents down in South Beach? The guy with "Chosen 1" tattooed across his shoulders?
Oh, that's it, LeBron James. Having him on the roster is like having all the nukes during the Cold War. LeBron is scary good because he can beat you in so many ways. He can score like Allen Iverson and pass like Mark Jackson. And he's built more like Bo Jackson.
James tallied 27 points on 9-of-11 shooting with 10 boards and eight dimes in Game 1. He tied his own mark for fewest shots in a playoff game while also setting a personal best for shooting percentage (per Elias, via ESPN).
Defending LeBron James is like a multiple choice question that needs the option "none of the above." He makes everyone else around him better and he plays stellar defense. The only way the Milwaukee Bucks win the series would be down to injury or 90 points a night from Monta Ellis and Brandon Jennings.
Oklahoma City Thunder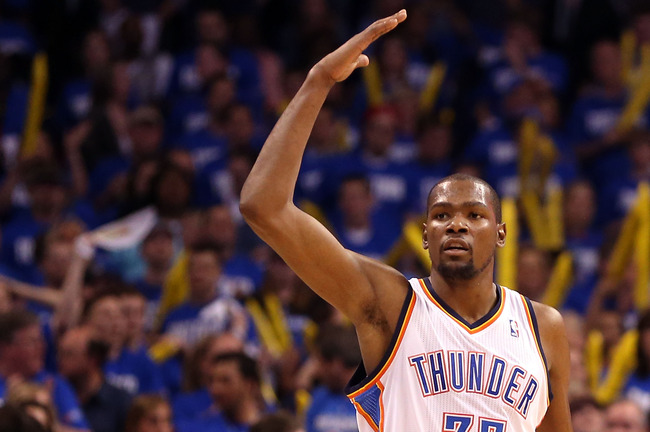 'Are you not entertained?'
Christian Petersen/Getty Images
Chip on Their Shoulders
Kevin Durant is sick of finishing second, and that's front-page news for Sports Illustrated (cover story by Ben Golliver). He's playing angry, which should terrify the Houston Rockets.
The Oklahoma City Thunder are the reigning Western Conference champions. They finished the season with the best record in the West and boast an unparalleled blend of youth, athleticism and playoff experience.
But haters around the Twitterverse can only talk about how they lost James Harden and will never beat the Heat.
Kevin Durant and Russell Westbrook could both make the All-NBA first team, and Serge Ibaka has added a mid-range jump shot to the menu at the block party. This team is crazy talented, and it sometimes seems like no one thinks it can beat Miami.
But as the Heat showed last year, a loss in the NBA Finals can provide plenty of motivation to win it all the following season. OKC doubters beware.
Keep Reading