Titans 2013 Mock Draft: Final 7-Round Predictions for Tennessee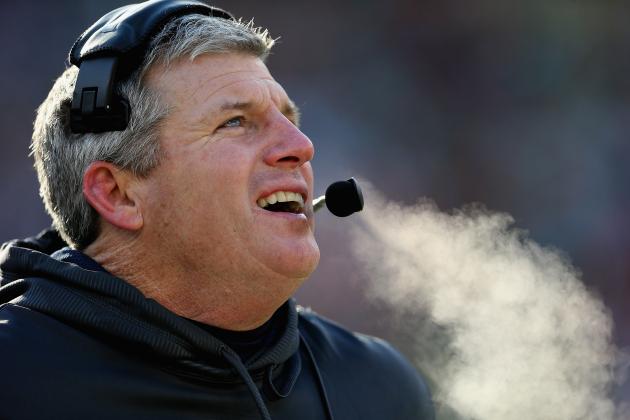 Jonathan Daniel/Getty Images
2013's the year for more than smoke from Munchak.
The last week of draft talk is usually nothing but filler. Some rumors gain traction and others fall flat. The Titans have been working on their draft board since before the 2012 season started, and it's very unlikely that players are moving much at this point.
Free agency was a rare bonanza, although it was primarily for depth. The draft is where the team gets new star power. It's also a last chance for the front office to prove that they deserve to stay beyond 2012.
Will the team take the obvious need at guard in the first round? If so, what about the other needs on the defensive line, secondary, along with depth at WR, RB and the offensive line? With nine draft picks, nothing is out of reach.
Begin Slideshow

»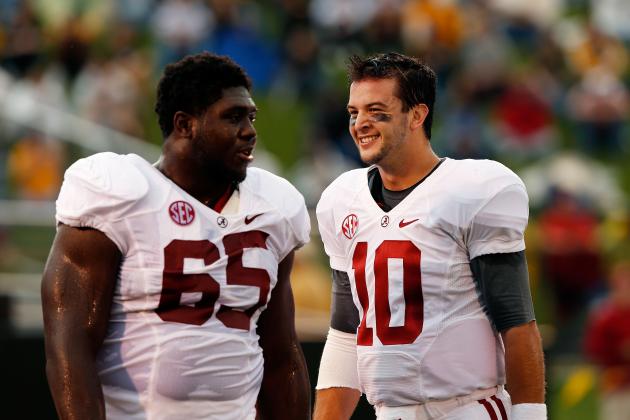 Jamie Squire/Getty Images
Warmack will make another No. 10, Jake Locker, very happy.
There are tons of rumors this week regarding Alabama offensive linemen and the Tennessee Titans.
On Monday, Daniel Jeremiah of NFL.com tweeted that D.J. Fluker might be the first Alabama offensive lineman taken. Tony Pauline of Draftinsider.net added a little fuel to the fire, mentioning "sources" from the Titans who think that Fluker is a potential starter at guard on "Day One."
Heck, even Chance Warmack himself mentioned that Fluker was his best offensive lineman teammate at Alabama on an interview with Music City Miracles Radio.
The bottom line is that the Titans have a need at one starting position more than the other 21 and that's right guard. Warmack and Jonathan Cooper are the top prospects at the position, and Warmack is going to be the guy.
The worst rumor that came out about Warmack in the past week is that he sweats a lot. In that case, the Titans might want to invest in some additional towels for the sideline.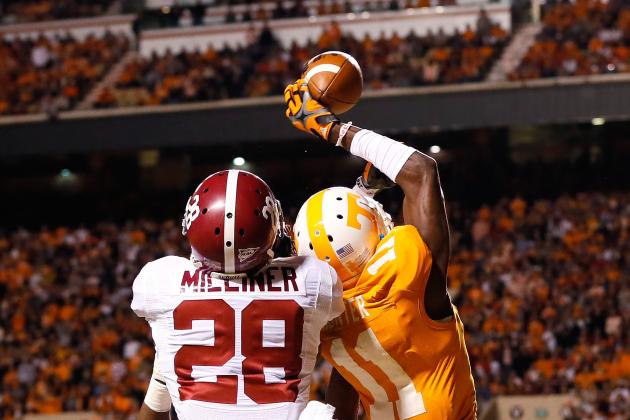 Kevin C. Cox/Getty Images
I've heard of the cornerback in this picture.
While the Titans may have alienated their University of Tennessee alumni base by not picking up Peyton Manning in free agency last year, maybe there's a consolation prize available. There's a lot more draft talk about his teammate Cordarrelle Patterson, but Justin Hunter was the Volunteers' leading receiver in 2012.
While Chance Warmack fills an immediate need, Hunter would take care of a future need. Kenny Britt is a free agent this offseason, and unless the Titans get a dollar-store contract out of him, he's leaving.
In a totally coincidental note, Hunter tore his ACL in 2011 in the third game of the season after dominating the competition for the first two weeks (17/314/2), which is a similar path to Britt in 2011.
Hunter wasn't as much of a deep threat last year, seeing as he averaged almost 22.1 yards a catch in his freshman and sophomore years compared to 14.8 his junior year.
Hunter is the right player to replace Britt. He has the size (6'4, 200 pounds), the speed (4.44 40), and Greg Cosell of Yahoo! Sports Shutdown Corner thinks he's "the most intriguing receiver on the board."
The only problem with Hunter is he may not be available when the Titans pick in the second round. If he is, defensive needs can wait.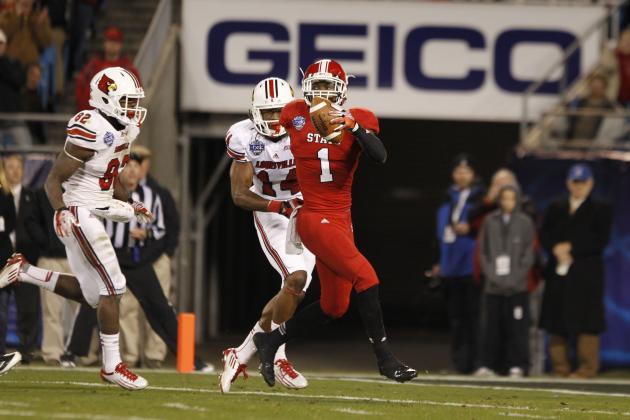 USA TODAY Sports
Amerson can give the Titans additional help in the secondary.
David Amerson led the NCAA with 13 interceptions his sophomore year and won the Jack Tatum Award, given out to the top defensive back in the country. Had he been draft-eligible, he may have been a high first-round pick. In his junior year, Amerson was less impressive, getting beaten often and only finishing the year with five interceptions.
The Titans are looking for a cornerback with size. Amerson qualifies there at 6'1, 205 pounds, and he ran a 4.44 40 at the NFL Scouting Combine. Bigger cornerbacks aren't always fluid in coverage and some have projected him as an NFL free safety.
Alterraun Verner is in the final year of his contract, and unless the Titans clear up some cap room, they're probably not giving him a contract extension this offseason. Even if he stays with the team, Verner's best role may be as a slot corner, giving Amerson the outside.
Even if Amerson cannot hack it as a corner, he makes an intriguing safety prospect and the there's need at that position as well.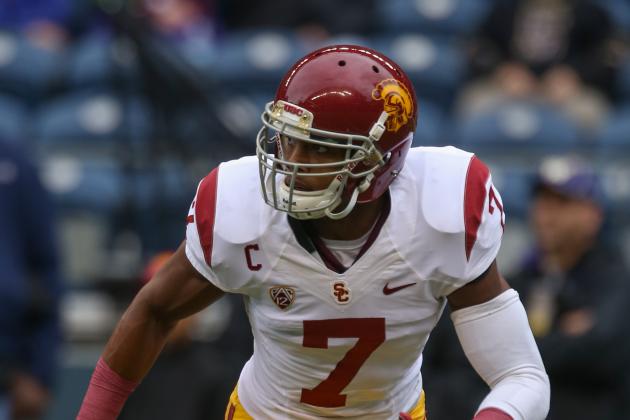 Otto Greule Jr/Getty Images
The Titans continue their secondary overhaul.
With the pick given to the Titans for losing Cortland Finnegan, they're looking for more help in the secondary. It's hard to beat the bloodline of a guy whose father, Tim McDonald (the T.J. stands for Tim Junior), played in the NFL for 13 years.
T.J. McDonald is a huge secondary presence at 6'2, 220 pounds. He can cover ground, as we saw with a 4.53 40 at the combine. He is more of an in-the-box player, taking a hybrid linebacker/safety role as a senior on a team that struggled to meet expectations.
In free agency, the Titans picked up two older, strong safeties in Bernard Pollard and George Wilson. Pollard's on a one-year deal and Wilson is signed for two years. The team needs a young player to develop at the position and McDonald has special teams experience.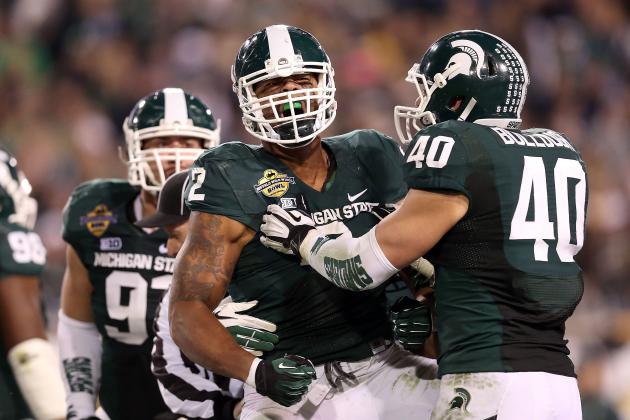 Christian Petersen/Getty Images
Gholston will be a welcome addition to the defensive line.
Derrick Morgan and Kamerion Wimbley cannot have the same workload in 2013 as they did in 2012. The team lost a lot of depth when Dave Ball and Leger Douzable were injured. Enter William Gholston.
Many NFL fans recall his cousin Vernon, who should be on the Mount Rushmore of NFL draft busts. William would give the Titans more size at the position (6'6", 281 pounds). Gholston may not be a pass-rush monster, but that's all right.
Akeem Ayers is still going to get some third-down snaps at end, which means Gholston will be a rotational player or play DT on obvious pass downs.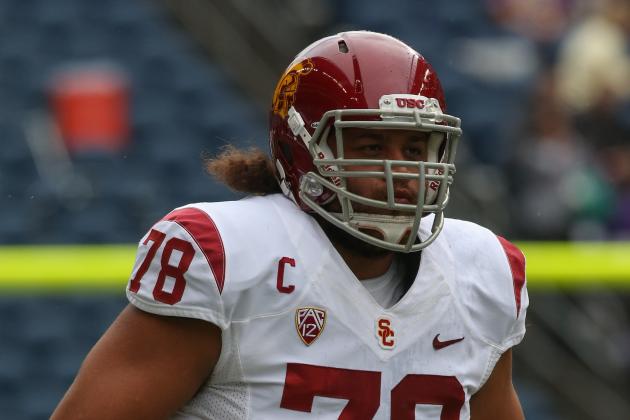 Otto Greule Jr/Getty Images
Depth at center wouldn't hurt.
Fernando Velasco signed his RFA tender and will be the Titans' starting center in 2013. As an undrafted free agent, he's going to always have competition for the starting gig.
It doesn't look good to have two members of the most disappointing college football team of 2012 on the draft list, but Khaled Holmes is too much of a value to pass up in the fifth round. He's a two-year starter at center with one season of play at right guard.
While the Titans added Rob Turner and Chris Spencer, depth in the interior makes sense. The team would officially be set to release long-time underachiever Eugene Amano and free up some cap space.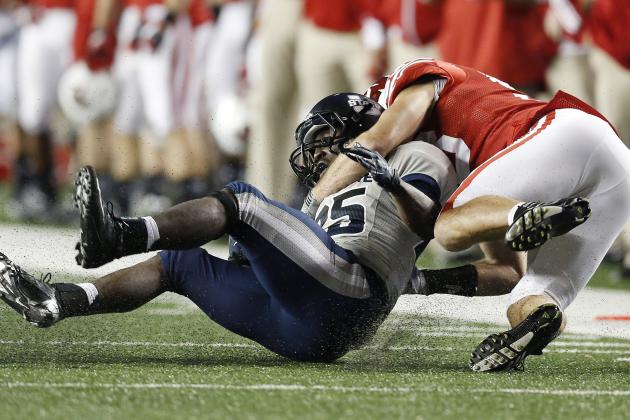 Tom Lynn/Getty Images
The Titans need a backup RB with some speed, and that's not Shonn Greene's game.
Utah State had two running backs taken in last year's draft (Robert Turbin, Michael Smith). Kerwynn Williams is looking to join that crew. Williams had to wait until his senior year to break out and that's what he did, gaining more than 2,000 combined yards and 20 touchdowns.
The Titans need a young RB to join the duo of Chris Johnson and Shonn Greene. Johnson's not a great blocker or receiver, so Williams would have a shot to take over third-down duties as a rookie. He was a kick returner in college and could help out in special teams.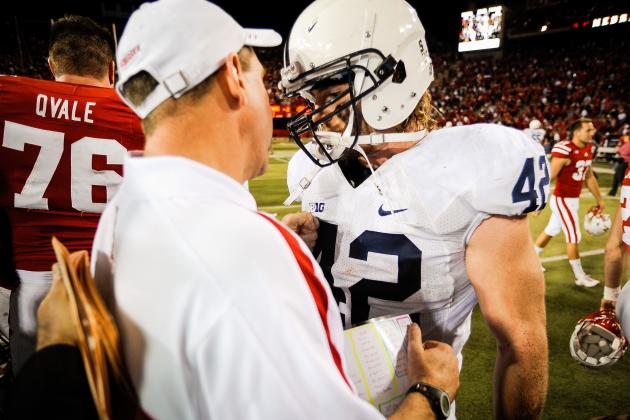 Eric Francis/Getty Images
Mauti's going to need to overcome a little more adversity to make an NFL roster.
Michael Mauti stuck with Penn State in his senior year and was on his way to a great season before suffering his third ACL tear. He's hoping to follow in the footsteps of Thomas Davis, the Carolina Panthers linebacker who has returned from three such injuries.
Colin McCarthy is the Titans' starting middle linebacker, but he's been a little injury-prone in his NFL career. The Titans could use a young middle linebacker in case things don't work out. Considering that the Titans added a lot of veteran depth in free agency, Mauti could be a candidate for injured reserve in his rookie year.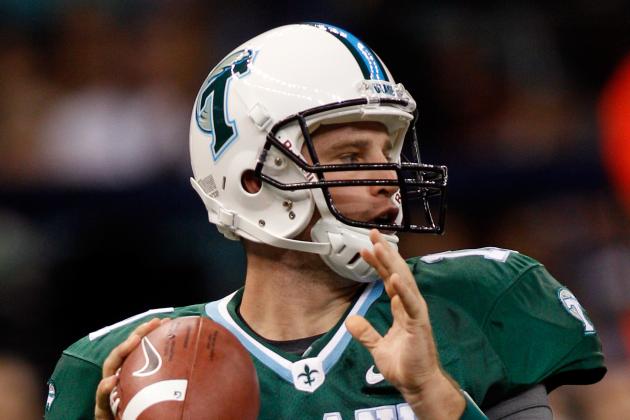 Chris Graythen/Getty Images
Griffin gives the Titans another developmental QB option.
If you rank quarterbacks by win-loss record in college, Ryan Griffin isn't going to get drafted. The Green Wave went 9-40 during Griffin's four years. He finished with a 56-35 TD-to-interception ratio on those hopeless teams.
Griffin has the frame (6'4", 220 pounds) to be a pocket passer in the league. It's time for the Titans to test Rusty Smith in training camp. Seeing as it's going to be hard for all the drafted rookies to make the team, Griffin needs to be good enough to unseat Smith to be on the final roster, and if he is, he could be Jake Locker's backup in a couple of years.