Ranking MLB's Top 7 Candidates for 30-30 Seasons in 2013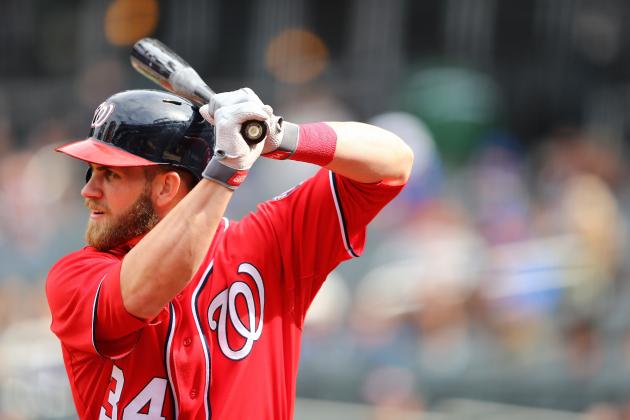 Al Bello/Getty Images
Bryce Harper should reap the benefits of beginning 2013 in the majors.
The 30-30 season—a true testament to the dual-threat athlete and an essential piece to the five-tool player.
Only a handful of stars have the skills to attain the much-sought-after goal of 30 home runs and 30 steals in a single season, and just seven players have reached the plateau in the last five years, two of which have done it twice (Ryan Braun and Ian Kinsler).
We're not yet a month into the season, but certain stars have begun to emerge from the crowd as legitimate 30-30 candidates, while others scrape to get the gears going.
Here are seven players most likely to reach September with an invitation to the 30-30 club in hand.
Begin Slideshow

»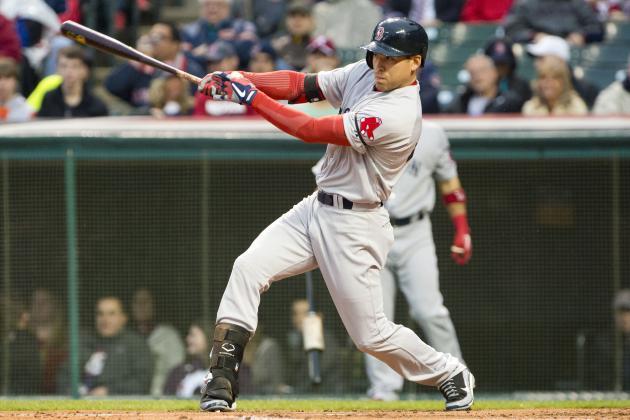 Jason Miller/Getty Images
Ellsbury could use a 30-30 season during his contract year.
Matt Kemp, Los Angeles Dodgers
Matt Kemp was part of the 30-30 club in 2011 when he hit 39 home runs and stole 40 bases. Despite his past All-Star caliber numbers, Kemp's slow start to the 2013 season, in which he has zero home runs and three steals, has jeopardized his chances of reaching the feat.
Carlos Gonzalez, Colorado Rockies
Carlos Gonzalez is capable of reaching the 30-home run mark, but it is the 30 steals plateau that may cause him to fall short. Gonzalez is off to a great start in 2013 with four home runs and four steals in 17 games, all while batting .364 for the red-hot Rockies. Gonzalez flirted with a 30-30 season in 2010 when he hit 34 home runs and stole 26 bases.
Jacoby Ellsbury, Boston Red Sox
Jacoby Ellsbury is entering his first full season since his 30-30 campaign in 2011 when he finished second in AL MVP voting behind a dominant Justin Verlander. Ellsbury proved his worth that year, and Red Sox fans are waiting to see the resurgent star back at it in 2013. The stolen bases will come easy (he has nine already) but the home runs will be a chore.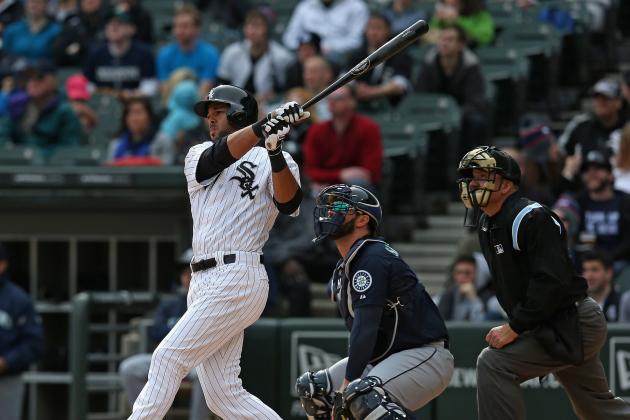 Jonathan Daniel/Getty Images
Rios is arguably one of the more underrated players in baseball.
Alex Rios may not be the first player who comes to mind in relation to the 30-30 club, but he deserves some recognition.
Sure, Rios has never eclipsed 25 home runs in any given season, but he is currently on pace to hit 45 this year. He will continue to get pitches to drive as long as he remains in the White Sox three hole ahead of notorious slugger Adam Dunn.
Rios can swipe a base too. He has only three steals in 19 games so far, but has had two career 30-plus steal seasons, including one with the White Sox in 2010 when he stole 34 bags.
Keep an eye on Rios as a dark horse 30-30 candidate.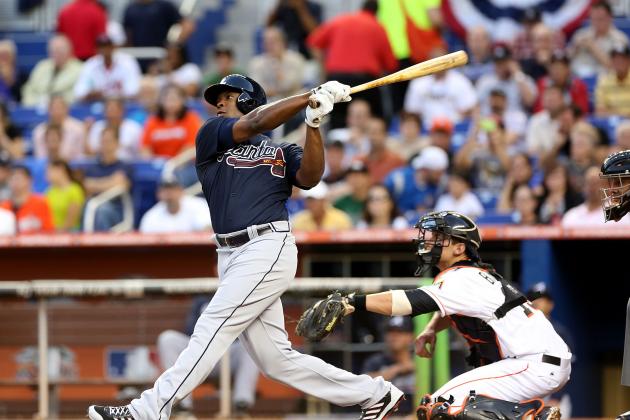 Marc Serota/Getty Images
Based on the follow through, Upton probably just jacked one out with this swing.
Considering Justin Upton is already one-third of the way to 30 home runs, it's safe to say, barring an injury or a significant slump, that he will eclipse the mark.
The reason he is ranked so low on the list is the uncertainty of his base-running ability. Upton should be considered a candidate for a 30-30 season even though he only steals around 20 bases a year. In fact, only once has he attempted 30 steals in a year; in 2011, he stole 21 bases and was caught stealing nine times.
If Upton continues to get on base at the high rate he has been to start the season, he may see more opportunities for steals, and consequently, his first invitation to the 30-30 club.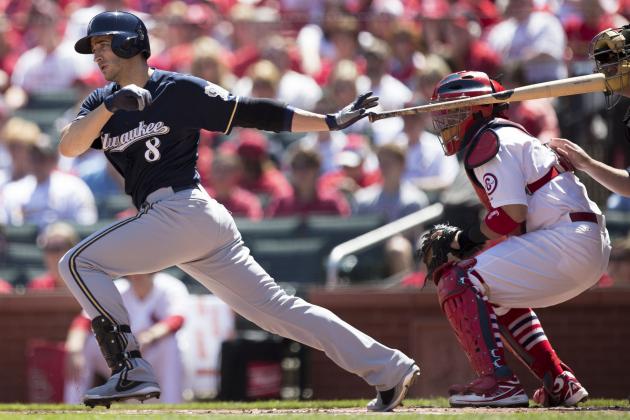 David Welker/Getty Images
Braun has been one of the most consistent hitters in the game.
Ryan Braun has been a 30-30 player the past two seasons, so naturally, he should be a top candidate to do it again.
However, it waits to be seen whether his connection with PED supplier Biogenesis will have an effect on his psyche. So far, that hasn't been the case, as Braun has collected six home runs in 15 games, which puts him on pace to easily break the 30-home run mark.
He only has one steal on the young season, so more aggression on the base paths will be beneficial.
Braun totaled 41 and 33 home runs and 30 and 33 stolen bases, respectively, in the last two seasons.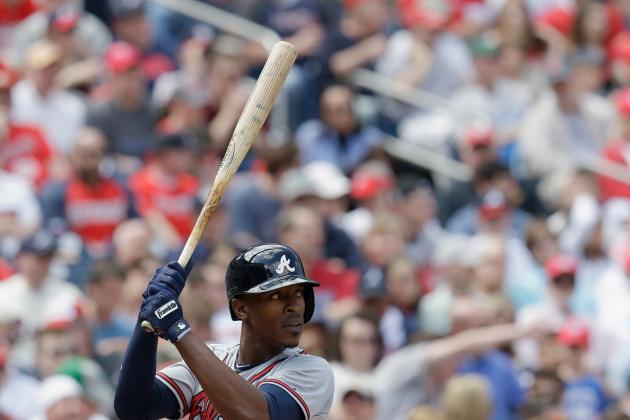 Rob Carr/Getty Images
Upton is off to a slow start in 2013 but should pick it up soon.
While each Upton brother possesses a similar amount of power, B.J. has a better chance at a 30-30 season than his younger sibling because the stolen bases will come at a much higher frequency,.
B.J. Upton came incredibly close last season when he hit 28 home runs and stole 31 bases during his final season as a Tampa Bay Ray. He is also more than capable of stealing 40-plus bases in a season.
Upton has watched his home runs totals increase steadily over the past three seasons. After hitting just 11 home runs in 2009, he hit 18 the next year, followed by totals of 23 in 2011 and 28 in 2012.
If the trend continues, there could be two Upton brothers with 30-30 seasons for the Atlanta Braves.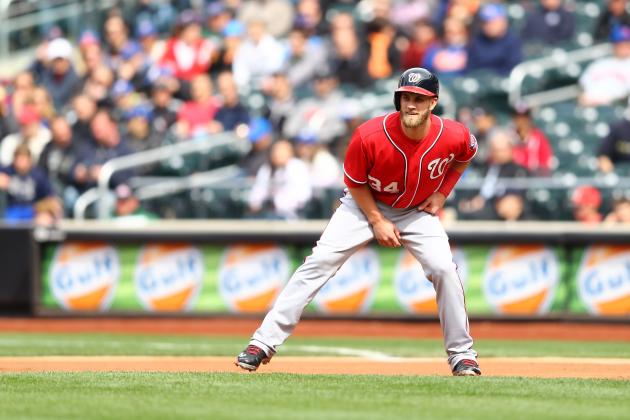 Al Bello/Getty Images
If Harper can up his steals total, a 30-30 season could be on the horizon.
Bryce Harper would be No. 1 on the list if he was more of a base stealer, but that attribute is not one of his statistical strengths.
Harper can swing the bat, as documented by his 22 home runs in 2012 that lead him to the NL Rookie of the Year award, and his seven home runs through 18 games of this 2013 season.
The young phenom collected 18 steals last year and has just one in 2013, so his work on the basepaths may be the Achilles' heel to his 30-30 season.
Don't count him out, though, because Harper can strike when we least expect it.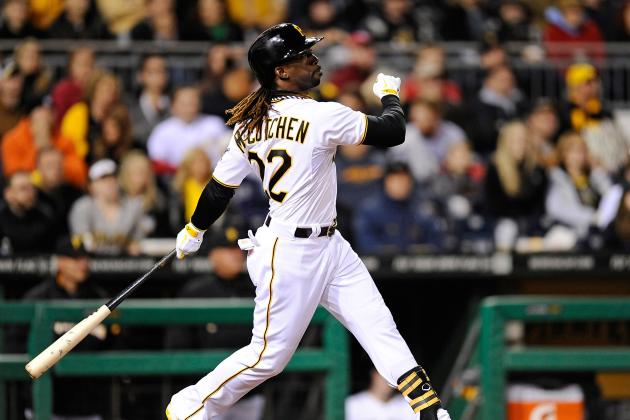 Joe Sargent/Getty Images
With McCutchen, it's all in the hair.
Andrew McCutchen broke out as an All-Star in 2011, but became an MVP candidate in 2012 when he hit .327, collected 31 home runs, drove in 96 runs and stole 20 bases.
Next on his list is a 30-30 season, and it is definitely attainable. Through 19 games in 2013, McCutchen has already collected six stolen bases, though his home run total (two) could use a boost.
In an untested Pirates lineup, McCutchen is the obvious target in the three-spot, but handles the pressure well. If he heats up again like he did in May through July of last year, a 30-30 season could be in his sights.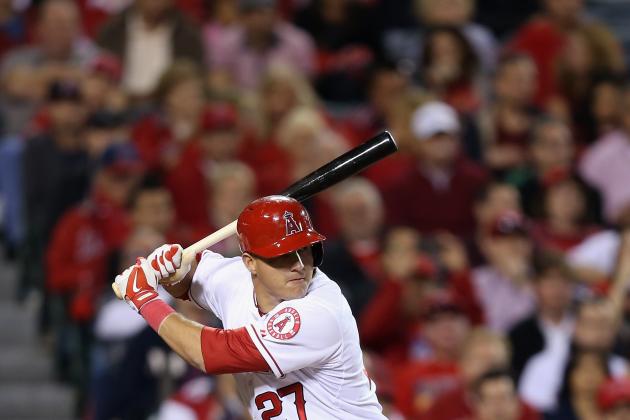 Jeff Gross/Getty Images
Trout hopes to avoid a sophomore slump.
Along with Ryan Braun, Mike Trout was one of only two players to complete a 30-30 season in 2012. He did it as a rookie, so who's to say he won't do it again?
During his Rookie of the Year campaign, Trout hit 30 home runs and stole 49 bases for the Angels. Baseball fans and Trout fanatics have accepted those numbers as Trout standards and are expecting similar numbers during his sophomore season.
The 21-year-old got off to a slow start in 2013, but has collected two home runs and three stolen bases over the past two weeks to get the ball rolling.