10 Realistic Goals for Manchester City in the 2013-14 Season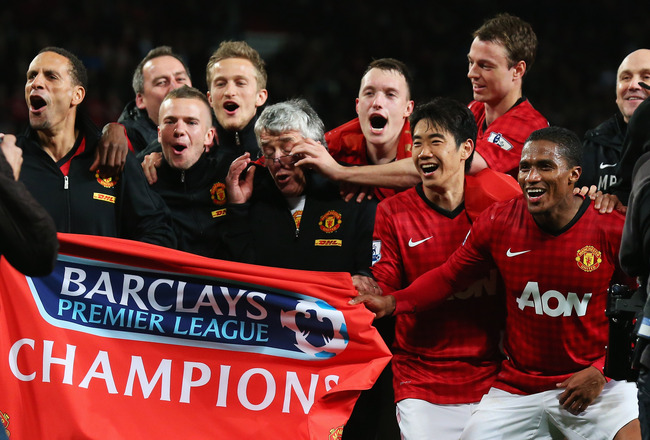 Manchester City will not need to look too far for proper motivation in the coming days.
Alex Livesey/Getty Images
The king is dead. Long live the king.
Manchester City's reign as Premier League champions did not last even a year. Sir Alex Ferguson's side clinched its title with four games left to play on its slate.
Ironically, while United now has nothing but even more pride to play for, City's final five league games plus its upcoming FA Cup final date with Wigan Athletic will all bear on how the club's management views this season.
If City wins the FA Cup and locks down a second-place finish, the season will be viewed as a mild disappointment with a few positives to reflect on.
But if City blows the FA Cup final to relegation-threatened Wigan, or if the Sky Blues somehow manage to let Chelsea or Arsenal sneak into second place in the table, well, the resultant trouble could be terrible.
So while this season is not (yet) an abject disaster, some planning now could go a long way toward avoiding a repeat of the present disappointment. Or, heaven forbid, even worse.
Some of this work must be done in the summer; some of it can only be done once the games start to count again in August.
As that shot of satisfied United players above shows, August sort of cannot come soon enough for Manchester City.
Address the Midfield Question Marks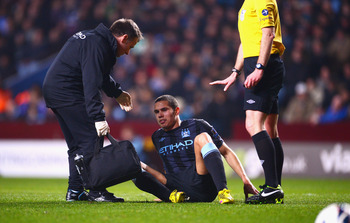 This was Rodwell at his very best in 2012-2013.
Michael Regan/Getty Images
Instead of pressing its financial advantage over its rivals last summer, Manchester City shopped at Target while Manchester United (Robin van Persie) and Chelsea (Eden Hazard) were emptying their pockets at Nordstrom.
Javi Garcia was thought to be the most accomplished player City brought in during the summer transfer period, and the acquisition of Jack Rodwell from Everton was seen as an investment in the future that could pay dividends in the present.
Unfortunately, both Garcia and Rodwell missed games due to injury. Garcia played more than Rodwell did, but that is hardly saying much since Rodwell only made eight league appearances.
City needs to figure out over the summer whether either Garcia or Rodwell can put this lost season behind them and contribute in 2013-14.
If not, they should both be sold at a loss for whatever they might bring.
Either way, City cannot enter 2013-14 with a midfield of Yaya Toure, David Silva and a cast of question marks.
Lose the Dead Weight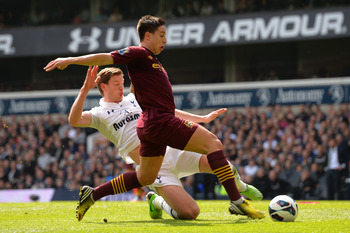 Maybe Nasri still has a lot to offer, but he has never really shown it to his present employer.
Shaun Botterill/Getty Images
Garcia and Rodwell are not the only City midfielders giving Roberto Mancini headaches and nightmares.
Samir Nasri has two goals in Premier League play this season. That's only two more than you have.
There are other drains on the City roster, particularly on the back line. Kolo Toure, Aleksandar Kolarov and Joleon Lescott are all living off their names at this point.
And no one will ever be able to explain why City spent £6.2 million on Scott Sinclair.
Maybe one or two of these players can be useful going forward. But the roster on the whole is bloated and significantly overpaid.
City can afford to cut its losses on any or all of these underperforming has-been and never-was players.
Fix the Striker Situation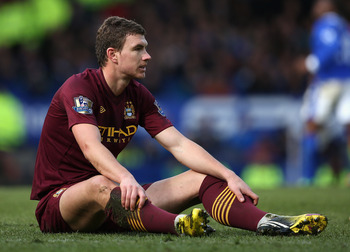 Edin Dzeko may well be playing (if you call it that) elsewhere next season.
Clive Brunskill/Getty Images
In 2011-12, Manchester City led the Premier League in both goals scored (93) and fewest goals conceded (29). Memorably, it was the goal difference that ultimately won City the Premier League crown.
Way back then, City had an embarrassment of riches at striker. Sergio Aguero, Edin Dzeko and Mario Balotelli combined for 50 Premier League goals. The problem was not where the goals would come from but rather how to keep the three of them (and Carlos Tevez) happy with their playing time.
Smash cut to 2012-13. Dzeko leads the Sky Blues in Premier League goals with 12. That is good only for a four-way tie for 10th in the league scoring race. Aguero and Tevez are also in double digits, but just barely. Balotelli, of course, is long gone.
If Dzeko really is leaving (and after his horror performance at White Hart Lane, maybe he should go) then City needs to land another elite striker. Neither Aguero nor Tevez is built for 38 league appearances, and Tevez is no longer a fearsome goal producer.
Get Joe Hart Some Help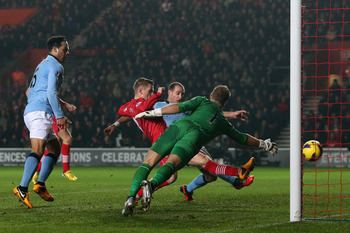 Mistakes like this one Hart made against Southampton might just be the result of exhaustion.
Scott Heavey/Getty Images
Sometimes, it is tiring just thinking about how much time Joe Hart spends defending goals for Manchester City and the English national team.
Roberto Mancini has started Joe Hart in every Manchester City Premier League contest since the beginning of the 2010-11 season. And every time England really needs to win a World Cup qualifier or even a friendly it wants badly, there is Hart, in harm's way.
Costel Pantilimon has been entrusted with Manchester City's FA Cup hopes. There is no way to know what faith, if any, the club has in Pantilimon with regard to Premier League games.
But if City does not trust Pantilimon to spell Hart once in a while, then City needs to bring someone in who can.
When a keeper of Joe Hart's caliber mishandles badly at Southampton, or gives up three goals in seven minutes to Tottenham Hotspur, you have to wonder if he's just gassed.
Next season will bring another round of Champions League play along with all of those Premier League matches.
Joe Hart could do with some help.
Win a Game in Champions League Play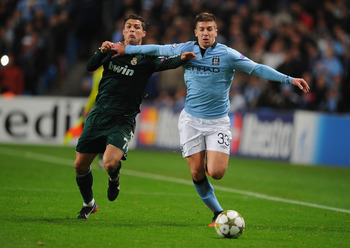 City never looked comfortable against Cristiano Ronaldo and Real Madrid.
Michael Regan/Getty Images
Once at a pickup basketball game, a heavyset kid named Ted was tossing up long jump shot after long jump shot.
Brick, brick, air ball, brick.
Finally, after about 10 minutes of this, a lone voice cried out from the sidelines, "yo, Ted, make a layup!"
So it is not a misprint when it says here that a realistic goal for Manchester City is to win a game in Champions League play.
City played six of these games in 2012 and won none of them.
Obviously, the goal is much more significant than winning just one game in Champions League play. City aspires to be where Real Madrid, Barcelona, Bayern Munich and Borussia Dortmund are now.
But the Citizens have to crawl before they walk and walk before they run.
Better Results Against Lesser Competition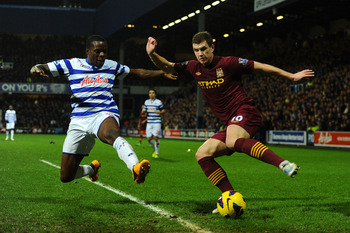 Dropping points to the likes of QPR doomed City's title defense.
Mike Hewitt/Getty Images
The derby loss at the Etihad to Robin van Persie's stoppage-time free-kick winner certainly stung. But that one game was not the reason City capitulated in its title defense.
No, City lost the Premier League because of results like these:
City need not apologize for losses at White Hart Lane and Goodison Park. They happen to be good teams. But dropping 10 out of 12 possible points to teams in the bottom half of the table is inexcusable.
Toughen Up Away from the Etihad
City needs to stop letting their hosts have so much fun at their expense.
Shaun Botterill/Getty Images
It probably comes as no surprise to you if you have watched the Sky Blues all season, but their record away from home is, well, only adequate.
Eight wins, four losses and five draws on the road is suitable, perhaps, if you never drop any points at home.
Too many times this season, Manchester City arrived as the defending champions to a lesser side's pitch and played like underdogs.
And that does not just refer to matches like the losses at Southampton and Sunderland. City was exceptionally fortunate to draw at Anfield and put forth a garbage effort at Stamford Bridge against a reeling Chelsea side on a day where three points should have come rather easily.
These sorts of efforts were unbecoming of a team that had rightfully won the league the year before.
Win at Goodison Park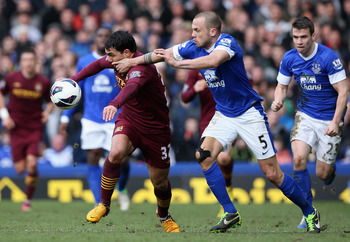 City's recent record at Everton is an atrocity.
Clive Brunskill/Getty Images
It is a small thing, yes, but this ongoing post-traumatic stress disorder reaction that Manchester City exudes every time they have to travel to play Everton needs to be addressed.
City has lost four straight at Goodison Park and six of their last eight against Everton overall.
Yes, David Moyes is a respected manager on merit, and yes, Marouane Fellaini is a real force.
But there is no justification for City having so much trouble with Everton annually.
Maybe doing the double against Everton is asking too much. So City might just emphasize going into Goodison and exorcising some demons next season.
Back the Manager or Sack Him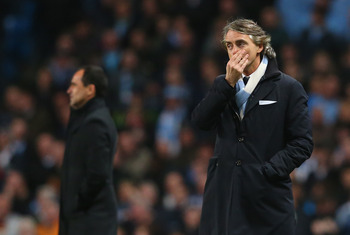 Mancini should not be fearing the sack. It should either happen or not happen. No in-between.
Alex Livesey/Getty Images
No good can come from Roberto Mancini fearing the sack, per ESPNFC.com.
Is Mancini perfect? No. The early part of the season was marred by formation confusion which forced Mancini to criticize his own players to deflect blame from himself. That is never good.
So you want him gone? Great. Who's the new manager then?
Ah, see, that's the really hard part.
Anyone can fire a manager. But firing Mancini to end up bringing in someone else's retread failure or an unknown who might be swallowed whole by the job is no answer at all.
As such, City needs to either love Mancini or leave him. Leaving him to dangle in the breeze and worry about his job hinders both the man and his team.
Take the Premier League Title Race to the End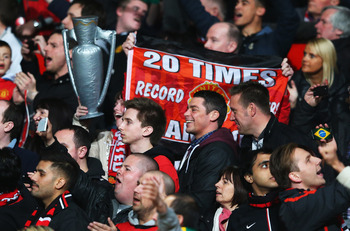 "If you see me walking by, and the tears are in my eyes, look away."
Alex Livesey/Getty Images
And so we end back where we began.
It is hopeful and possible to say that the primary objective for the 2013-14 version of the Manchester City Football Club is to rip the Premier League trophy right back out of Sir Alex Ferguson's steely grasp.
But we are dealing with what is realistic here.
The realistic goal is to keep United from running away and hiding again next season. Granted, City has no control over the tepid, timid and wholly unconvincing efforts United's opponents made against the Red Devils this season.
No matter. If City wins the games it should win, United will not be able to end the title race with a month's worth of games left to play in 2013-14.
Keep Reading

Manchester City: Like this team?