Lucas Reed: Video Highlights for Former New Mexico TE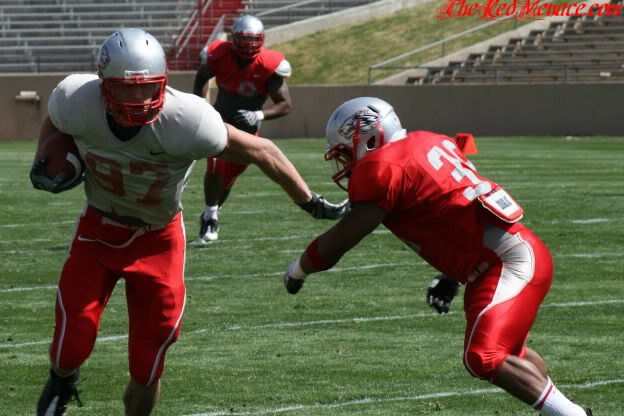 Lucas Reed isn't a name many average football fans know about.
The New Mexico product didn't have many chances to appear on prime-time television, mainly because of the lack of prestige New Mexico Lobos football has.
However, Reed is a solid tight end with a nice combination of size and athleticism. The Denver Broncos signed Reed as an undrafted free agent on Tuesday.
Here are video highlights of the big tight end's days at New Mexico.
Begin Slideshow

»
Reed makes a terrific catch on this throw to the edge of the end zone against UNLV.
The New Mexico star uses his superior speed to beat his man easily out of the slot, and then he uses his tremendous size (6'6'') to reach up and make a nice catch on the outside.
This superb touchdown grab was Reed's first at the college level and perfectly exhibits his ability to make plays.
While this play may not look spectacular, it perfectly showcases what Reed can do on the field.
Reed sets up in the backfield, then springs out into the flat and makes a nice catch on a ball out ahead of him.
The big tight end then breaks a tackle and gallops his way for an extra few yards.
The catch-and-run shows how Reed can be both a deep playmaker and a checkdown option for his quarterback.
Reed's size and strength make him more than just a pass-catcher and his play on the field during games and practice showcases this.
Reed is an all-effort guy who can provide solid blocking for both the run game and the passing attack.
Whatever team selects Reed will get a tight end who can contribute in all phases of the game.
Reed's tremendous combination of speed and size is on full display on this terrific play.
The New Mexico star darts past his defender on the outside, but his quarterback initially misses Reed's advantage.
Despite a late throw from his signal-caller, Reed adjusts and utilizes his massive size to make an outstanding catch over his leaping defender for the touchdown.
On this big passing gain, Reed makes easy work of the opposing defensive unit.
Despite his great size, Reed slips past the opposing front seven and into the secondary easily.
The Lobos quarterback makes a solid throw, but Reed's physicality and athleticism allow him to pick up another half-dozen yards after the catch.