Final Regular Season Grades for Each Sacramento Kings Player in 2013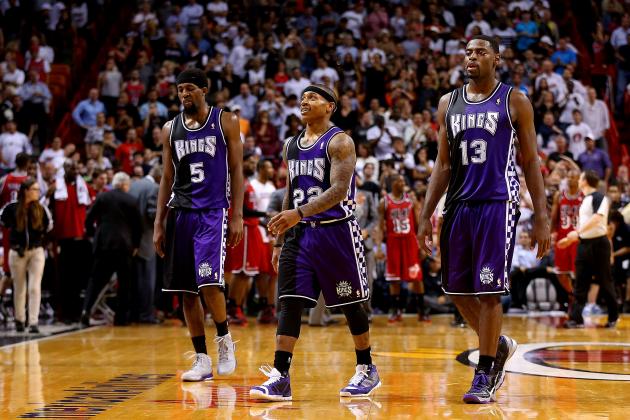 Mike Ehrmann/Getty Images
Want to know how each Sacramento Kings player performed this season? Read on to find out.
The NBA's regular season has come to a close. And since the Sacramento Kings aren't going on to the postseason, it means it's time for the team to start focusing on the offseason.
But just because the team has put this season behind it, it doesn't mean that we have to. Quite the contrary, actually. With the campaign being over, now is the perfect time to reflect back on the individual players and how each of them performed.
As with most teams, the Kings got a mixed bag. Some players surely played above their expectations coming into the year; others obviously didn't live up to theirs. There were even a few that managed to match their career averages.
Want to know how your favorite player fared? Read on to find out.
All on-court/off-court statistics used in this slideshow courtesy of NBA.com
(Note on grades/inclusion: Grades were compiled based on expectations coming into the season. In most cases, that meant a comparison of this season to last season for each individual player. However, the entirety of a player's career was also used to provide additional context. Also, only players on the team's roster at the end of the regular season were considered. Therefore, no grades were submitted for Thomas Robinson and Francisco Garcia...among others.)
Begin Slideshow

»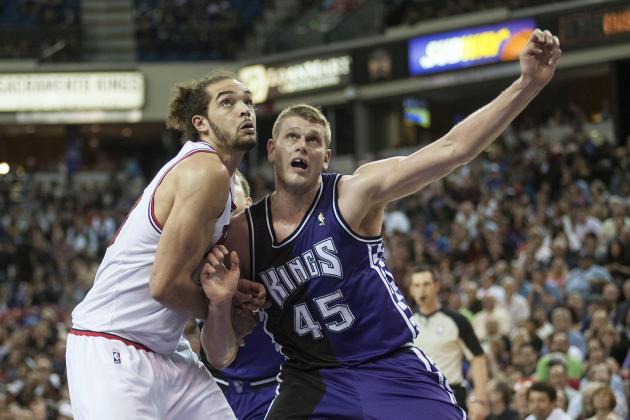 Ed Szczepanski-USA TODAY Sports

As far as the Kings should be concerned, Cole Aldrich more than served his purpose. When Sacramento made its midseason trade with Houston—involving Thomas Robinson and Patrick Patterson—Aldrich was seen as a warm body thrown in for salary purposes.
While Aldrich certainly wasn't a star in Sacramento by any stretch, he did serve some on-court purpose. Just judging by his individual statistics with the Kings—3.3 points, 4.2 rebounds, 0.9 blocks, .568 field-goal percentage in 11.7 minutes per game—Aldrich looks like nothing more than a role player. And for the most part, that's what he was.
However, what stood out was the team's performance with him on the court. Despite his lackluster individual numbers, Sacramento seemed to benefit overall from his presence.
When Aldrich was on the court, the Kings posted a 111.4 offensive rating and a 100.8 defensive rating. Yet when he's off the court, the team had an offensive rating of 105.9 and a defensive rating of 110.1.
It's fair to point out that he only played a grand total of 175 minutes with the team, so drawing any definitive conclusions from these numbers isn't straight forward. But if Aldrich's play had any effect at all on the team's inspired play when he was on the court, then the Kings extracted value from a player who wasn't expected to provide any.
Grade: B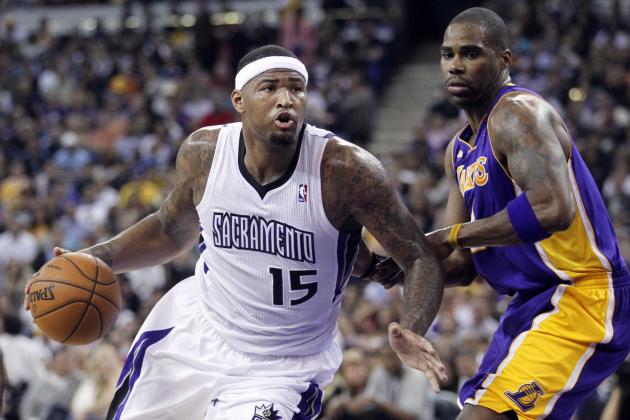 Cary Edmondson-USA TODAY Sports

I pretty much covered Cousins' whole season in a recent article. For more in-depth analysis and grades, I'd suggest checking out that piece. However, I'll summarize my thoughts here.
The most important thing to judge Cousins on coming into the season was his maturity. After all, he proved last season that he's an incredible talent capable of performing as well as the NBA's elite centers. For that reason, how he handled himself off the court, or with the referees while on the court, weighed more.
Unfortunately what we saw from Cousins was more of the same. He didn't appear to mature at all from 2011-12 to 2012-13—if anything, his ability to control his temper got worse. Furthermore, while he didn't necessarily regress on the court, he failed to make sizable steps in his game.
His scoring, rebounding and blocks per game decreased, while his turnovers increased. The only improvements he made were in field-goal percentage (.448 to .465) and assists (1.9 per game to 3.1).
Grade: D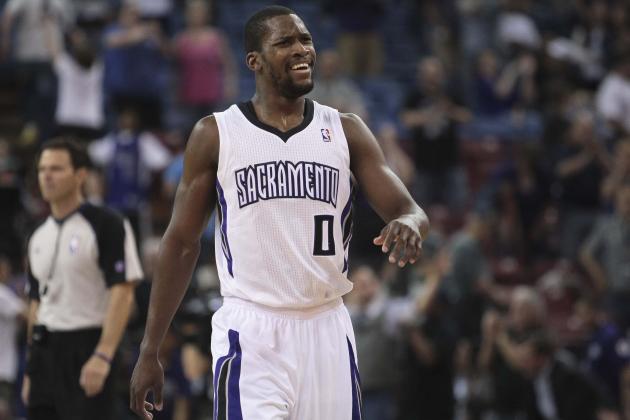 Kelley L Cox-USA TODAY Sports

Toney Douglas, like Cole Aldrich, was seen basically as a throw-in for the Thomas Robinson-Patrick Patterson trade. Although it is fair to point out that Douglas will only be a restricted free agent, while Aldrich is an unrestricted free agent, so maybe the Kings viewed him as someone they'd like to keep going forward.
What Douglas proved to be was a good fit for the Kings. The main reason for that is the one area of strength for Douglas is a weakness for the team's other point guards: defense.
For one, Toney's defensive rating of 108, while certainly not spectacular, is markedly better than the 115 that both Isaiah Thomas and Jimmer Fredette posted.
Also like with Aldrich, Douglas' presence seemed to have a solid overall effect on the team's defense when he was on the court. Sacramento posted a defensive rating of 103.8 when he was out there, as opposed to a 110.8 with him on the bench.
Douglas proved to be a good addition, because the Kings got something from a player of which not much was expected. He was so solid, in fact, that it might be worth it to give him his qualifying offer of $3.1 million to determine whether he's worth keeping going forward.
Grade: B+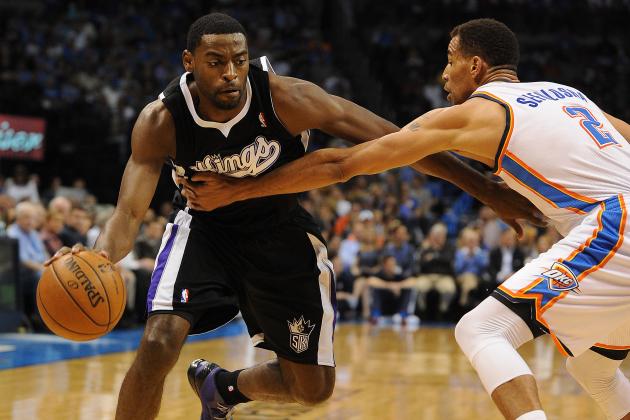 Mark D. Smith-USA TODAY Sports

This is probably the first time since following Tyreke Evans' rookie season where I can look back at his year and be pleased.
After lighting the world on fire and winning Rookie of the Year honors in 2009-10, there simply hasn't been much progress from Evans. His second year was filled with season-long bouts with plantar fasciitis and his third campaign featured a regressing jump shot—which is saying a lot because Evans' jump shot wasn't very good to begin with.
However, Evans is starting to right the ship. On the surface, one might thing Tyreke's keeping up with the downward trend he'd displayed coming into the season. His 15.2 points, 3.5 assists and 4.4 rebounds were all career lows for the third straight year.
Yet upon further examination, it's clear that Evans was actually trending upward. His field-goal percentage (.478), three-point percentage (.338), offensive rating (110) and win shares per 48 minutes (.105) were all career highs. Furthermore, his decrease in basic statistics can be explained by an equally reducing usage rate, meaning the team relies on him to do less than it did as a rookie, explaining a drop in overall stats.
Evans will now be a restricted free agent. How to handle that situation is a completely different subject altogether. But based on what we saw from Tyreke this season, retaining him might not be a bad idea under the right circumstances—and that's all because he finally started to improve his game.
Grade: B+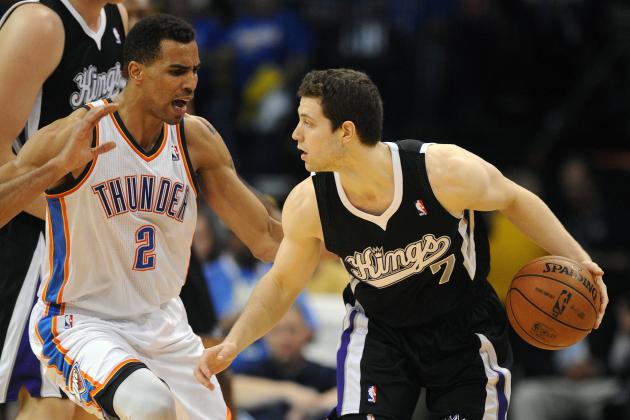 Mark D. Smith-USA TODAY Sports

Jimmer Fredette was one of the tougher players to grade. On the one hand, he's still not living up to the expectations that come with the 10th pick in the draft. On the other hand, he made significant improvements from his rookie year to this year.
Jimmer saw his scoring increase from 14.7 points per 36 minutes to 18.4. He also improved in field-goal percentage (.386 to .421), three-point percentage (.361 to .417), PER (10.8 to 14.7), offensive rating (100 to 106) and win shares (0.3 to 1.1).
Fredette still needs to make considerable improvements on defense to go from a reserve to a starting-caliber player, but he showed that he's got a place in this league due to his offensive skill set.
It will be interesting to see if he can make a similar improvement from year two to year three—then he'd really be getting somewhere. But even if he never lives up the expectations bestowed upon him when he was drafted, he's a better player than he was one year ago.
That's certainly saying something.
Grade: B-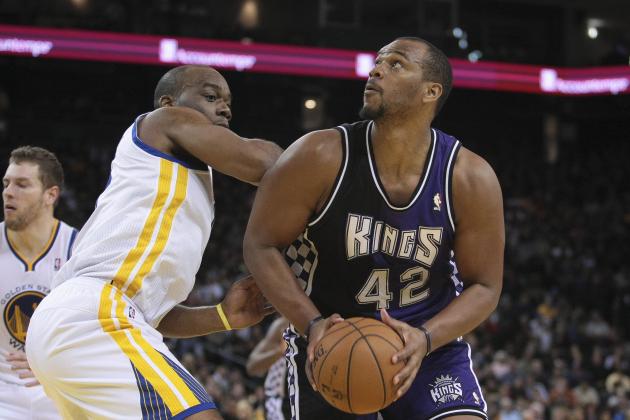 USA TODAY Sports

Chuck Hayes played about as expected this season. He wasn't particularly good and he wasn't particularly bad. He just provided leadership, the ability to run the offense through the high post and some on-ball defense near the basket.
As for Hayes providing value comparable to his $5.48 million salary, or the $11 million-plus remaining on the final two years, that's unlikely to happen. However, Chuck's production more closely resembled what he put up in Houston, instead of what he did last year with Sacramento, which is a good thing.
His rebound percentage of 14.2 percent, assist percentage of 13.1 and offensive rating of 111 are all superior to what he posted in 2011-12. His win shares per 48 minutes (0.60), while not particularly close to the .140 he averaged during six seasons in Houston, more than doubled from the 0.28 he posted a year ago.
Going off of what Chuck did during his time with the Rockets, this season was still underwhelming. Yet based on what he's done with the Kings, Hayes took a step in the right direction. For that reason, his grade will reflect something close to the middle of good and bad.
Grade: C-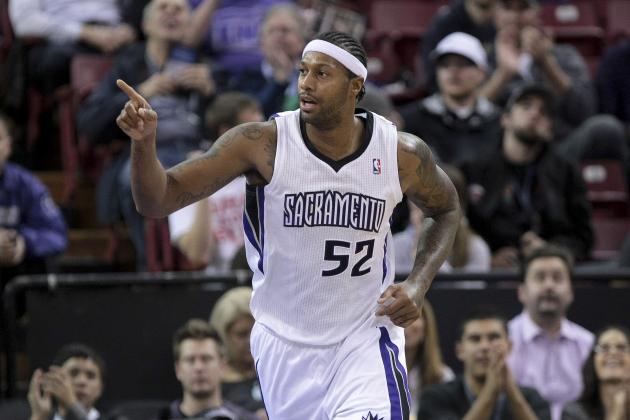 USA TODAY Sports

James Johnson arguably had the most disappointing season of anyone on the Kings. That's saying a lot considering expectations for Johnson weren't through the roof.
Entering the season, Johnson was seen as a limited offensive player, but one that made up for those deficiencies with excellent defense. Yet he failed to live up to his reputation as a lockdown defender.
Opposing small forwards posted a PER of 16.5 against Johnson, which is slightly above the average of 15.0. Power forwards fared even better, averaging a PER of 21.7 when defended by Johnson. His defensive rating of 108 also ties his career low of 2010-11.
Perhaps even more important than his individual defense was that of the overall team when he was on the court. Of that, the Kings were also struggling. The 112.1 defensive rating the team put up with Johnson on the court was worse than the defensive rating it put up with any other player.
Since Johnson wasn't providing much value on defense, it meant he wasn't providing much in general because his offensive game is so subpar. In fact, Johnson posted a negative-1.1 win shares on offense, meaning he actually detracted more value than he provided.
Likewise, the team's 96.7 offensive rating with him on the court is worse than the offensive rating it put up with any other player.
The only things preventing the Kings' acquisition of Johnson from being disastrous is that they only had to give up a second-round pick to get him and he's now a restricted free agent, meaning the team doesn't have to endure another year with him on the roster.
Grade: D-
Mark D. Smith-USA TODAY Sports

Travis Outlaw managed to improve on his 2011-12 campaign. However, he still wasn't very good. Mainly it's just an indication of how bad he was just a year ago.
There were two things going in Outlaw's favor: 1) he wasn't asked to contribute many minutes, and 2) he made the most of the opportunities he was given.
Outlaw only played in 38 of the team's 82 games. He played a total of 444 minutes, which was his least since his rookie year of 2003-04.
Yet Outlaw averaged 16.2 points per 36 minutes—compared to his career average of 14.8, that's actually an improvement. His field-goal percentage (.418), offensive rating (103) and PER (13.0) were also in line with his career totals.
The Kings are undoubtedly stuck with the $6 million owed to Outlaw over the next two seasons, but at least he's giving something with the minutes he gets...even if they're few and far between.
Grade: C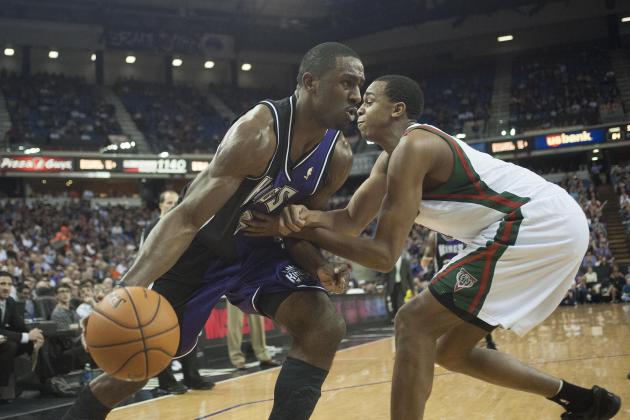 Ed Szczepanski-USA TODAY Sports

Adding Patrick Patterson as part of a midseason trade clearly gave the Kings a boost in the short term. Patterson is a proven and consistent NBA player, which is more than can be said for Thomas Robinson at this point.
However, Patterson wasn't considerably better with the Kings than he was with the Rockets. That's not a knock on Patterson or the trade; it's just the truth.
Patterson's points per 36 minutes (12.5), rebounds per 36 minutes (7.5), field-goal percentage (.494), PER (14.5) and offensive rating (114) with the Kings all fell in line with his career numbers. Because of that, his grade will reflect that of a player who produced exactly what he was expected to produce.
And on a team lacking consistent production like Sacramento, that was a welcomed addition.
Grade: C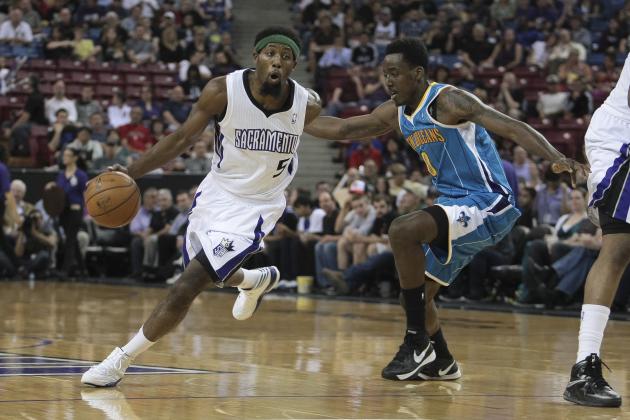 Kelley L Cox-USA TODAY Sports

I remember writing an article back before the season started titled, "One Burning Question Facing Every Sacramento King in 2013." The one proposed for John Salmons was, "Can Salmons provide anything worthwhile at all?"
Fast forward to the end of the 2012-13 season and the answer to that question is a resounding "yes."
Salmons wasn't an All-Star by any stretch, but he did help the Kings, especially on offense. His offensive rating of 106 is higher than his career average of 105. He also proved his value as a distributor, averaging 3.0 assists per game, which was good enough for third on the team.
Salmons' leadership on both sides of the ball is also reflected in how the team performed when he wasn't on the court. With Salmons in the game, the Kings averaged an offensive rating of 105.8 and a defensive rating of 106.8. Yet when he was on the bench, the offensive rating regressed to 99.1 and the defensive rating skyrocketed to 111.1.
Salmons will likely once again be the Kings' highest-paid player in 2013-14. But at least the team can go into next season knowing that it'll get something out of Salmons, which is more than it could say before the start of this campaign.
Grade: B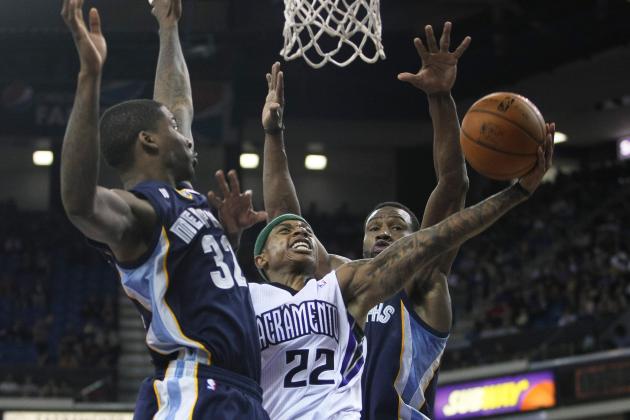 Kelley L Cox-USA TODAY Sports

If it weren't for Isaiah Thomas breaking onto the scene as a rookie in 2011-12, his grade would surely be higher. But because "IT" showed us what he could do last season, he came into 2012-13 with fairly high expectations. Even then, Thomas rose to the occasion.
IT's biggest strides were made in his consistency scoring the basketball. He upped his points per game from 11.5 to 13.9 and his points per 36 minutes from 16.3 to 18.7. This could be explained in his increased role in the offense, going from a 19.8 usage percentage as a rookie to one of 23.0 percent as a sophomore.
Thomas also decreased his turnover percentage from 13.9 percent to 12.7 percent and increased his free-throw percentage from 83.2 percent to 88.2 percent.
The rest of Isaiah's game pretty much fell in line with what he did as a rookie. So it's fair to say that Thomas played a little better than was expected coming into the season.
Grade: C+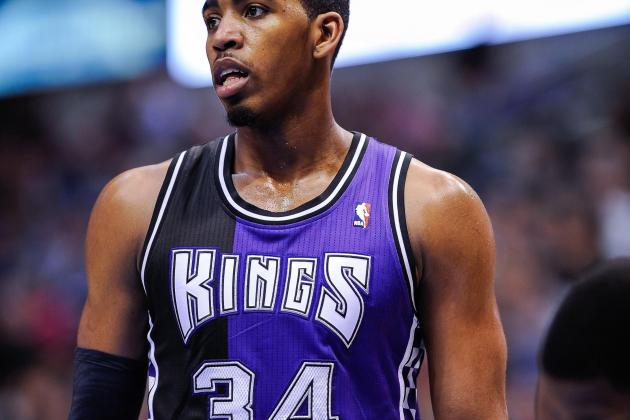 USA TODAY Sports

The nice thing about Jason Thompson is that before the season starts, you can pencil him in for 75-plus games, 10 points per game, seven rebounds per game and solid defense on a nightly basis. Thompson once again fell right in line with those expectations.
He averaged 10.9 points, 6.7 rebounds and played in all 82 games. He also posted a PER of 14.6, a win shares per 48 minutes of 0.75 and a defensive rating of 111, which all fall in line with his career averages of a 14.5 PER, 0.79 win shares per 48 minutes and a defensive rating of 110.
Thompson's cemented himself as a mainstay on this team. He'll never be a focal point, but he'll always be a consistent contributor. Therefore, the only possible way to go with JT's grade is average.
We wouldn't expect anything less.
Grade: C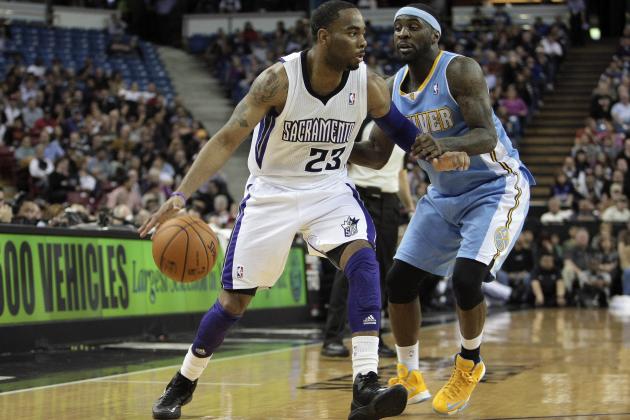 USA TODAY Sports

At first glance, it looks like Marcus Thornton took a step backwards this year. One look at his scoring average of 12.7, when compared with the 18.7 he put up last season, makes it seem like he lost his ability to light up the scoreboard.
However, all that really happened for Thornton was a change in roles. Instead of starting for the Kings, like he'd done in the past, the Bayou Bomber came off the bench this season. That change explains the decrease in overall scoring.
Judging by Thornton's per-36-minutes numbers, you see he didn't regress at all. In fact, his 19.1 points per 36 minutes closely resembles the 19.4 he's averaged for his career. The same can be said for his field-goal percentage (.429), three-point percentage (.372), PER (16.3) and offensive rating (111)—they're all in line with his career totals.
So just because Thornton's minutes per game and points per game are down, it doesn't mean his overall game is down. He can't control how many minutes he gets to play. All he can do is capitalize on those that he gets. To that end, the Bayou Bomber is as productive as ever.
Grade: C
Follow me on Twitter: @SimRisso