Detroit Tigers Bullpen Watch: Whose Stock Is Rising, Falling?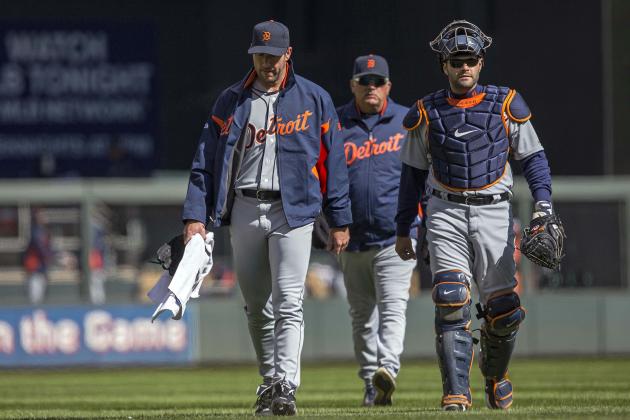 USA TODAY Sports

The Detroit Tigers have shown throughout April that while starting pitching and hitting will be a strength for them, the bullpen remains a question mark.
When closer candidate Bruce Rondon was sent to Triple-A before the season, the Tigers said they were going to go with a closer-by-committee.
While the bullpen has had some success, it has been a disappointment overall.
The Tigers' bullpen has the ability to be better, but it has been up and down for most of the season possibly due to the undefined roles.
Let's see which pitchers in the bullpen have their stocks rising or falling.
Begin Slideshow

»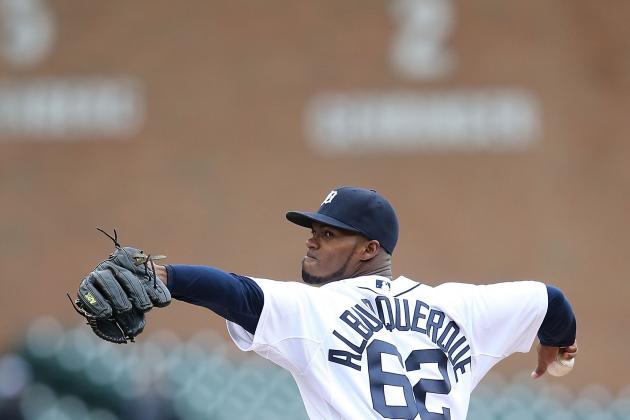 Leon Halip/Getty Images

0-0 9.0 IP 2.00 ERA 16 K 4 BB
Al Alburquerque has been very solid in a Detroit Tigers uniform since he was called up in 2011.
This season has not been any different, even though his ERA of 2.00 is higher than his career average of 1.64.
Alburquerque has a 16.0 strikeout per nine inning ratio, which is better than his career average of 13.8.
Alburquerque is also holding opposing batters to a .188 batting average and could be a solution to the Tigers' closer situation.
The only downside is that Alburquerque has had some injury problems in the past, including with his elbow, so his durability is in question.
It would be risky for Alburquerque to pitch in three consecutive games at this point, so until Alburquerque proves he can handle the workload, he'll stay a dominant middle reliever.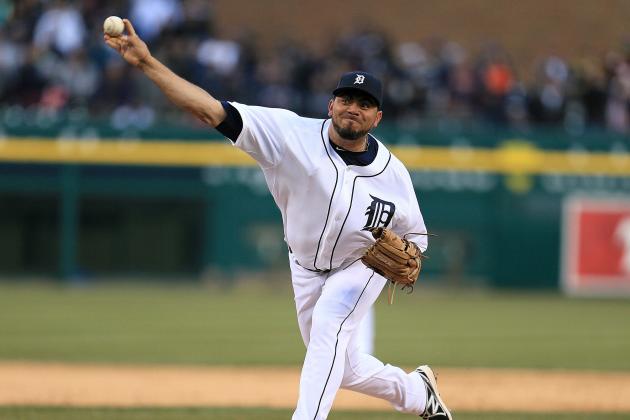 Dave Reginek/Getty Images

0-0 9.0 IP 2.00 ERA 11 K 6 BB

Joaquin Benoit has pitched well for the Detroit Tigers so far. Benoit is expected to get the majority of save chances going forward until an established closer joins the roster (via MLB.com's Jason Beck).
While Benoit was average in his save attempt on April 17, he still got the save and has pitched well for the Tigers.
Benoit's best role for the Tigers will be as the setup man, but he'll continue to get the job done—even if he does make people nervous.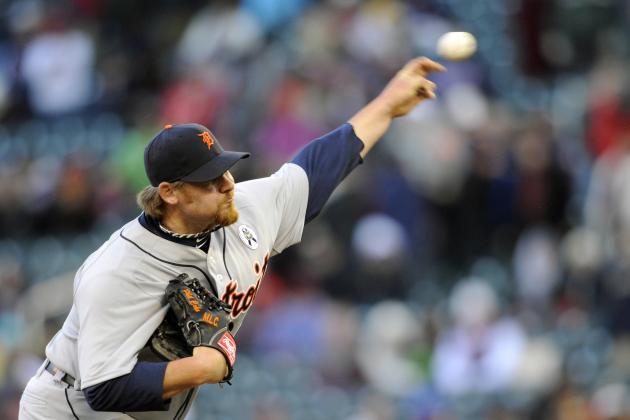 Hannah Foslien/Getty Images

0-2 7.1 IP 4.91 ERA 9 K 1 BB

A lot was expected of Phil Coke entering this season after pitching incredibly well in the 2012 ALCS against the New York Yankees.
When Detroit Tigers manager Jim Leyland announced the team would be going with closer-by-committee, many fans thought that Coke would be given the opportunity to earn some saves.
After getting the save in the first game of the season, he blew the save in the second and while he pitched well against the Seattle Mariners, he hasn't been as reliable.
It is still early in the season, so Coke will have plenty of time to be a reliable arm in the bullpen. Due to his track record over the previous couple of seasons, I believe the front office has confidence in him.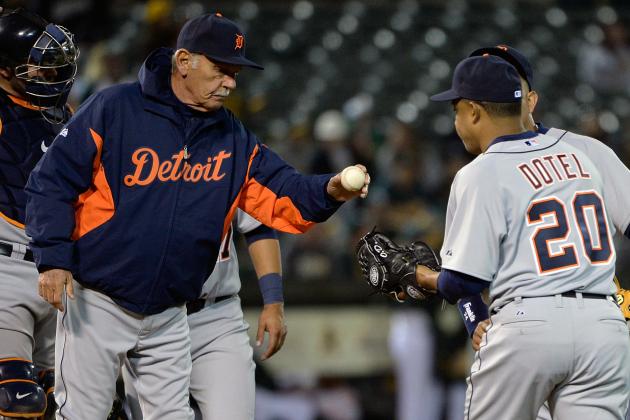 Thearon W. Henderson/Getty Images

0-0 4.2 IP 13.50 ERA 4 K 4 BB

Octavio Dotel is the veteran of the Detroit Tigers' bullpen at 39 years old.
Dotel was a reliable reliever for the Tigers last year, but has struggled in the early part of this season.
Dotel has already experienced some elbow inflammation on this west coast trip, which caused him to miss a few games. While the elbow soreness was nothing serious, any type of injury for a 39 year old is something to monitor.
Outside of that, Dotel has gotten off to a rough start.
He has a 13.50 ERA, even though he has only pitched 4.2 innings. Regardless of innings, an even worse sign is that hitters are batting .417 off of him.
The Tigers need to rely on Dotel and if he can't be counted on to pitch regularly or doesn't get the job done, then the Tigers may need to look outside of the organization to try and acquire a veteran reliever.
This is something that needs to be watched closely in the upcoming weeks.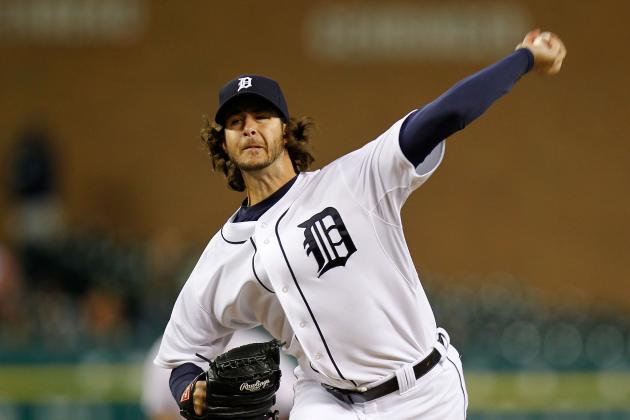 Gregory Shamus/Getty Images

0-0 8.1 IP 2.16 ERA 13 K 4 BB

The left-hander Darin Downs has been a pleasant surprise for the Detroit Tigers in the early part of the season.
Downs has been able to come into the bullpen and step up in a huge way.
Downs, who pitched in the minors for 10 seasons, has a career ERA of 4.04 in the minors.
However, this season he has an ERA of 2.16 and a surprisingly great ratio of strikeouts per nine innings of 14.0.
If Downs keeps pitching like he has been, he'll play an important role the rest of the season.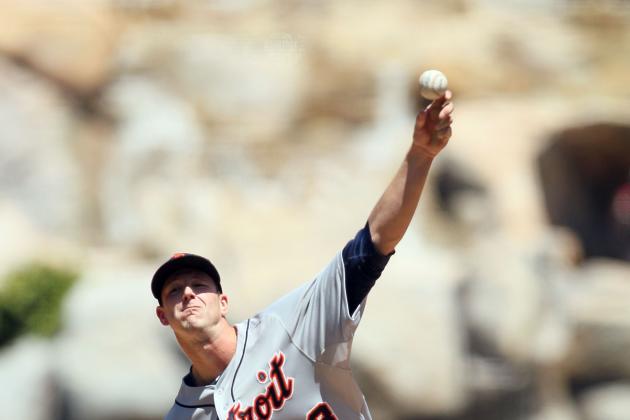 Victor Decolongon/Getty Images

1-0 15.0 IP 1.80 ERA 17 K 4 BB

Drew Smyly lost out to Rick Porcello in spring training for the No. 5 spot in the starting rotation.
However, Smyly hasn't shown any disappointment as he has excelled on the mound.
Smyly will be in the Tigers' rotation eventually when an injury hits a starter or if any of the starters are traded.
In the meantime, the fans should enjoy watching him as he has really solidified his spot in the bullpen.
Smyly is holding batters to a .200 batting average and even recorded a save against the New York Yankees on April 5 by pitching four scoreless innings.
Smyly has arguably been the MVP of the bullpen, and expect him to continue to excel due to his calmness on the mound.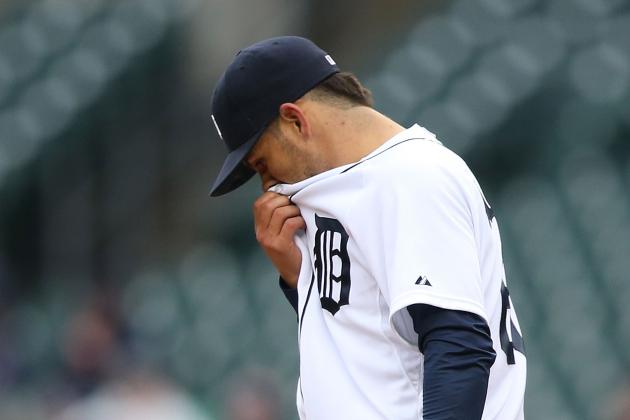 Leon Halip/Getty Images

0-2 4.1 IP 20.77 ERA 6 K 8 BB

It is difficult to classify Detroit Tigers pitcher Brayan Villarreal's pitching performance as anything other than a huge disappointment.
Villarreal already has two losses in 4.1 innings pitched as well as a strikeout to walks ratio of 0.75.
Villarreal had pitched well in 2012, and it was assumed by fans that Villarreal would take a huge step forward this season.
However, the opposite happened.
Villarreal is currently allowing batters to bat .444 against him and it would not be a surprise if he wasn't on the roster when the Tigers return home.
*All statistics are as of April 22
**All statistics are from baseball-reference.com and mlb.com