Chicago Bulls vs. Brooklyn Nets: Postgame Grades and Analysis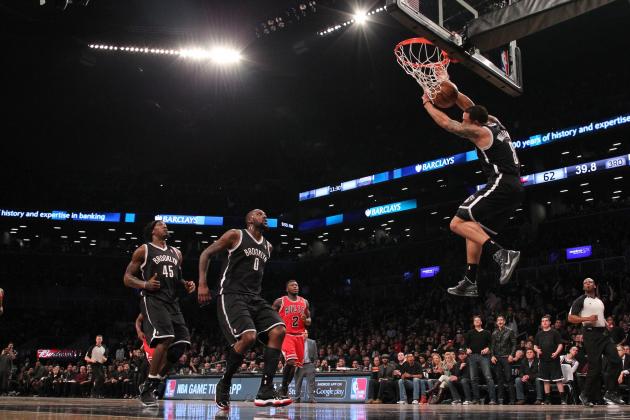 Anthony Gruppuso-USA TODAY Sport

After taking Game 1 off on the defensive end, the Chicago Bulls got back to their usual ways, beating the Brooklyn Nets by a score of 90-82.
The Nets shot just 35.4 percent from the floor and 19.0 percent from behind the three-point line, as the Bulls played amazing defense for 48 minutes.
Brooklyn's normal stars were rendered useless, as Deron Williams in particular struggled heavily, scoring just eight points on nine shots.
Begin Slideshow

»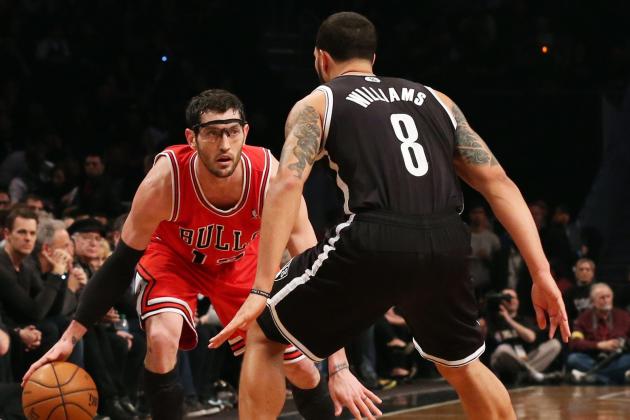 Anthony Gruppuso-USA TODAY Sports

Deron Williams
Williams didn't score a single basket in the first half, but that doesn't mean he wasn't playing well. He recorded eight assists in his first 18 minutes and was constantly feeding teammates like Brook Lopez for open shots.
Williams came out in the second half looking to score, but nothing would fall. His first made shot came with 6:35 remaining in the third quarter and his team trailing by six points.
He finished 1-of-9 and was a big reason the Nets offense struggled for 48 minutes.
Grade: C-
Kirk Hinrich
Hinrich had a difficult time going above screen to stay with Deron Williams, and the result was two fouls in his first nine minutes. But apart from that, he made his point guard counterpart work hard for everything.
Offensively his shot was falling. He made his first four attempts and was huge for a team whose offense normally struggles.
Grade: A-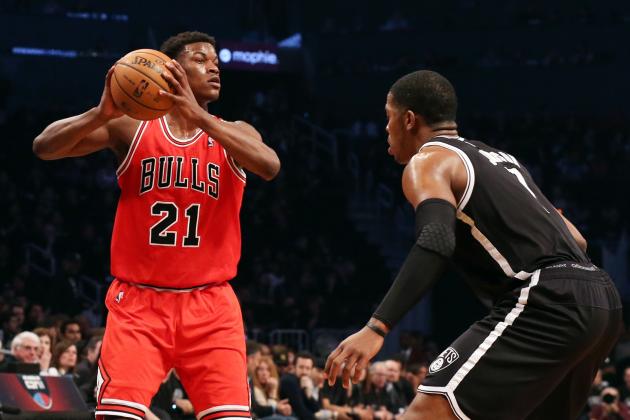 Anthony Gruppuso-USA TODAY Sports

Joe Johnson
Johnson was smooth on the offensive end early on, making a couple pretty shots in the paint. He scored seven points in the first half.
He failed to score in the third quarter and was 3-of-10 heading into the final frame. The Nets simply weren't looking in his direction, opting more for Deron Williams and Brook Lopez as primary scoring options.
In the fourth, he knocked down a few huge three-pointers that got Brooklyn back into the game.
Grade: C
Jimmy Butler
Butler only played 12 minutes (one fewer than injured teammate Joakim Noah) in the first half, which was certainly questionable given the fact that he didn't pick up any fouls.
He didn't score much throughout the game, but his stout defensive impact in isolation situations allowed the Bulls to execute their team defense to near-perfection in the third quarter (where the Nets shot a grotesque 11 percent).
Grade: B-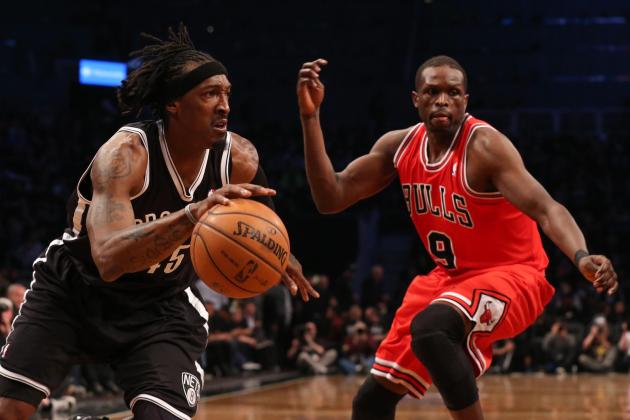 Anthony Gruppuso-USA TODAY Sport

Gerald Wallace
Gerald Wallace began the game missing several point blank shots, including a turnaround jump hook from about a foot and an alley-oop lob from Joe Johnson that he tried to finish one-handed.
This theme continued throughout the game, as the Bulls swarmed Wallace every time he entered the paint. Late in the third quarter he was 1-of-7 from the floor.
He didn't attempt another shot the rest of the way finishing with two points. As the series goes on, don't be surprised to see his minutes dwindle.
Grade: D-
Luol Deng
Coming off a putrid performance in Game 1, Deng came out firing in this one, taking six shots in the game's first six minutes. (Only two went in.)
He was active on both ends of the court for most of the game, attacking the glass, attempting a good chunk of Chicago's shots and offering stupendous defense.
He finished with 15 points and 10 rebounds.
Grade: B+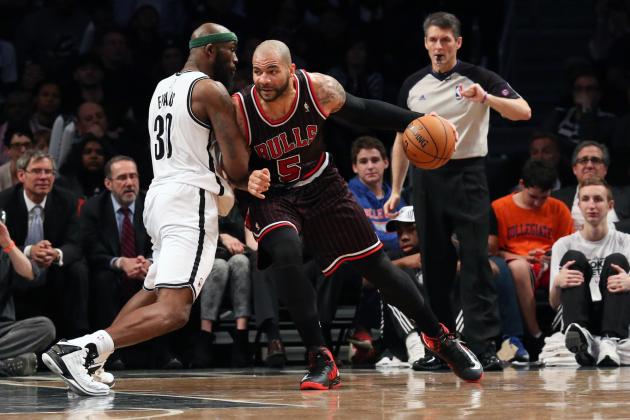 Anthony Gruppuso-USA TODAY Sport

Reggie Evans
Evans' offensive ineptitude/inability to stretch the floor reduced his minutes to 23, but he still managed to grab eight rebounds.
He scored four points.
Grade: C-
Carlos Boozer
Boozer made his first two shots and was extremely active on the glass throughout the opening stretch. His defense, however, was lazy, especially in transition, where Boozer briefly made Reggie Evans look like a semi-threat.
Offensively he was key throughout the game, knocking down mid-range shots and scoring 13 points to go along with 13 rebounds in 42 minutes.
Grade: B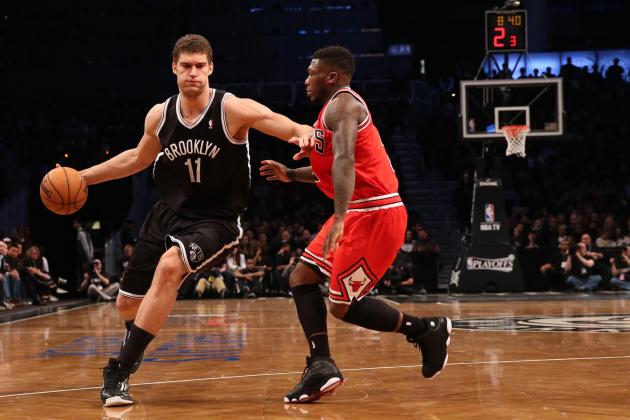 Anthony Gruppuso-USA TODAY Sport

Brook Lopez
After tearing up Chicago's weakened front line in Game 1, Lopez didn't score his first basket until less than two minutes remained in the first quarter.
Granted it was on a dunk that nearly ruined the basket's foundation, but the start was a disappointing one for Lopez.
He more than made up for it in the second quarter, knocking down a string of mid-range jumpers that temporarily gave Brooklyn the lead.
He finished with a game-high 21 points.
Grade: A-
Joakim Noah
Noah looked a little fresher in the early minutes than all of Game 1, offering his typically great defense against Lopez one-on-one, and the rest of the Nets in help situations.
In the end this was a near-heroic performance, with Noah playing on a badly injured foot. He came away with a huge block with 52 seconds remaining that basically sealed the game.
Noah finished with 10 rebounds, two blocks and 11 points.
Grade: A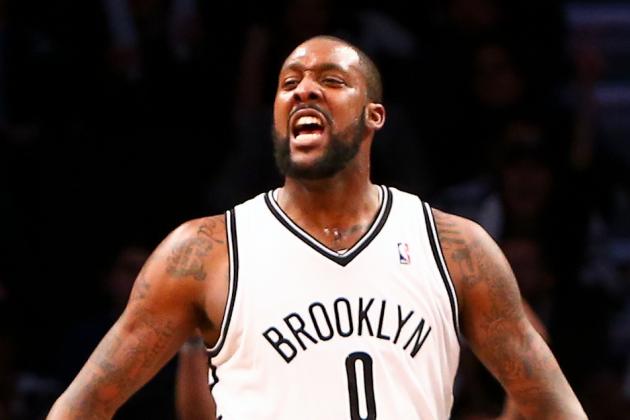 USA TODAY Sports

Andray Blatche
Blatche started the second quarter and immediately score on an uncontested, quick drive through the lane. He wasn't shy, taking another jumper on the very next possession.
His defense throughout the game was borderline atrocious, full of gambles that cost the Nets a few easy baskets. Blatche scored eight points on nine shots in 20 minutes.
Grade: D
Nate Robinson
Robinson first entered the game with just a few minutes remaining in the first quarter, and he didn't waste a second letting everybody know so. He stole the ball and created a tip in at the rim in transition, then did the same thing a minute later (except he made the layup).
He knocked down a major three-pointer midway through the fourth quarter that extended the Bulls' lead back to 10, and finished with 11 points on 11 shots in 26 minutes.
Grade: B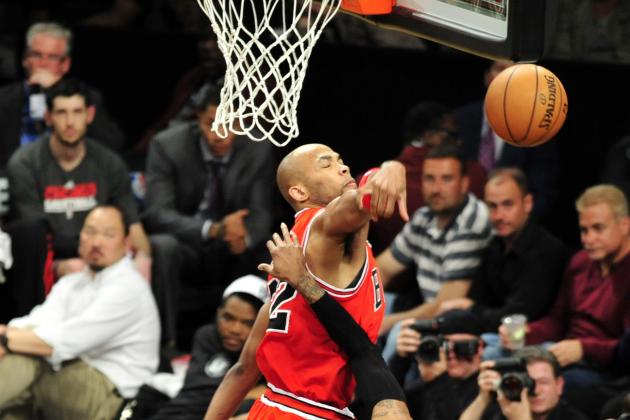 Joe Camporeale-USA TODAY Sports

Nets
Brooklyn's bench was active throughout the game, with six players entering the game (a rarity for playoff basketball). Jerry Stackhouse, MarShon Brooks, C.J. Watson and Keith Bogans all saw time, but they barely contributed.
Watson led the way with 11 points, three of them coming after he knocked down a big three-pointer as the halftime buzzer sounded.
Kris Humphries came in to supply key minutes in the second quarter (scoring six points and grabbing four rebounds).
Grade: C
Bulls
Stepping in for a limited Joakim Noah, Nazr Mohammed knocked down his first two shots (both were jumpers) and did a pretty good job keeping Brook Lopez at bay.
He finished with eight points in 18 minutes. Taj Gibson only played 11 minutes but was solid in all of them, making all three of his attempted shots.
Grade: B