Blidi Wreh-Wilson: 5 Things You Need to Know About the Connecticut Cornerback
Jared Wickerham/Getty Images

How can a cornerback named Blidi Wreh-Wilson not be a terrific football player?
Well, while name awesomeness and talent aren't directly related, they certainly are in Wreh-Wilson's case.
Wreh-Wilson was a relatively unknown high school recruit, but when he was given a chance with the University of Connecticut, he definitely took advantage.
Wreh-Wilson quickly became a star for the Huskies, turning in a stellar freshman season and continuing to improve every season after that.
Wreh-Wilson will be selected highly on Draft day, and you definitely need to know everything about him.
Read on, and satisfy your thirst for knowledge.
Begin Slideshow

»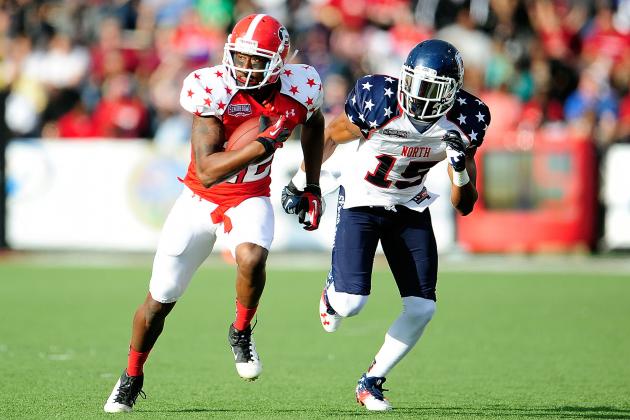 Stacy Revere/Getty Images

Full Name: Blidi Wreh-Wilson (pronounced bleed-ee ray-wilson)
Birthday: December 5th, 1989
Hometown: Edinboro, Pennsylvania
High School: General McLane
Major: Economics
Year: Redshirt Senior
Blidi Wreh-Wilson burst out onto the scene at General McLane High School. Large, strong and fast, Wreh-Wilson dominated his inferior competition.
Despite his great play in high school, however, Wreh-Wilson was not noticed at the national level. He received only four scholarship offers, three of them coming from Akron, Buffalo and Toledo.
Wreh-Wilson was, unjustly, considered a two-star recruit, but the University of Connecticut decided that he was worth developing.
And UConn's decision to offer the underrated Wreh-Wilson a contract was certainly a good one; Wreh-Wilson went on to have an incredible career for the Huskies.
(All information courtesy of uconnhuskies.com)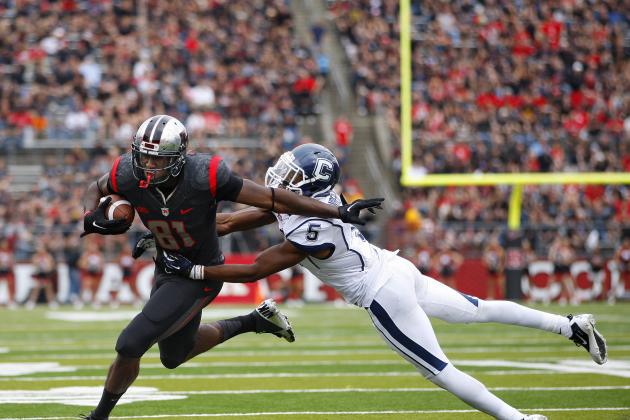 Rich Schultz/Getty Images

2009: 13 games (9 starts), 40 tackles, 1 interception, 7 passes defended
2010: 13 games (13 starts), 57 tackles, 4 interceptions (2 touchdowns), 9 passes defended
2011: 8 games (8 starts), 37 tackles, 2 interceptions, 9 passes defended
2012: 11 games (11 starts), 46 tackles, 1 interception, 10 passes defended
After redshirting as a freshman, Blidi Wreh-Wilson's college career immediately took off. He wasted no time in making his impact felt, shaking off the stigma of being a two-star recruit.
Wreh-Wilson proved to be a physical cornerback from very early on; one that could easily dominate opposing receivers at the line of scrimmage and prevent them from running effective routes.
Despite missing several games due to injury towards the end of his career, Wreh-Wilson still managed to maintain a high level of production.
Wreh-Wilson will have every opportunity to become a starting cornerback in the NFL, and the stats show why.
(All stats courtesy of sports-reference.com)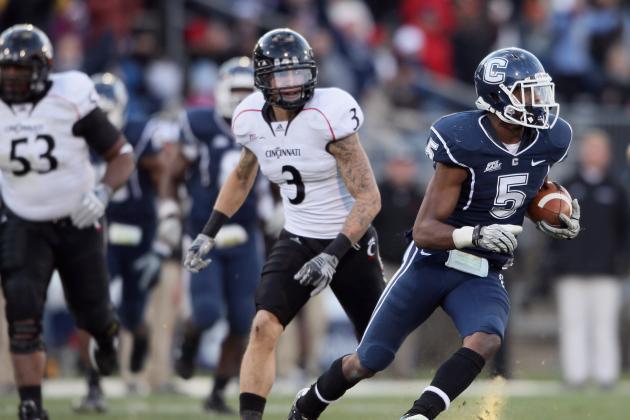 Elsa/Getty Images

Measurables
Height: 6' 1"
Weight: 195 pounds
Arm Length: 32"
Hand Size: 8 5/8"
Combine Results
40-Yard Dash: 4.53 seconds
Bench Press: 14 reps
Vertical Jump: 36"
Broad Jump: 128"
3-Cone Drill: 6.97 seconds
20-Yard Shuttle: 4.12 seconds
60-Yard Shuttle: 11.56 seconds
Pro Day Results
40-Yard Dash: 4.39 seconds
Everyone knows that Blidi Wreh-Wilson possesses a vast array of skills. His excellent footwork allows him to easily stay close to receivers, his hand-skills make him formidable in press-coverage, and his long arms grant him the ability to break-up deep passes.
So, at the NFL Combine, no one was really concerned about Wreh-Wilson's skills. They're common knowledge.
What NFL scouts were concerned with was Wreh-Wilson's pure speed. And, unfortunately, Wreh-Wilson disappointed. He ran a mediocre 4.53 40-yard dash, showing that he perhaps lacked the speed to become a starting NFL cornerback.
For the next few weeks, though, Wreh-Wilson made a concerted effort to prove he was faster than what his 40-time at the Combine suggested. He worked on his speed non-stop, training relentlessly for his Pro Day.
And his effort paid off. At Connecticut's Pro Day, Wreh-Wilson ran a startling 4.39 40-time, propelling him back into the national conversation.
After the Combine, it appeared that his stock was going to drop dramatically. Now, however, he will likely be taken in the second, third or fourth round.
(All stats courtesy of NFL.com and WashingtonPost.com)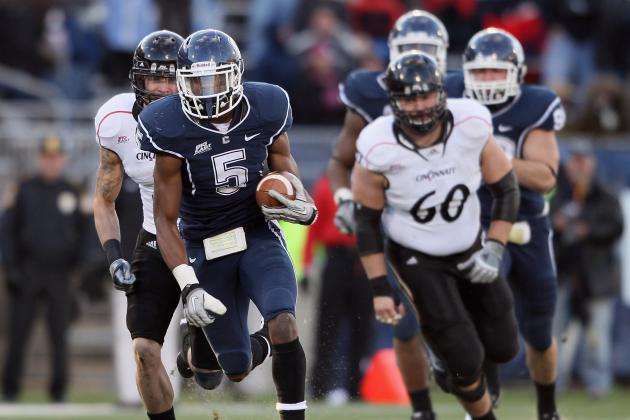 Elsa/Getty Images

As mentioned before, Blidi Wreh-Wilson was a two-star recruit coming out of high school. What was not mentioned, however, is that it is extremely rare for a two-star recruit to be selected in the NFL Draft. Between 2007-2011, only 25 two-star recruits were drafted. The best of those 25 players? J.J. Watt.
A main reason why Wreh-Wilson was such a poorly rated recruit coming out of high school was because he had only been playing football for a few years. Wreh-Wilson was a devoted soccer player for the majority of childhood; he only began playing football once he reached high school.
As the Draft approaches, Wreh-Wilson has repeatedly garnered attention for his impressive footwork. He attributes this ability to playing soccer for so many years.
Asides from Wreh-Wilson's talent, a major reason he has received so much attention has been because of his unique name, Blidi. According to Wreh-Wilson, he was named Blidi, which means trouble, because his father was a "philosophy major," and at the time of Wreh-Wilson's birth, there was a war raging in Liberia, which was "trouble." By naming his son Blidi, Wreh-Wilson's father believed his son would become the "bringer of peace."
After being named the "bringer of peace" at birth, Wreh-Wilson's life has been full of high expectations. Currently, he is trying to mold his game to be extremely similar to Darrelle Revis'.
(All information courtesy of snyuconn.com)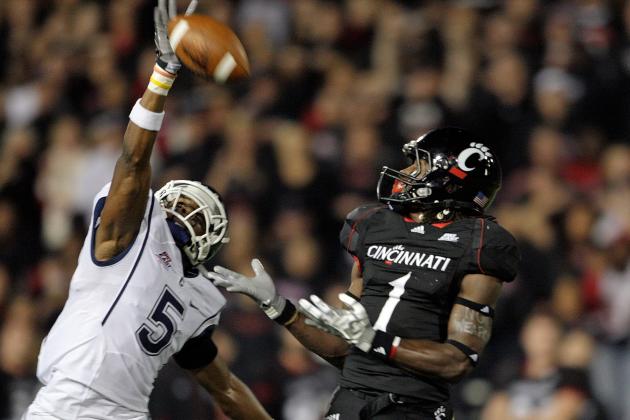 Andy Lyons/Getty Images

Observations from around the web about Blidi Wreh-Wilson...
WEAKNESSES
Like most taller corners, receivers can get Wreh-Wilson a little off-balance once he stops his feet. His tackling is also inconsistent, as he'll dive at the feet of ballcarriers or lunge at him to make a hit instead of using his length to wrap. Play action can also get him in trouble, as he'll jump forward and allow his receiver behind him. After receivers get behind him, Wreh-Wilson doesn't always showcase proper hip flexibility or adequete recovery speed. And even with his height and length, Wreh-Wilson sometimes loses jump balls when he gets outmuscled or fails to high-point.
On draft day, Blidi Wreh-Wilson could end up getting drafted anywhere between the second and fourth-round. If he does drop to the latter round, it will be because many teams won't be able to get over the weaknesses listed above.
Wreh-Wilson is prone to giving up big plays, whether it's through missed tackles or biting on play-action fakes. That is simply unacceptable at the pro level, and it will be no surprise if Wreh-Wilson's draft stock falls because of it.
CBSsports.com
Scouts are anxious to see if Wreh-Wilson can put it all together for a final big season in 2012. He's certainly shown the flashes of being an intriguing prospect, possessing not only the physical characteristics scouts are looking for but also a flair for the dramatic. Not only has he already tied a school record by returning two of his seven career interceptions for touchdowns, his two interceptions this past season came against top competition (Vanderbilt, Rutgers).
He lined up in both press and off-coverage in Mobile, but struggles in his transition to quickly flip his hips and blanket his man downfield. Not every cornerback can play man coverage and I'm not sure I would trust Wreh-Wilson outside of zone coverage.
Despite his weaknesses, Wreh-Wilson is still a fantastic cornerback. He has the ability to make big plays in coverage, and his zone coverage is terrific.