Phoenix Coyotes vs. Detroit Red Wings: Live Score, Updates & Analysis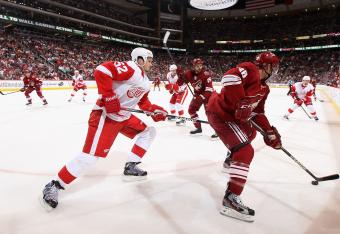 Christian Petersen/Getty Images
The Detroit Red Wings battled the Phoenix Coyotes in a game that both teams hope will move them closer to playoff contention.
The Coyotes got behind the eight-ball early and couldn't find their way out.
Behind three power-play goals from the Red Wings and a solid penalty kill, the Red Wings dominated the Coyotes on special teams.
Detroit took the lead on an early power-play goal by Johan Franzen. Franzen redirected a Damien Brunner point shot past Mike Smith.
Detroit raised their lead to 2-0 on another power play goal. This time, Brunner took a nice pass from Henrik Zetterberg who hit him, while cutting to the goal.
Phoenix has outshot Detroit by a wide margin, but it is the power play that has done the damage for the Red Wings in this one. In the second period, Valtteri Filppula took a quick cross-body pass from Henrik Zetterberg and one-timed it past Mike Smith on the short side. Johan Franzen added an empty-net goal in the third period to salt this one away for the Red Wings.
Phoenix just couldn't find any puck luck tonight; Jimmy Howard picked up his fourth shutout of the season with a phenomenal effort in between the pipes for the Red Wings.
Final score: Detroit Red Wings 4, Phoenix Coyotes 0.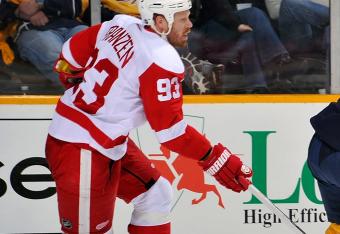 Johan Franzen cashes in on the open net for the Red Wings. 4-0 Red Wings.
Phoenix just couldn't get the bounces tonight. Wasn't for lack of trying that the Coyotes lost this game.
Another goalpost for Detroit.
Wow.
Detroit just missed another chance to put this game away. Justin Abdelkader hit the second post of the period.
This game needs a Coyotes bounce ASAP, or else the playoff hopes are pretty much done for the Coyotes.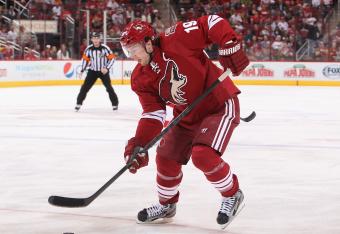 9:04 left in this one. Phoenix kills Detroit's power play, but they still need three goals to have any real shot at making the playoffs.
Phoenix doesn't seem to have a problem playing with energy, but they aren't getting the breaks when they get the puck to the net. Nothing against the Coyotes, they just haven't had any puck luck so far in this game.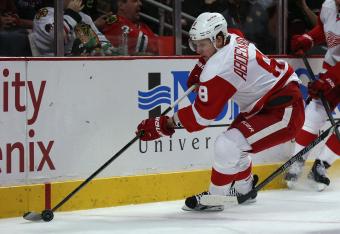 Justin Abdelkader and Shane Doan drop the gloves. This was already a win for the Red Wings, as they take Shane Doan off of the ice. But now Detroit has another power play.
This could spell the end for the Coyotes.
Doan gets four minutes for roughing, while Abdelkader gets two minutes for roughing.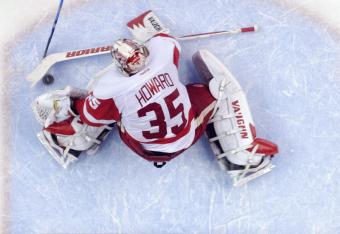 Have to hand it to Phoenix. They haven't given up, and are not giving up in this game, despite being down three goals.
Detroit hasn't gotten out of their own zone that much in this third period. Phoenix needs a goal sooner or later to not only generate further momentum, but just to get the scoring ball rolling in general.
Third period underway here in Detroit. Biggest period of Phoenix's season thus far.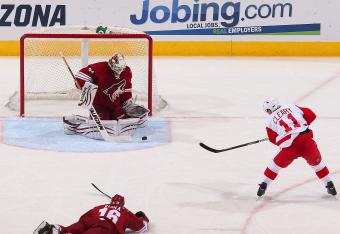 Detroit heads into the second intermission with a 3-0 lead. If there's anything that fans can take away from the NHL this season, it is that no lead is safe.
The Red Wings have won only 83.3 percent of games in which they lead after two periods. This ranks 20th in the NHL.
Phoenix needs at least a point from this game, or they can almost kiss their playoff hopes good bye.
Red Wings go back to the power play here after Antoine Vermette gets called for hooking. Detroit had just finished a puck-possession shift in the Phoenix end, before Vermette hooked Johan Franzen.
Valtteri Filppula scores to make it 3-0!
Mike Smith is going to want that goal back, as it was a short-side goal.
Zetterberg with the nice cross-body pass to make that goal happen.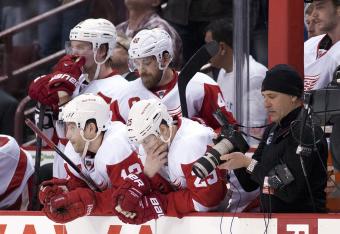 Coyotes kill the Red Wings' power play for the first time tonight. Detroit didn't look quite as good entering the zone on that advantage as they did on the two power plays in the first period.
Interesting to see if the Red Wings will start to falter over the back half of the period as they did after scoring their first goal in the first period.
Phoenix with some enormous pressure on the Red Wings, but the pressure leads to a minor penalty as Klesla trips Filppula while Filppula tries to leave the zone.
Red Wings looking to go 3-3 on the man advantage.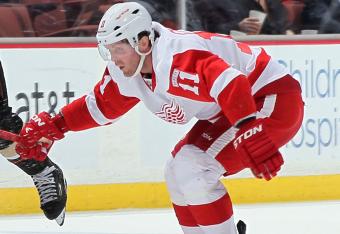 Dan Cleary takes back-to-back tripping penalties. Both of these penalties were avoidable, but Cleary needs to be more knowledgeable as to where his stick is.
Detroit, meanwhile, is showing no respect to the Phoenix Coyotes' power-play forwards group. Mike Babcock has advised his forwards to constantly pressure the defensemen on the points (Oliver Ekman-Larsson and Keith Yandle).
The Red Wings are well on their way to a fourth kill on the penalty kill.
Second period underway in Detroit. Phoenix facing a big two-goal deficit to start the period.
It should be noted however, that the Red Wings have blown a fair number of two-goal leads, earlier this season.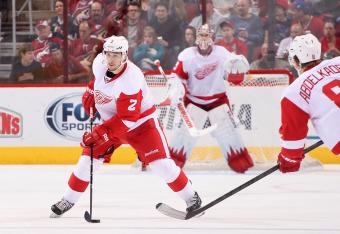 The Red Wings were badly out-played in the first period both at even strength and on the penalty kill. Jimmy Howard had to be fantastic with 12 saves.
The one area where Detroit was obviously better was the power play. The Red Wings came into tonight's game at 17th overall, converting on 17.3 percent of power plays. Detroit's man advantage coming alive is exactly what they needed to get themselves off on the right foot in this game.
The Red Wings are lucky to have scored first, as Phoenix is winning just 25 percent of the games in which they fail to score first. However, Detroit is not that good in winning games while scoring first, ranking just 26th in the league.
Hey, look at that. Instant results.

— Mike Babcock (@FakeBabcock) April 23, 2013
Parody hockey accounts have a funny way of being right sometimes. The Fake Mike Babcock account has some good tweets as well.
Damien Brunner had been struggling offensively after some early season success, but he has two points in the first period. After having just three points in his last 10 games, this multi-point game got the Red Wings off and running.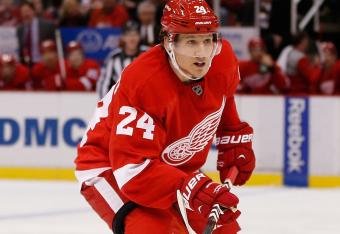 Scratch that carry over power play time. Damien Brunner cashes in on a pretty "tic-tac-goal" passing play from Kronwall to Zetterberg to Brunner.
Coyotes caught standing still in their own end on that rush, but they out-shoot the Red Wings 12-4 in the period.
Red Wings kill off the power play again, but another couple quality chances for Phoenix. Red Wings will go on the power play now after David Moss elbows Pavel Datsyuk on a rush, taking him down in the process.
Red Wings will have carry over power-play time if they do not score before the end of the first period.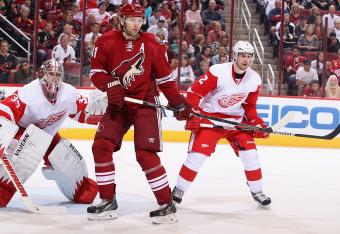 Phoenix goes back to the power play again. Brendan Smith with another hooking penalty.
Two hooks in one period; Smith has to keep his feet moving. Detroit lost a lot of momentum on the first penalty kill and Detroit has struggled to maintain possession since then.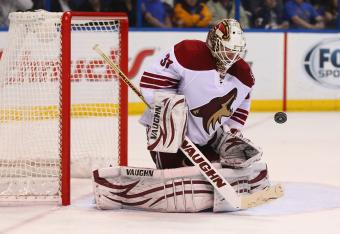 The Red Wings have gone 10 minutes without a shot. Despite the score, the Coyotes have done their part in taking the momentum away from the Red Wings.
The Coyotes have the Red Wings skating around in their own end, making it impossible for the Red Wings to get out of their own end. This current pace has too many good chances for Detroit to feel comfortable about its chances of going into the first intermission with a lead.
Still 1-0 Red Wings.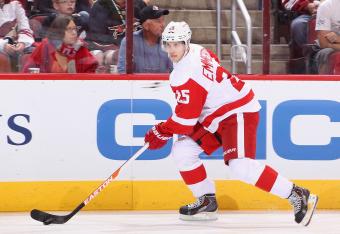 Detroit kills the Phoenix power play, but Phoenix takes a decisive shot advantage at 5-2.
Play has slowed down since the first goal, but the two teams are both keeping each other honest in their respective ends, challenging shots and clearing pucks.
Detroit almost gave up a power-play goal when they failed to clear on the puck, but they covered up with two players blocking the shot.
Brendan Smith goes off for hooking. Phoenix with a chance to match Detroit's power-play tally going on their first power play of the game.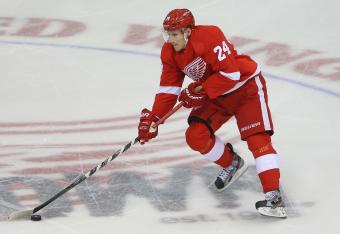 Interesting look from the Red Wings putting out Damien Brunner on the point. Brunner was a valuable asset on the power play earlier this season, but has struggled recently.
Most of Brunner's success came when he was down low on the half boards as opposed to at the point, but he managed to get the shot through traffic and Franzen made no mistake, tipping the puck off of the ice and into the net.
The Red Wings took a 1-0 lead on a power-play goal by Johan Franzen. Franzen took a slap-pass from Damien Brunner at the point and tapped it past Mike Smith.
Red Wings' power play strikes first; they had been just 2-19 on their previous 19 chances.
Detroit 1, Phoenix 0.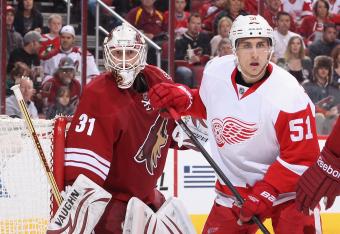 Intraconference games have truly had an effect on the NHL this season.
The Red Wings and Coyotes were likely both rooting for the San Jose Sharks to beat the Columbus Blue Jackets last night (the Sharks lost 4-3 in regulation) and for the Los Angeles Kings to beat the Dallas Stars in regulation (the Stars came back to pick up a point in an overtime loss).
Given the dire nature of the Red Wings and Coyotes respective situations, don't be surprised to see this game go to overtime or a shootout if the score is tied late in regulation, as both teams are eager and desperate to pick up points.
This article is
What is the duplicate article?
Why is this article offensive?
Where is this article plagiarized from?
Why is this article poorly edited?